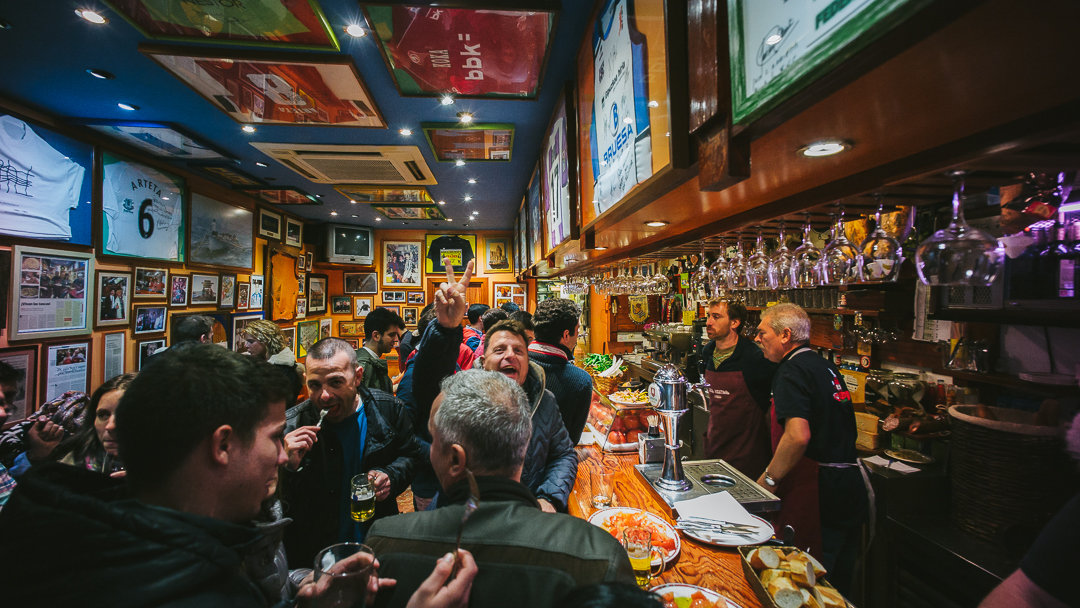 A sense of achievement washed over me after I successfully placed my 'pre-order' for a slice of Nestor's famous tortilla. They only make two of their fabled omelettes everyday, one at 1pm and the other at 8pm. Each about the size of a wheel of parmesan.
"You'll want two" Nestor, the owner whose moustache I recognise from the many photos of it online, gesturing to my missus. He emphasized that I must come back at one o'clock sharp. We weren't the first names on this list at 11.30am, the bar not yet open with half-closed metal shutters. More ducked in after us, to put theirs on it.
The restaurant quickly flooded when it eventually opened up at 12.45pm. There's only 1 table that can be reserved in this tiny bar (about 30 square meters) and so it was a case of negotiating some elbow room along the thin strip of wall protrusion to rest our zurito.
Sure enough at one o'clock sharp, Mr. Nestor brought out the large tortilla and began to divvy up as they called out names. There's only 17 of these in each tortilla, if you miss it, you have to wait 7 hours for the next one. The bar goes silent during this carving ceremony. Everyone holds their breath till they hear their name, as if they were the lucky few to receive a gold bullion.
Tortilla, €2
This luscious egg sauce giving this sensation of warm, gelled potatoes inside the omelette, like that of a moist mud cake. It's like a well-loved family recipe. I read that the key are caramalised onions – added to olive oil, eggs and potatoes – which makes this tortilla so sought after. In practice, there's nothing complex, just bloody good eggs and potatoes. I wish I'd ordered 3 slices. I'll definitely remember this.
There are no menus at Nestor and none required since they only serve 3 other plates of food. We did have to upgrade our slither of elbow room to the bar to eat them however. The bartender – Tito, the brother, I gathered from the customers calling to him – surveyed it and pointed to a spot for us, after it comes free. That's when a local folk swiftly gobbled up his iberico sandwich and downed his beer before offering his spot to us. This little town sure are a hospitable bunch. I'm moved.
Vaca Vieja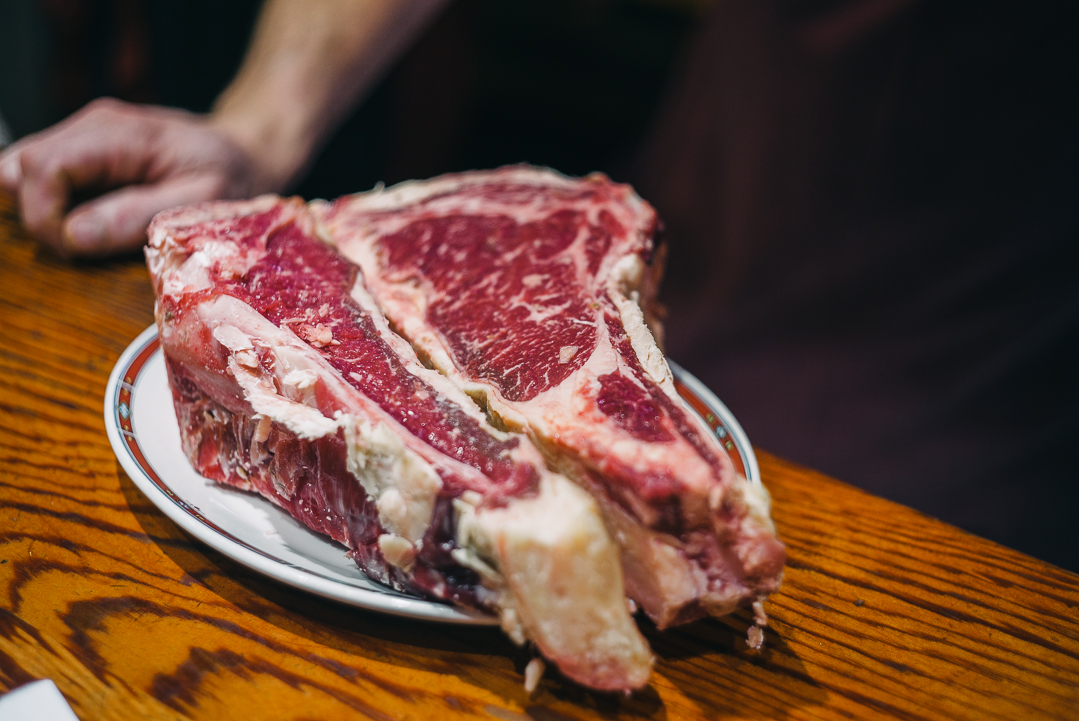 They brought out two chops and we picked the bigger one on the right. I'm guessing it's a sirloin on the bone, 750g or thereabouts. Decent marbling.
Thanks to Nemanja, London is totally geeked out on Galician vaca vieja or old cows, put out to pasture before slaughter at anywhere from 8 to 14 years of age.
Our chosen chop disappears into the kitchen. While we wait, tomatoes and padron peppers.
Tomato salad, €5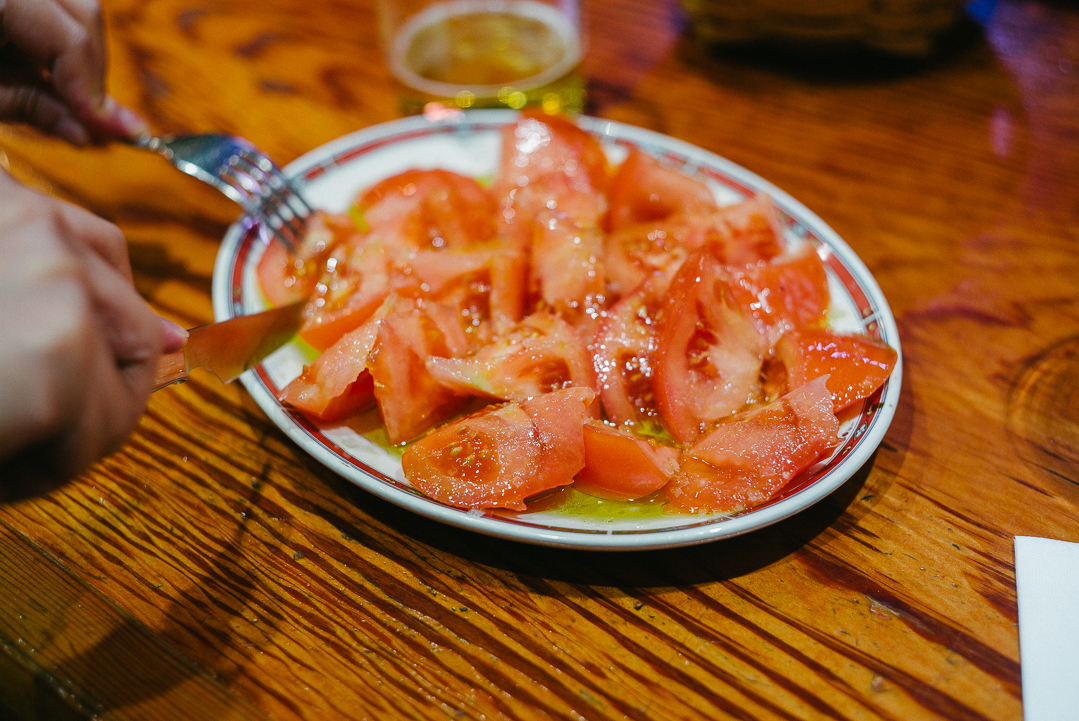 These juicy tomatoes, drenched in olive oil and salt, were bursting with the sweetness as the internet has suggested. Really gorgeous.
Padron Peppers, €4.5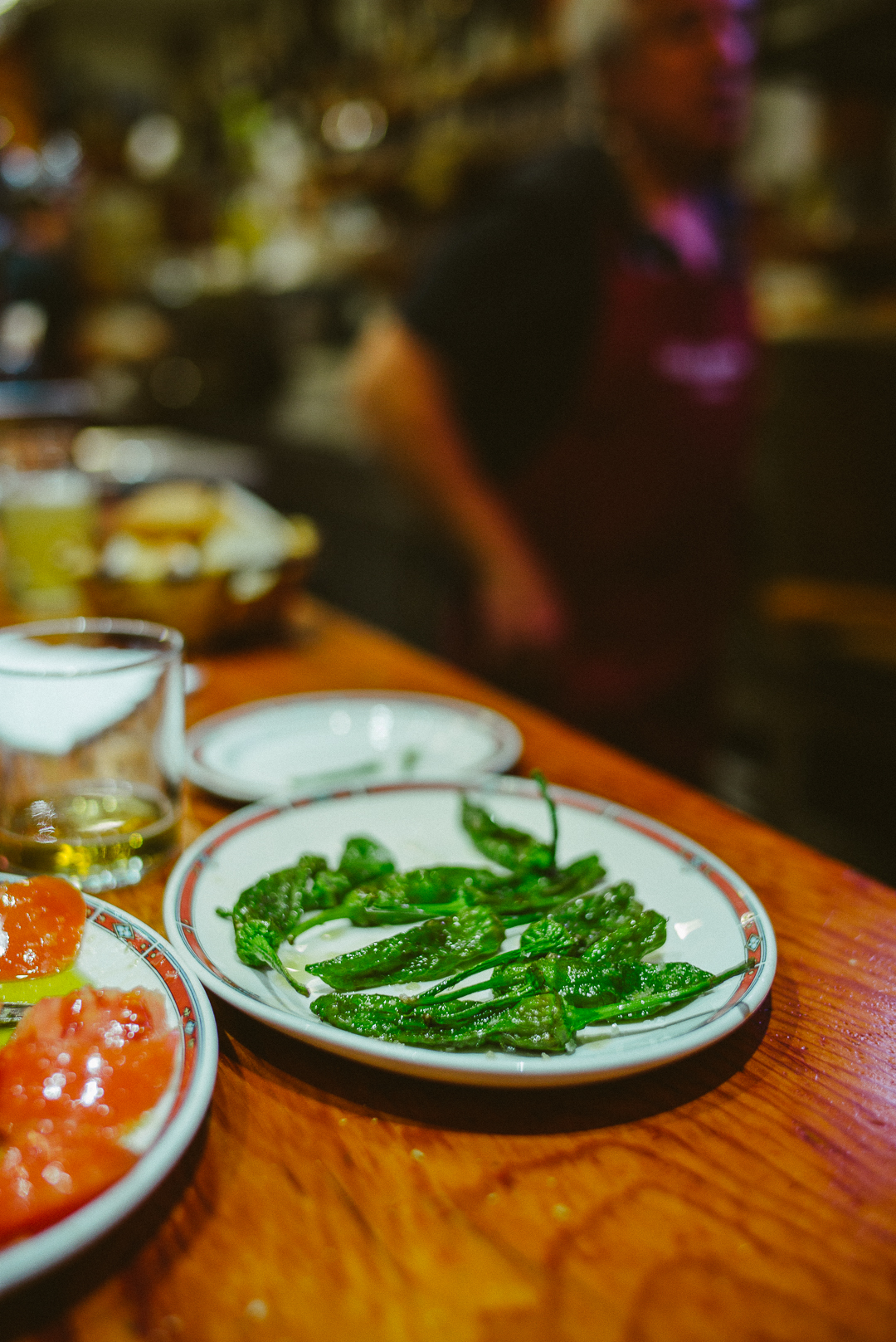 Served warm with salt. Yeah it's good. I had a couple of glasses of txakoli while we wait for the meat. Took abit of time too.
Txuleton, €36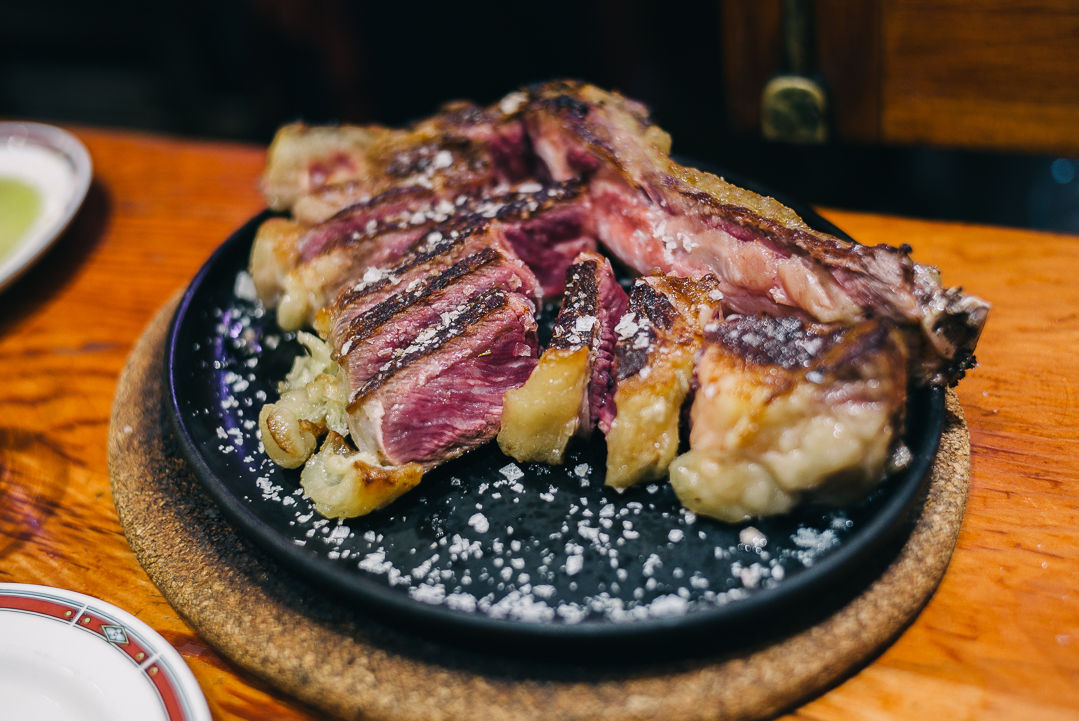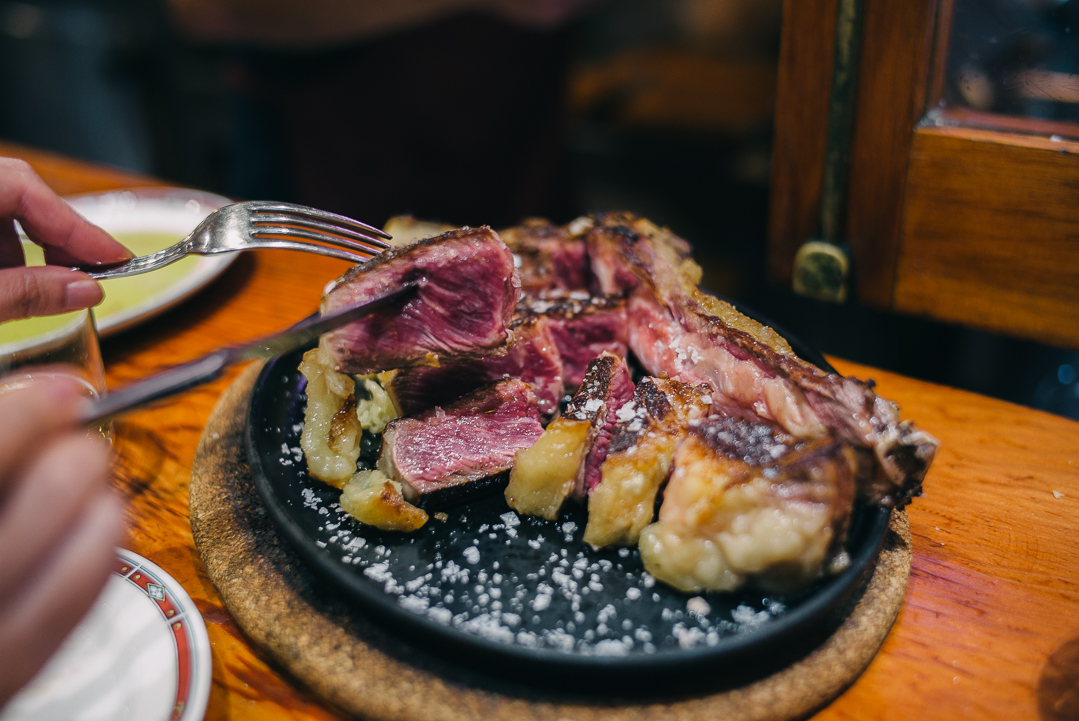 In the local fashion, the meat is served rare and completely covered in rock salt.
There's no juice leakage and given the substantial wait time, I assume it's been well-rested. You can taste the hot coals here, nice work on the grill. The ruby coloured meat looked great, sealed-in sensations with the caramalised crust. It's not tough but the texture is taut. It became hard work halfway in. Maybe it needed a couple more days in the dry room.
The best bits however, were those golden lumps of fat that had this rich, marrow-like flavour. I can see why only salt is all that's needed. As we neared the finish, our waiter sharpened my knife and asked me to hold up the bone. He then cut a strip of fatty meat hugging the bone. It was the tastiest bit. I enjoyed it thoroughly and wondered if there's a special name for this bit of sirloin near the bone. Nice finish.
It's a legit steak dinner. Up there with other steak dinner tourist experiences (like Peter Luger). But I still prefer the USDA stuff because its sweeter and more tender, so Goodman/Beast still the works for me. Old cows are a tougher chew.
We paid €58.50 or £43 for two. That includes 3 beers, 2 txakoli and a glass of red wine. That's ridiculous value for money! I can't remember the last time I paid £20 for a meal in London.
This was the best memory from our San Sebastian trip. The feeling, all about the feeling. Bar Nestor is such a happy place. The atmosphere is unbeatable, the service is top class and I doubt there are many places in the world like this. Somehow they manage to find the time to serve everybody with care and respect, even with so many bodies pressed into this little space. They make every effort to carefully pour every glass of txakoli from height. I've never seen such a busy place also feel so hospitable. We really wanted to stay there the entire afternoon but in the end, we swiftly finished our beers and gladly gave up our spot to the next steak dinner tourist, waiting for their turn behind us. Can't wait to go back.
Details
Bar Nestor
€30pp
Tortilla and Steak
C / Pescadería 11, Donostia 20003, Spain
Tel : 943 424 873