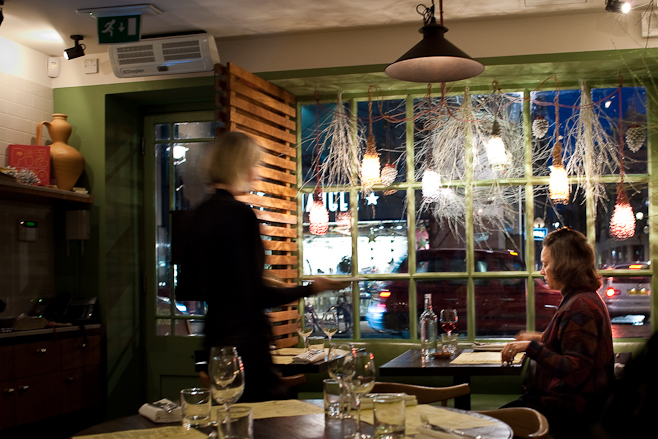 Generally speaking, we Londoners are still very much in love with sharing bite sized portions, and 2009 certainly has been the year of tapas. Gone are the days when we accidentally wandered into La Tasca hoping to have our expectations exceeded and the tapas bar (forgive the pun) has metaphorically been raised. Salt Yard and Barrafina, you have competition. I didn't pay much attention to this rising sharing culture till Ollie so eloquently pointed out his shrinking plates. Sifting through my own archives, I realise that I rode that trend, from Iberica to Barrica and to the Polpo (albeit bacaro style as opposed to tapas).
As you know, there are three Brindisa kitchens in town, the first one, Tapas Brindisa at the corner of Borough market, the other Casa Brindisa in South Kensington and this one left to slog it out with the Soho tapas masters. I shalt dwell on the ultimate brand power the Brindisa name holds, which is synonymous with importing fine Spanish perishables. I must admit, after a lukewarm experience at Tapas Brindisa, I wasn't expecting fireworks from this visit; that's not to say that the Brindisa experience is necessarily bad, it's just… very blasé. Anyway, this once mighty name attracted huge queues since opening in 2008, but as I walked past it on the last friday before Christmas, I was astounded to find a deserted Tierra Brindisa. Trend, ain't it funny? One cannot help but roll one's eyes when one witnesses the internet catching on to the next greatest trend. As a blogger keeping his fingers firmly on the pulse, I must admit that it is fun riding it (oh yes, I remember Bocca di Lupo) , but you know, there is nothing I loathe more than cramming into an oversubscribed restaurant enjoying the current market conditions, or worse yet, restaurant staff giving prospective diners the cold shoulder while their egos are being stroked by the twittophere. Sigh. So anyway, part of me was delighted at the sight of an empty – once oversubscribed – restaurant, as I could now finally enjoy a quiet lunch with the missus, and maybe also that I have popped the Rocky DVD into my macbook once too many times as I do stand on the shoulders of the proverbial underdog.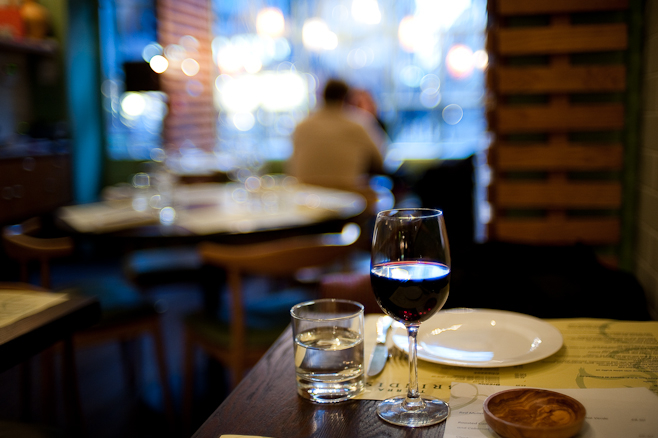 Fervent ranting aside, let's now kick start the review properly with a compliment of Tierra Brindisa' decor. It's charming to say the least, small with the low ceilings making it feel smaller yet and while I don't quite agree with the pale green and yellow they have chosen as a theme, I did find the open kitchen toward the back enthralling. We ordered a couple of glasses of tipples – their house Rioja at £4 a go. First plates to land are Potato Omellette (£4.50) , Home style Chicken Croquetas (£6.50) and Padron Peppers (£5.50)
It seems like their prices have gone up as there is a 50p difference between my bill and what's currently showing on their website. Anyway, so we got off to a good start with the spicy smoke okra like peppers to which – fortunately – none threaten to take down my tastebuds. I really enjoyed the chicken croquetas, a densely creamy centre, as if whole pots of Campbells finest cream of chicken had been distilled into it, and finally a delightfully soothing – albeit served cold – potato omelette, seemingly defying the laws of nature by managing to pack velvetiness in the stodge.
There was a smattering of daily specials, including this one, Red Mullet a la plancha with salsa verde. £8.50.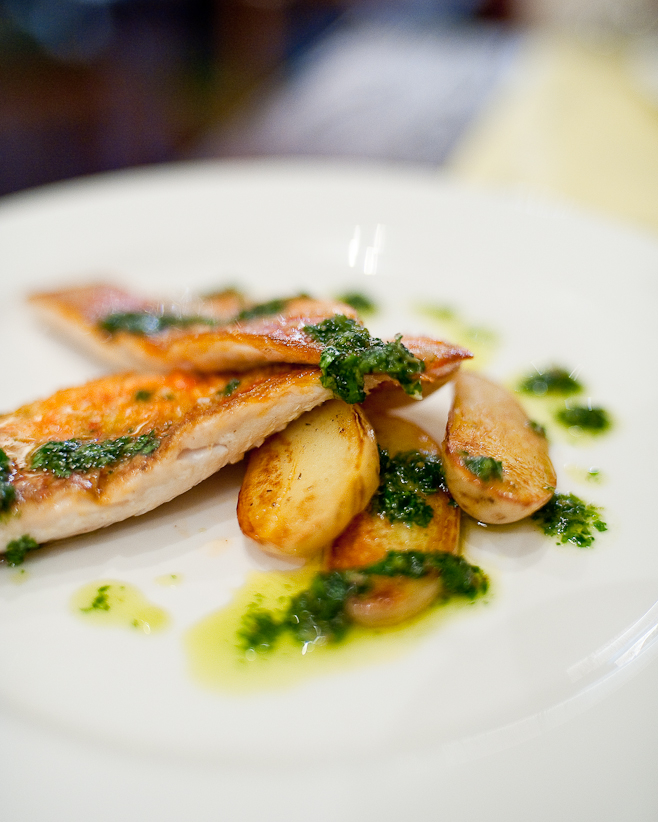 Sadly this dish didn't taste as good as it looked, the fishiness was overpowering, and I didn't really find their a la plancha method any different than pan frying on tefal.
Luckily we went for the pork cheeks with almonds and golden raisins (£8.50) instead of falling for the temptation of steak…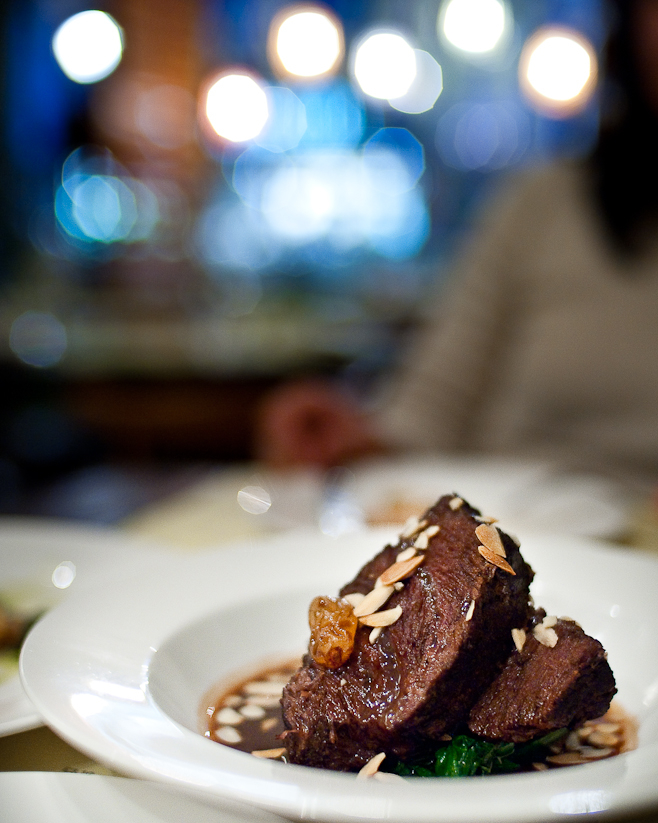 …because it is a delightfully challenging task articulating the amazing melting ability of this succulent dish. The meat was not only incredibly tender, it was moist, buttery and disintegrated as soon as it hit my tongue. In total contrast to the bland fish, these cheeks had incredible flavour perhaps due in part to the tendon bits which added to the melting sensation, perched over spinach and drizzled with a rich red wine gravy. The meat felt as it it had been stewing for hours, nay days if not weeks till it attained this fragile state… top stuff. My only complaint? Yup, you guessed it – small portions.
Our meal ended by sharing a largely forgettable and stick-to-your-teeth meringue served with a dollop of pineapple sorbet and passion fruit sauce. The final bill plus service came to £52.26. I am still unconvinced by the Brindisa kitchens, there is still one more to go till I complete the trinity, but I doubt it's going to light up my life. It is still as pricy as ever, fifty quid for 6 dishes plus a few glasses and I was seriously contemplating topping up at Byrons afterward. On the other hand, the food was actually not bad, especially the chicken croquetas and of course the oozing pork cheeks, really yummy. Following on a discussion I had with a fellow restaurant frequenter, I think the Brindisa brand has matured into a dependable outfit; I think you'll likely have a largely pedestrian but good meal. Maybe I'm slowly getting over my tapas fever, and if you are searching for something pulsating, perhaps its best to join the hashtag munching army on twitter and ride those waves.
More photographs from the meal here.
The Gist of It
Tierra Brindisa official site £25pp
46 Broadwick Street W1F 7AF
Tel 020 7534 1690
Tube Leicester Square
Other views on the strength of the Brindisa brand : Suzie's Notes ; Becky's Blog ; Kate Spicer for Times ; Charmaine Mok for TimeOut London ; Jay Rayner for Guardian
Did you enjoy reading this post? Why not subscribe to my feed updates for free. Alternatively, You can subscribe via email.