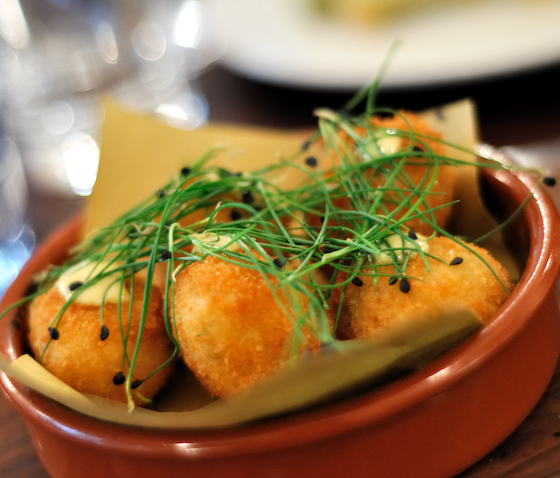 Salt Yard official site
54 Goodge St W1T 4NA 020 7637 0657
Tapas £6 – 8 each
The moist potato paste in the salt cod fritters melted in my mouth with loads of umami goodness. The crunch in the crumbly shell, nice. I was led to the basement bit, away from the shimmering sunshine of the Friday afternoon. I'm not alone for this one, C was waiting for me – fiddling with her brand new iphone (ah yes I remember the feeling). We're suppose to catch up on Metrotwin, my other online commitment, and we've both skipped breakfast (cadbury bar for me) for what is rumored to be a heck of a tapas ride. Oh I should mention, Ben – thanks for reading my stuff and this one's for you. 
The cheese that rocked, with truffle honey.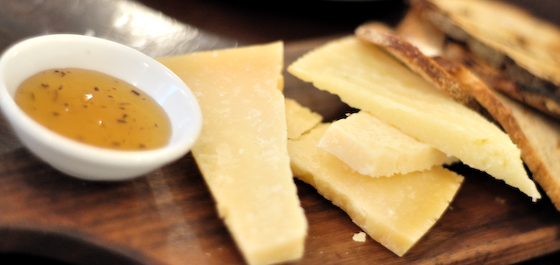 I saw 'The boat that rocked' last weekend and I really enjoyed it. The slaters complained that the film sagged to bore-central halfway through – can't say I don't disagree – but I liked the whole pirate radio backdrop. I could really relate to a time when the powers that be (whose embodiement is a certain 'Mr. Twatt' in the film, yes with great effect – let your imagination run wild) tried to hold back the new wave of social change hitting the country. Back in 1966 – the greatest era, ever – proper radio only played 2 hours of 'popular' music. But that's why 25 million people rocked to pirate radio stations which did 24 hours of it – on a boat, off the coast and just outside of government jurisdiction. They made their own rules about how to rock the nation's airwaves and it was cool. Damn, there was some good music back then.
Oh yeah, I feel like a pirate food blogger sticking it to AA Gill. I make my own rules and damn there's alot of cool food blogs around. That's right, and the truffle infused honey – awesome. Went really well with the £7.50 worth of our trio of Italian hard cheeses. Yeah…. Nah, I love AA Gill, who am I kidding. As Rhys Ifans utters, in a creepy, breath-heavy voice close to his mic: Are you feeling naughty, yet?
The blog that rocked.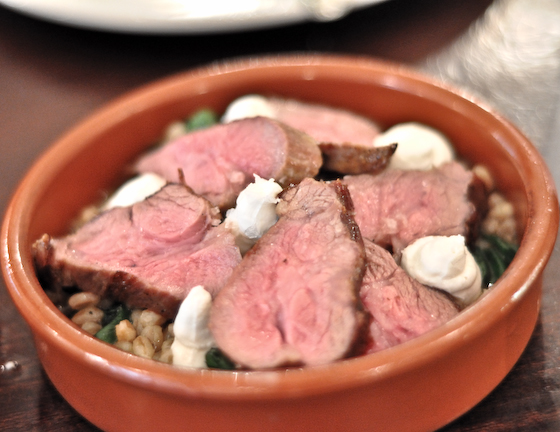 I forgot to take a menu with me again, and I've forgotten what this lamb neck dish was served with. I'm referring to the grains that came with it. My best guess are that they are farro, which tastes rather like a cross between brown long grain and barley. The entire dish has a moistness – perhaps from a gravy – and a rather intense cream (goats?) cheese. As for the lamb neck, the meat was flavoursome, alittle on the gamey side, served pink, it was as tender as it was spongy. That is to say – it was delicate yet still quite the chewable one.
The Salt behind the Yard.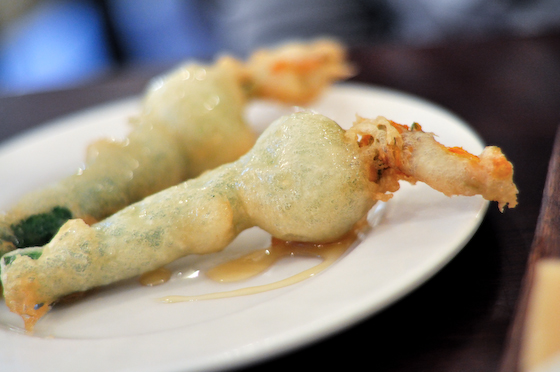 Salt Yard is abit more than just a straight up Anglicised tapas bar; Chef Ben Tish's menu is a rather inspired one with Italian and Spanish influences. Abit of interesting blurb on their website suggests they source alot of their produce from small farms across the country, with their beef coming from Wales. Also, they have a 'strong choice' of their vegetables suppliers since one of their sig dishes is their goats cheese stuffed courgette flowers stuffed with honey drizzle.
Damn, this one is good. The lightly battered vegetable not unlike a tempura, crispy on the outside and crunchy on the inside; with a full goat cheese flavour that tastes as if it's enveloped within the honey sauce. The dish is simple and I think that's why it works.
Let's go belly up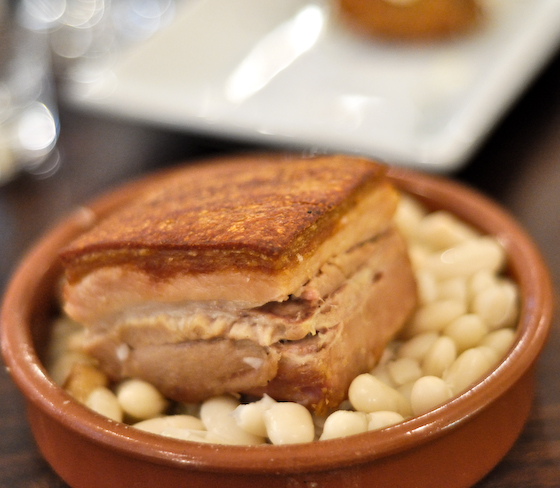 This review is missing one picture. It's off the daily specials – a croquetas with a meltingly rich manchego filling, yummy. We also ordered the Confit of 'Gloucester Old Spot' Pork Belly with Rosemary Scented Cannelini Beans. Alot of succulence in the meat, alot of slow cooked goodness, the beans are rather mild and made it taste rather like a ham hock. Moistness came in the form of a light broth – and the best part, yup you guess it: cracking crackling indeed.
Thank you C and thank you Metrotwin for yet another awesome lunch. I always feel like we don't have enough time to bounce ideas off each other whenever we meet.
And when we get to pudding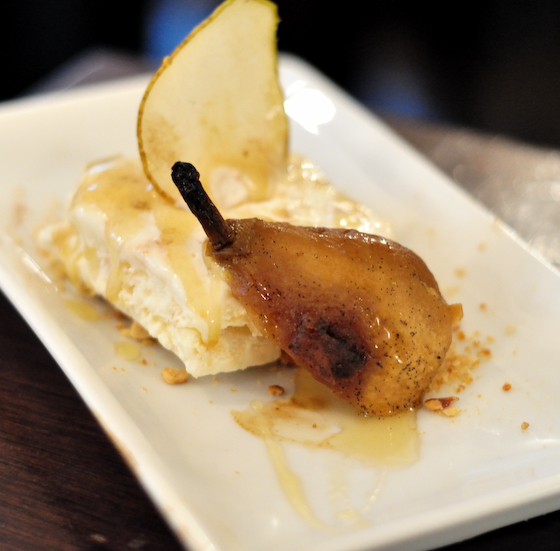 Before I get too carried away, I like Salt Yard. I think Ben Tish has successfully delivered on his vision of fuss-free dishes for sharing. Being a tapas bar, one kind of expects forward, distinct and uncomplicated flavours and all the dishes I sampled on my visit were umami rich, delicate (where needed) and moist. I'm not sure if the menu changes with the seasons, but the warm and brothy flavours were hearty and this certainly is one of the better tapas bars in London. My benchmark for tapas bars are Tendido Cero and Barrafina; I think Salt Yard just slightly edges out the competition. It definitely wins the war on the price front, with the average dish turning out to be something like seven quid.
For pudding, C ordered a Hazelnut Praline Semi Freddo with William Pears, I had a quick taste and it was like a cold, cheesy and nutty frozen mousse; bit like a kulfi actually. I was rather more conservative and ordered the Rhubarb and Mascarpone Brulee with Orange Caramel. The custard itself is nothing spectacular, but I did enjoy the silky baked rhubarb bits hidden within the brulee, although I would have preferred a little less charring of the sugar crust.
So. I think this has to go on some sort of must-eat list. Salt Yard is good, go with friends, share everything with friends, get a couple of tipples while you're at it and don't forget to tell me how it all went down.
The Gist of It.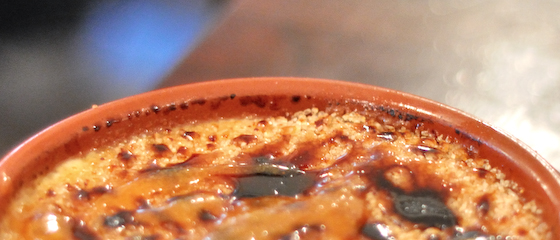 Salt Yard official site
54 Goodge St W1T 4NA 020 7637 0657
Tapas £6 – 8 each
Verdict: Solid Tapas bar, affordable, perfect place to hang out and share stuff with mates, be forewarned it is tapas at the end of the day, so expect tiny dishes, otherwise it's a must eat.
Did you enjoy reading this post? Why not subscribe to my feed updates for free. Alternatively, You can subscribe via email.