Tapas Brindisa official site
18 Southwark St
Southwark, SE1 9
£7 Tapas
Brindisa, brindisa, brindisa. Yeah, they're on to their third one now, perhaps the most respected name in Spanish food, 'Brindis' is 'to make a toast'. Something I tell everybody, Spanish is my favourite cuisine, and I was more than happy to have finally made the trip to 'brindis' at their borough market kitchen.
(NB: Tapas porntography ahead)
Spanish Brindisa
I remember the first time I walked into a tapas restaurant, its still there, even though I hadn't been back in oh, about four years. Café Espana on Old Compton Street – anybody been there recently? They used to do these really hearty dishes of garlic casserole chicken that made my knees go weak.
That virgin experience has since been eclipsed many times over, I appreciate the idea of feasting on several small delights, perhaps that's just me and my binge like tendencies.
Right then, tap water please.
Curing it
Apparently Franco Manca get their chorizo from Brindisa. As a food supplier then, its no surprise to find an embarrassment of cured meats on the menu, oh I love my cured meats, especially jamon iberico. I was aiming for a quick lunch after browsing Borough market, so I balked at the £22 asking price for an order of their finest acorn fed jamon. Instead I plonked for the Salcichon de Vic at a more pleasing £4.20
Supposedly a traditional Catalonian recipe, it was generously dosed with olive oil and cracked with black pepper, indeed the silky saltiness really was quite appetising. Oh yummy, this is good ham.
Lipsmack.
One cured meat was not enough as I also ordered the Cured León beef with pomegranate and frisee salad, priced at £5.75. Any salty cured meat balanced against those mini pomemgranate juice explosions is a winner. This one tasted like it was doused with abit of garlic oil, a fruity sweetness and an appetising way to start the meal, my tummy is suitably greased.
Liverol
In the words of JRR Tolkien, time for Brindisa to show their quality.
Let me start by saying that I'm not a fan of chicken liver, unlike duck liver which is strangely fragrant, chicken liver just crosses the stinky line for me, so I was sceptical when the better half ordered this dish. Still, in the true spirit of objectivity and in the quest to eat it all, I swallow and refrain from spitting….
Sautéed chicken livers £5.90
…. And my boldness was rewarded with one of the richest toast toppings I've ever had. This was just a perfect dish. It was sizzling, the texture was juicy and superiorly moist, as it was liver – the mushiness was only too evident. But it was the big rounded flavours that raised my eyebrows. A dominant garlic palette with a soya-like creaminess and a mouthful of smokiness, it was perfectly appetising. A succinct dish, and just what I was hoping for in terms of a light lunch.
No-follow
The BRN100 pretty much peaked at the chicken liver and quickly plummeted like the FTSE100 as it didnt get any better than this.
Galician Octopus with Potatoes £7
The octopus was rubbery and it tasted like it was made in a La Tasca kitchen. It was under seasoned, the potatoes were flaccid and well, at some point, I felt as if I was munching on tinned octopus. It looked nice though, but this was a major fail in my opinion.
Right then, on to the seafood.
Swordfish with mojo verde and black olives 7.50
The item sounded exciting and exotic. Following the tepid octopus show, I am hoping this last dish will leave me with a good impression of Brindisa. I immediately noticed the bitterness from the char-lines, like it was smoked over cast iron from the dark ages. The able smokiness added depth to the chunky and plain tasting fish, simply seasoned with seasalt. I really liked the sweetish green salsa because it took abit of the bitterness from the fish away. Still a little under seasoned and perhaps just a tad too simple. It did its job as it was quite a light dish, but it didn't excite like the chicken liver did.
Brindisi
We turned up at 2pm to an overcrowded restaurant and returned at 3pm to be seated. Such popularity must mean that they are doing something right… right?
Well, yes and no. My experience was favourable, but it fell below expectatations. True enough, the produce is premium quality; the hams and the oils used tasted like sainsbury's finest (not quite sure that's a compliment), but there were just a few faults in the execution of the dishes. I was a litte surprised that they couldn't get the octopus right, and I think they might have to go back to cooking school to tweak their grilling methods. Having said that, the chicken liver on toast was remarkable, and for that alone, its worth the price of admission.
Tapas Brindisa might be in danger of becoming too popular for its own good. It really fell below expectations, although having said that, it was still a very slick experience altogether. I have had better tapas in London, certainly Brindisa is up there with the rest of them, but if I had to choose, Brindisa probably won't come first.
The Gist of It
Tapas Brindisa official site
18 Southwark St
Southwark, SE1 9
£7 Tapas
Verdict: The ham was faultness, the chicken liver: inspirational; everything is a question mark.
What about you? Did you agree with my assessment of Tapas Brindisa? Do you think that they are one of the best tapas bars in London?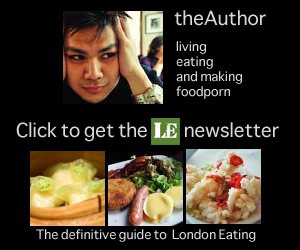 Did you enjoy reading this post? Why not subscribe to my feed updates for free. Alternatively, You can subscribe via email.