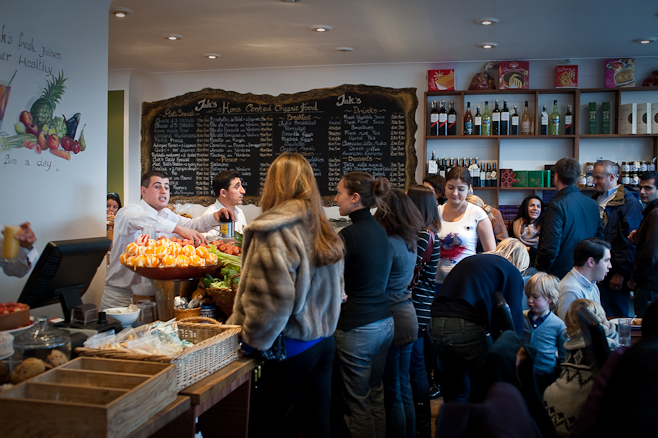 We are in the middle of the coldest snap known to mankind. It has decidedly grounded many of us – including the restaurant going republic, in fear that the tipple monster might never lead us home again. Thank the goodens for the dude who invented the neighbourhood cafe, because this means we can venture on nature's locomotion to fill our tummies without resorting to the perils of mechanical transport.
I have a love and hate relationship with my neighbourhood; on one hand, SW7 is one of the more scenic postcodes. In between the leafy residences, and the perfectly trimmed hedges and the occasional embassy lies an eclectically chic high street which houses an array of quintessential lazy neighbourly cafes. On the otherhand, it's just too bloody expensive to live there. So I received an email from Val who happens to own one of these neighbourhood cafes in Chelsea and had kindly offered a princely comped meal to in return for a write-up, to which I accepted. The attraction was obviously because I could wake up just in time for a Saturday brunch, and not worry about my tummy imploding on the way there. Situated on Walton Street, the surrounding area is also home to the iconic Michelin house which occupants include the Bibendum restaurant. Also in the area, is a local favourite of mine which serves French style open sandwiches – Tartine.
I was really surprised at how busy this cafe was at one in the afternoon, the place was so packed that I had to fall in line to join the elongating queue. Jak's operates a manned buffet bar of sorts and the transcations occur over the glass counter in which you pick and choose your plates of food, well actually you find a table first and then get up and order and well, you get my drift. We managed to find two empty spots on one of the large family tables just in front of the counter. Val has turned this cafe into a lovingly cosy space and it certainly is one of the more vibrant spots I've been to of late – so much colour and chatter. I suppose the long tables are to accommodate groups of families, which coincidentally, largely formed the clientele on this visit. An educated guess suggested most were local to the area, some had come to read a book amongst the human warmth, while others were simply there to share quality time with the loved ones, and so was I it appears.
As I said, most of the food is cooked and arranged behind the glass counter to which you simply pick and choose what you'd like to have, and they'll hand it over to you. There is alot of choice, and a largely colourful and seemingly healthy options what with a selection of grilled meat & fish, meatballs in hearty tomato sauces and a smattering of salads and rice which include Quinoas, Tabbouleh, Artichoke Hearts and many more which my memory fails to recall.
One is free to mix and match, and the missus started with an all fibres blazing : Quinoa, artichokes, peppers and spinach.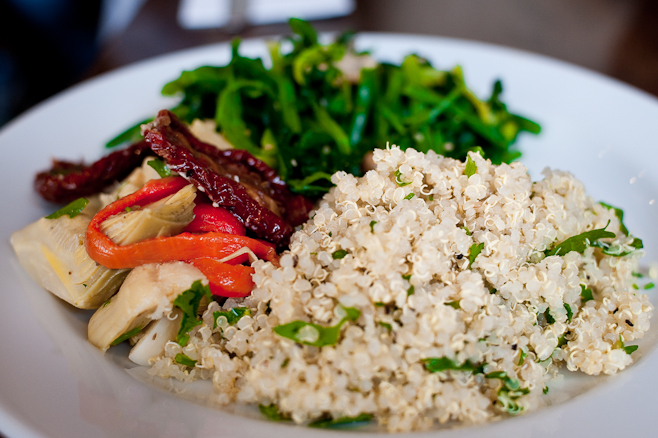 As the glutton that I am, I had to pause before taking up a spoonful of the healthy stuff. It was my first experience of quinoa, midly seasoned and with a relatively silky and fluffy texture – how else do I describe this, maybe as a cross between cous cous and barley.
As for my own 'starters' plate, I ordered the excellent chicken escaloped, breaded, and fried till crispy and still juicy on the inside (See photo here). Our food then came in waves as Val heated them up and brought them over. Next up is this gorgeous looking aubergine bake.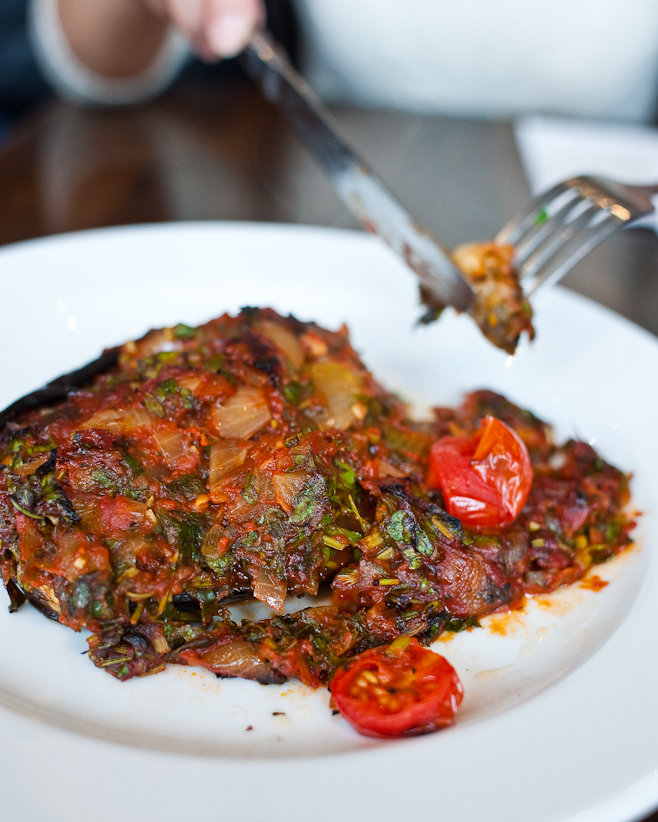 Stuffed with garlic, onions, parsley, and cherry tomatoes, as I said, I'm no green monster, but the evenly sour, sweet and pasty managed to enthrall my carnivorous senses.
Ahh finally then, some meat : pan fried sea bass.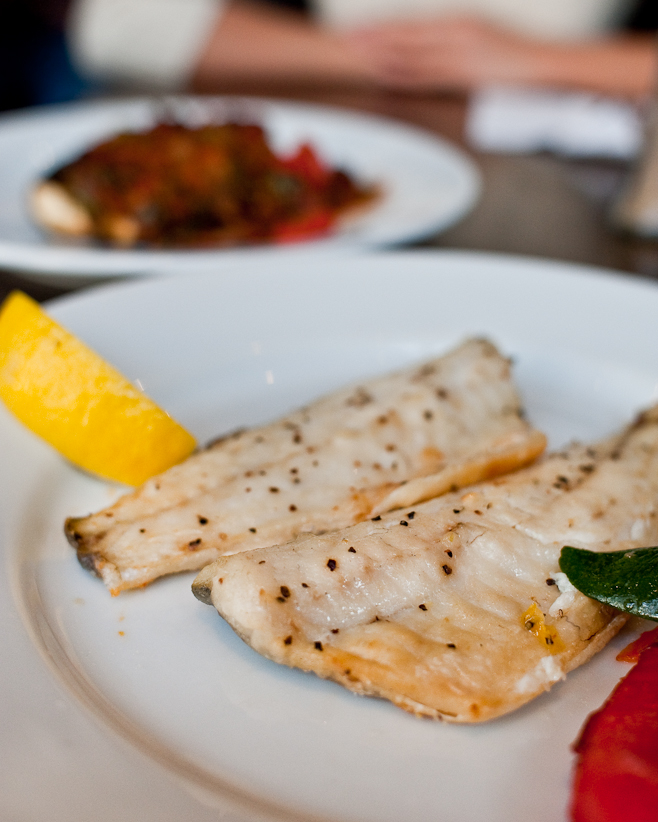 A simply salted and floury fish that was roasty too, which fortunately was not overcooked. More fish came our way, including this tuna steak.
Again very simply charred, and i checked for pinkness in the centre – check.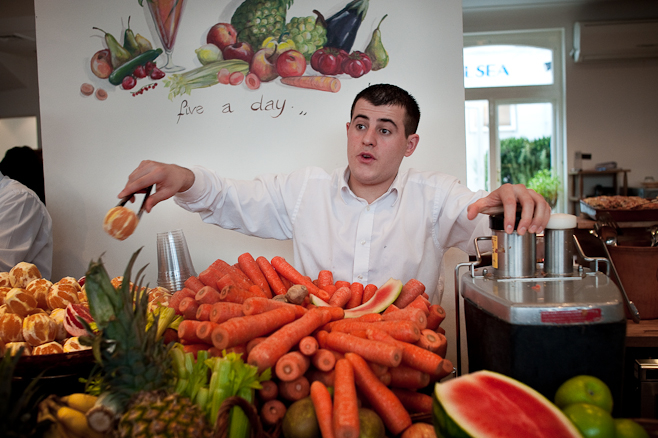 I was beginning to feel as if this meal was abit of an impromptu detox session, and Val urged us to try his fresh juice bar, to which I obliged to his suggestion of orange, carrot and a dash of ginger. One is of course free to mix and match to create a detoxtail of choice.
Just as I was sipping my latte, Val come to me again to tempt me with a whole table worth of sweet goodies… ohhh..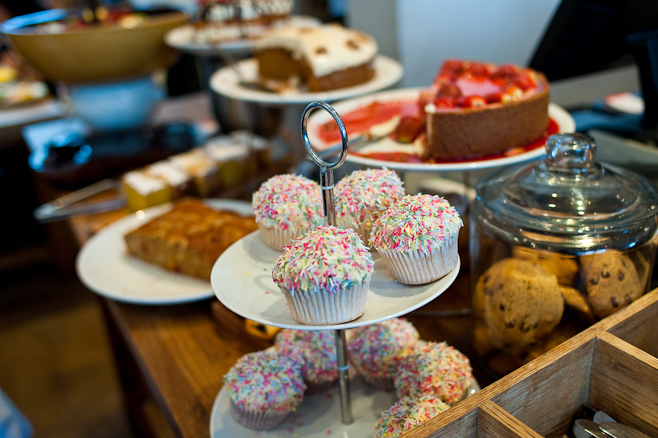 ..ohh… after the super healthy meal I just had, I felt as if I was duly rewarded to select from the droolworthy cakes… and boy did I choose well. The one that really stood out for us were the vibrant red and the rigid golden brown of the strawberry cheesecake. Honestly, mindful of my free meal and expanding waistline, I asked Val to provide me with a just slither.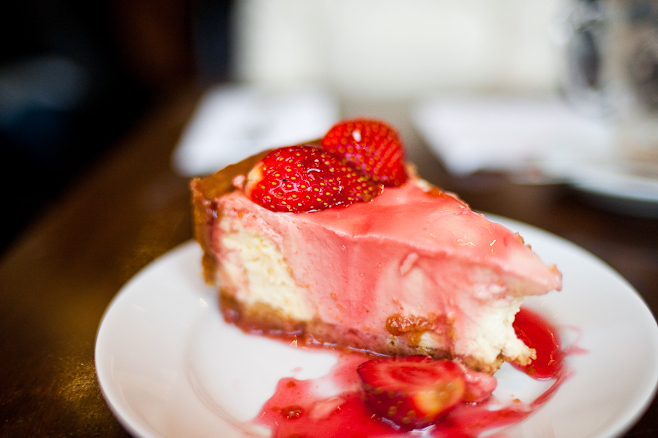 Instead he brought me a quarter. Oh well, I'll have to eat that then. Fluffy, puffy, vanilla explosions that melted away my tastebuds, about as luxurious as the woman behind the M&S advert voiceovers. The crumbly biscuit based soaked up the excellent strawberry syrup so lovingly lashed upon the cheesecake. Incredible.
The neighbourly cafe was good enough for us to return about 3 weeks later, this time as a paying customer and with a group of friends. On my return, each of us ordered a mains plus two greens plus coffee and cheesecake (to share) and the bill came to around £17 per person. I was surprised to find that Val recognised me on the second visit, and I could not turn down his requests to down a shot of apertif (I forget the name) with him at the end of the meal. To conclude, I liked Jak's enough to return to the cafe, as I said before, this is the quintessential neighbourhood place, if you're looking for a healthy yet delicious lunch with a touch of the Mediterranean, or if you are after sinfully gorgeous cakes or would just like to sip fresh juices and read your favourite book over a lazy weekend (amongst lots children and lots of people) – then Jak's might apply to you.
Other viewpoints you might like to consider : In Magazines ; Gourmet Chick ; The London Foodie ; Telegraph
More photographs of the meal here.
The Gist of It
Jak's Cafe official site £15pp
77 Walton Street SW3 2H
Tel : 020 7584 3441
Tube : South Kensington
Did you enjoy reading this post? Why not subscribe to my feed updates for free. Alternatively, You can subscribe via email.