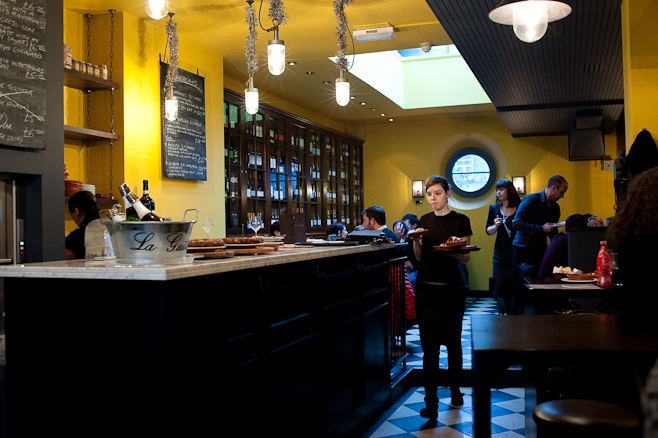 Barrica was never on my eat-list. The original intention was suppose to be an impromptu power lunch at oversubscribed Lantana to give the now legendary steak sandwiches a try. The steak sandwiches remain folklore for now. Unable to squeeze into Lantana, we stood at the front door of Viet baguette (next door down), contemplating… but eventually, we decided to haul our longing and sorry fat asses out from Charlotte's place and onto Goodge street in search of something affordable, something to share and something delicious.
It was a double date but not like what you think. I was to meet my bromantic brother from the hood – Mark; while Supercharz was to lunch with her mushy girlie mate (also) from the hood – Shalinee. We decided to meet up at the height of lunch at 1pm and were braced for a busy service at Lantana. As we emerged with long faces, we went to plan B – Guy's recommendation of a newish tapas bar which had the toes to dance with some of Goodge street's finest Spanish pretenders. Personally, I was rather glad that we were going to a place which had not received immense internet coverage yet, it was Friday afterall, and we were all braindead. Barrica is owned by Tim Luther formerly of Albion wine shippers and whom has brought his wine know-how to the Barrica wine list (which we denied ourselves the pleasures of trying out on this visit). In the kitchen, ex-Moro man James Knight is responsible for crafting the Barcelona inspired menu. It's a good bedtime story thus far, but the proof is in the cazuela.
Our meal started with a selection of the cheaper bite-sized dishes including ham & cheese croquetas (4 pieces for £4) ; Sobrasada cos Tostada (£2) ; Tortillas de Patata (£3) and Padron peppers (£4.50)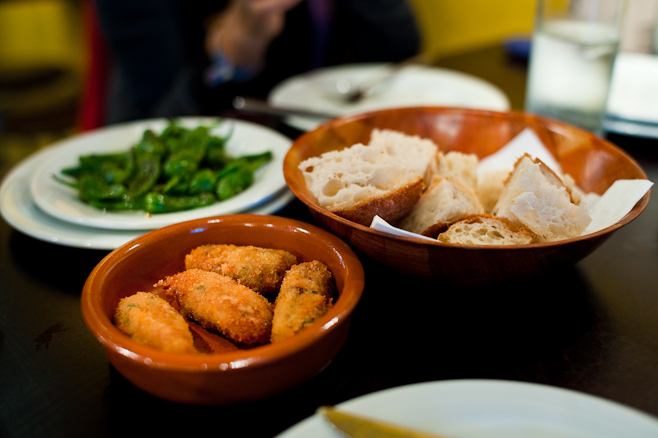 The first impressions were good. The omellette (tortilla) was cut into bite-size rhombuses, and they were mushy potato rich and well seasoned, appetitising. We noted the paltry croquetas portions, but were roundly impressed (well I was anyway) with the warmth of the creamy centre. Mark best described the peppers as bitter ladyfingers, and I was glad that I wasn't the one in ten to experience a superhot pepper. Phew. Out of this selection, I liked the sobrasado the most. Described as a sort of rillette but made with iberico ham, it was a vibrant orange paste, and served on top of toasted bread. Both citrusy and peppery and definitely something which I could snack on forever.
The menu features a number of interesting ingredients including skate cheeks and bone marrow, which made ordering a lot more exciting, than the usual tapas joint. Here we tried the breaded pig's trotters (£5)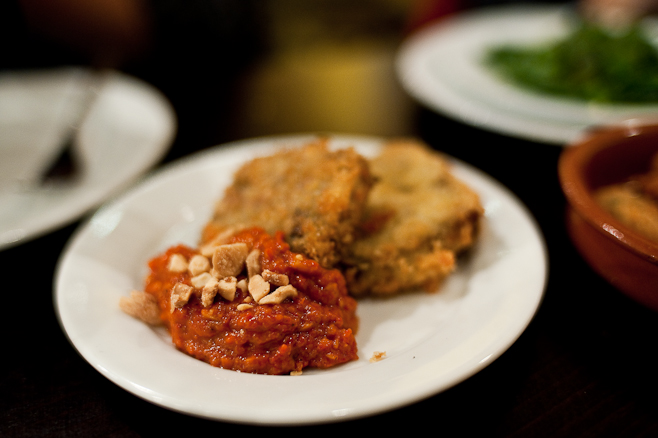 Served with a kind of tomato based paste (I think, but I guess you can correct me) and then garnished with whole nuts. I thought the paste was so-so, it was no better than M&S red pesto, and as for the breaded pork; It had far too many boney bits in it, and I ended up spitting more than I swallowed.
We tried a couple of dishes on the specials board too, including crabs on toast (£6) and veal cheeks cooked with spinach (£6).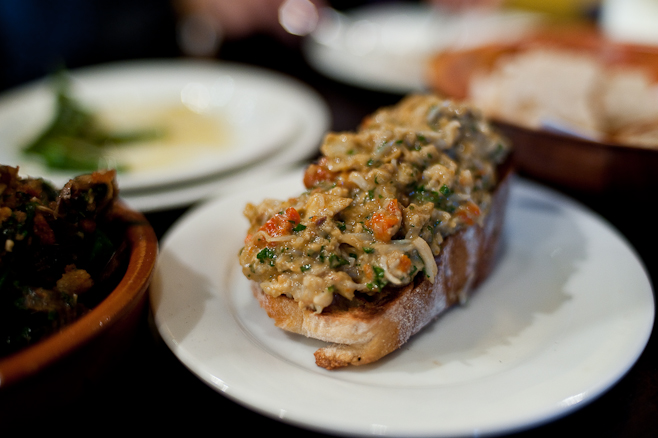 The crabs on toast were pretty good and a little different from the British recipes which I am used to. The citrus zing was clearly missing, and in it's place a subdued fishiness lingered on my buds. I know this sounds strange, but the crab paste had reminded me of california roll, but with butter spread all over it. It was still recognisable for what it was, but I've had better crabs on toast in London, especially the full bodied chunky ones (with roe) at Great Queen Street.
On the otherhand, the veal cheeks with spinach was one of the best things I had eaten all week. Regretfully, I hadn't managed to snap a photo of what the dish looked like (which wasn't much to be honest), so you'll have to take my word for it. It was served with a thick & darkly coloured gravy (which I assume is a kind of red wine sauce). The veal cheeks were so supremely tender than it was verging on being slimy. The flavours instantly grabbed our attention, a concentrated pan-fried smokiness deeply infused within the meat and an intense beefiness that sizzled on my palate. Oh heaven.
The other heavenly soft and silky meat dish were the chargrilled mutton (£7).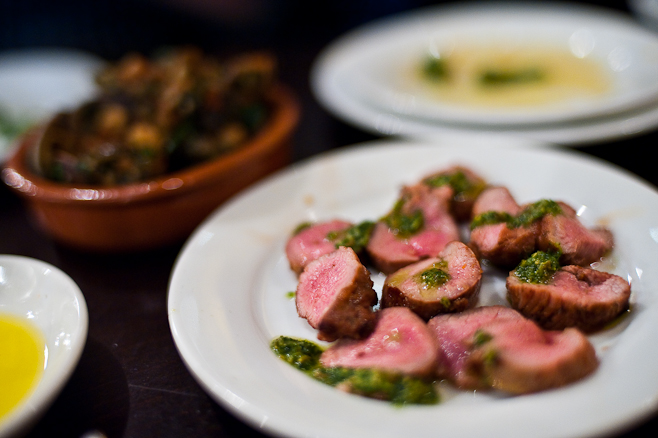 Initially we thought these were the veal cheeks, what with its tenderness. We were quite surprised at how mellow the flavours were, being that the characteristic lambiness was mostly subdued. It was beautifully pink and smoky and then garnished with a sort of green pesto like paste; This was something I could eat again and again. So simple yet so good.
Of course, no tapas meal would be complete without squid (£6)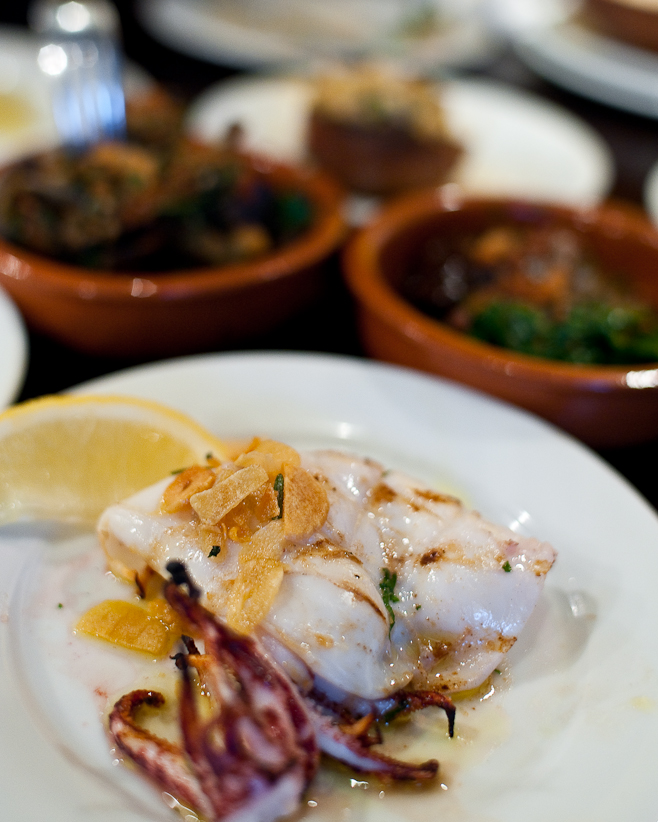 Grilled to impart a tinge of bitterness, the texture was smooth and drizzled for a wet finish. Gently seasoned and with garlic chips for garnish, the squid tasted agreeable.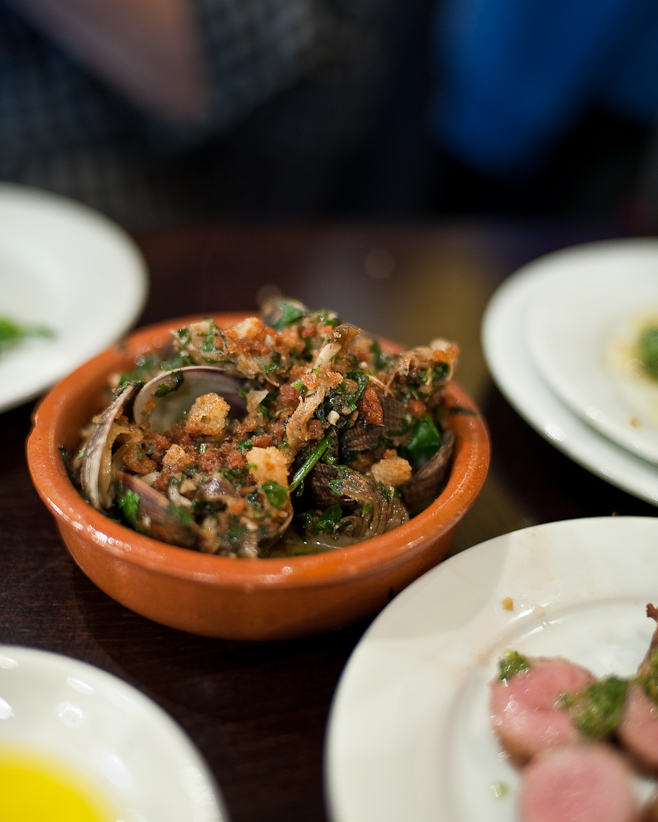 Next up were the clams, and what I thought was an instant classic. Served with a brothy sauce; the clams were hearty and heady.
I'm running out of adjectives now, so I'll just talk about one last dish: bone marrow on toast.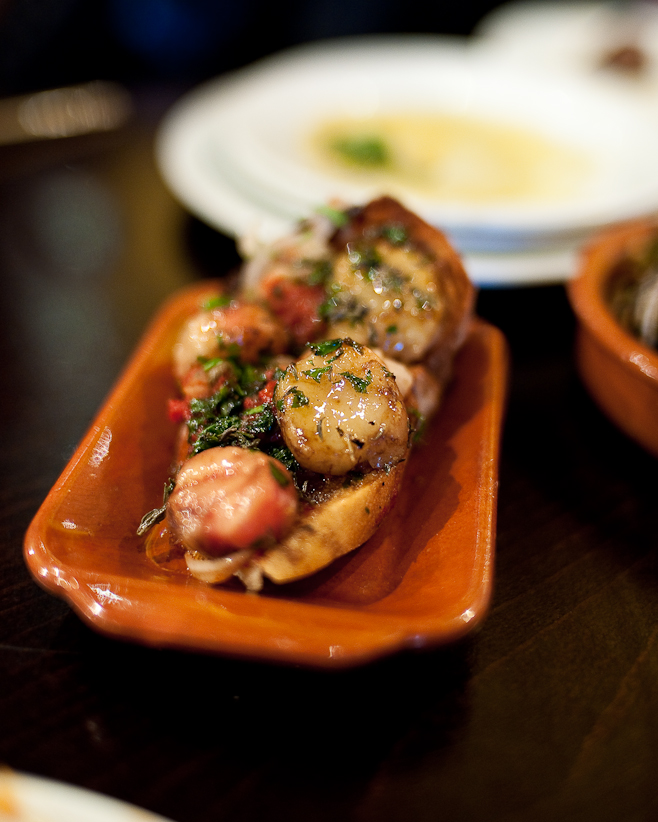 Reminiscent of a sweet onion tart, the bone marrow were presented 'bone free' and cut into little circular shaped which looked alot like whole scallops. When the marrow cubes disintegrated in my mouth, it let out a wave of mature fatty-marbling flavours which balanced well against the sweet(ish) flavours. Really nice.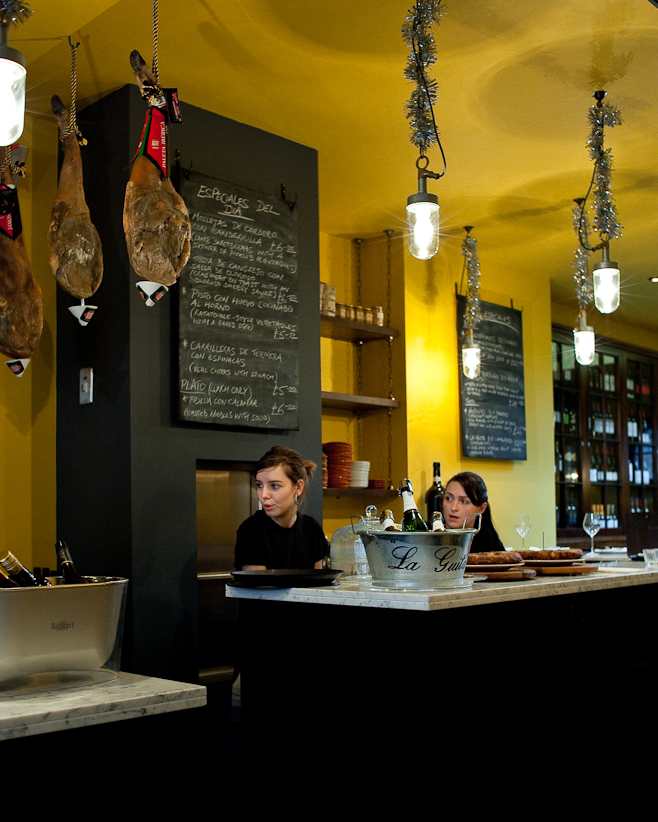 Our bill came to £63, just under £16 each. Overall, I liked this place more than I thought I was going to, my gripe with it were the relatively small portions. Cutting up some of the dishes (the crabs on toast especially) called for basic training in clinical surgery. Food was mostly good with some dishes being more inventive than the average London tapas bar (whatever that may be). Food also felt rustic and everything was well cooked. I'm surprised there's no hype around this place (no twitter presence perhaps) and bearing in mind of similar tapas bar in the locale (Salt Yard and Barrafina included), I think Barrica stacks up against the competition rather well. Oh one more thing, the space is a beautifully presented rectangular space – you can't beat yellow walls, surely. Understated stuff and I think it offers slick cooking which should eventually attract a loyal crowd, which right now includes me. As a lover of most things Spanish, I'm happy to have stumbled across Barrica, it's a gem in the smoke.
More photographs on my flickr account here.
The Gist of It
Barrica official site £25pp
62 Goodge Street W1T 4NE
Tel : 020 7436 944
Tube : Goodge Street
Did you enjoy reading this post? Why not subscribe to my feed updates for free. Alternatively, You can subscribe via email.