St Pancras Grand, official website 
St Pancras International Upper Concourse NW1 9QP 020 7870 9900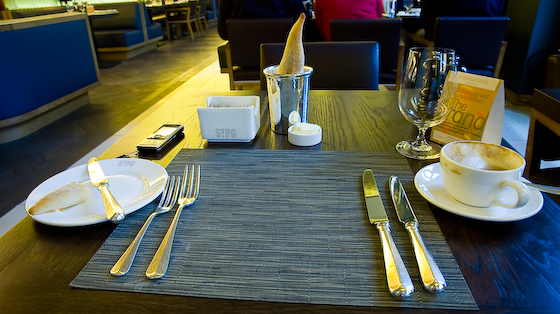 Picture this.
Wake up at 7.30am, have the Arnold Bennett at the Wolseley by 8; I'll make a start on my copy of the Times, quickly finish up my cappuccino just in time to catch the 9.40 train to Paris and be seated at Joel Rubuchon's by 2pm for a late lunch. After another cuppa, I'm on the 17.43 back to London and will be nibbling away on the miso cod at Nobu B. by 8pm.
Oh the life.
Sadly, this Paris-London trip is just a pipe-dream, I'll need to save up quite abit before I throw it all away over three meals and two cities. For the time being, I'll just have to make do with lunch under the famously beautiful dome which covers St Pancras station, home of Eurostar.
It's all just abit of romance.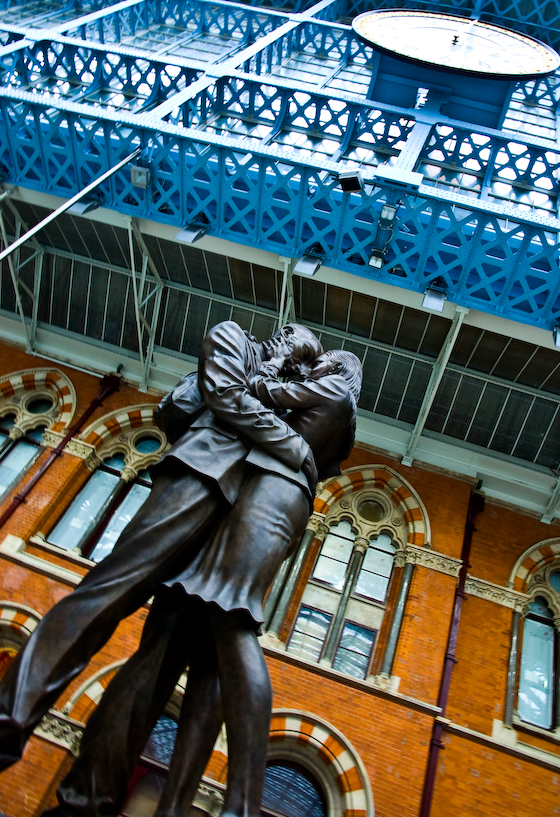 I write with a lot of music on. I like having all manner of distraction tuned out. Somehow in all the harmonic nuances of Sam Sparro's baritone, I find a kind of silence which not only helps the words flow, but it also helps stir the imagination. Just like the way Black & Gold has this kind of old school cool, electronica in the background and 80's echo-ing effects; bringing a foggy and smoky mood to the song. While St Pancras is a little more sobering than that, the romance of this gateway to Europe is hard to ignore. It is still recognised as the 'Cathedral of Railways' with it's Victorian roots and it's awe-inspiring train shed – once the single largest structure of it's time. Perhaps the most romantic quality of the station are the red bricks and blue steel frames, or maybe it's the statue of John Betjeman – the man who saved the storied station – it could even be the St Pancras clock, but I think it's most likely 'the meeting place' – the towering bronze statue of two embracing lovers at the end of the upper level, designed to evoke the romance of travel.
Shanghai, 1933.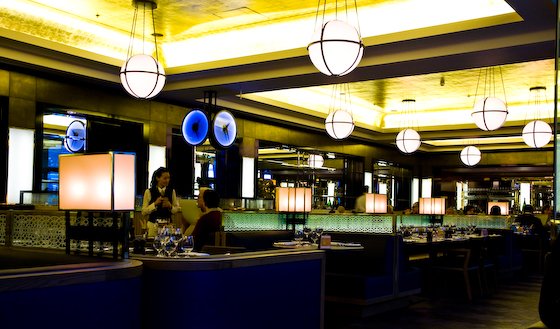 The St Pancras Grand restaurant falls under the Searcy umbrella. This catering giant has been doing its thing since 1847 and has seemingly brought abit of that 19th century flair to the train station. I immediately noticed the low hanging light balls and all the polished wood and leather booths the moment I stepped through. Complete with high ceilings, waiters in waistcoats and a soundtrack filled with smoky 30s jazz– I felt transported back in to time.
The menu looks straightforward, serving foolproof contemporary British food and modern European dishes. Seafood looks like a pretty big draw on the restaurant menu with british rock oysters ( £9.50 for 6 ) , caviar ( £75 for 30g of Sevruga, ouch) and a selection of whole grilled fishes. In addition, there are the usual grilled meats, a brunch menu with benedicts and kedgerees' and a fine pudding section with a sherry trifle and eton mess. So far, so predictable.
Tartaric proportions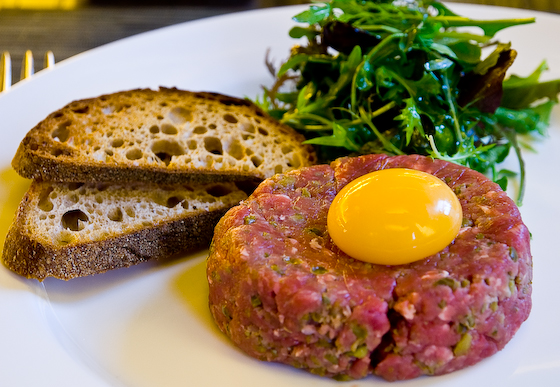 It is nigh on difficult to get good steak tartare in the UK, it always taste abit off to me and I dare not order it in a smaller restaurant ( just how do they handle the beef?) . Tartare can be dangerous if it isn't prepared correctly. In theory, eating raw beef is fine, so long as there is no bacteria on it. Bacteria is usually found on the meat surface only, which is why browning the surface and having full raw innards is quite safe to eat. With tartare, a cunning chef will use a 'clean knife' to cut away the surface meat (making sure it's a good cut of meat and it's fresh) and then finely chop what's left into a mince. Seeing as to how the Grand looks the part – I bit the bullet and committed myself to the tartare on an empty stomach.
Firstly, the dish looks great. Tartare is abit of a lost delicacy with its raw nature turning most people off. But actually, a tartare when done right, is an appetising way to start a meal. This one looks like it's by the book, I can taste the capers, peppers and Worcestershire sauce. The raw egg giving it a creamy flavour and the tender mince tastes rather like the best beef burger I've ever had – albeit raw. The bounciness of the meat was really nice and I didn't taste any rawness in the meat, it was well seasoned enough, yet it was also rather mild in flavour. The bruschetta went nicely with the steak and I quite thoroughly enjoyed the dish. A good steak tartare, everything done by the book.
Curry and rice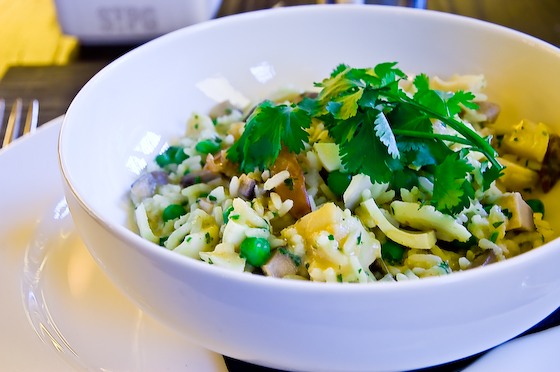 Kedgeree was actually invented in Scotland and is a dish which consists of smoked haddock, eggs, rice and abit of butter. Way back when the British Raj ruled, Scottish soldiers took this dish with them to India and it was there it became part of Indian cuisine (or I should say, Anglo-Indian cuisine). It was also where it began its infusion with curry powder to go with the smokiness of the fish. In Victorian times, this dish became part of the British breakfast menu.
Technically, I hadn't had breakfast yet, but it's closer to 1pm when I lunched here and I thought it, oh to heck with convention. Bring on the breakfast rice.
Tastes of smoked haddock on rice with curry and quite large pieces of boiled egg. I think I also tasted flakes of cod, peas and abit of mushroom. The curry is intensely herby, like an Indian curry, with lots of firepower, but thankfully not too much heat going down my throat. Personally, I think the flavour is a little ruined by the smoked fish, it was just too strong for me. I'm beginning to think that cod was actually smoked as well because I remember my mouth was spewing smoke by the end of the dish. All the butter, curry, eggs and smoked fish made this dish very hard to finish and it just bloated me right up. The rice is abit soggy if I'm being honest, ( I grew up on rice, Thai fragrant rice for me for extra softness) .
I didn't like this kedgeree at all. It was really, really heavy – I think the chef really needs to change the recipe, the potency of the curry powder coupled with one scoop too many of butter just made for a pretty lethal combination.
Still, the Grand is pretty romantic.
I think that the cooking is alright, don't expect fireworks and for the price it's actually not too bad. They have an '1847 three course menu' which costs £18.47 ( surprise, surprise ) . Most of the a la carte is actually on the 1847 menu – and for nearly half the price. I was not too blown away on my visit, then again, nothing on the menu particularly stood out and I just felt like I was eating at a restaurant pretending to be posh. All for show and nothing really to show for. Still, if you have time to burn the next time you're on your way to Europe – I think the Grand is pretty good for a cuppa and slow bite. Just don't expect to be wowed.
The Gist of It 
St Pancras Grand, official website 
St Pancras International Upper Concourse NW1 9QP 020 7870 9900
Verdict: Abit of old fashioned English charm with a storied location and all the ingredients for a romantic lunch. Shame, food isn't as slick as it looks. Great, if you're catching a train, otherwise there isn't much point.
Did you enjoy reading this post? Why not subscribe to my feed updates for free. Alternatively,  You can subscribe via email.