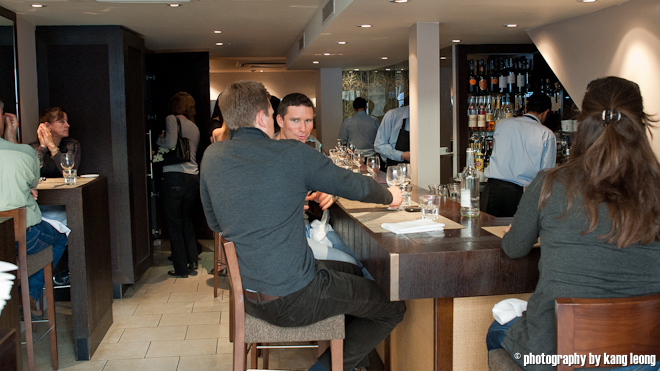 Amex 10-10-10? Unsurprisingly, that points to the Sunday just gone, and was a special one-day only eating event which took place across 10 restaurants in London. Being that I am a stakeholder (with my belly) heavily invested in the dining scene and all, this post represents my 'contribution' to the London Restaurant Festival (4th Oct to 18th Oct), co-founded by her belliness, Dame Maschler in 2009.
The premise is intriguing: Get 10 of the best chefs outside of London to cook with 10 of the best chefs in London. Best, being a liberally applied term. Needless to say, this has led to some rather interesting pairings, like:
1. Bosi** and Roux*** (Mr Waterside Inn) at Hibiscus …!
2. Blanc** (Le Manoir) and Loubet (former*) at Bistro Bruno Loubet at Zetter
3. Rogan* (L'Enclume) and Singh at Cinnamon Club.
I won't reproduce the full list, since it's already gone, but you can look here.
Oh before I go further, full disclosure, Mandate, the PR machine behind Amex 10-10-10 had seeded 10 blogs with free tickets for meals at all ten venues. I didn't run a competition for you lovely folks, because I replied too late (number 11th I guess) , but Mandate were kind enough to offer me a freebie in any case, just days before the event… I know, I could have raffled it to a lucky reader, but I have my reasons, as follows:
It was for Anthony Demetre * and * of Wild Honey and Arbutus pairing with Tom Kerridge* of The Hand and Flowers. If you follow my twitter feed, you'll find that I adore Arbutus–Wild Honey, in particular, the braised pig's head – which has come off the menu in the past, but back on by popular demand – and his version of the ile flottante. Pink no less. I'll be honest, I don't know about The Hand & Flowers, but after this meal, I will visit soon. Anyway, I couldn't say no to this freebie, too good to pass up.
So Tom and Anthony were both slaving away in the kitchen for this meal. We arrived at high noon on Sunday, each chef had control of an alternating course. Anthony kicked things off with the starters.
We drank our usual, a carafe of the excellent spätburgunder (German Pinot Noir) which has resided on the Arbutus wine list for as long as I can remember.
Starters by Anthony Demetre
Squid and Mackerel Burger. Parsley, razor clams and sea purslane.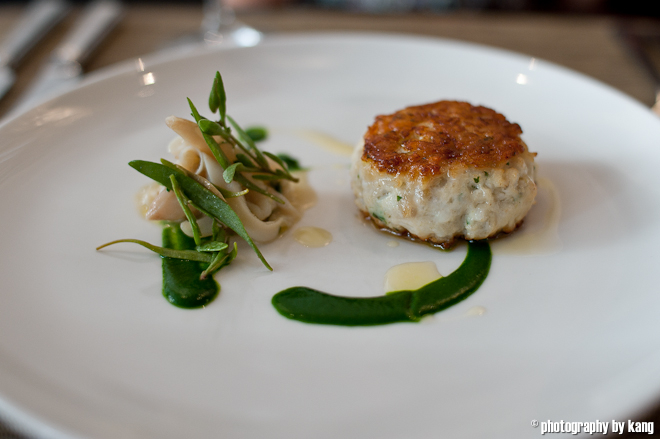 The much better half started with the burger. Brimming with seafood flavours, plump and juicy. The razor clams with sea purslane were a fabulous combo. I have to say, a little saltier than I remember it to be, dangerously close to being oversalted, but strong flavours and strong seasoning were always characteristic of Demetre's cooking. Still, it didn't detract from the overall experience, the missus loved it and it's a sterling starter.
Braised Pig's Head. Potato puree, ravioli of caramalised onions.
This is my favourite dish at Arbutus. I can never work out what the ravioli of onions are wrapped with. I assume it an offal of some kind, tripe maybe? The reason I say this, is because it carried a strong flavour of offal, the onions, tasting pickled, only just about masks the strength, it can be quite abit overwhelming.
In total contrast, the pigs head, reformed into a rectagular block, a sort of pan-fried terrine was pure heaven. Heavily seasoned with fatty bits and flossy bits, only slightly smoky, a little gamey, soaking in glorious meaty flavour. Simply superb, and in my opinion, the prime reason why Demetre is where he is today, a master of fully utilising the discarded.
Second starters by Tom Kerridge
Moules Marinière with Warm Stout and Brown Bread.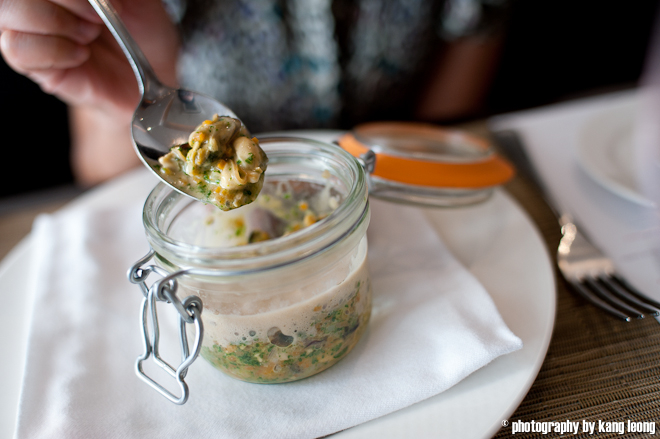 I suppose this is Tom Kerridge's flagship starter, complete with its own brown bread, from what I've read, is freshly made in at his kitchen in Marlow. This Michelin winning restaurant hasn't garnered much recent press, so I approached it with zero expectations. Mussels in warm stout, served in a glass terrine jar… thankfully with the rubber vacuum seal popped. A real visual treat this one. Porridge-like, gloopy and warm. Proper grub.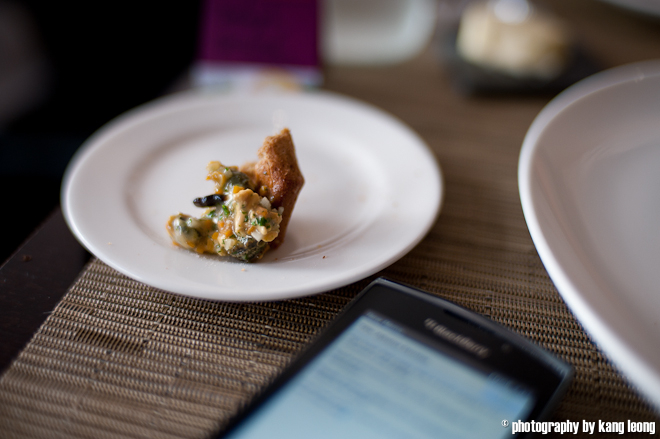 Beautiful, eye-openingly so. It was a full mouthful, vivacious and viscous, well salted, buttery and barrels of mussel flavour. An armada assault on the senses, I suppose the stout had gone a long way in ensuring the full bodied taste and texture, just a real joy to eat. We really enjoyed this, and I must confess, I thought this was better than Demetre's pig's head. My favourite dish of this meal.
Parfait of Duck and Foie Gras with Orange Chutney and Toasted Brioche.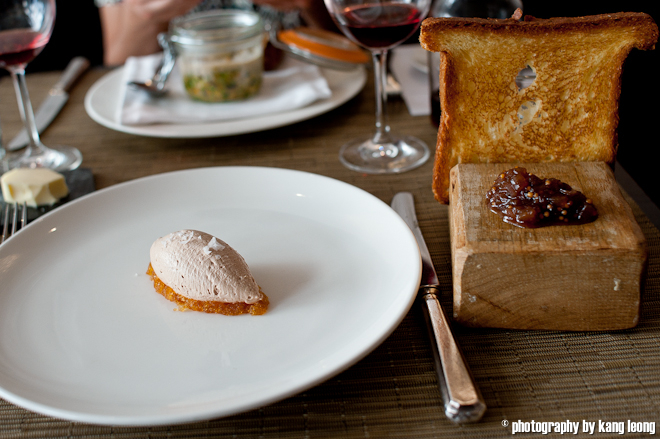 Yowza. What a smooth parfait. It tasted like it had been whipped by twelve tireless elves and then ferried across the heavens to imbue it with this cloud-like texture. And it was the ultra smooth texture that stood out, analogous to a melting gelato. A magnificent parfait. In terms of flavour, there were the regal fragrance of foie gras. In terms of taste, near honey sweetness, with a piercing intensity on the salt front. The competing strength of seasoning was dizzying, even though it was merely a tiny dollop, I felt it was a little too rich as I inched toward the finish. I thought something a little more floury, like the brown bread, as opposed to the sweet brioche, would fit the parfait better. Still, it didn't stop me from finishing it.
Eventually we went on to have a further main course by Demetre, but in line with his dishes, it was so filling that we didn't room for Kerridge's puddings. So in light of the lack of evidence to compare, I'll stop here.
We already know about Arbutus, Anthony's style of cooking and choice of ingredients may split opinion, but one cannot deny that he's created two great restaurants (and possibly a third with Les Deux Salons). I for one fall into the groupie camp. I think he has talent, and with both his restaurants winning a star each, it is a testament to what he is able to achieve with ingredients often neglected by the mainstream. The best ox cheeks & bone marrow and the best pig's head recipe in town, in my humble opinion.
Out of town, Tom Kerridge and his Michelin starred The Hand & Flowers is now on my pertinent radar. The sneak preview I gathered from this one-off special offered a glimpse of the revelatory cooking he seems capable of producing. The moules in stout is a serious dish, if it were in a London restaurant, it would have had the critics cooing in unison. Straight shooting, technically perfect, boisterous cooking – I guess the whole point of bringing the rest of the country into London kitchens is to showcase the talent that's outside of the M25, and I liked what I tasted.
Speaking of, I still have yet to try The Royal Oak and The Sportsman, The Kitchin, and Le Manoir, Waterside, Chapter One, The Marquis ……yeah, many excursions to plan, so little belly space.
The Gist.
Arbutus
£40pp
63 Frith Street
W1D 3JW
Tel: 020 7734 4545
The Hand & Flowers
£45pp
126 West Street, Marlow
SL7 2BP
Tel: +44 (0)1628 482 277
Did you enjoy reading this? You can subscribe to the Newsletter. Alternatively, you can subscribe to the RSS feed.