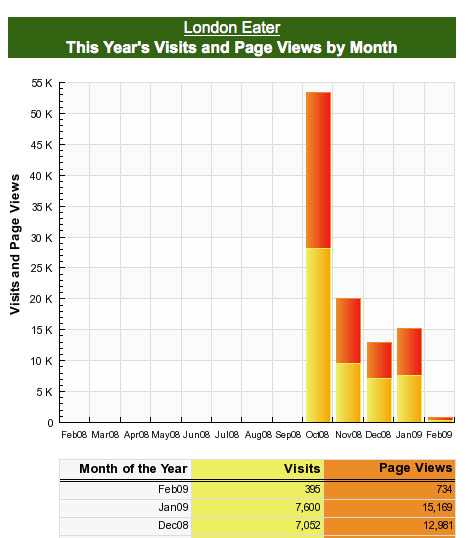 It has been a while since I last wrote about how my little blog was really doing in the wide, wide internet. I have since switched over to sitemeter and slowly overhauled the design and structure of the blog. As a consequence, my sitemeter stats only start from about mid October … I'm a number cruncher you see and I love bar graphs, Google analytics doesnt offer them.
So how are we doing so far?
Well, it's no real surprise the numbers were low in December with just over 7000 visits, you returned in January , but only slightly with 7,600 visits, hopefully this means that site traffic is on the up and up. To date I've had well over 100,000 page views, approved over 1000 comments and written 124 posts. I have always said that if I can get 100 readers per day , I would be a happy camper, I have and Im a pretty happy camper.
So dear reader if you are among the 7,600 visitors in January, thank you for your continual support – I am committed to writing better articles and take even more sumptuous photos for your pleasure.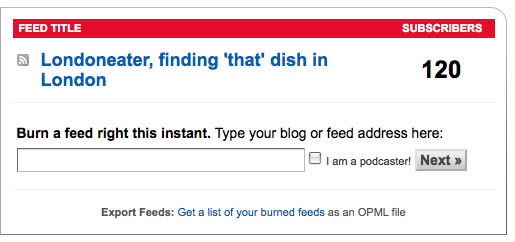 Perhaps a more important stat that site traffic are my RSS subscriber numbers. Back in November, it was still pretty non-existent, even now it's just a measly number – but in the grand scheme of things, 120 subcribers for a niche city blog after about 5 months of blogging is not too shabby. That's 120 people who ( I assume ) find my reviews useful and have elected to reserve a seat whenever I take the virtual podium. If you're one of my subscribers, thank you very much – its nice to know I am writing to people who want to read my work and for that I'm grateful.
My objectives
Back in the first seventy five days, I laid out a few goals I wanted to blog toward and I'm glad I have been able to achieve some of the things I set out to do:
I twittered and twitted and now have about 450 followers. Thanks guys, Im at @LondonEater
I have yet to start my bi-weekly newsletter – I would like to do so in the next couple of months, but I have a funny idea to collab with someone to help launch something abit more targeted and meaningful for the citizens of London , and anybody interested in gossiping about the Smoke. If you currently stewing about an email newsletter about London , then we might be potential partners. Email me if interested.
I have integrated a new set of articles here: Opinion. And I'm loving it. I write them every wednesday/thursday under the guise of the 'Midweek Quirker' and you can find some of them under the Feed your Mind sidebar to your right. I enjoyed writing the critic vs blogger the most.
I have established a pretty firm presence on Urbanspoon and have worked out a schedule to integrate my stuff there. I'd like to now start upping my contribution to Niamh's TrustedPlaces.
In terms of a site landing page, I've overhauled the About page to include everything you need to know about London Eater; a why subcribe? page to help you subscribe to my feed; a restaurant review page that shows all the reviews and a links page for any link loving. I went abit obsessive with minimalism – lots of white space, minimal pages and simple and straightforward design in a way that my blog can be pitched in ten words ( or less ) :
LondonEater.com is a foodblog helping you find that dish.
Ideas for the immediate future

Useful articles. I am shunning wine articles for the next quarter because I'd like to shift my focus and write a new set of blog posts: stuff that will help make an aspect of your life easier. I'm thinking food photography tips, food blog start up help , social media promotion , it's all still abit muddy so we shall see how this pans out.
Guest Posting. I did my first gig at Gourmet Chick and I am looking to give away my best stuff to anybody who is willing to have me. I'm trying to line up at least one gig per week, I am doing Hungry Mouse this weekend, Simply Scrumptious & Chew on that next week, Mark of Global Patriot extended an invite to which I am publicly accepting it here and finally I'm working on C and T for a guest blog over here or at Metrotwin. Beyond that, I'd love to give a food photo guest post to dPS but I best write it first and see if it will get the nod from Darren.
Restaurant reviews. Will continue to get most of my attention and I will pump even more of my time to ensure that they are of the highest quality. I'm no literary genius or a pro photo man, but I do know what I want to read when it comes to food porn.
Apologies for the interruption to normal proceedings – eating resumes tomorrow with a visit to Arbutus and a visit to Obika will follow this friday. Till then, happy reading and hope you're snuggled up at home and watching the snow fall in the back garden!
Did you enjoy reading this post? Why not subscribe to my feed updates for free. You can also subscribe via email too, and for free.