Obika, official site
400 Oxford Street W1A 1AB +44 (0) 870 837 7377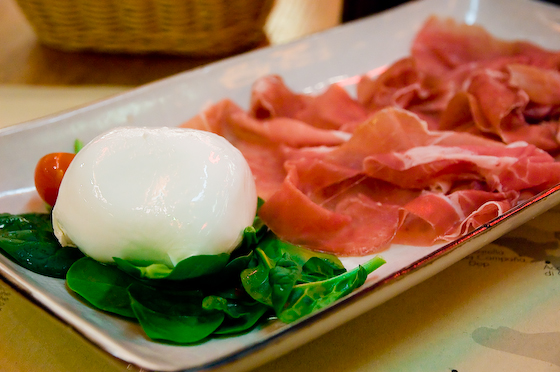 I'm a real sucker for quirky things. I like eating in total darkness and I jumped at the chance to sample a mozzarella bar cheekily tucked away in the middle of the women's clothes floor inside Selfridges. Before you pass judgement over the author – I'm not a bird watching freak – I'm really here to sample the finest Italian dairy delights.
A brief history of the white stuff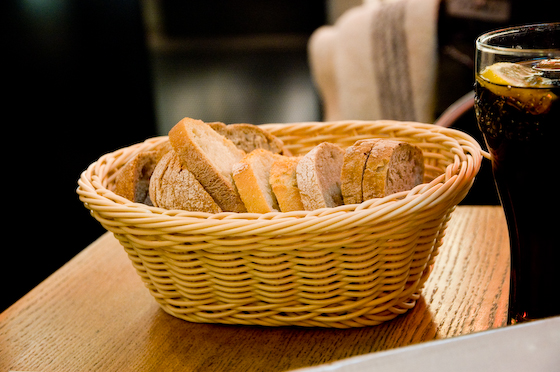 The word is Obika fly in the white stuff three times a week from Italy, ensuring total freshness and the highest quality. These guys are mozzarella purveyors of the highest order and claim to only supply the very best quality controlled (D.O.P. man) mozza from the best Italian Buffaloes. The food is pretty much as advertised – it's a cafe/bar that serves mozzarella with other stuff on the side.
The cheese comes in four flavours in order of intensity: Paestum (deliciate), Pontina (stronger) , Smoked (very strong) , Stracciatella di Burrata ( sweet and creamy )  . After much deliberation with my very Italian waiter – he suggested I go stronger as it's just strong enough to let you savour the flavour but still clean enough to taste totally pure.
Premium cheese at premium prices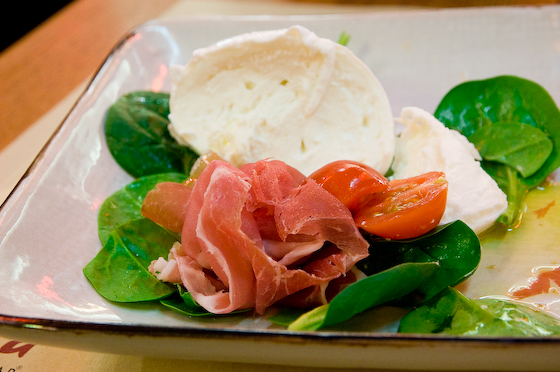 I ordered my strong flavoured blob with only the finest parma ham on the side (£13) and a big bread basket (£1.75 pp). The cheese itself wasn't particularly big, but it did come with quite alot of ham. Drum roll …. it wasn't spectacular. It didn't taste any better than the £3 sainsbury finest's stuff of the same dairy family and yeah it did taste really fresh but not so dazzlingly good that I was jumping around. Maybe it's because I'm a fan of brie which is the completely opposite style to the mozzarella. In place super stinkiness and ultra mushroomy creaminess, the mozzarella at obika is as fresh and tastes as pure as the most matured and stinky bries.
I was glad that the parma ham was sweet, nutty and jammed packed with flavour to help complement the flaccid cheese, otherwise it would have made for such a bland meal, I could have mistaken it for a reformed protein – sans seasonings.
At least there's Gucci?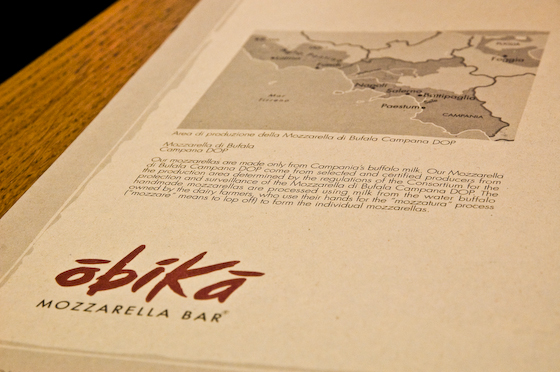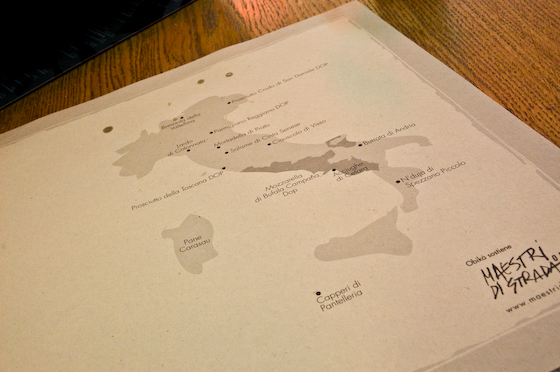 This will perhaps be my shortest review ever – because there's really not much to talk about: the best mozzarellas are clean tasting, full stop. I think I probably should have tried the smoked stuff or the Stracciatella, maybe they would have raised an eyebrow or two – but the delicate stuff is just too bland for me and I just kept thinking how I could have easily prepared this myself and it would have only cost half the price (if not less). Plus a bottle of coke, the meal came to £20 – I was scratching my head as this was meant to be a quick (cheap) bite ,  £20 gets me a three course lunch at arbutus, a little top up gets me two courses at Robuchons and for very much less, it gets me a big bowl of fresh hand pulled noodles at Baozi Inn and I can get a cheese flight (plus wine) at the local cheese parlour for £14.
For sheer novelty factor – it's not that novel, for great cheese – it's abit unspectacular, for value, it's astronomically expensive, but you do get a good view of designer brands.. if you're into that sort of thing.
It does make for a great idea for a quick lunch at home though: Find a great local Italian grocery (Alimentari, Kilburn) , get a bag of baby spinach and get the finest parma ham in the food hall downstairs and set it up for an intimate valentine surprise (with candles).
The Gist of It.
Obika, official site
400 Oxford Street W1A 1AB +44 (0) 870 837 7377
Verdict: Good ingredients, but for £20: NO.
Did you enjoy reading this post? Why not subscribe to my feed updates for free. Alternatively,  You can subscribe via email.