Eat&Read is a weekly round-up of yummi-news from around london and the blogosphere, every Sunday.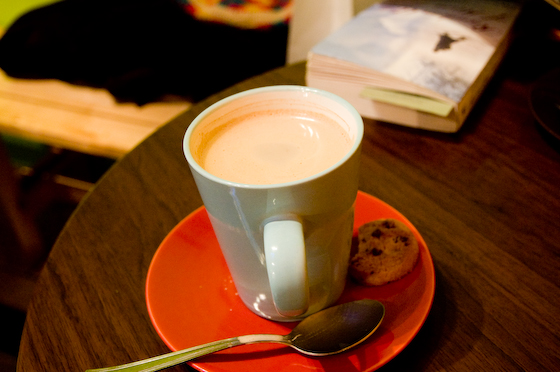 In the month of January, I ate at ten places in London, discovered a one man bossa nova jukebox, garnered 15000 page views and finally tasted 'that' Great British pudding that was served to the Queen. I think it's been a good start to the grand new year of 2009 and without further ado – let's get the eating started.
The best Eats
1. The Square


"Fillet and Croustillant of Aged Ayrshire Beef with Cepes, Shallots, Bone Marrow and Red Wine"
This review was post 100 and I went for the jugular with the £75 ala carte. The beef fillet was really good, served with three different kinds of toppings for the beef marrow. Amazing stuff. Full review here.
2. Marcus Wareing


"Baked egg custard pudding with th strawberry jelly and strawberry swirl ice cream"
This was that amazing pudding that was served at the Queen's B'day bash a couple of years ago to which Marcus cooked it on the Great British Menu show. It was really tasty stuff and almost worth the price of the set lunch all by itself. Full review here.
3. Tartine


"Crab meat with courchamps sauce, £11.50"
The tartine is the French version of Bruschetta. Rock hard sourdough toasts with toppings. This little gem in Sloane Square is a great place to grab a quick lunch. Great skinny chips too. Full review here.
4. Barraco


"Man with Spanish Guitar"
This Brazilian cafe in Kilburn has modest home cooked grilled meats, modestly priced and tastes pretty good. It's small, it's honest and it's got a really passionate man singing great bossa nova hits which I can't understand.. but that's why it's great. Full review here.
The best Reads
1. Mostly Eating


This is a beautiful food blog maintained by Sophie – who is a nutritionist – and writes about fitting together healthy and sustainable food choices. Her foodtography is sumptuous and recipes are very cool. I'm looking at the (raw) Parsnip and goats cheese salad and I'd like to be healthy for tonight's dinner. Check her out here.
2. Building a Smarter Planet


There is a thoughtful article ( and a funny vid) about food travel and how it is linked to creating a larger carbon footprint. Apparently, in the US, there is so much food being transported around the country that as much as 50% of it rots before it reaches it's destination. There is a better way to build a better system and to deliver safer foods and go greener. Go check it out there.
3. The Top 10 Unusual Food Combinations


This quirky list from listverse.com has gotten some 274 comments. There's carrots and sugar (not so weird, like carrot juice no?) , Chocolate and coffee ( isnt that just mocha?) , meat and aniseed (isn't this just Indian cooking?) , Apples & vanilla ( hello… apple pie?). I don't know – this list just didn't excite me. Nothing I havent really heard of, or that bizarre. What about you guys? Read it here.
4. The McPizza


It's literally a pizza topped with a couple of cheese burgers of McD's and fries and then baked in the oven. Now, this is pretty cool ( or disgusting depending on who you speak to ) … ah, the glory of the internet. I gotta say, I was slightly intrigued by how this thing actually tastes like. The author says it 'tastes exactly like you'd expect'. Hmm. What do you think?
5. Deep Fried Ravioli at The Hungry Mouse


I will be guest posting at Jessie's next week, but first, you must go check out her deep fried ravioli recipe, it makes so much sense to fry ravioli that I don't understand why not more people have done it. I suppose it's abit like Jap style Gyozas but I will have to try this for myself, seriously London faux italian restaurants – fry some raviolis please, I will gladly pay money to eat it. Read the recipe here.
The best London
1. FT lunch with a friend for £5


The offer is real, I used it for Le Cafe Anglais and Incanto. I still have another three and was thinking about using them at L'Anima and Quo Vadis… oh actually maybe I should use it for Zilli Fish, lobster spaghetti is ace there. We'll see, offer runs to Valentines I think. Ignore the front page bad news and cut out the tokens on page 2. Read it here.
2. Winter Wonderland at Hyde Park.. is gone.


This was so very cool and I went there at the start of the new year ( or was it new year's eve? ) . There were all kinds of grilled meats ( German style ) , candied and chocolate smothered fruits ( German style too ) , all sorts of theme park style rides ( German style again ) and a great big slide. Can't believe it was just a short month ago – it feels like we've been in 2009 for years now (pun intentionally intended). Read here.
3. Chinese Nu Year, Londres.
Gong Xi Fatt Chai, my dear readers. It's the Year of the Ox ( that means my brother is 24 this year ) and I could not be happier to usher in this grand new year and leave the Year of the wiley Rat behind. While the recession has ruined lots of moods, I still believe in London and Great Britain and I believe that the pound will bounce back stronger than ever and this country will emerge once again as the Princess of the Seas.Ok maybe not, but hey, every cloud has a silver lining, just so happens that this current one is pretty big. Till then ….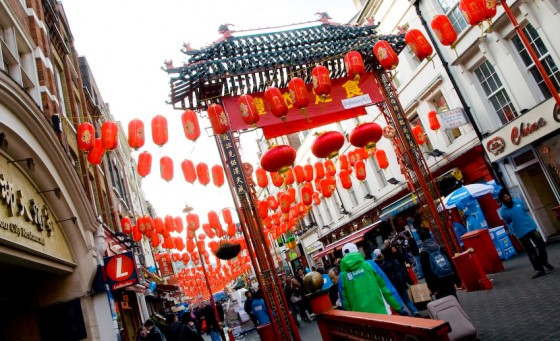 Happy New Year, I hope you had a great January and that you ate lots of delictable things and that you will continue to eat great things. Have a great end to the week and come back here tomorrow for more eating news in the Big Smoke that is London.
Did you enjoy reading this post? Why not subscribe to my feed updates for free. You can also subscribe via email too, and for free.