Tartine restaurant and bar, official website
114 Draycott Avenue, SW3 3AE | 020 7589 4981
£10.00 per tartine , £ 3.50 skinny chips £2.50 coffees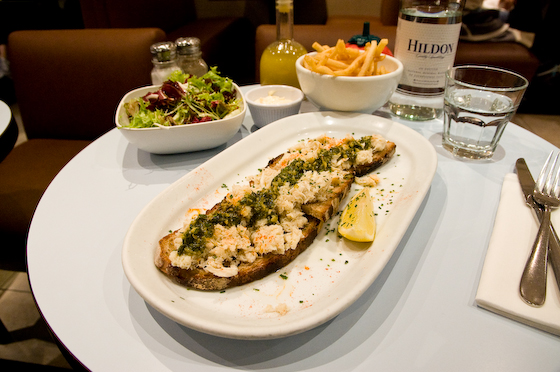 A tartine is a slice of bread.
The Tartine, on the other hand, is a French eating concept. The concept is simple and Italian loving Londoners familiar with the bruschetta will be comfortable with the Tartine, which are giant slices of Poilane, a type of sourdough topped with a variety of delicatables. Lightly toasted, doused with a sprinkle of olive oil and accompanied by a fresh house salad to round off a very balanced French meal.
The livelihood of most tasty restaurants rests on the skill of the point man in the kitchen, making it a trend, rather than an institution ( are the top 10 places to eat today the same as it was 35 years ago? ) . But if you build an establishment around a concept, ah, now we're on to something, a concept can be propagated and passed to the No.2 or even No.3 without much dip in quality ( dare I say it? – think McDs and KFC ). Borrowing a line from Chris Nolan's reason for a Bat minister of Gotham: " A man can be killed, destroyed but a symbol .…is incorruptible" ( What does this have to do with Tartine, Kang? )
Concept? Symbol? Incorruptible? Too subtle? I've always wanted to quote my favourite movies, and I'm not sorry.
I am a resident of the Borough of Chelsea and Kensington
As I write this on a chilly Friday afternoon, classic fm (Netharlands, what a great radio channel) , Il Divo have joined X-factor on jumping on the 'Hallejulah' bandwagon, sorry boys and girls, there is only one version which is considered music and that is the haunting Jeff Buckley version. Everything else is just 'trash' ( As they say ).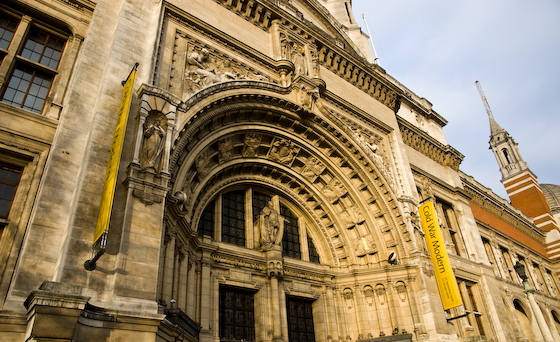 The Victoria and Albert along me old university
South Kensington is beautiful, it's peaceful has really nice places to chill out, great museums and it also forms one part of the knightsbridge-sloane square-south ken axis of posh power.
Did I mention it's very French too? At the eye of this axis lies the Michelin building and several small scale fashion shops and some very trendy eating concepts, one of them is (of course) the incorruptible Tartine concept.
Oh mon dieu, the French have landed.
Stepping through the unassuming shop leads me into a dark and low ceiling cosy dining space. The front of the restaurant-cum-bar-cum-café is a long rectangular table which can probably sit about 8 guests and I am greeted by a rather chippy silver maned English gentlemen, complete with a links sweater and an R.P. so standard that it is likely to be pre-approved by the Queen. The low ceilings and the cream walls are well lit with plenty of good spotlights, giving it this cool cavern-like (perhaps lounge is more fitting) feel, oh and it's also got these long, comfy sofa style seats stuck to the walls. So far so good, the spotlights keep my copy of the Times completely readable, so I am happy.
Choosing a French Bruschetta , or was it Italian Tartine?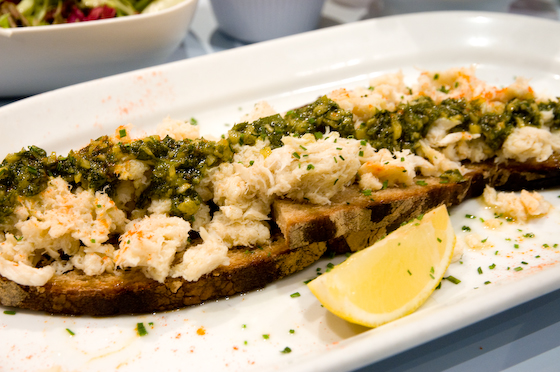 The menu is very straightforward, tartines are available with a range of hot/cold toppings including choices such as flaked salmon, pickled cucumber, sweet dill and mustard dressing; Minute steak and caramelised onions; Shredded duck, crispy ginger, cucumber and plum sauce; and Grilled squid, rocket, sweet chilli jam and fresh lime.
As you can see, the toppings cover a pretty wide gamut and is bound to include something which tickles your tastebuds. In addition, they also do chippies, burgers and other mains such as a grilled salmon and even chicken. I did also spot a steak tartare served with toasted poilane, which I must try on my next visit. Opps, I let my verdict out even before tasting the dish. Oh well, Friday slip ups.
Crabs on Toast, with lots of skinny chips.
I decided to defy Gordon Brown's mess and order the most expensive tartine on the menu: Crab meat with courchamps sauce, £11.50. And skinny chips too, £3.50 a pot. Before I could whip open my copy of the Times, the meal had arrived on my table. Coffee after I suppose, but first – the chips. Chewy, soft and overall, very nice, very frites like and quite 'authentically Parisian' … it's just chips, and it tastes good.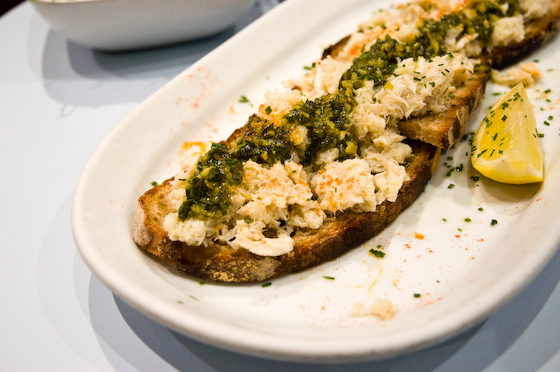 As for my tartine, the crab meat really caught my attention. It was definitely fresh and smelled really aromatic too. I duly squeezed my wedge of lemon and took a taste of the pretty intriguing green courchamp sauce smothered over it. The sauce is a godsend, it has a very clean taste, and an aftertaste that is rather like a cucumber with hoison sauce. It also tasted of capers, parsley and perhaps even garlic. I'm not quite sure what else is in there (pepper?) but it was refreshingly appetising and went so very well with the crab meat. The crab meat is real and does not seem to be some sort of frozen re-formed crap. I could see the fresh flakes and taste the ocean – so it was pretty good. ( I come from a town where we can buy freshly caught live lobsters for £3 per kg so I know my seafood well. )
As for my slice of sourdough, it is dryer and tougher ( crackle and pop as I bite ) than I'd prefer it to be – it is very much like a bruschetta, but I'd still like to hang on to my teeth for a while longer yet so I didn't appreciate the hardness.
I should also mention that I saw other diners munching on a good looking burger and the fish and chips looked really awesome too – but obviously, I'm going to eat a tartine at Tartine, at least on first pass.
Finishing the rambles
This is quite a good looking Parisian style café featuring rather classic brunch/lunch dishes which all look like winners. Prices are recession friendly and the portions are relatively large.
Special mention as the coffee is ridiculously good here. I ordered the mocha and it tasted as if they melted proper swiss chocolate in there making my cuppa rich and thick and oh so sweet. For a moment, I thought I was drinking a damn good hot chocolate with hints of coffee instead. The creamy and silky smooth foam ( no bubbles , interestingly enough ) was filling and full flavoured.
What a nice way to finish the Times on a quiet, lazy afternoon. Worth a try and I think a bit of a hidden gem for lunch, brunch, coffee and a first date.
The Gist of it
Tartine restaurant and bar, official website
114 Draycott Avenue, SW3 3AE | 020 7589 4981
£10.00 per tartine , £ 3.50 skinny chips £2.50 coffees
Verdict: If you're looking for a quiet, chilled out cafe serving simple straightforward food then come here and bring your favourite paper.

Did you enjoy reading this post? Why not subscribe to my feed updates for free. Alternatively,  You can subscribe via email.