Barraco Official Site
10 Kingsgate Place, Kilburn NW6 4TA 020 7604 4664
£4 starters £8 mains £2 puds and £2 for live music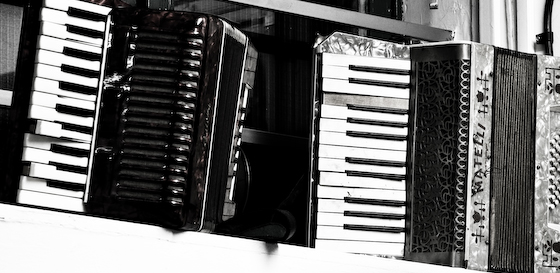 It's Saturday and you've just found the bargain of the year in a Paul Smith suit on sale for £171. On the bus ride home, you decide to hop off a few stops early and walk the rest of the way. A few minutes later, drops of rain start coming down on you. You quicken your steps but before you know it, it turns into a mini rain storm. You're now running and you happen to see the bright lights from a cafe up ahead. In an effort to save your newly bought prized possession, you step into the very green themed Brazilian cafe. You are met with an Edgar Davids lookalike owner with the dreads, staring at a drench soaked you while you stare back.
You know that feeling you get when you find a hidden gem in the city?
Brasil in Londres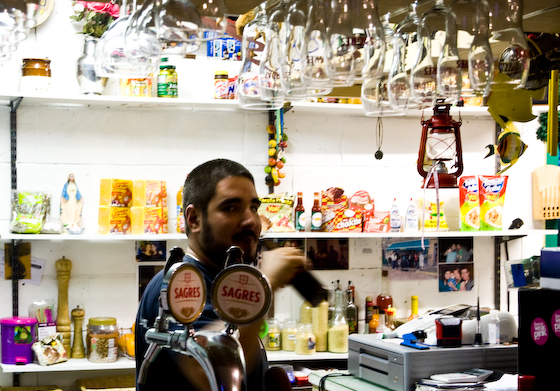 I didn't take a picture of/with the owner, but maybe I should do the next trip there.
Barraco is very well hidden away. It's in Kilburn – not exactly foodie central but the urban surroundings and the backstreet location gives this place a kind of understated romanticism ( if you romanticise places that is ) ; It's easily one of those places when people visit London and ask you to take them somewhere only locals know about.
Well, this would be one of those 'I'm not a tourist' spots.
As I alluded to earlier, Barraco is a Brazilian cafe/eatery and the menu is a medley of Brazilian grilled meat & fish with side dishes such as beans & rice & chips. The cafe is very modest looking, the wood is run down and looks like it hasnt been repainted in years. The table clothes are these square pattern ones, vinyl or a plastic and they stick to your elbows ( elbows off! ) and there's a LCD hanging off the wall showing a dvd of live brazilian music. Not very flattering decor – but I like it, the exposed kitchen doubling as a till/bar with hanging pint glasses and chilled out Brazilian staff ( an diners) give it a very authentic atmosphere which harks back to a much more innocent time.
Try it.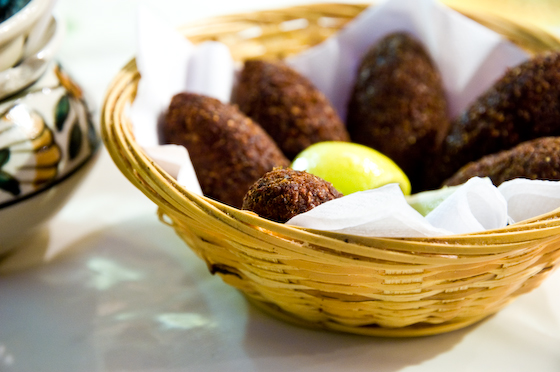 With the pouring rain outside, I am in the mood for some hearty food.
"Have you ever tried Brazilian food before?" said the waitress in her sexy portuguese accent
"Nope." said Mr London Eater.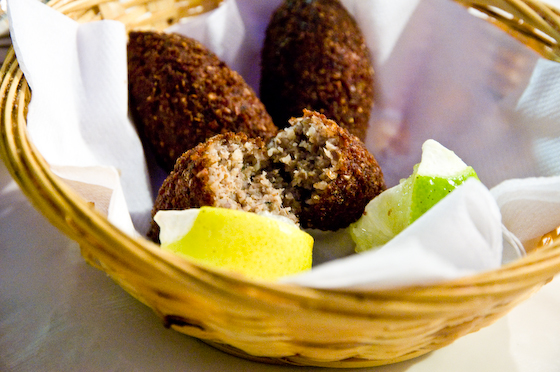 I started out with the 'Kibe' which is described as minced beef, with wheat grain and mint leaves. It tasted like a pretty bog standard s and p seasoned minced beef and the fried shell is seedy. A squeeze of lemon lifts the flavour a little. It's got a nice crunch and it's slightly herby, I'm no expert of Brazillian food but at £3, it's like eating a minced beef gyoza at Wagamama's. So far, I like.
I forgot to mention that if you are reading this to music, you really should tune your itunes radio to Bossa Nova@Sky.fm. Because, this is a modest Brazilian with a twist: it's got its very own one man Bossa Nova jukebox – with a spanish guitar and nothing else.
Surf and Turf
Music starts at 8.00pm though and its only just gone half past seven, so I'd do well to take you through the mains first.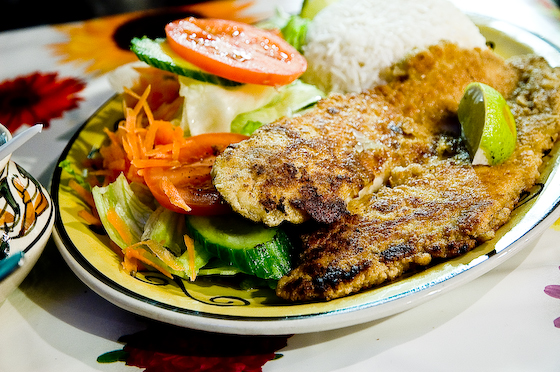 I take back the square patterns I mentioned earlier – it's more like flowery patterns.
Food here is rustic, homely, easily made: don't be expecting fireworks but do expect simple good tasting grill. I believe there was abit of a cock-up with this order as it was suppose to be 'The White River' which was grilled white fish seasoned with lemon juice and rock salt ; instead what came out from the kitchen was a pan fried breaded fish. It was seasoned with salt and I actually quite liked it to be honest.
I like breaded fish.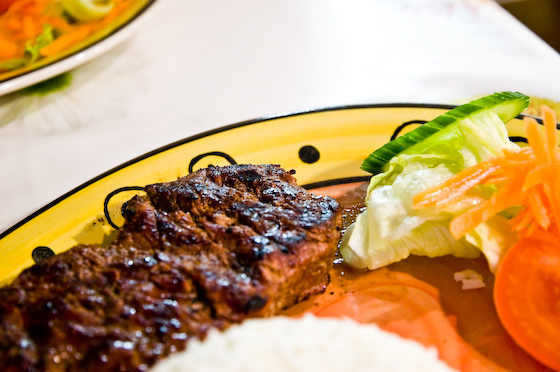 Food is really affordable here. The big chunks of fish fillets only costs £8. I also order the £8 grilled ribeye with rice and beans ( more on beans later). All the dishes come with this bog standard raw greens in cucumbers, cabbage, shredded carrots and tomatoes. The grilled beef is nice here – I can only assume they've got a huge charcoal grill turned up to 500C in the kitchen and it's come out looking and tasting really great. For £8 and a rib eye cut (my fav by the by) , its really great value.
Samba Beans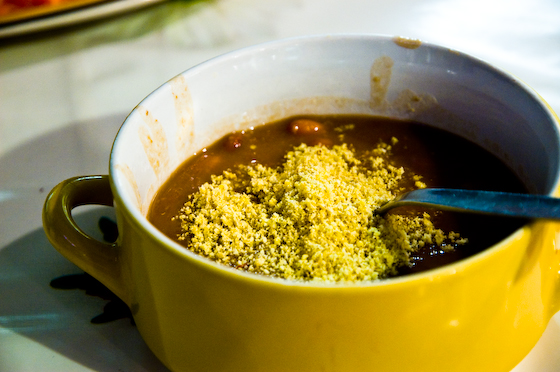 The £8 steak included this bowl of beans on the side. Served in a crouset style pot, I really liked the beans. The waitress also brought over a large glass bottle filled with this yellowish powder which is made from cassava (farofa). The beans were abit like a thick red wine gravy infused stew. I thought that the cassava powder really brought out the umami in the beans. Brazilian staple of rice and beans, very hearty indeed.
Introducing the One man Bossa Nova Jukebox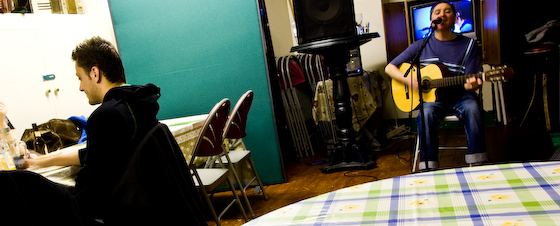 The front of the cafe is actually quite small, accommodating no more than 5 tables, but through the back there is a door that leads into a pretty big space. In that space, there are a further 10 tables ( or so ) .. and in the front of the room is the live music. Ok, I must warn you, the room is completely devoid of atmosphere whatsoever. It is REALLY bright. It's so bright, you can hear the fluorescent light flickering  in the background.
Which is a bit of a shame really, because the music is really, really good. The dude hails from Brazil, he's got a great soulful voice, a cross between Sam Cooke and Taylor Hicks, except everything is in Portuguese. His Spanish guitar reverberates with a romantic hollowness, and even though I couldnt understand a word – the music was pitch perfect.
After he finished his performance, I tapped on the gentlemen's shoulder and inquired on the genre "Latin Jazz?" I quizzed. He grimaced as if he stepped on a nail and rebutted by describing how all the popular Jazz that we hear on the radio has been wrongly uncredited as modern Jazz owes it's roots to Latin music in Bossa Nova, Bolero and something known as P.B.M. – Popular Brazilian Music.
Potential
Order a pint of sagres to go with your steak and you'll have a nice meal. It's hearty, it's tasty and it's really cheap. The music usually plays on saturdays and sundays till 10.30pm and on my visit, there were lots of women in the modestly small crowd. If only the cafe would utilise their low lamps, turn OFF the harshly white fluorescents and place candles on the tables; coupled with the music it'd be the perfect hideout for a romantic date, an excellent chilled out end to the week and a great way to duck out of the rain.
The Gist of It
Barraco Official Site
10 Kingsgate Place, Kilburn NW6 4TA 020 7604 4664
£4 starters £8 mains £2 puds and £2 for live music
Verdict: Cheap, great grilled meat and great music; if you can overlook the bright lights, you'll find this a pleasant detour.

Did you enjoy reading this post? Why not subscribe to my feed updates for free. Alternatively,  You can subscribe via email.