Weekly round-up of yummi-news from around london and the blogosphere, every Sunday. Brought to you, via the magic of the tube and the imagination of Kang the LE.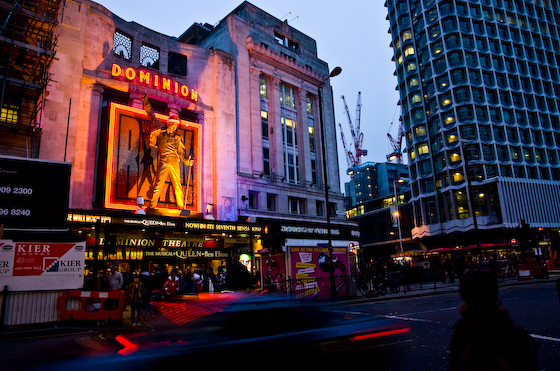 Dominion Theatre, Totenham court road
Honorable caretaker of the internet tubes, the most gracious LCD of your computer, Ladies and Gentlemen.
It is my privilege to usher in the grand new year of 2009 with this humble round-up – the first – of the year. Before I do so, please allow me to (re) introduce myself; I am Kang, the aforementioned London Eater and for the next couple of minutes, if you let me, I will be presenting to you the highs, the lows and all shades of atrociousness which occurred over the week here on London Eater – only the lowliest of all food blogs in the virtual land. I will then move to provide you with snippets of news related to our great city of London and finally, I will conclude with but a short-list of some of the more distinguished bringers of tales of awe & splendour from across the virtual lands.
Shall I begin?
Eating. happenings here on london eater
Did you like the introduction? I live to entertain, folks and if you cracked the littlest of smiles reading that then I've done my job. Come now girls, smile for Kang won't you? It's not like I can see you. You too fella…. really, I can't see you in any case.
Hurrah, hurrah, we all saw the fireworks display at the Eye, and did you know, it was a Frenchman who planned it this year? Hands up who was there. Nope, me neither – I went last year and hated the walk home, too many people and this year it was a case of 'been there, done that' so I didn't bother. Would have made for great pictures….. but I don't get paid to do this, so maybe next year, or not.
Yes, I am BACK after putting on the holiday pounds and I am refreshed and recharged to eat even more food in my beloved city of smoke in 2009. Am I excited? Ecstatic. Do I have alot more planned for you. Plenty. All shall be revealed in good time, of course, till then here is a round-up of what went down in the 1st week of 2009, here on LE:
A walk about at Hyde park Winter Wonderland Part one: The big stuff | Part two: The food | Part three: The people As the new year dawned on all of us, I literally froze my low hanging fruits to bring you this feature in three parts. There are lots of photos, many of the big huge colourful rides, some of the people and of course, the food. All the german grilled sausages. Yummy. Go check it out.
Waking up to a square pie Read here The first review of the new year is abit unconventional. Intoxicating Prose Douglas said it's like me wanting to copulate with said Pie (hand on his heart too). Was I over the top or did I just prefer to make love to my food? You decide.
London Eater Greatest eats of 2008 Read here This was the last post of last year and it's a round up of the best stuff I ate last year. Great place to start if you're new to London Eater. It's full of my atrocity.
London. happenings around the smoke

You know, I'm listening to classic fm as I write this, now I can't tell Chopin from Debussy but there is a hauntingly beautiful attraction to classical music, especially when the music is designed to be hauntingly beautiful. I'm sure everyone has experienced the same thing as I have when trying to fill a void with words – the block. Oh the dreaded block. The block which manifests itself as fear of the keyboard, or putting on the next dvd when the current one ends, and spending far too long stirring the cup of coffee. Claire De Lune, Debussy, hauntingly beautiful and the words will flow like waterfall.
While we are on the topic of classique, did you know that Sir Andrew Lloyd Webber – hero of the west end – is going to bring out Phantom of the Opera, the sequel… I mean the prequel, well part two in his epic chapter at the end of the year in not one but three cities. It's all over the news, all over the world like this one . So that just means I need to catch POTO part one in the west end before it ends. Speaking of music, you should pop over to Matt Robert's blog. Matt is a musician – Trumpeter – and according to his bio, he's currently plying his trade in the Big Smoke (London, folks – its the smog). Anyway, he's got a series of posts which are notebook sketch plans of his Eurobusk trip last Dec. Very cool posts, read it now.
Finally, it is apt that I reciprocate the recent links I've got in the new year. The kind folks over at London-eating made me their newest and favourite foodie blog of 2008… I'm super flattered (as with any pat on the back). Thanks Kate! Meanwhile, over at the BBC good food blog , Lulu the Deputy Editor of olive magazine wrote a post about handling sommeliers and she kindly referenced my quickie wine guide on sommelier jousting. Thanks Lulu!
I love links… I really do, so link. me. up. (if you wish)
Reading. happenings around the blogosphere
Lately, Ive made new friends on the internet, forgoing mummy's wisdom about speaking to strangers, these guys are alright, oh and they have cool blogs too. First off, forget word of mouth (I'm not even going to link it) because Jay Rayner just doesn't get it sometimes. 'Read and subscribe' to intoxicating prose instead, Douglas takes pleasure quite seriously. Secondly, go Thring for your supper with Oliver over at his london foodblog which scores restaurants based on what they are aiming for, rather than what he thinks they should be doing. Subtle.
Burger Blurb is brand spanking new -and quite awesome- because it's only the latest blog to join the burger revolution. Adams' got many, many months of burgering ahead of him, while I admire the potential of his site's design, he's going to have to come up with something really special to dislodge A Hamburger Today from my favourite burger blog list.
Last but not least, Jorden loves food and intends to cook a meal from a different cookbook everyday , giving her 365 days of cookbook conformity and literally living by the book.
Tomorrow and the rest of next week
I lunch at Phil Howard's The Square and will rush that for tomorrow, but it will likely be tuesday before it comes out. Aside from that, there is also a cosy visit to Tartine in Kensington and depending on how things go, I might let you in on my visit to St Pancreas Grand too.
Until then, farewell and have a most enchanted Sunday evening.
Did you enjoy reading this post? Why not subscribe to my feed updates for free. Alternatively,  You can subscribe via email.