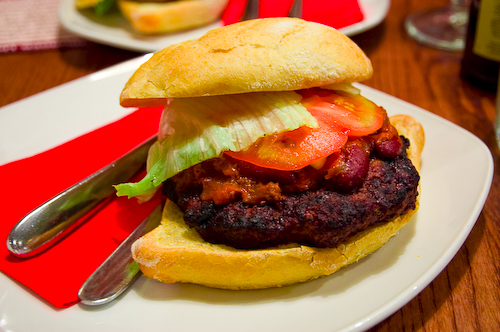 the union chilli burger

This is the beginning of the search for the top burgers in london.
It's no real secret that burgers have slowly been devouring the capital in the past few years and I think it's only appropriate for me to highlight some of the burger bars which are ever-present around town. On this outing, I chose to try five places:
Gourmet Burger Kitchen – the original posh burger bar now serving buffalo.
Burger Shack– smollensky's take on the ol' bun.
Hamburger Union – One of the few which serves a steak burger.
Hache Burgers – Self anointed connoisseurs and aspiring to be the best.
Byron Hamburgers – proper burgers and nothing else.
Who has the best beef? Which bun can soak up the most juices? Which one serves the biggest shakes and just who exactly serves the best burgers in london.
disclaimer
Alright, I know the first thing you're thinking is 'only five?' . Yes, there are more and yes, I filtered this list down to the five which I think are worth a shot at the title. You may notice that I've not included your favourite pubs or michelin restaurants which do 'proper'-ly posh stuff, or even a great steakhouse (and there are a few) and I may have even missed off the one which needs to be in this list (cheeky petes?) . No excuses other than that I want this list to be completely biased to this five and that I can only eat so many burgers for one article. But you know what that means right? Yes thats right – there will be a part two, so if you want me to square off your favourite burgers then leave a comment after this post and I'll go eat & rate it.
In an effort to be completely objective, I've come up with six criteria points to judge the humble burgers, 5 points for coming 1st in each category and 1 for coming fifth, as simple as that.
1. atmosphere & service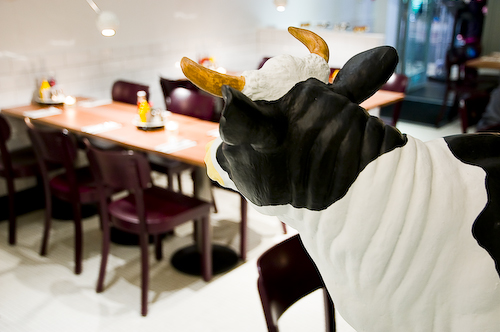 white noise at byrons
Burger bars should be lively places, may not necessarily need loud blaring music, but it definitely needs to have soul. A large part of that is down to the staff needing to let their hair down and make it infectious , its a burger bar, just let loose! Probably one department where it's difficult to get it wrong. London is generally a pretty progressive place to dine out in any case.
best: GBK scores highly because the atmosphere is just great. Staff are ultra-nice and the music ( not loud ) is appropriate for the mood. +5
worst: Byron is a soul-sucking machine. The walls are drab in white, the tables are cold steel and they have creepy qoutes about george foreman need to fight to stay away from burgers scribbled across the walls. Even the staff seemed restrained and the music is so low – I felt I had to whisper. No, no no.
overdone: Hache's music is 80's pop and its too loud. If I find myself needing to raise my voice over 'Love is a Battlefield' , you know something's wrong. Staff are actually a little snotty here as well , perhaps it's because of that 'connoisseur' image they are trying to project… and a no photography policy in a burger bar? Senseless.
Points: GBK 5 , Burger Shack 4 , Union 3 , Hache 2-1 (for wham on the stereo) , Byron 1.
2. the beef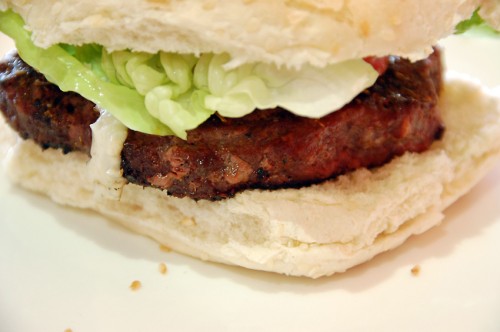 smollensky's beef
If the beef aint good – there's no point.
Generally speaking, the standard across all these places are very high, in that all of them use a high quality mince, usually a good cut of steak ( some even use matured beef) in one form or the other. Of course, not all of them are necessarily grilled to the same spec. I must say, it's rather difficult picking them apart, however, not an impossible one.
best: Close call, but I have to give this one to hache. The char-grilled taste is really sizzling, the beefiness is really full and the chunkiness is perfect. Being that it's 100% scotch steak chopped (hence the hache) , the texture is just great. It's as close to perfection as you can probably get in a burger.
close seconds: I'm on the fence with GBK and burger shack. The burger shack burger 'sticks' together better, making it taste almost like a really soft steak! It's pretty amazing stuff, but that classic GBK taste is just awesome, in that it's consistently juicy and amazingly grilled, just pink in the middle and just the right chewiness.  Byron is not far behind in this department either, although on my visit, I felt it was delicate compared to the others. Being the new boys, I think they are probably still honing their burger making skills.
lonely at the bottom: Hamburger Union. Not that there's anything wrong with it.. it's just dry. Like I said, the benchmark is high, either you get it 99% right or you're out. Unfortunately hamburger union was a 89.
Points: Hache 5 , GBK & Burger shack 4 (tie!) , Byron 3.5 , Union 1.
3. the bun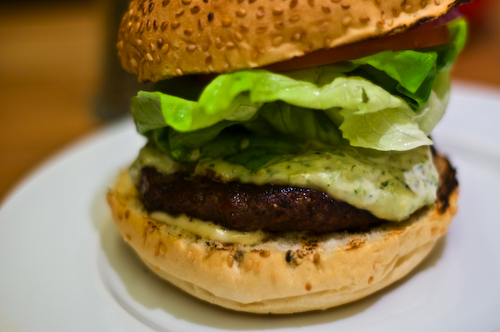 the gourmet burger
If you think about it, the bun makes up about 60% of the actual burger. Unless if you're a fan of the bunless burger (if you are, you should be shot) , a superior bun is key to bringing out the umami. Ok, this is debatable as to which works better. Soft and light or hard and intense? Sour dough or plain white? Sesame seeds or onions? I think one think we can all agree on is strength. There's nothing that makes me more annoyed than a bun which breaks apart the moment you bite into it. Also you want a bun which has super absorbing abilities to soak up all the stray juices.
best: I'm going to give this one to burger shack. It's not a soft bun, but rather a dense ciabatta-like bread which keeps it's shape and form and is great for soaking up all the juices. The bread itself actually tastes great too being that it's moist inside while the crispy exterior gives it a nice toasty flavour. Yummy.
worst: GBK buns feel like they were bought for 20p at the local asdas. It sucks. For one it's too fragile to hold that monster of a burger and slowly disappears as the juices flow out from the meat. And for some reason, they think that a measly toothpick stuck in the middle is going to solve that issue. Nice try, but no.
'tweeners: Not that there's anything wrong with the others as you dont notice the bun at all – perhaps its a good thing, it means its doing its job. A special mention for byrons though, the buns here are as good as the shacks' with the difference being that they have a soft exterior. So if you hate crusty rolls, maybe this will be higher on your list.
Points: Burger Shack 5 , Byrons 4 , Hache 3 , Union 2 , GBK 1.
4. chips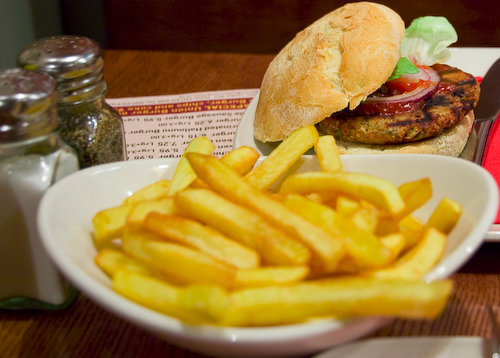 chips, chips ,chips at the union
Behind every burger is a strong chip. The venerable potato is the humble supporting cast that does not seek the limelight from it's attention hogging partner; doesn't mean it's not important though. A burger needs a chip like Tom needs Renee to complete him.
best: For fries, the crispy hache version wins hands down. For the ultimate fat chip, you can do no wrong with GBK. Everything else is just a pretender.
worst: Union's chips are soggy and a half way house as it's undecided to be a thin fry or a fat chip. No.
Points: GBK & Hache 5 , Byrons 3 , Burger shack 2 , Union 1.
5. sauces & relishes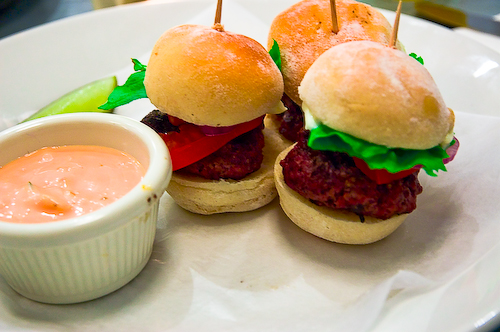 minis and that byron sauce
Sauces can breathe much needed life to a dry burger. Pairing it with something sweet or perhaps fresh onions and maybe even chilli sauce. Every little bit makes a big difference.
best: GBK has a wide range of flavoured mayos from blue cheese to garlic but what sets its burgers apart is that superb tomato relish which carries a sweet edge and really works well in bringing out the flavour of the beef. However, this category has to go the byron sauce. Supposedly based on a secret recipe of capers, chilli, peppers and all sorts, these guys keep things simple but with a sauce like that, you don't need much else. Byron wins hands down.
worst: I had the chilli burger at hamburger union and it was dry – need i say more?
Points: Byron 5 , GBK 4 , Hache 3 , Burger shack 2 , Hamburger union 1.
6. special mentions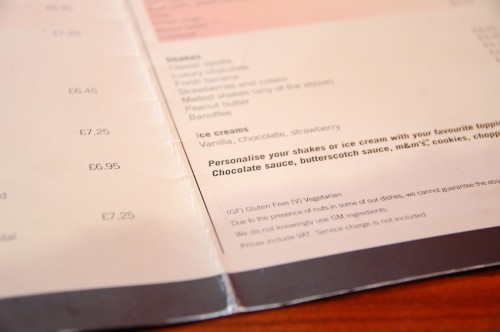 a burger shack menu
Each of these burger bars made it to my shortlist because each of them have some kind of special selling point which I can't necessarily categorise:
Hache: Selection includes cod fish, hoisin duck, salmon, lamb and even venison. Best of all – they taste fantastic. 5 pts.

GBK: Portions are huge here. The milkshakes, in particular are massive and the prices are peanuts. Economic woes demand value for money – 4 pts.

Hamburger union: They are one of the few burger bars around which does steak (not minced or chopped but grilled as a whole piece of meat) burgers! 3 pts.

Byrons: I was actually going to penalise byrons for serving tiny 'mini' burgers, but that special mayo sauce is too good and deserves more points. 1 pt.

Burger shack: At the risk of totally contradicting myself, nothing in particular which adds value. 0 pts.
Racking up the numbers
So after much poking and prodding and lots of burger eating, this is what I've come down to:
In fifth place 12 pts: Hamburger union.The food just isnt up to scratch compared to the superior counterparts. Great name – but the burgers are in dire need of a re-hash.

Forth with 13 pts: Burger shack.They have great buns and the beef is actually quite tasty, but everything else is alittle deflated. Not bad though.

And the runner-up to the runner up with 17.5 pts: Byrons. Looks like these new boys are serious competition, but they still have alot to learn if they want to churn out London's best burgers. A worthy addition to the London scene, especially that sauce.

The would be champ with 22 pts: Hache. The burger connoisseurs are great and come within a hair of victory ( 1 point to be exact ) . They really are good, possibly the best , but 'love is a battlefield' killed it for me.
Drumroll.. Weighing in at 23 points, with super-sized beefiness and ultra fat chips, the winner is…..
Gourmet Burger Kitchen.
Yup, that sounds about right, it explains how GBK are all over the country and why everybody just loves a gourmet burger. Deserved champs indeed.
Here's a shot of the winner: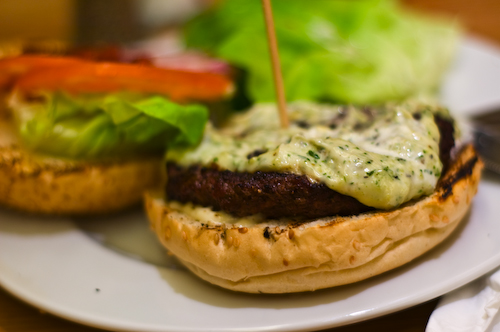 winner
Some honorable mentions that perhaps should have been included in this list:
Ed's easy diner. Malt shakes are great but tiny portions turned me off. The rarebit is pretty good though.
Black & blue. More of a steakhouse, but burgers here are nice. Abit too expensive for my liking.
The big easy. Loud american crabshack on kings road serving up kobe burgers. Must try!
Cheeky petes. Apparently the god of london burgers which is still unspoken for; uses prime welsh black from pembrokeshire and in dire need of a visit.
Did you think that I missed off a worthy champion? If so, leave a comment so I can go eat it and do a follow up to this 😀
For more in-depth reviews, do have a read below:
Now go out and eat a burger.
Did you enjoy reading this post? Why not subscribe to my feed updates for free. Alternatively,  You can subscribe via email.