Weekly round-up of yummi-news from around london and the blogosphere. Now released every Sunday and brought to you by a London eater.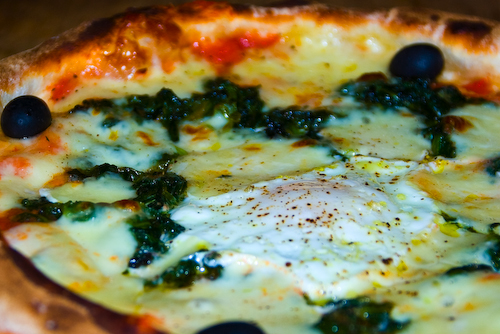 Eating tapas, upping my twittering campaign and watching Daniel Craig brood his way into a quantum of solace.
eating happenings here on London Eater
This has been a relatively slow week and I got to say, most of you have forsaken me for your Halloween plans ( thanks for coming back to read this 😀 ) . Hope you guys had a great ( and spooky ) time. I went to see Quantum of Solace last night and I gotta say, Daniel Craig is probably my favourite bond right now. He's not conventional, but he's created a new kind of Bond who's you know, edgy. I don't know if it's just me, I think Craig's take on playing a Bond who's still learning how to be 'Bond' but still can't seem to grapple how the 'half-monk half hit-man' concept works, is subtle, but well done. Heaps of emotions happening beneath those man boobs. On the other hand, Olga Kurylenko… WOW. She is stunning. Go watch the new James Bond, it's pretty good.
Over here at London Eater, I produced little more than three posts this week:
Soho Tapas I went to Barrafina in soho which is a tapas bar in the truest sense, it's a great little eatery and definitely a must-eat, read the review here.
Gourmet Burgers I'm running a loose series of burger eats and my third outing is the crowd favourite Gourmet Burger Kitchen. Supersized burgers and shakes (oreo no less) , check the review here.
Pairing wine with Food The quickie wine guide rolls on and is now in part four! In this edition, we talk about pairing food with wine, go have a look here.
Most of you will not know that I'm actually on twitter too, although, I don't twit enough. However, starting today, things are going to change. It's part of my slow (but steady) progression into social networking, I think I've come to grips with stumbleupon, and now I'm moving to increase my presence on twitter. You can follow me here, make sure you friend me up so I can follow you too 😀
london happenings around the Smoke
There's actually quite alot of foodie related events coming up in the following weeks, here's some where I plan to go to , if you're interested in coming along, do let me know guys:
reading happenings around the community
Finally..
There will be more eating next week, so expect more reviews from Maze, wild honey and a heroic sushi bar in ealing common. I also upgraded my lenses (for my camera) , so I'm hoping my pictures will turn out better, but you can be the judge of that. Have a great end to the week folks.
Did you enjoy reading this post? Why not subscribe to my feed updates for free. You can also subscribe via email too, and for free.