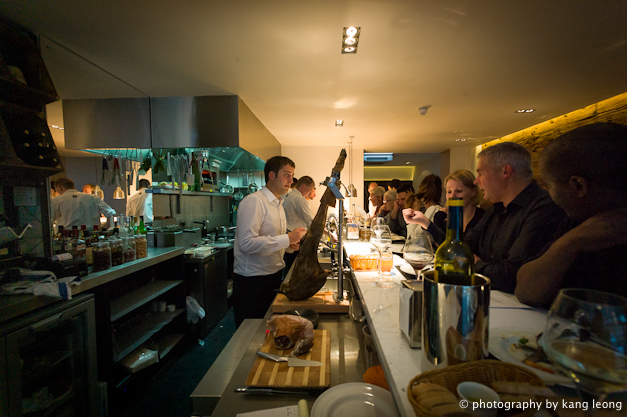 And finally after months of false starts, the tapas restaurant named after the Basque's capital of gastronomy has finally opened for business. And what big culinary boots it has chosen to fill, after all, San Sebastian is home to a trio of 3 star restaurants namely Akelarre, Martín Berasategui and (perhaps most famous of the lot) Arzak.
However, Donostia isn't set up to emulate the Basque's high end reps, rather it pays homage to its classic cuisine of pintxos, pil pil cod, fizzy aperitifs and ham from Basque bred Kintoa pigs. Their hides rescued from extinction by Pierre Oteiza, a farmer from the French side of the region, and who was even awarded a medal for it.
Embarrassingly my last visit to Barrafina was nearly 4 years ago, I've yet to try Fino and (while we are at it) I've never been to Donostia (the city) either! Instinct suggests that previous experience would be required to make any meaningful observations on how faithful the recipes are to the originals – for the authenticity aficionados – but I assure you that won't be found in this blog post. So I approached the meal with naivety and a healthy appetite.
And now to address the Harts Bros reference where Donostia's headchef is Tomasz Baranski who has come over from years of manning the helm at Barrafina. This visit was on their 7th day of service and Tomasz could be seen supervising dishes as they flew over to the other side of the bar. Many of you should be familiar with his style and the open kitchen/bar seating. Decor and ambiance is like the Soho stalwart.
The better half and I sat at the bar.
Before I bore you to death, let's move on to the food because that is where the excitement lies. The menu is arranged by escalating prices and dish size.
Crispy creamy croquetas with Jamon, £3.50
We did not have any food on spears, and chose to start out with croquetas – the acid test. I had cut one down the middle in an attempt to illustrate the custardy centre, but for once I think the photos do not convey the intended information. It was rich, eggy, creamy, cheesy, gloppy, appetisizing and had large bits of jamon. One of the finest examples of croquetas.
There is an urban legend about Barrafina's quality control in scrutinising every croquetas to ensure all are fried to the right level of consistency. And if not, they are discarded and the chefs start again until perfection is attained. I did not see Tomasz binning any fried golden balls, but that was probably because they turned out so well.
Artichoke carpaccio with truffle oil, shaved manchego, £4.50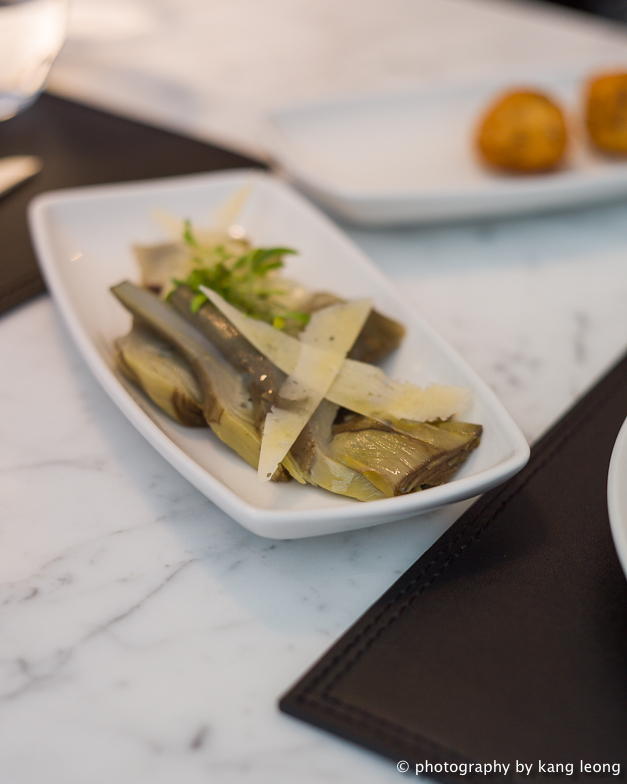 A subtle dish. I watched Tomasz prepare this, by slicing whole artichokes down (presumably boiled or blanched or steamed??) and then shaving manchego over it. It was faintly scented with truffle oil (as opposed to being overpowered). It tasted like it was almost completely unseasoned. But a nice bit of green on the side you know.
Brandada with ink sauce, £6.20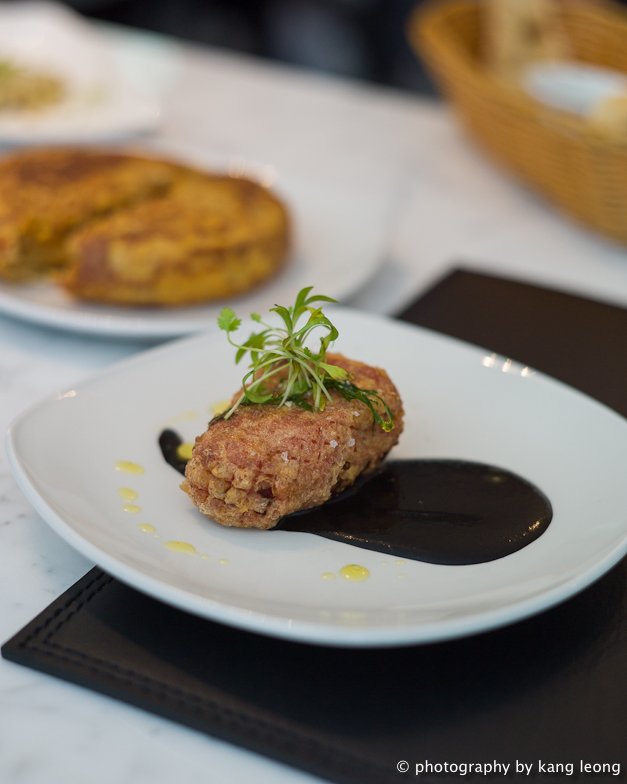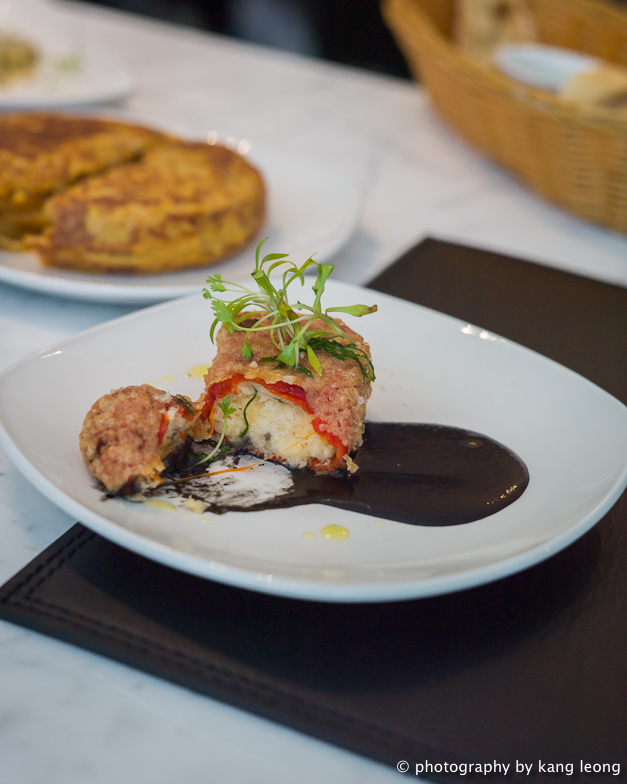 One of the board specials, a whole pepper stuffed presumably with salt cod, mashed with olive oil, like a fish cake and then deep fried. It's delicious, and easily likeable. If I remember correctly, it had a faint kick of spice too. Nice.
Tortilla, classic potato and egg omelette, £5.00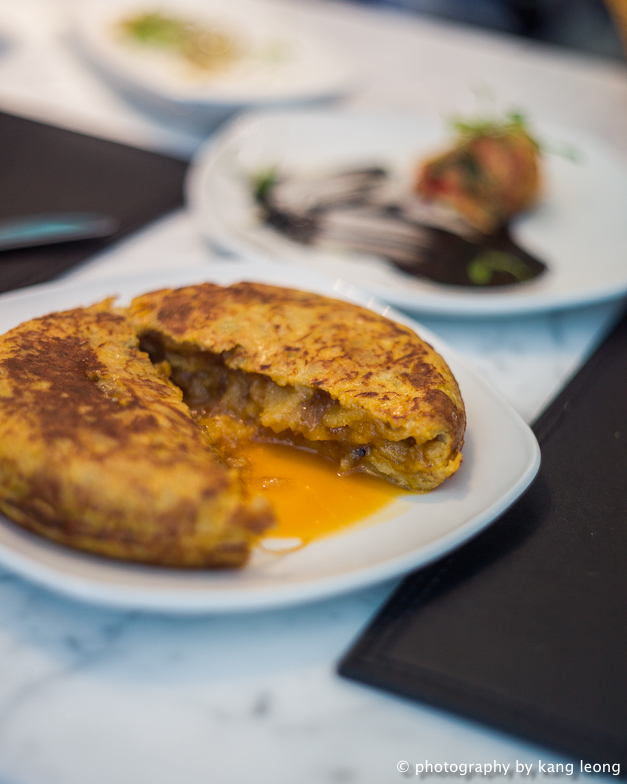 I know I've eaten Tomasz's much lauded tortillas before, but for whatever reason, I cannot recall it. Though I am sure that this is the first time I've come across an(y) omelete with a syrupy oozing centre. Rich, potato-ey, eggy, that golden ooze was god juice. Layers of potato wrapped in an an armour of egg. The textures were almost like an apple strudle, all congealing and I could hardly believe that these were simply eggs and potatoes. It was tremendous cooking thoroughly deserving of praise, and was certainly a joy to eat.
And sure enough, my blog post on Barrafina years ago showed that I had indeed eaten a Barrafina tortilla before. Not the classic but the spinach and jamon, and the photo showed a dry omelette rather than one that bled. You will see that the classic was a mere £4.50 in those halcyon days. You will also notice how my terrible, cringe-worthy writing has only gotten worse with time.
Pil-pil, cod cheeks in legendary Basque sauce, £12.50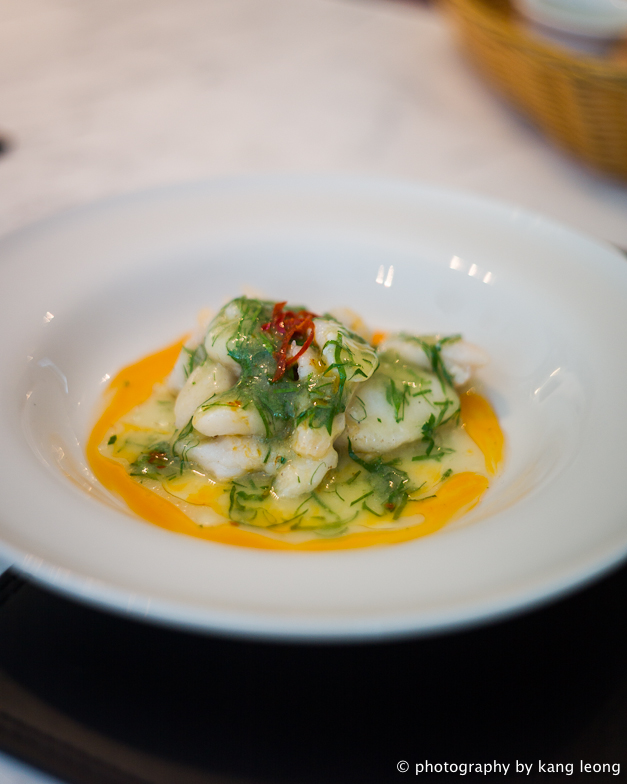 And here is the homage to the classic basque recipe, the pil pil sauce, which I gather is the translucent emulsion, formed from a stable mixture of fish juices and olive oil. The textures were almost slimy, like that of egg white but also buttery, rounded and mellow in flavour. It could probably do with just a sprinkle of sea salt, as the power from the rich tortilla lingered on as we dug into this dish.
And the cheeks, itself a gelatinous slithery part of the fish, imparted its characteristic flavour, which to me is like fish maw, or even fish liver oil. We lapped it all up with what little bread remained in the basket. Another plate of lovely cooking that was hard to fault and easy to eat. My only complaint applies to all tapas – I wish there was MORE of it!
Pluma, pork fillet with romesco sauce, £10.80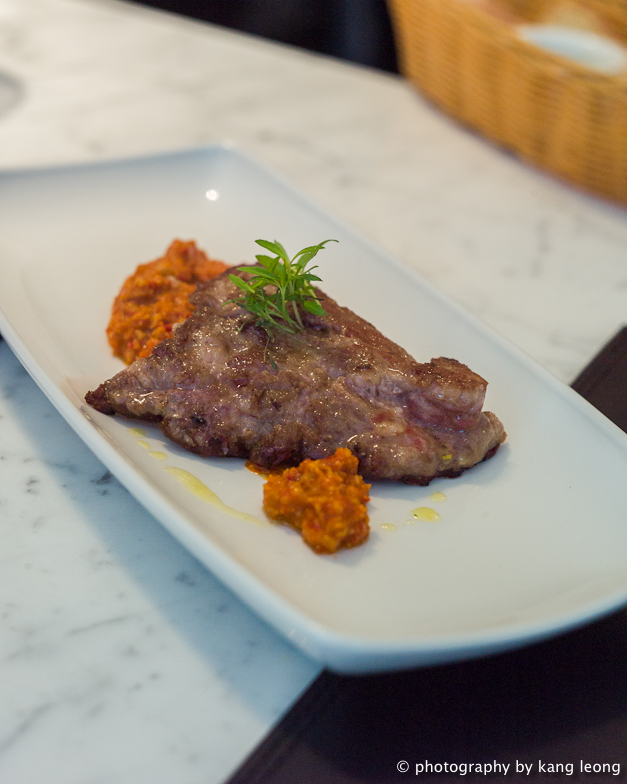 All hail the resurgence of romesco sauce. Crunchy, sweet and a little spicy too, delicious but for my tastes, I think it just comes slighly behind Jose Pizarro's recipe which I feel, is smoother and punchier. Oh but that pork, the taste of charred meat and hot metal is wow. The crust was fried to a crisp, like that of caramelised demerera sugar, the crunch was fabulous.
A little pink in the centre which just couldn't stop spewing juices. What a great cut of pork. But which cut was it, what pig was it cut from and where was it bred? Was it really a tenderloin and if it was, how is it laced with so much juicy fat? I leave that a delicious mystery to untangle on my next visit. Tremendous cooking nevertheless.
Limoi, lemon tart with summer fruit sauce, £4.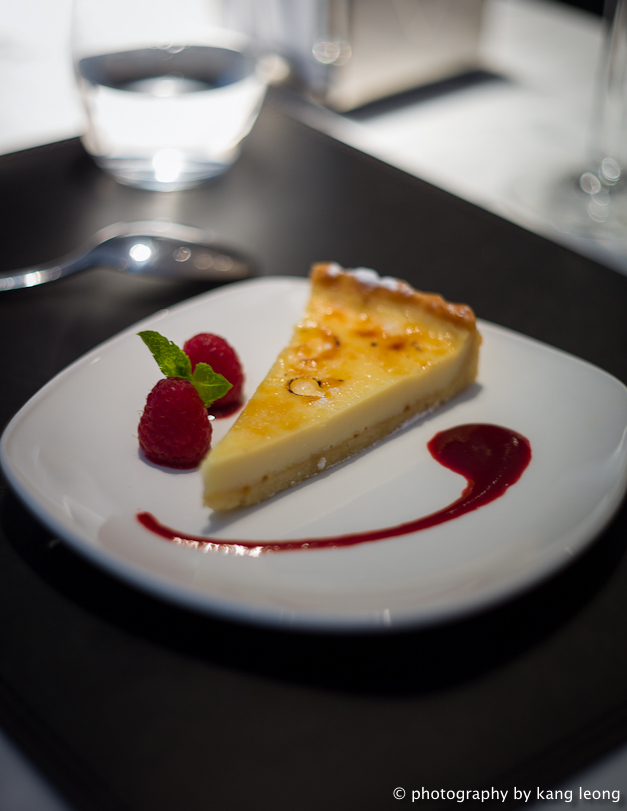 We shared a lemon tart to finish. It had the textures of a perfect egg custard tart, and I think they could cut it just a few mms wider.
Before I close out, I think it is worth going over the winelist. After all, the owners Nemanja Borjanovic and Melody Adams, are also wine merchants who specialise in obscure/unique varietals, producers and regions. On this visit, Melody hurriedly ran front on house while Nemanja worked the bar.
Naturally, the wine list has a number of Spanish producers, but only a handful are Riojas. There is only one Bordeaux representative (from St Emillion) amongst a bunch of little known wines. 2006 – An 'off-year' for the Bordelais – from Ch La Criox Chantecaille, neighbours to the superbrand and ultra expensive Cheval Blanc and a mere a stones throw from bordering Pomerol unicorn winemaker, Petrus.
I drank the Peza do Rei Tinto (£4.60) made from a blend of local varietals, plucked from vineyards that run along the Sil and Minho riverbanks in Galicia. An un-oaked red which was described as light with crunchy red fruits was exactly that and a jammy compote bomb on the palate, I might add. The missus chose the house wine (£3.00), a crispy, ultra dry and zesty Chardonnay by Alquezar Macabeo.
Nemanja poured a tiny sip of their house red, The Gran Cerdo, which has a flying pig for a label, for me to try. It was quite a pleasure (especially for a house red) , so juicy and sweet like biting into a ripe alphonso mango. Alas, I did not buy a glass. Instead, I chose the Cotes Catalanes (£7.60) as my 2nd glass, by Domaine Ferrers. Made from a relatively rare varietal called Carignan – from 130 year old vines – grown in the South of France. Chocolate, liqourice and medicinal notes, big like a bazooka. I wouldn't drink a bottle of this, but a glass was certainly intriguing.
Comparing his wine list to the retail prices at Nemanja merchant business, Mountain Valley, it suggests a 1.5 to 2x mark-up for per bottle prices, which is reasonable. The Gran Credo for example is £18 versus £10.
And finally, we have to talk about Txakoli and Basque cider – a homage to to the Basque ciderhouse, the sagardotegi – poured from a height to aerate the naturally fizzy beverages. I tried a sip of the wine, Txakoli which for me was like paper, off-dry, acidic and fizzy as expected. This stuff can't be kept and must be drunk within a year of bottling. I can see it being a refreshing drink for the summer, which is still threatening to never arrive.
I got chatting to Nemanja toward the end of the meal, and he certainly is impassioned, excitable and just an all round nice guy. Like many owners at opening, it's always inspiring to see the excitement leap off their chest, and it is always clear how much restaurant owners love food, eating out and how it is always a labour of love.
I would love for him to be more daring in the future to introduce his stable of Croatian, Slovenian and Montenegro wine to the restaurant's list. Here I would like to boast about my experience with a Croatian pinot at The Sampler last week, the Krauthaker with a natural fizz, tasting like applewood smoked ham!
We paid £71.34 for all food, 3 glasses of wine, extra bread and 12% service.
I do feel strongly about the surcharge for more bread. The 1st basket is free, but the way it is currently written on the menu, it is ambiguous as to whether an extra £2 will cover unlimited bread or merely the 2nd basket. As such, we were trying our best to refrain from ordering the 3rd basket. And you will need that 3rd basket because it is a terrible waste not to clean up the wonderful juices and sauces with it. I think they should either apply a blanket one-off cover charge for all bread or offer all of it for free.
Bar seats only entertain walk-in business but all tables can be booked, so the best of both worlds.
There is nothing ground breaking here but it is definitely a solid tapas restaurant offering delicious classics and the perfect kind of place to drop by for a nice glass of wine and to nibble. Dare I suggest this is Barrafina rebooted as an attractive indie outfit in a cocooned spot hidden behind the smell of shawarma and shisha of Edgware Road. Service was well-intentioned but a little nervy on this visit – sending dishes to wrong tables and not knowing what to do with our coats – all I'm sure will be worked out as they mature with experience. After only a week open, it was already full, and I suspect Donostia will continue to do well in the foreseeable future.
The Gist of It
Donostia
£40pp Basque, pincho & tapas.
10 Seymour Place W1H 7ND
Tel: 020 3620 1845
Tube: Marble Arch
Did you enjoy reading this? You can subscribe to the Newsletter. Alternatively, you can subscribe to the RSS feed.