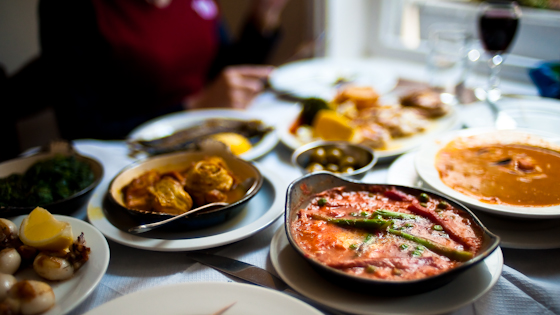 Last weekend I was a tourist all over again. Parading around Soho with bleary eyes, brandishing my camera at whatever piqued my interest… don't you just love the August bank holiday? One of these years, I swear I will make it to Blackpool.
Situated on Old Compton Street, or what I like to refer to as the Mouth of Soho, Café Espana and I go way, way back; Its one of the first restaurants I've eaten at in London, and its been donkey years since my last meal there. Trying hard to entertaining friends who've come to London for a holiday, I opted we try Yalla Yalla in a seedy alleyway next to strip joints, but they were closed for the long weekend (so was the seedy strip joint). And then, I reckoned we try Giaconda, but that was also closed for a summer break. A last minute emergency might have pushed me toward Wong Kei, but then I remembered the giant paellas at Café Espana.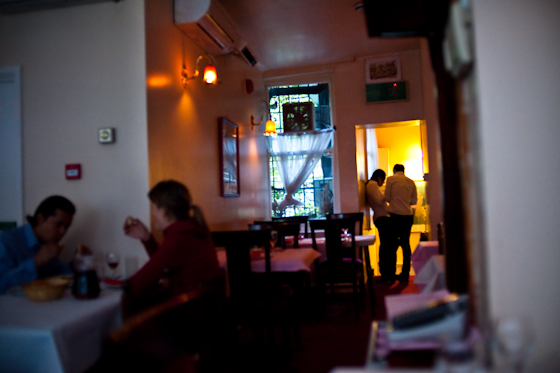 So this place is proper vintage right, it's stuffy and tightly spaced, the head waiter greets guests in their own mother tongue and he selects his greetins from his vast mental library of how to say hello in a million and one languages. On this visit, he guessed correctly with 'Nei Ho'. He doesn't remember me though (it must have been at least four years since I last ate here) , but he had opened proceedings before with konichiwa and selamat datang. Oh this is 'new' – they have tables upstairs. We sat by the window, and I couldn't help but feel like I've actually wandered into a restaurant in Chinatown.
Thanks to the likes of whoosh tapas joints such as Barrafina and Boca di Lupo, Londoners are well acquainted with overpriced, microscopic portions. So this throwback tapas restaurant was a welcomed change. The menu is split into many sections, starters, fish, meat, tapas etc but really, its food that can be shared by the whole table.
Starting with the starters, baked eggs with asparagus, red peppers and ham, £3.50.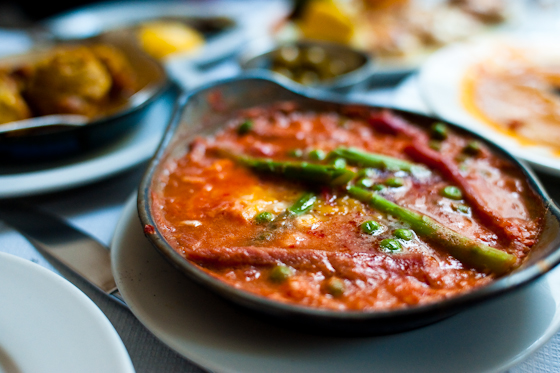 1956 prices and 1956 portions. It really was £3.50 and its huge. There are two eggs buried in the tomato slushy, and while I would like to say it tasted like the bomb, it didn't. Underseasoned and much too watery, for the price, it was passable.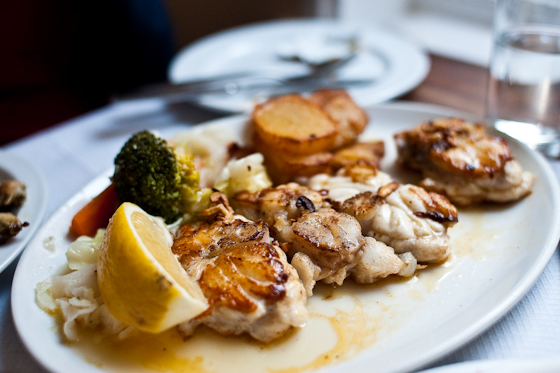 Much better was the grilled monkfish and we were also surprised with the size of this dish. The fish is juicy, I think its more pan-fried than grilled, with homely toasted flavours and with just a dash of lemon, there's no rocket science behind this, just honestly good pan-fried fish.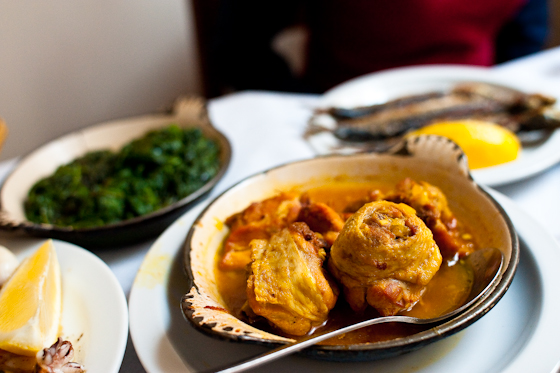 One of my old favourites from this restaurant is the chicken in garlic. Also cooked with shallots, and probably some wine, this classic dish was well executed, the chicken was juicy and fragrant and for only £3.75, it was unbeatable. We ordered three large grilled sardines – at £2.95 – also very basic but with deep charcoal flavours it got the job done, and also a plate of simply blanched spinach, also at £2.95, to digest all that protein.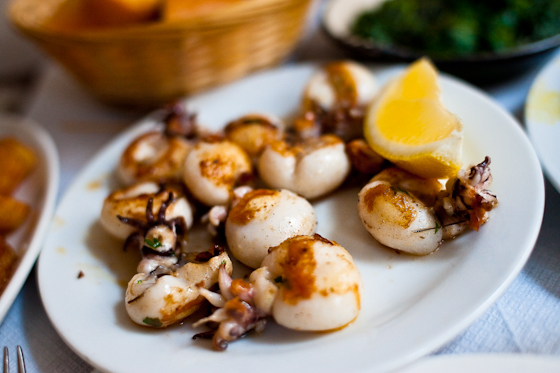 I really enjoyed the smoking baby squids (£4.50) , bouncing and bursting with flavours from the deep, and I was slowly but surely filling up as the meal was starting to feel overwhelming, the portions were way too large for three hungry appetites, and we knew we had to doggie bag the rest.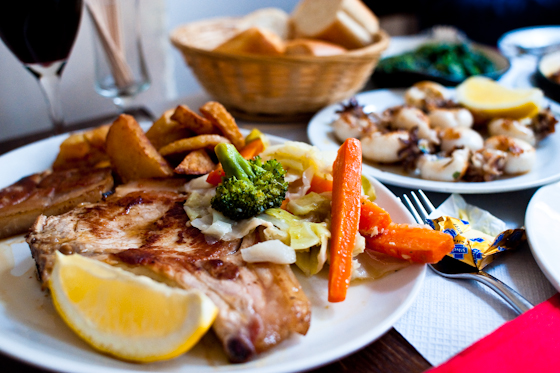 Yes, more grilled meat or I should say, pan fried pork chops. Overcooked and seemingly un-seasoned, it failed to catch my attention at £9.95.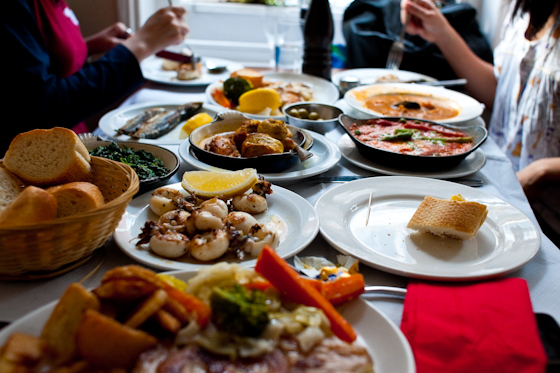 You can just about spot the fish soup at the far right of the picture – £3.50 – its not going to rival the superior Le Cafe Anglais version, but it does come so very close. Saffron fragrant, and chock full of mussels and prawns, like a paella without the rice.
Eight dishes plus two glasses of house red came to £48.60, or £16 for three, and one of the few occasions where I couldn't sweep up the remnants. All in all, I was pleased with this cheap tapas thrill and I was glad that this place hasn't lost its sheen. It looks abit like a tourist trap from the outside, but it does offer sheer value for money. I'm also quite happy to be savouring basic flavours once again, and in the dying days of summer, it feels fitting. Café Espana is abit like a Spanish version of Wong Kei sans the crude service; most things taste ok, and it's affordable. A rare place where ordering less is more. I remember the days when it used to be packed out every weekend, but with the arrival of sleeker tapas restaurants in the area, the popularity of Cafe Espana has dwindled (heck, I haven't been back in years myself), but at least it is still there, chugging along.
The Gist of It
Cafe Espana
63 Old Compton St W1D 6HT
Tel: 020 74941271
Closest Tube: Leicester Square
Like this blog? Why not subscribe to the email newsletter ; alternatively you can subcribe to the RSSfeed.