It has been at least a year since I last visited Great Queen Street, a restaurant which I frequented in 2008. Still signage-free and firmly offline, the low profile hasn't kept No.32 from becoming the establishment it is today. Owned by chef/writer Tom Norrington-Davies, he has made 32 a name for its nameless self by serving slick food with a decidedly British feel, revered all around and critically acclaimed, and I love it too. Afterall, I thought their crabs on toast was the very best thing I ate in 2008.
Oh you know me, I harbour distaste for ponce even though I am guilty of appreciating the pretension which has enabled restaurants to suck my wallet dry, at times anyway. If you are reading this, there is a good chance you will already have eaten at Great Queen Street. You would have probably enjoyed reading the flurry of reviews spinning new angles on the bare-bones, no-shit policy at GQS. High end British bistro food, once a novelty in these parts, is now in abundance. Every other pub out there is now a gastropub, or wants to be one. Speaking of pubs, I've just learnt that my local – The Prince Regent – had packed it in recently. Strong competition from Byron perhaps. A sign that it's time for me to uproot from West London maybe. I have been looking into artist studios, you know Sam Taylor-Wood style, flooding natural light from large windows, mandatory. If you have leads, let me know would you.
I had never visited on a Sunday, mainly because it never used to open on Sundays, and when it did, it was always difficult to secure a table. It is the perfect venue for family gatherings, and GQS have family-portioned feasts positioned to cater to this crowd on weekends. If I never went to Goodman, I would be more impressed with their Hereford Rib roast. The shop front is still as unassuming as ever, and the burgundian sheen maintaining a majestic lustre. Tumblers seemed smaller than I remembered, though the Beaujolais are still as bitterly jammy as I remembered them. Slurp. One of their major features of course, is that daily menu – like a box of chocolates, you know what to expect, but there are always surprises. Hereford steaks, roast chicken, terrines and hearty soups largely unchanged from previous iterations. It feels a little like a lottery, was I going to see samphire or crabs on toast this time around? I didn't hold my breath, both were missing. Service is still something I admire at GQS. A bunch of cool kids in grey t-shirts and jeans and striped aprons. Serving with an air of maturity, a major laid back attitude, just so cool. GQS exudes a sort of atmosphere that makes one feel like a secret agent. Yeah I'm MI6, my over achieving imagination says. So our waiter was American, dare I say a New Yorker, oh hell I'm hopeless with identifying American accents anyway, he welcomed us and read out the specials. I forgot! GQS specials, I raised my head to the chalk board just outside the kitchen. Shows how long since my last visit.
"Today we have mussels on… and crabs on toast". YES. Winner, get in Kang. Say no more sir, we want two, please. £7.40 each.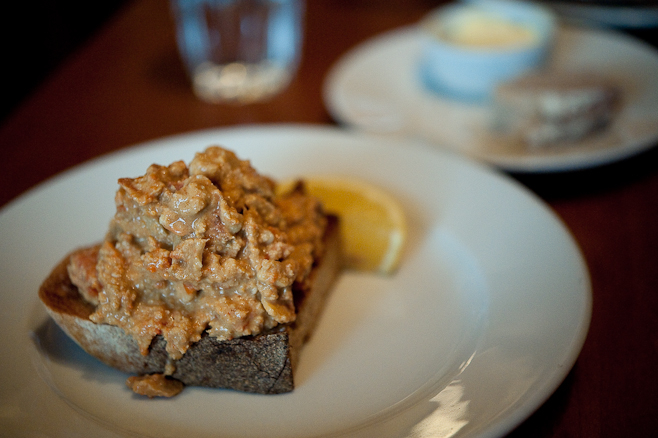 Glorious! Fishy, muddy and the vigorous taste of roe. I think it just might be better three years on. The sourdough toast is puffy soft and it's inherently acidity compliments the strength of the topping. A squid of lemon brings out the mineral aspect of this dish, it just about leaves an oysters-like aftertaste. I hazard a guess that this is made primarily with brown crab meat, with bits of orange coloured roe – visible through the brown paste – that gives it the wonderful fishiness and graininess as opposed to a citrus clean texture of only just white crab meat. Instant classic, I am so glad that GQS are still doing this. Three thumbs up.
I usually mop up her food but my other half finished her crabs on toast, a good sign, but I could have eaten at least another. Rolling onto the main courses, firstly the Roast Old Spot at £13.80.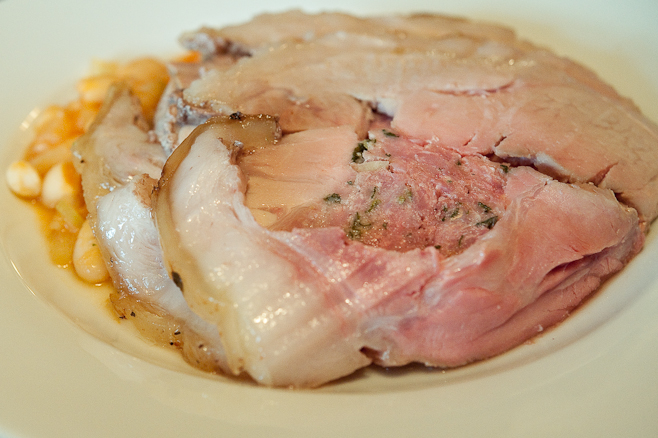 The meat is gently roasted, stuffed with a minty paste and had given rise to a perfectly pink, juicily wet and a fragile porcelain texture. I've had their middle whites with samphires before, and I have come to the conclusion that GQS know to caress their meat with heat. They deliver the most comfortingly sultry sliced pork in town, I think they've got it down to an art form. The best part was of couse the fat. Gently so with fluttery buttery flavours. The beans were probably just for amusement. Another winner. I gobbled up all the fatty bits my other fat daren't ingest.
I've waited long enough to try their minute steak once again, £14.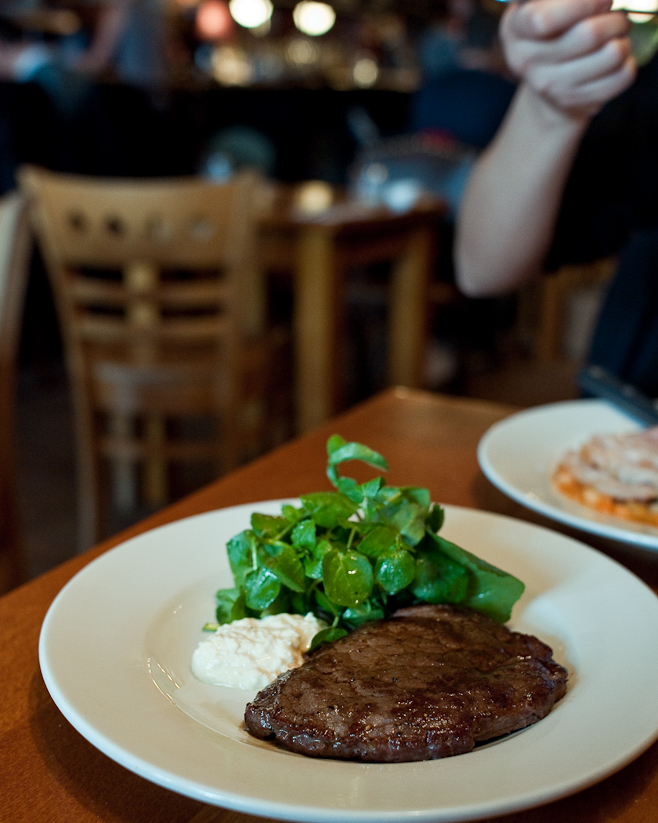 It has a loving roastiness pulsing through the meat. It is deeply marinated, like a churrasco, salty and intense. While I am a proponent of natural flavours, I think pan-fried marinated beef which is well-executed can be an endearing experiencing, and there is no better example than this one. The excellent horseradish cream is amazingly sharp, it hits the nose straight away and balances so well against the umami from the steak. A sweet vinegary watercress salad and a tinge of bitterness completes this dish. I've watched the kitchen cook one of these before. I used to love sitting at the bar closest to the kitchen, and I watched them pan-fry and then bake the steak in the oven. They usually serve it bloody, just the way I love it. Anyway, I distinctly remember a much chunkier cut in 2008, the portions may have shrunk a little, but it is as mouth-watering as when I first had it.
The last piece of the puzzle. Pumpkin ice cream, shortbread. £2.80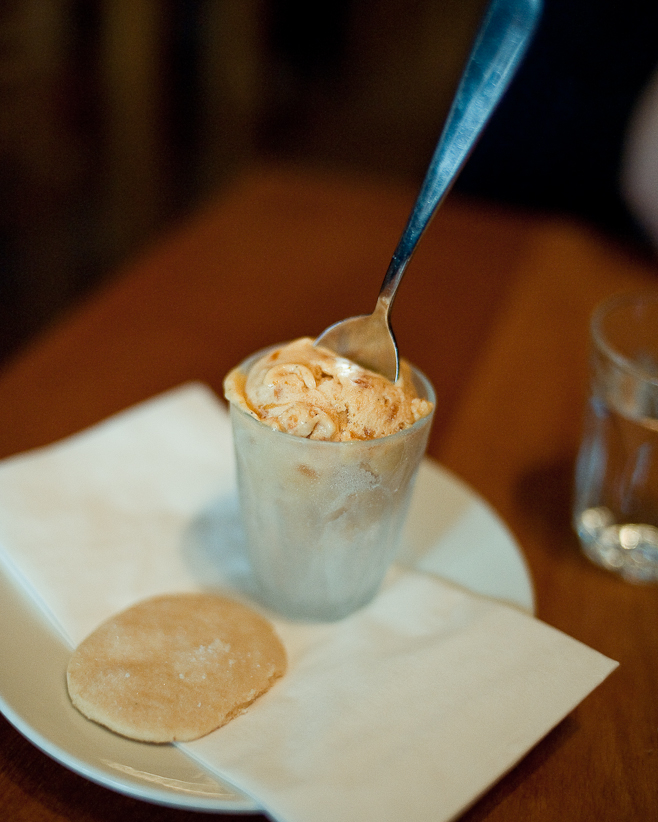 I've tried most of their puddings, the spiked caramel one is pretty good, but not the best. The best are their home brewed ice cream. Dollops of clotted cream must have been used, it is seriously sticky, thick and takes forever to melt. The ice cream has a honeyed sweetness, and the mushy pumpkin bits add an fibrous root-veg component to the milky tastes. I love it. I first fell in love with their strawberries version, chunky bits frozen into the mix, able bodied and genuine. Italians would be proud of this surely. Served in a frozen tumbler and a shortbread, I suspect a single espresso would have been the perfect finish.
Such simple pleasures, such harmonious execution, how could one not love Great Queen Street. Can I be more gushing? Our bill came to just over fifty quid, service at the discretion of the diner. I shook off all the pound coins I had in my pocket. Not quite enough. The décor may be textbook, but the food is far from it. I think they have gotten better over time, perfecting the gastropub concept and churning out food that looks simple on the surface, but which explodes with complexity. Everything goes down smooth. I wrote this review by design of course, I think this is the strongest three course combo you could have at GQS. Avoid their fish if possible, it's not nearly as exciting as their meat. Did I mention the aromas? Probably since the kitchen is exposed, the smell of roast and freshly fried chips permeates through the room, breathable grease. Highly recommended, if you've never been, pick up the phone now.
The Gist of It
32 Great Queen Street, £30pp
32 Great Queen Street Covent Garden, WC2B 5AA
Tel : 020 7242 0622
Tube : Covent Garden
Reviews elsewhere : SusanLovesFood… London ; The Happiness Project London ; London Food Detective ; Laissez Fare ; Food. By Mark
Did you enjoy reading this post? Why not subscribe to my feed updates for free. Alternatively, You can subscribe via email.