It is friday and time to loosen those ties and go nuts. Woo.
Some new upgrades going on here on londoneater, I've revamped the restaurant review page to add a nifty google maps feature. All thanks to Avi Alkalay for his excellent tutorial and plug-in to make it all magically work!
Clicking on any of the markers will bring up the name/cuisine and the basic details of the restaurant. Clicking on the name wil take you directly to the review, so its pretty cool. So if you are feeling peckish but unsure of what to eat, then pop over to my map and have a quick scan through of what's in your post code.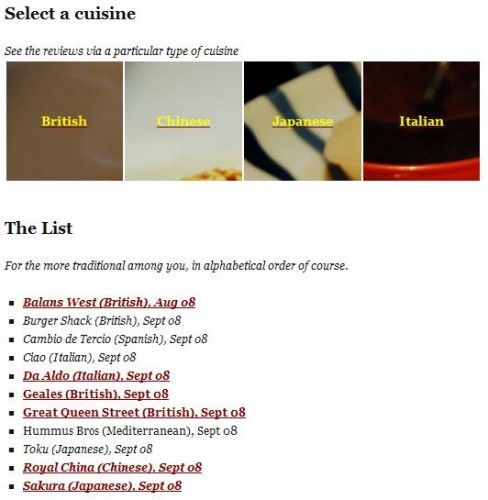 Also on the restaurant page are newly added navigation so you can scan by cuisines or you can scan by the list. For now its just in alphabetical order, but I think in the coming weeks, I'm going to rank it instead. It's be like the 'ultimate list' to end all lists.
Well maybe not, but you know, I'm just creating drama. Woo. It's friday. Go check out the page folks.