I have to talk about the interior. Its got really retro, old wood that look like they've been up since the 70's, and one of the things you'll notice is the cramped space, appropriately cosy.
The red walls feature a lot of interesting items with throwback new age artwork, big vintage clocks, mandolins and the ceiling even has what appears to be a vintage fan. It already looks like a nice place to eat. 
the quaint trattoria
The description outside the restaurant went on about how they have been in soho for 30 years and that they are one of the first Italian restaurants, and are still one of the few serving home-made food in Soho.
Their a la carte feature largely what you'd expect in the antipasta, pasta and meats sections. Then I see something I really like on the menu:
Specials.
I'm one of those guys who love change and fresh ideas. The fact that the menu was succinct and hand-written shows that they change it often, possibly to suit the seasons. This may sound cheesy but I think specials do somehow make restaurants abit special. 
little Italy
I love family run businesses, they lend an air of personality and soul which larger places tend to lack. The owners are usually out and about, especially dinnertime, they greet customers with much warmth and they usually have a lot of passion for their businesses. After all they are doing it partly out of love.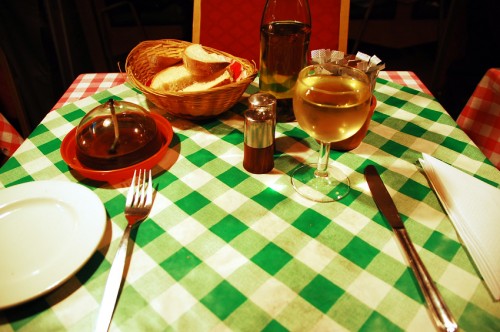 Even the table layout harks back to the old, old days. This is what soho restaurants should be about. Da Valdo oozes so much soul and it's atmosphere is perfect for a romantic date, or a quite dinner after a long week's work.
gambarinos to start
I got to point out the affordability of this restaurant. Starters hovered around £7, mains could be had at £11 and wines started at £12.50 by the bottle. My starters as recommended by the waiter were prawns in garlic and chilli.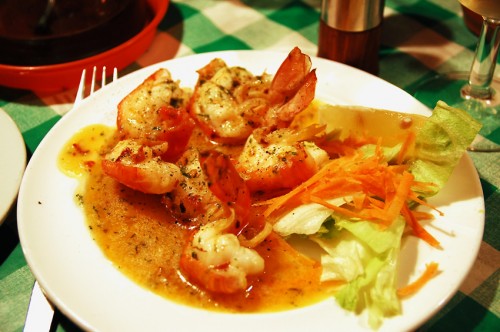 It smells great, the sauce must have been made with the prawns own juices, that great savoury seafood taste too. Garlic gives the dish lots of flavour and the chilli gives the dish a bit of extra bite. Overall, its a really well cooked starter thats help me work up an appetite.
orange grand marnier chix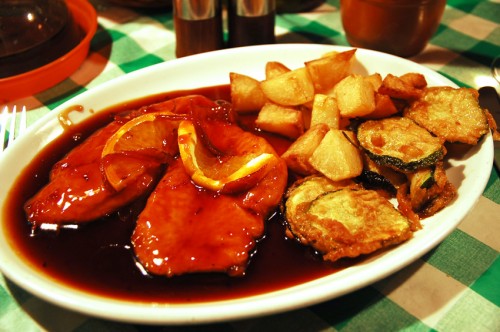 I was on the fence with the mains. The contenders were lamb cheeks in a fancy sauce which I can't remember, but the description was enough to make me salivate; veal in a garlic and cream sauce, I think and finally orange grand marnier chicken.
When in doubt, always tap into the great wisdom of the waiters, whom interestingly, carry around a rather hi tech push button peppermill instead of a traditional hand-turned one. Kind of ironic considering the vintage feel of the place. It gives out a pretty funky buzz too when in operation.
The sauce is too dense, its rich and its very sweet, almost like crossing chinese takeaway sweet and sour with the bbq sauce.. from the same takeway. It really drowned out the chicken completely so basically its not very good. The potatoes and the aubergines however, were spot on. Lightly fried and not too oily.
Clearly made a wrong call on this one, lamb cheeks all of a sudden sound like food heaven…
tri colour cream to finish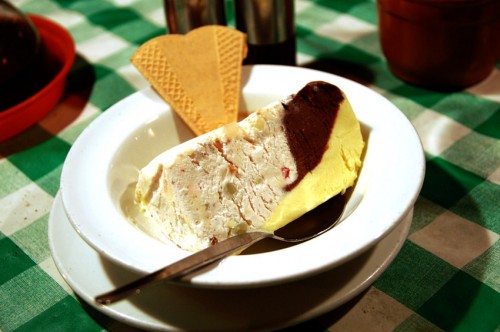 I ended my meal with what apppears to be vannila, chocolate and a custard flavoured triple threat of a dessert known as cassala. With tutti frutti bits, its nice and light, very pleasant way to finish up.
that's amore man 
Yeah food here is alright, its not mind-blowing, but it's what you'd expect. I think it's great for like a chilled-out first date, or a place to meet up with old friends from way back when. The best part is that it won't burn an even bigger hole in your wallet, especially in these lean times.
Did I find that dish?
Sadly, no. But I did think the interior was great. Food was above average.
Should you bother?
I think you should, prices are low, and for the price, you won't be disappointed. Go for a quiet meal after work.
Basics
Trattoria Da Aldo 
51 Greek St w1d 4eh | 020 74373985
how to get there: leicester square or piccadilly circus tube station
How much: Cheap. £25 per head plus booze.