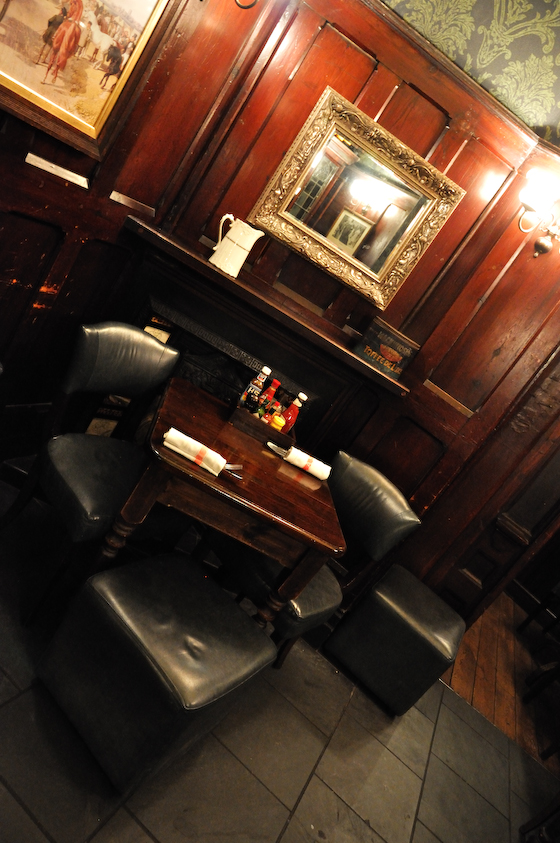 The Fox and Anchor Official Site
115 Charterhouse Square EC1M 6AA 020 7250 1300
£20 pp of proper grub
The smell of eggs and bacon fill the air as I inch closer to my lunch destination. Stumbling clumsily into the pub, The light from outside casted silhouettes on rising heads, as chatter dies down, just for a little while. I can confirm that the smell is coming from within and is now tinged with the heartiness of a roast. And then, I heard the intensifying click of heels against the dark wooden flooring as a demure beauty gently floated towards me: "For two?" said the Rose of the Estuary.
"Yes."
Yes man.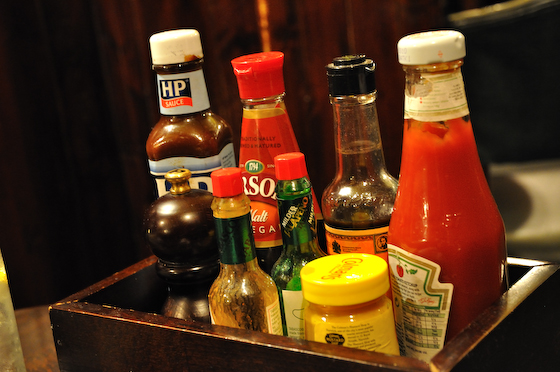 "Hello Kang…. LondonEater?" Man in the dapper suit asks. "Welcome to The Fox and Anchor, I'm Scott, the Landlord." Gulp. Getting slightly nervous as my mind starts scrambling for insightful questions, gosh I just want to eat and write. And then, Scott walks away, so much for that. There is something special about this place, and I'm not just referring to the stained glass or green leather seats, rather I'm referring to the intangibles. It has a sort of silent charm about it, almost as if there is a secret fireplace still blowing smoke up a chimney – but is hidden from sight. On the other hand, the menu seems to suggest a kind of throwback to simpler times but remixed for modern city diners offering Kate and Sydney pies (I didn't get it till Miss England pointed it out to me) and rarebit on toast – There's even the choice of the butcher's fillet in the onglet with chips.
Not another Gastropub
Does the British Gastropub really exists? Is it really just a pub with an overachieving kitchen or vice versa? I'm reluctant to label the Fox as one of these because their seemingly classic menu steers away from trying to do too much with the food – instead I keep detecting hints that it's really trying to present itself as just an honestly great place to grab proper grub.
And we go to the food for proof of the proper stuff.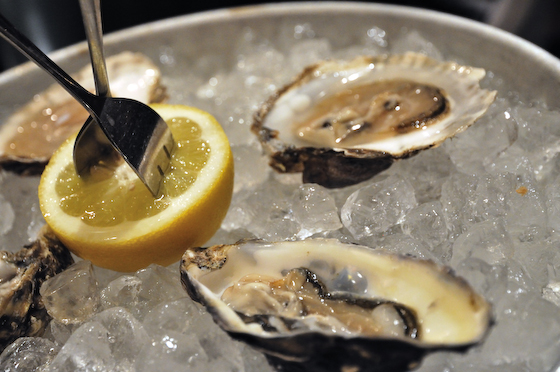 You get two choices of oysters here: £1.50 Malden rock ones or £2.50 Native No.1s. I got to say I'm not the biggest oyster eater, and both taste near enough as fresh and as crisp to me, although I did find the longer shaped Native ones a tad more flavoursome than the Malden rocks.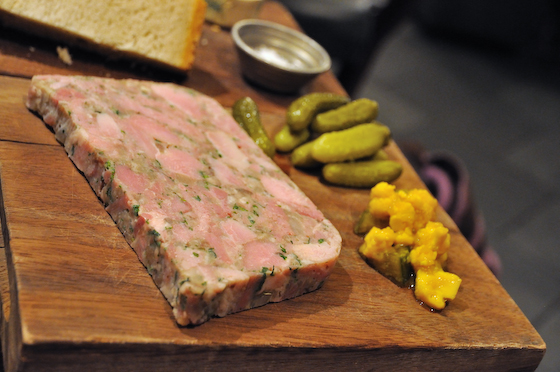 As with most of my visits – at least one of the dishes is a front of house recommendation, though in this case, every excuse to talk with the waitress is welcomed.
Anyway.
She suggested we start with the trotters terrine (£7) – newish on the menu. She was right. Chock full of succulent flavour, a good dose of saltiness and I suspect trotter-fat was responsible for the wonderful richness to grace the palettes. Texture wise, it's like a cooked leg of ham, so a good chew. One of the best terrines I've ever come across and suitably appetised.
Sometime last year, my tastebuds were blown all across the Atlantic when I savoured the best crabs ever to find their way on toast at GQS. Eating delicious things can provoke all kinds of reactions from different people but the one constant is how a great (or really bad) meal seemingly endures in memory.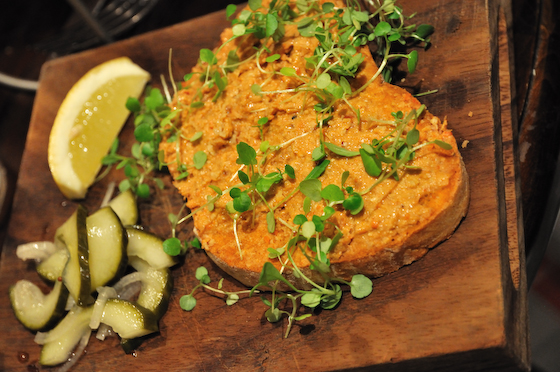 Sadly, the Fox's brown crab rendition wasn't singing nor was it trying to dance as the grainy brown paste was mostly flat on my 'buds and the fishiness of the brown meat led to bitterness. I attempted to eat the much too sharp pickled cucumbers on the side, and even tried to mix it with the crab meat but sadly, it gave rise to a concoction which one could have mistaken for it been prepared in the bar, rather than the kitchen.
Chicken and Sole
A little underwhelming so far – and I usually say this for complimentary meal reviews: if it's a great meal, then yeah its not a problem saying its a great meal. But if it wasn't, then I do feel like I'm trampling on all kinds of moral boundaries when slating. Having said that – I do try my hardest in the quest for the balanced opinion. I still think that restaurants have signature dishes and bum dishes that sit in the same menu and we've not even begun to account for other aspects which make up the experience of a meal. There ya go folks, who would've thought that giving an honest opinion was ever going to be this hard? I wonder if Simon Cowell has trouble sleeping at night. But well, somebody has to eat it.
Right on to the mains.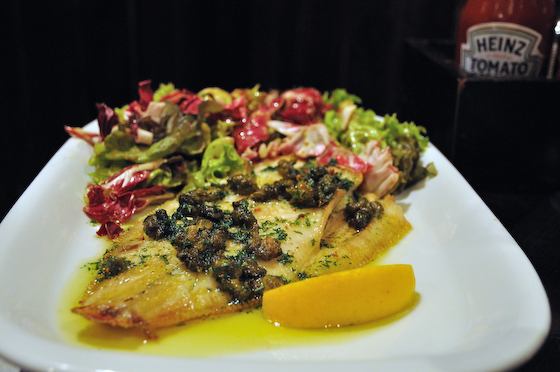 Let's start with the fish, Grilled lemon sole with capers and a fresh greens medley on the side (£13). Firstly: It is very well cooked, full of fire & charcoal while still managing to be lively and flaky, and the gorgeous flavours of the sea are ever present. A squige of lemon juice plus a crackle of pepper and sea salt add depth to the distinctly chocolatey capers aftertaste. There's a pretty crispy sharp mustard vinegar dressing with the greens that bring abit of contrast to the fish. I am pretty impressed with this; in a nutshell it was nicely grilled seafood.
By now, I am in real danger of falling for the waitress and just when I was about to say something I might regret – she firmly recommended I try something from the carvery trolley than to go for the onglet…. I really wanted that onglet.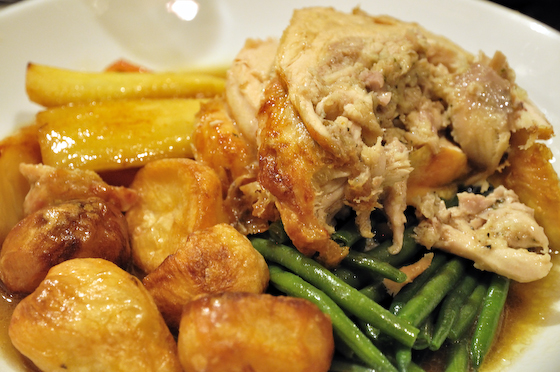 The Carving Trolley, with all the trimmings and lashings of gravy (£14).
On the day I went, it was roast chicken breast with stuffing, and also strips of leg meat too. Plain roast chicken over the onglet: she was fighting for the chicken with a passion. Oh deary me and I'm so glad she did – the chicken was amazing. Moist and succulent, it carried a sweetish white wine and vanilla aroma but the meat itself was heavenly. I could not believe I was eating chicken breast because it was superiorly tender. I'd never had chicken this soft before – at least not in London – with a texture much like chewing into a fluffy pillow – it instantly melted in the mouth. My best guess of the stuffing were shallots, sage and breadcrumbs – and the chef smartly stuffed leg meat in there which really brought out a lot of richness what with the oiliness of the leg meat. Accompanying the trimmings was a rather intriguing honeyed parsnips and tasted almost of a warm and pudgy slab of banana pudding, yummy.
Apart from the tenderness of the meat, I was most impressed with the perfumery sweet roastness of the dish – it really felt like this dish was prepared –lovingly- in someone's home, and perhaps a recipe honed to perfection after decades of family gatherings and the like.
A Homerun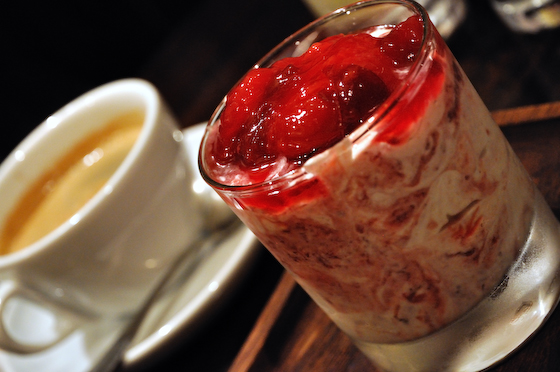 We decided to end the meal with a cinnamon spiced plum fool (£5) which was abit like a chilled mulled wine compote smothered over sweet double cream; with milky sweetness contrasting against jammy sharpness; A pleasant if a rather uneventful finish. All in all (with you ever the slightly wary of my opinion) , I think that the Fox has got something special going for it, and not just about how 'real' this pub feels – even if its situated along the fringes of the Square Mile. In the end Scott did pop round and ask how things went and I told him I really liked the chicken. Scott readily proclaimed that he was gunning for real pub grub, and he's not trying do a gastropub but rather, he described that he wanted food at his beloved pub to be abit like going round to granny's house. I was glad to meet a pub owner who's sensible enough to want to serve hearty home cook style food, and I think that's the strength of the Fox; Natural flavours are accentuated and the chef allows the ingredients to speak for itself, proper straightforward recipes, hearty food cooked to perfection. After all, isnt that the key to every single meal ? To feel comfortable after a meal. People still get miffed about whether Great British cuisine exists, but I think we've all been fooled by the michelin man one time too many – Great British food does exists and it exists in the great pubs dotted around the nation.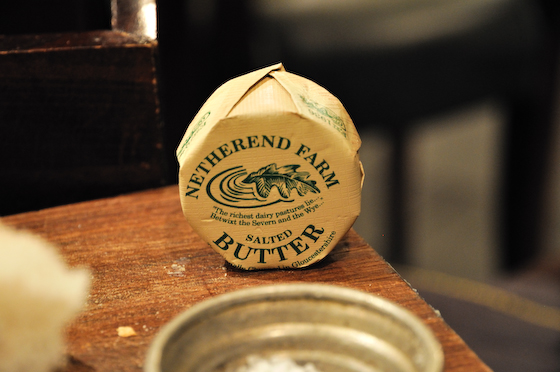 Personally, I think that there are lots of great pubs which serve great food in the UK – I've had many memorable meals at really decent prices. None of that poncy dinkiness, it's big plates of grub. Take for instance Welsh breakfast of cockles,bacon and laverbread: its a superb combo and one that is unique to this country (well, Wales anyway) alone. The point I'm making is that the Fox is a great example of a modern pub serving up deliciously hearty meals to go with the pints. A meal here is cheaper than the average faux Italian tratorria, with mains hovering the £15 mark – you eat your heart out for £30 plus lager plus the atmosphere of a great pub.
Am I going swap my local pub – The Prince Regent in old brompton road – for the Fox? Of course not. The duck at the Regent is just too nice to give up and at £12.50, the best duck at that price I might add, besides the Fox is much too far away from my little man-shed. And I'm sure everybody has their favourite pub (what's yours incidentally?) and each, its own unique mix of deliciously affordable food and fuzzy ambiance. Having said that, the next time I'm in Farringdon and I'm looking for an ace meal – I'd rather choose to go here than stab in the dark (literallly) at Dans Le Noir.
If you're reading this from beyond the shores then the next time you plan a holiday to the UK, plan one less Michelin star and include a few pubs in your itenerary. If you happen to be in Farringdon, try the Fox and Anchor; I guarantee you'll walk away with an improved impression of British Food.
The Gist of It.
The Fox and Anchor Official Site
115 Charterhouse Square EC1M 6AA 020 7250 1300
£20 pp of proper grub
Verdict: Go on sundays, try the carvery and swap yer pint for a cup of coffee…. or three sambuca shots.
Did you enjoy reading this post? Why not subscribe to my feed updates for free. Alternatively, You can subscribe via email.