DISCLAIMER: I was Sabi's guest for this meal. Roger, Njaal and I are friends.
I've frequented Stavanger for the last 6 years and have been amazed with the ever improving quality of restaurants here. Located in Rogaland county along the southern coast of Norway, the so-called Norwegian Riviera is lightly populated (circa 400,000) and is surrounded by the North Sea and a number of fjords, making it the obvious place to develop Norway's oil & gas industry. Aside from its oil capital reputation, it is a hub for Norway's culinary keen, producing Bocuse d'or winners in recent years.
Those surrounding cold waters have also allowed Norway to carve a world-class aquaculture industry, positioning this tiny Scandinavian country as the World's 2nd largest seafood exporter. The quality of its seafood has led to the success stories such as the 80s breakthrough of exporting Atlantic salmon to Japan.
In spite of their rich seafood traditions, sushi is relatively new, which is how I met Njaal (and later on, Roger) back in 2011, when they were looking for inspiration for their izakaya style, sushi diner-takeaway. They saw potential to showcase the quality of Norwegian fish, and to introduce a cuisine which Njaal loves, to his hometown. Eventually they opened their everyman sushi diner called Sabi Sushi. The name comes from the philosophy of wabi-sabi. 4 years on, their franchise has blossomed to 8 locations in the Rogaland region.
Over the years, these guys have flirted with the idea of 'premium' Sabi, through organising one-off supper clubs, having been inspired by their visits to those famous Ginza sushi-ya. Finally, they've turned those dreams into bricks and mortar (or oak and walnut, to be exact) to fulfill that ambition of rubbing shoulders with said Ginza legends with Sabi Omakase.
In typical Tokyo fashion, they've transformed a tiny 5m x 7m into a cosy sushi-ya. It barely fits 9 people and is only open for dinner from Thursday to Saturday – a total of 27 covers over 3 sittings, with 3 people working per service. The Itamae is Sabi's head chef Roger Asakil Joya (whose been busy participating in World Sushi Cup), Sommelier Jonas does wines and Njaal, the co-owner handles front of house. In place of blonde cedar, Sabi-O have opted for a counter top made from sleek walnut, with blackened glass for individual serving plates.
They're calling this Norwegian Edomae, for which the intention is source the best in-season Norwegian produce for each service. It's logical since Norwegian seafood is of notable quality and it jives with the essence of the craft. The idea is to tap into the best the Norwegian fishery trade has to offer. No imported Hokkaido uni here. The most foreign ingredients are Danish eel and surprisingly wasabi grown in Britain.
The seasonal menu is left to the chef (hence Omakase) and priced at £110 for 17 pieces/courses. Rather atypically, Sabi-O offers a full wine pairing flight to go with the meal – 10 glasses for £100. Some serious plonk too including GG Riesling, Selosse bubbles and a Grivot Vosne-Rom Prem cru.
0. Aperitif
Tsuru Ume Yuzu Sake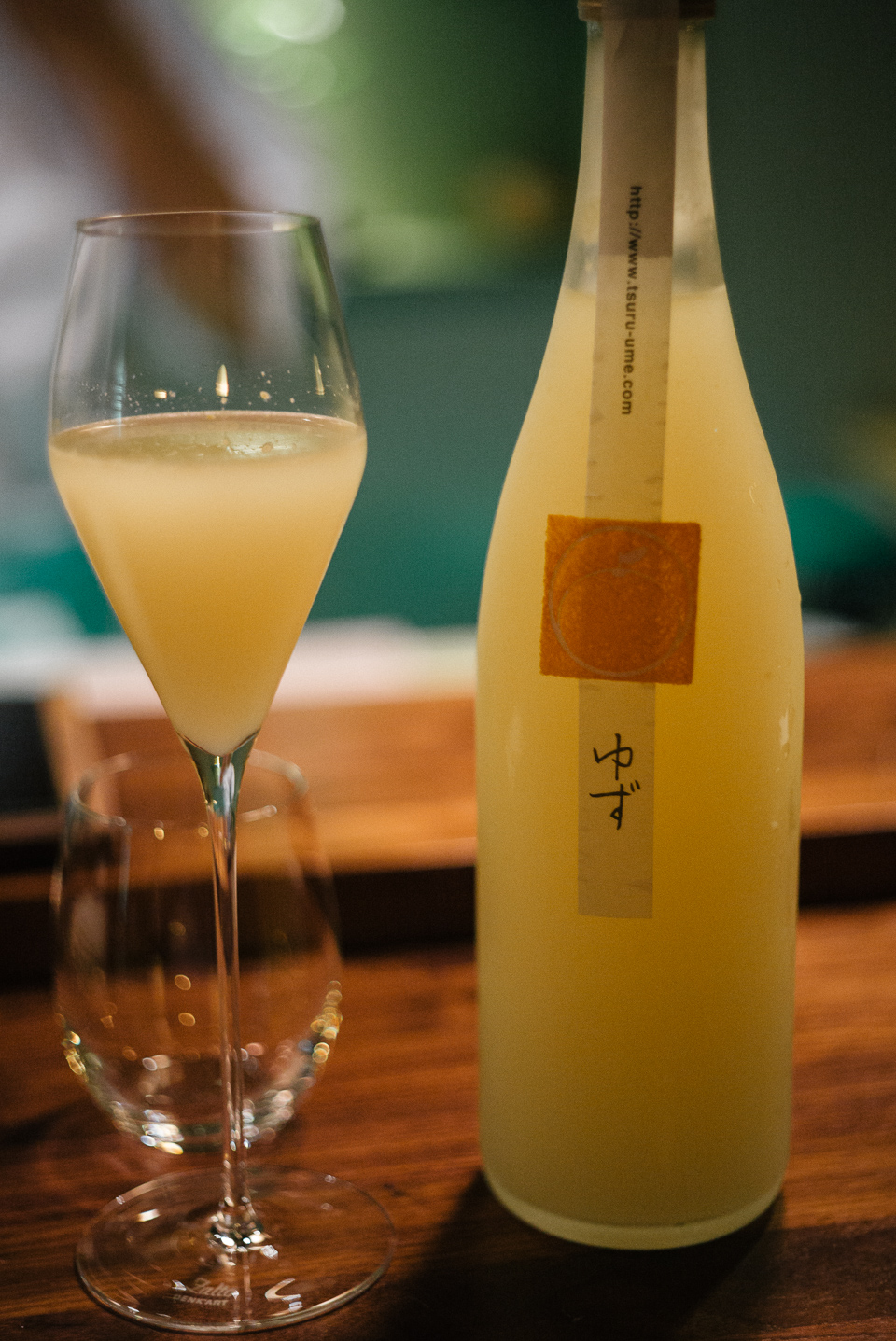 The meal starts with a fruity sake to break the ice.
1. Suimono with cockles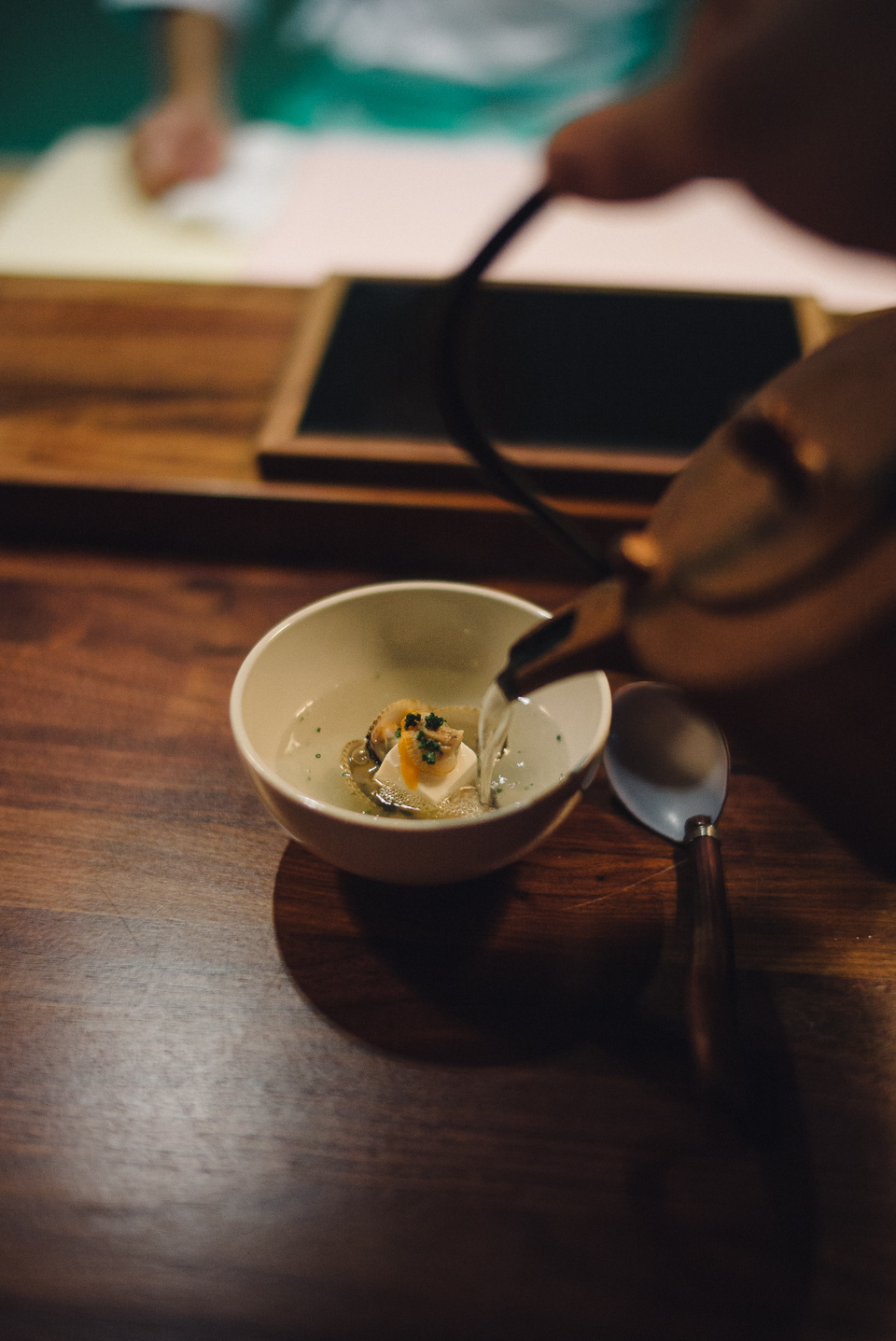 To wake the palate. A light brine to wash away whatever you came in with. Roger then briefly introduces the daily catch, along with an overview of his treatment methods.
2. Cod with shio kombu
with 2005 Sevennieres, Clos de Saint Yves, Domaine Baumard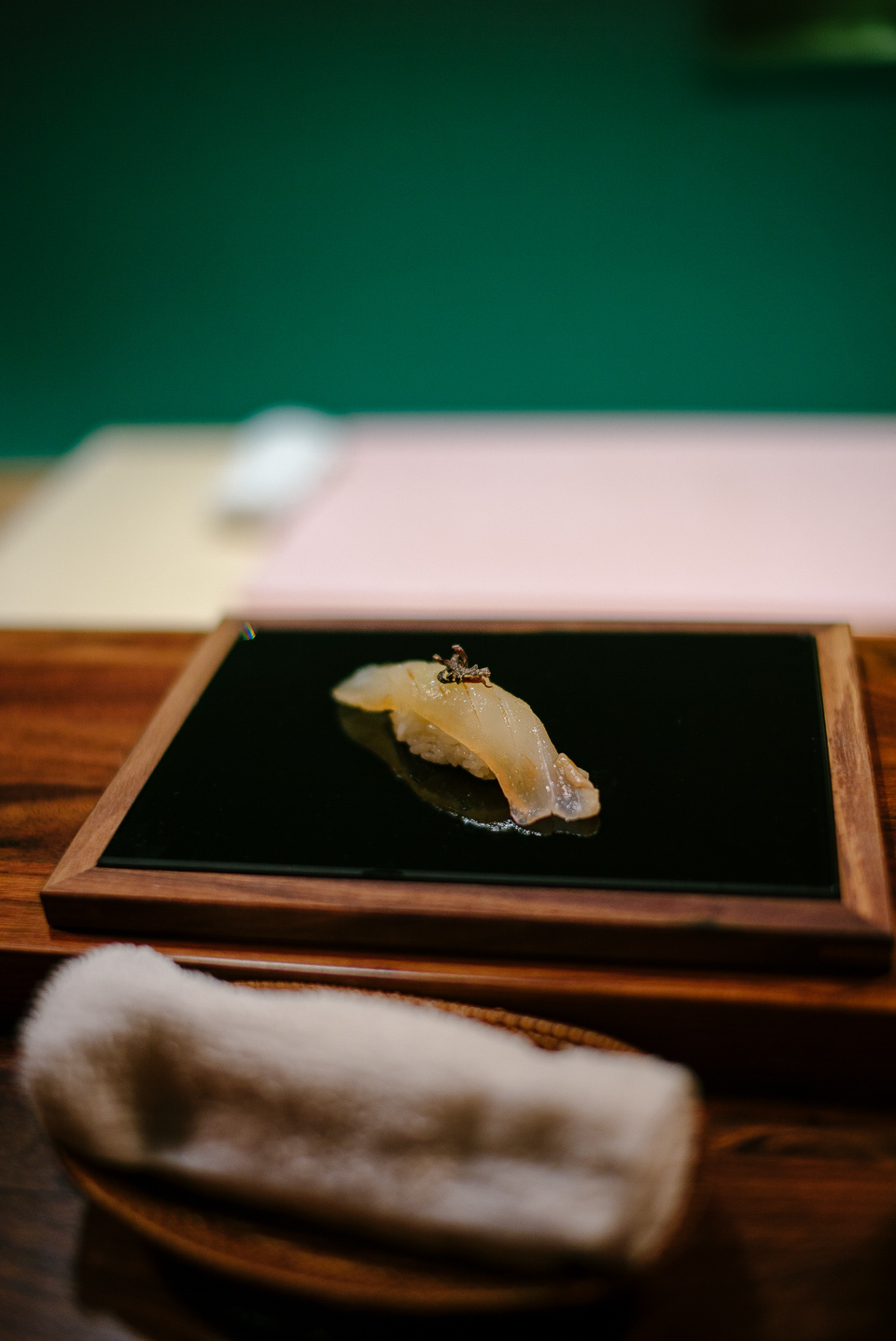 So the first piece is Norwegian cod that's been matured for 3 days. It is brushed with Roger's zuke and garnished with dried and cured kombu. Woah, those textures, clear jelly-like, perfectly smooth, pickled sweetness. No fishiness, just clean fragrance – proper technique going on here.
A jot of the British wasabi accompanies the shari. To my palate, the rice is loose, good wetness, served at correct temperature, neutral flavours with just the suggestion of red vinegar. I probed Roger on the provenance of rice – Japanese rice – but he chose to keep the rest of the details a secret.
The Baumard is a Chenin blanc, that is all nutty minerality, with a lick of burnished embers. Nice.
3. 'Burned' squid with lime and salt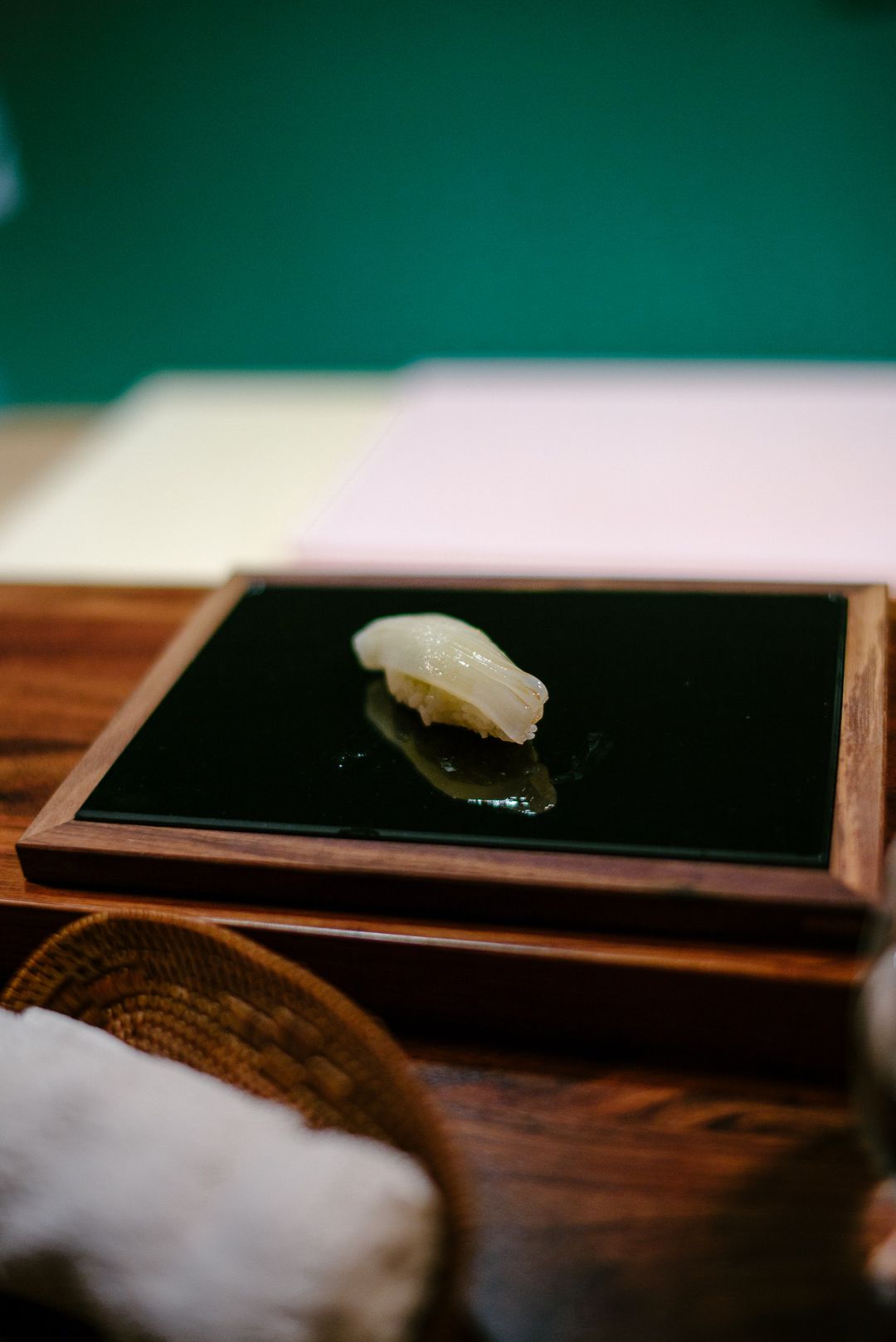 Also zuke, lime and a dot of salt and scored. Ginza style. Those molten liquid textures. Nice. Clean flavours. As it should be. Gorgeous.
4. Scallops
with 2013 Chassagne-Montrachet, Les Embrazes, Thomas Morey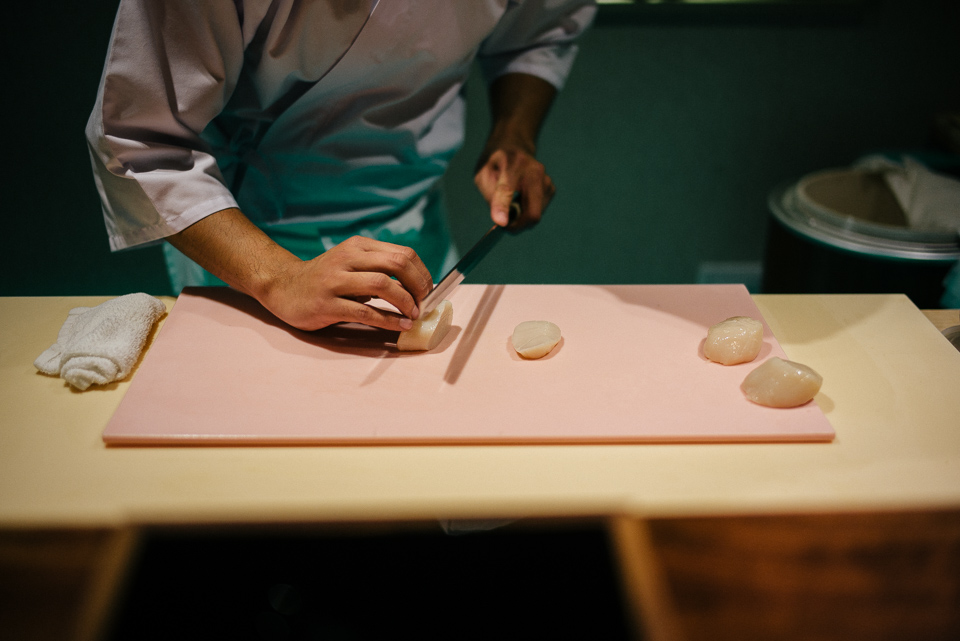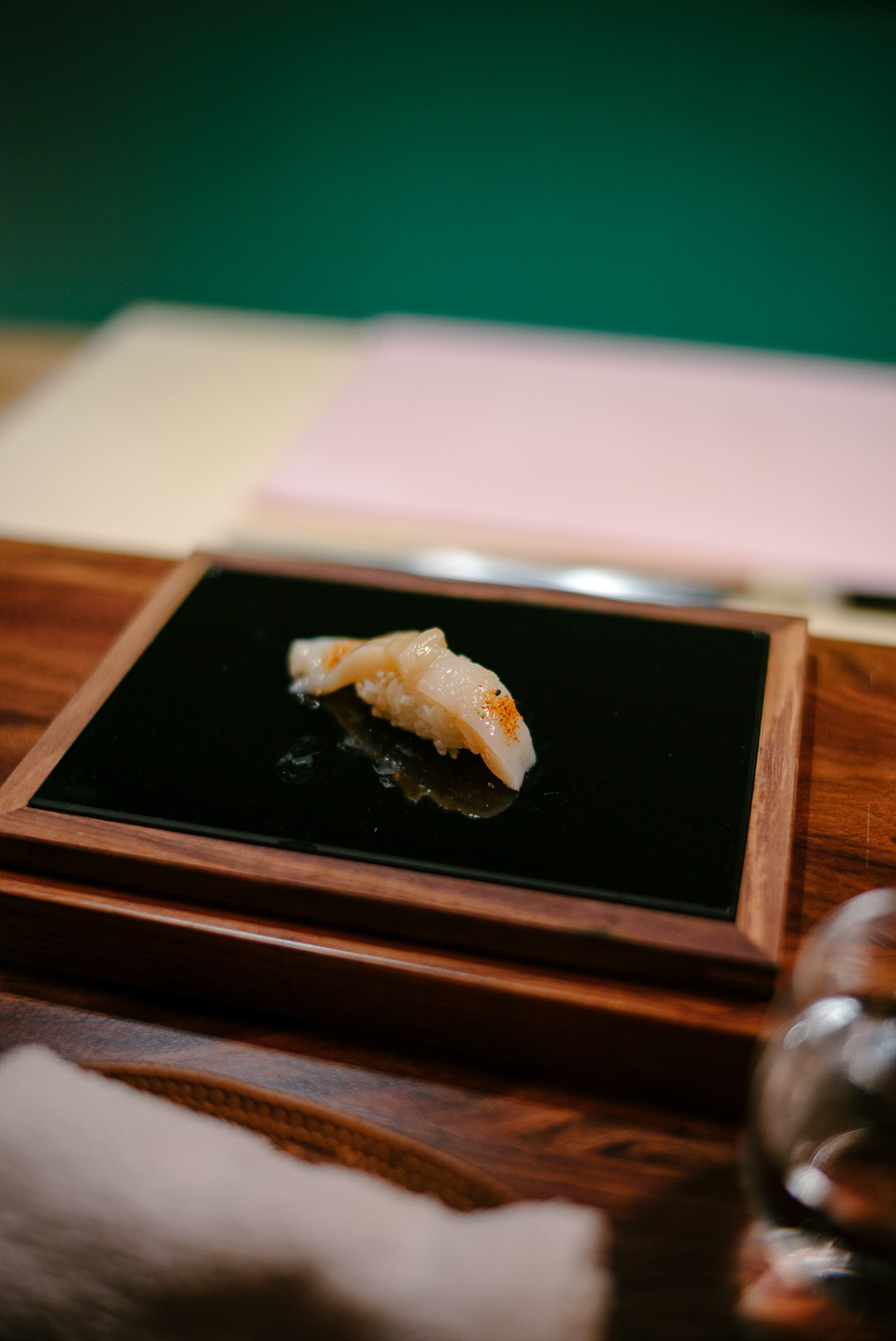 Look at the size of those things. A product of Norway's aquaculture industry, meaty, healthy gargantuan scallops with a pearlescent luster. A dot of soya, a squidge of yuzu, pinky finger brush of chilli powder.
Oh man. How to describe this sweetness? Its like the purest form of cream from the sea. The textures are so delicate, as if the flesh is a liquid encased in a transparent gelatin that melts in the mouth. This is crazy good produce.
5. Langoustines, physalis, yuzu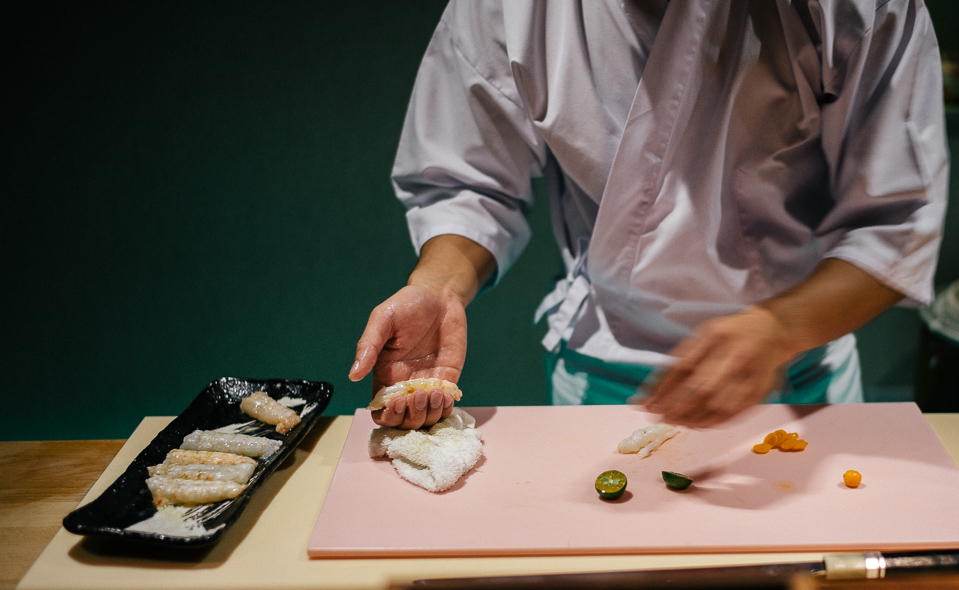 Winter is coming, and that means langoustines. They will only get bigger and bigger from now till January. They are trawled from the 300m deep seabeds. Norwegian scampi is a totally different crustacean to their Scottish cousins, landed from the UK side of the North Sea. Their tails are much meatier, more accurate by their other name, Norway Lobsters, with even more intensely creamy sweetness.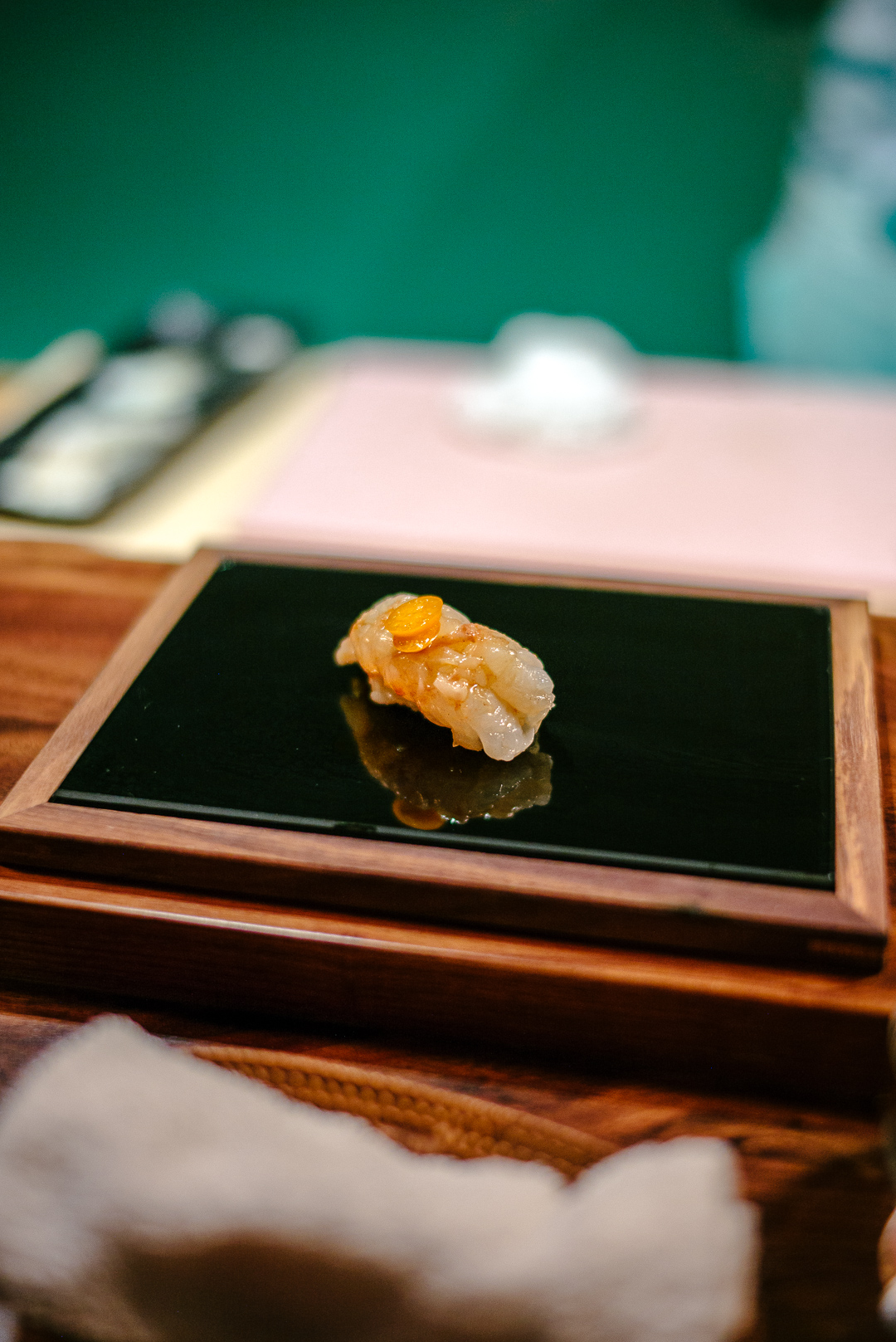 The colour, the jewel-like gelatinous gleam – what a beauty. They are landed at noon on the same day of service and only deshelled two hours before service. Maximum freshness.
Wait what's this? There is a subtle lick of charcoal smoke, almost like hay, and then the superbly silken textures, ending with this massive hit of sweetness. That sweetness is like shiro ebi, except this is a entire meaty tail, as opposed to a compressed bunch of tiny shrimp. Awesome seafood.
I assume they've gently smoked the scampi over their compact bincho grill in the kitchen. You really can't get these langoustines anywhere else. I asked for another, but they ran out.
6. Oysters, roe, bonito flakes, gold leaf
with NV Champagne Initial, Jacques Selosse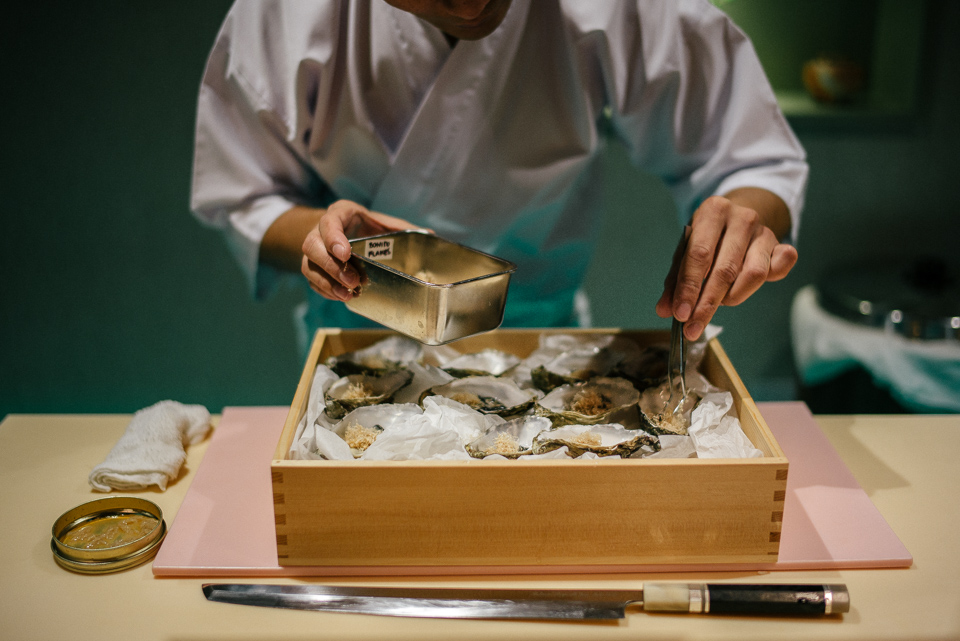 There aren't many wine flights which feature Selosse, a grower champagne that is 100% chardonnay, vinified in ex-Domaine Leflaive barrels. You could say that Anselme Selosse's wines have a bit of a cult like following. A bottle of Initial is about £120 retail. Njaal just loves this stuff – luxe bubbles for luxe oysters.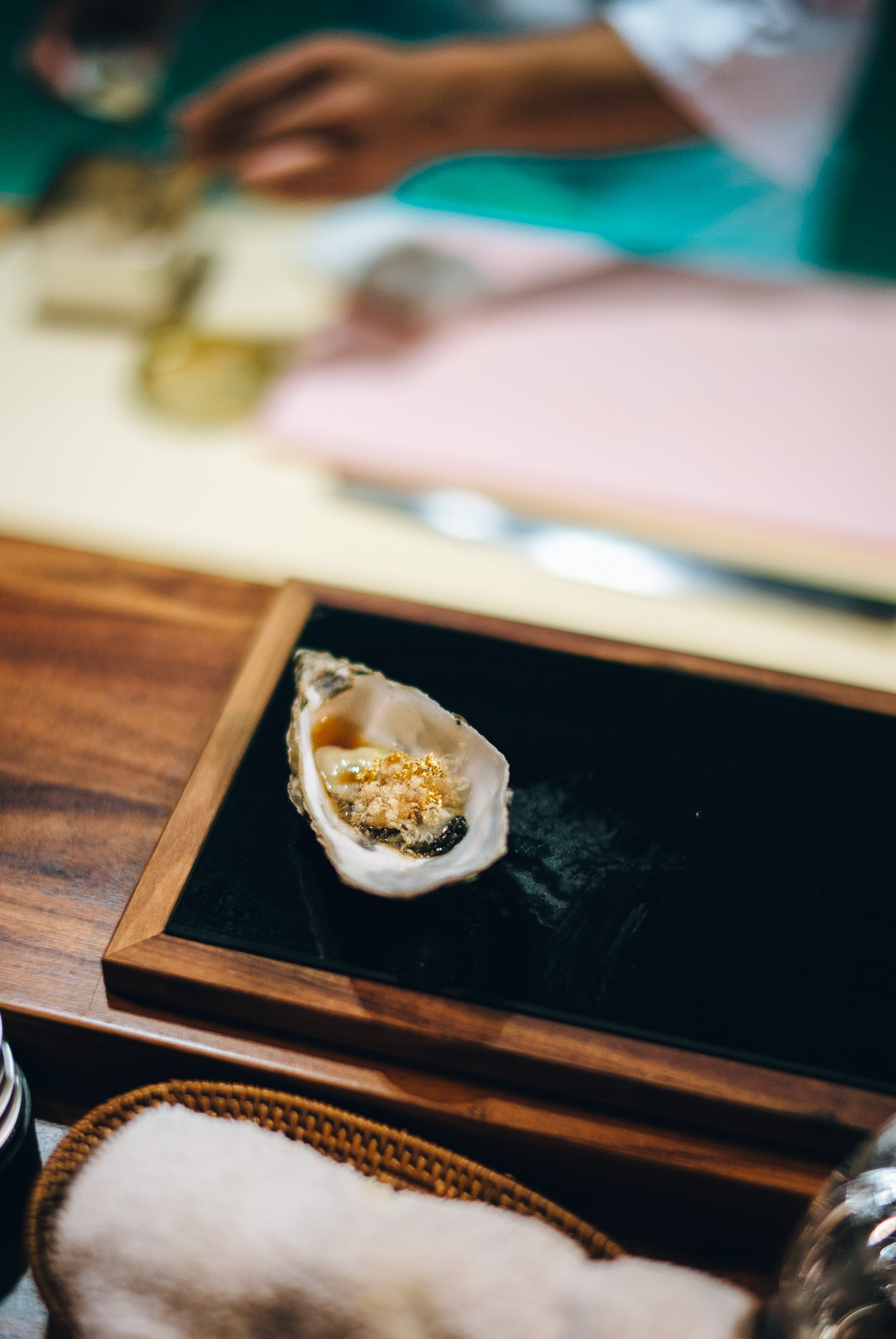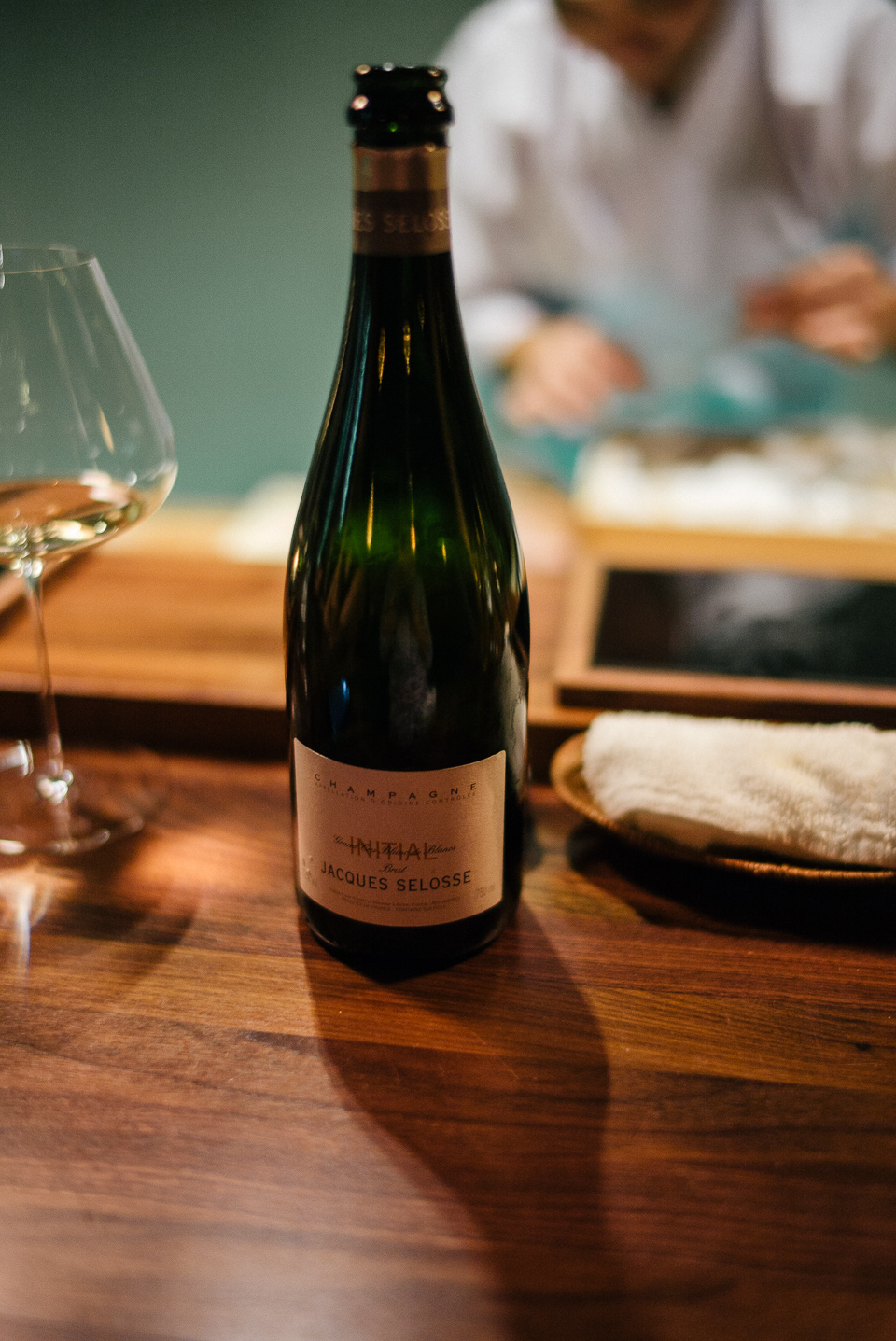 The champagne is indeed delicious – all yeast and butter brioche, it more than complements the oysters, for which the bonito has imparted this intriguing burnished brininess. More bonito on the finish, and you wash with Selosse. Premium tension.
7. Grilled King Crab
with 2001 Gewürztraminer Brand, Albert Boxler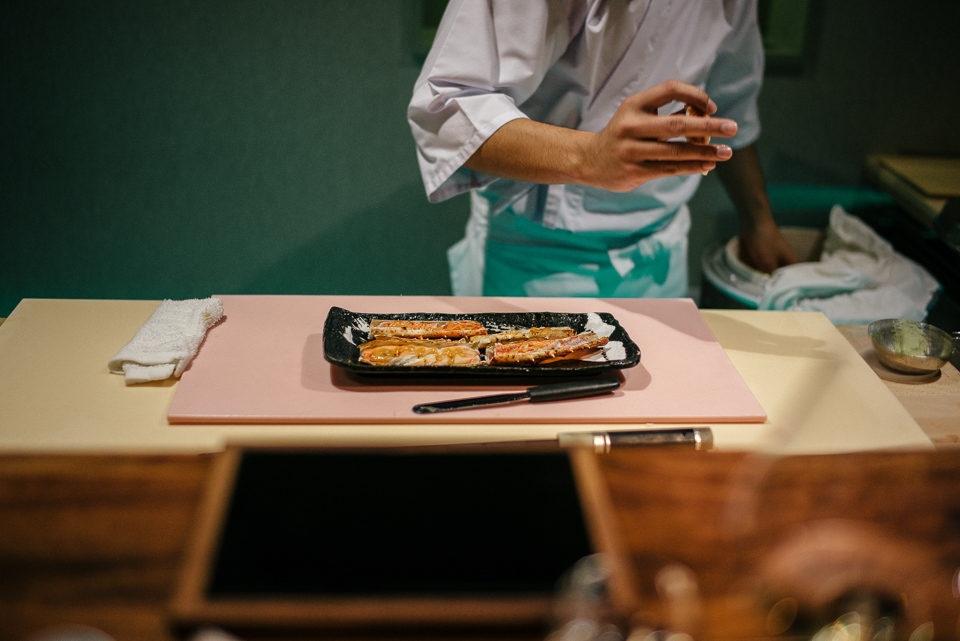 I love Beast so, we now know all about the supreme quality of Norwegian King Crab.
Roger cooks it in over bincho charcoal – at the start of service- with his own miso paste, prior to serving up with more miso and yuzu over the shari.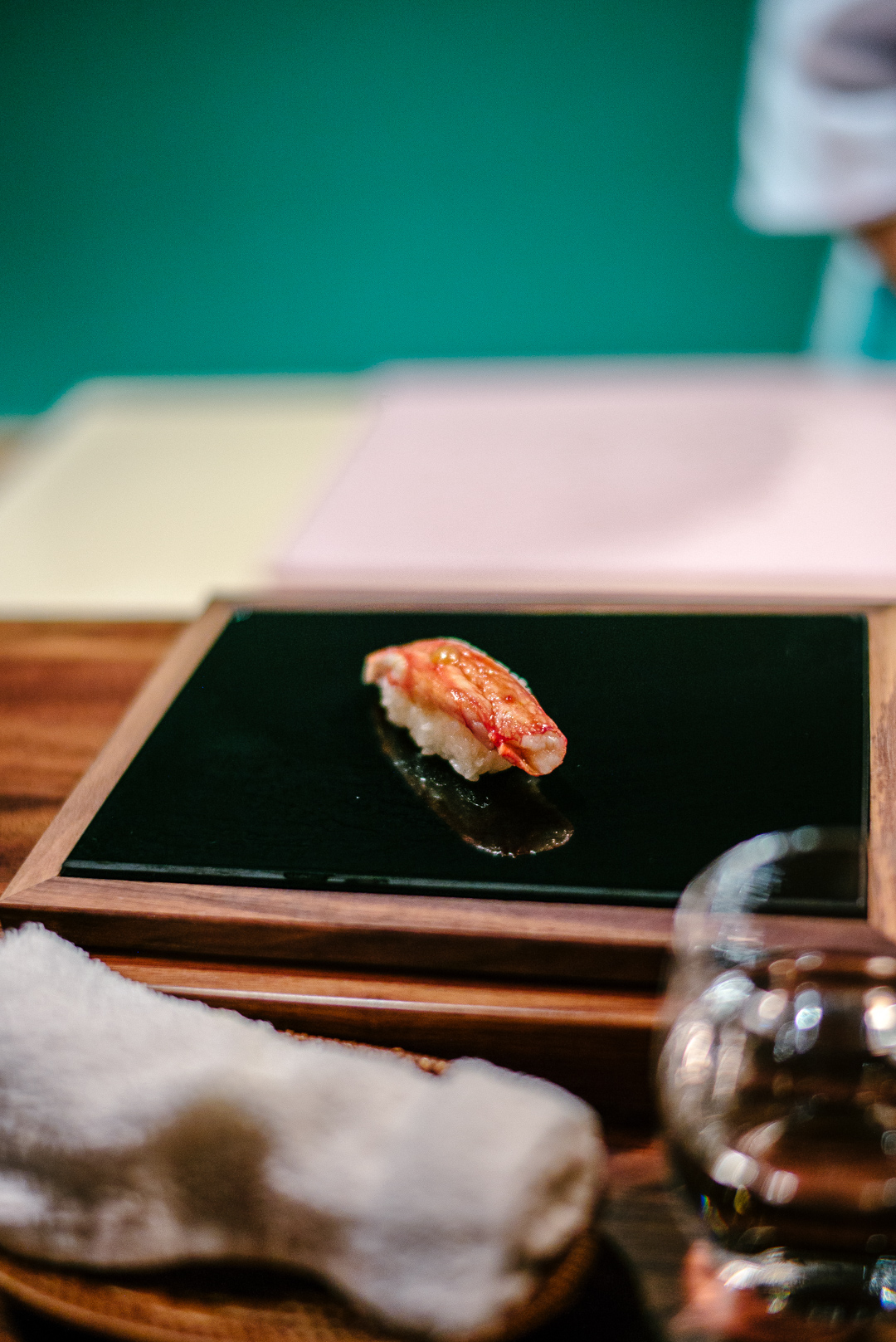 That signature sweetness, the density of the brine-filled flesh – it is undeniably Norwegian King Crab. Simply stunning.
8. Mountain Trout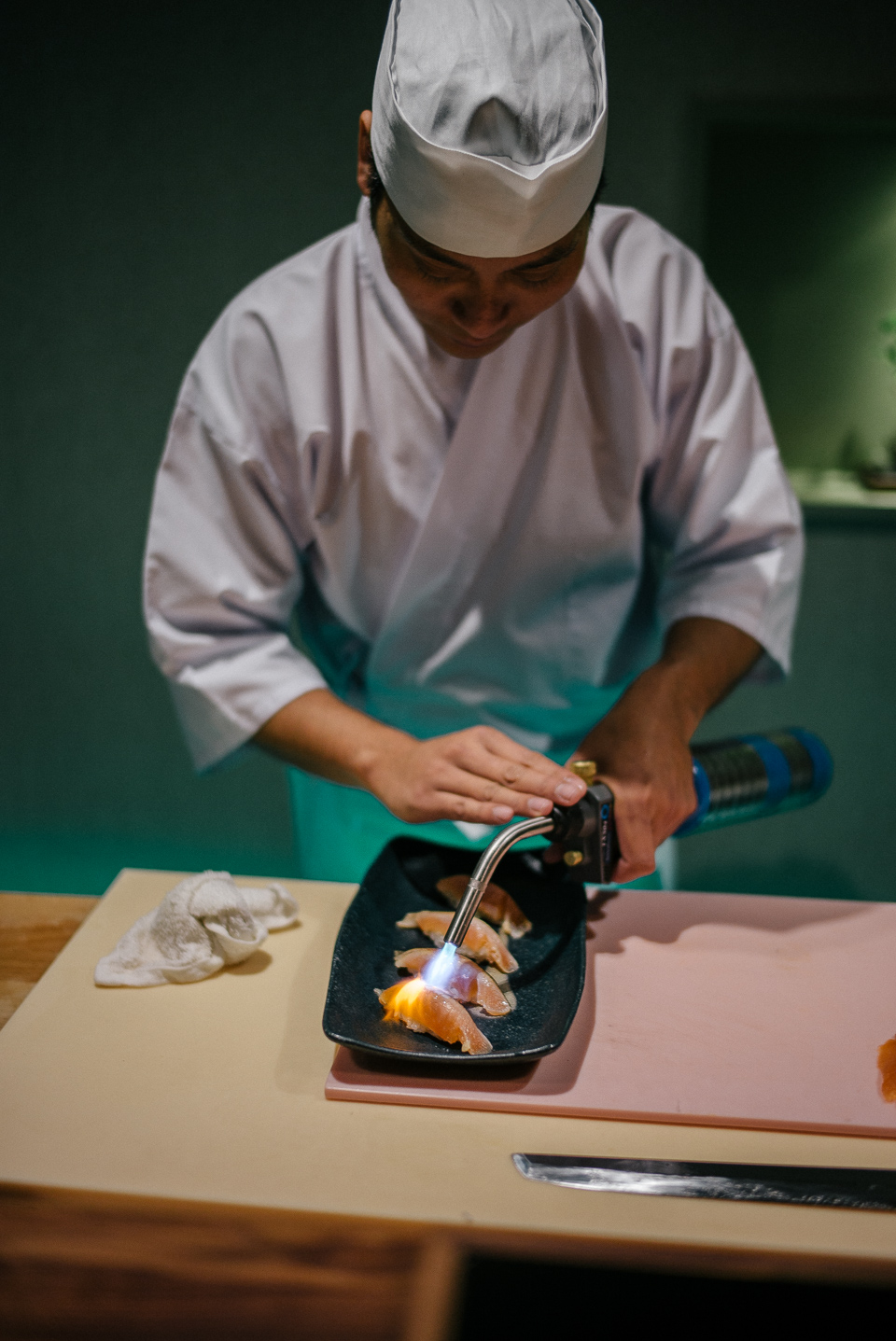 Freshwater trout caught in one of Norway's numerous mountain lakes. Roger applies a light aburi to the point of sweating and then garnishes with chives, a squeeze of lime, garlic, ginger.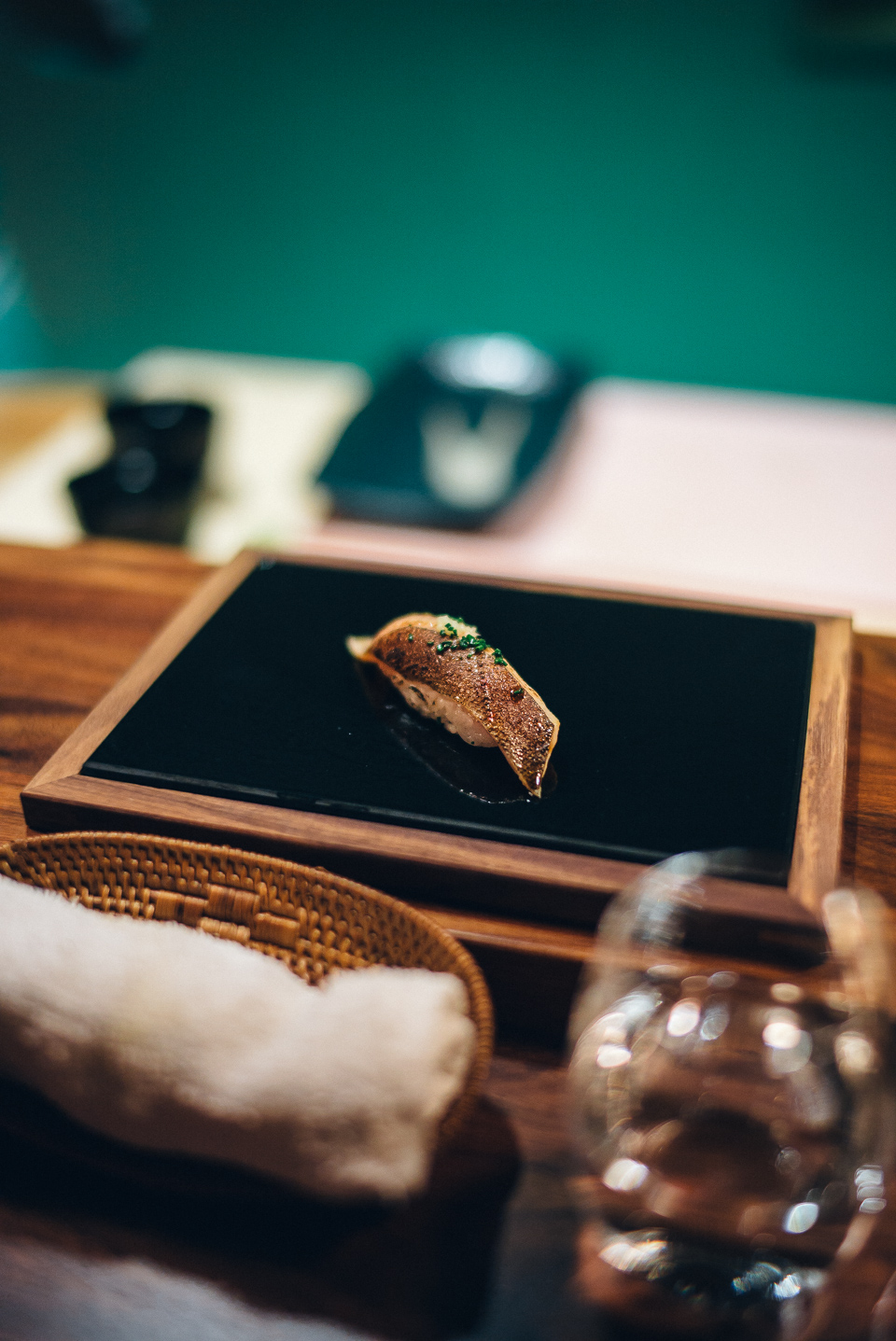 I'm guessing the fish has been matured because the textures are just so delicate and layered, the light aburi brings out more natural oiliness, giving way to this buttery effect. I like it.
9. Herring
with 2012 Riesling Wachenheimer, Dr. Burklin-Wolf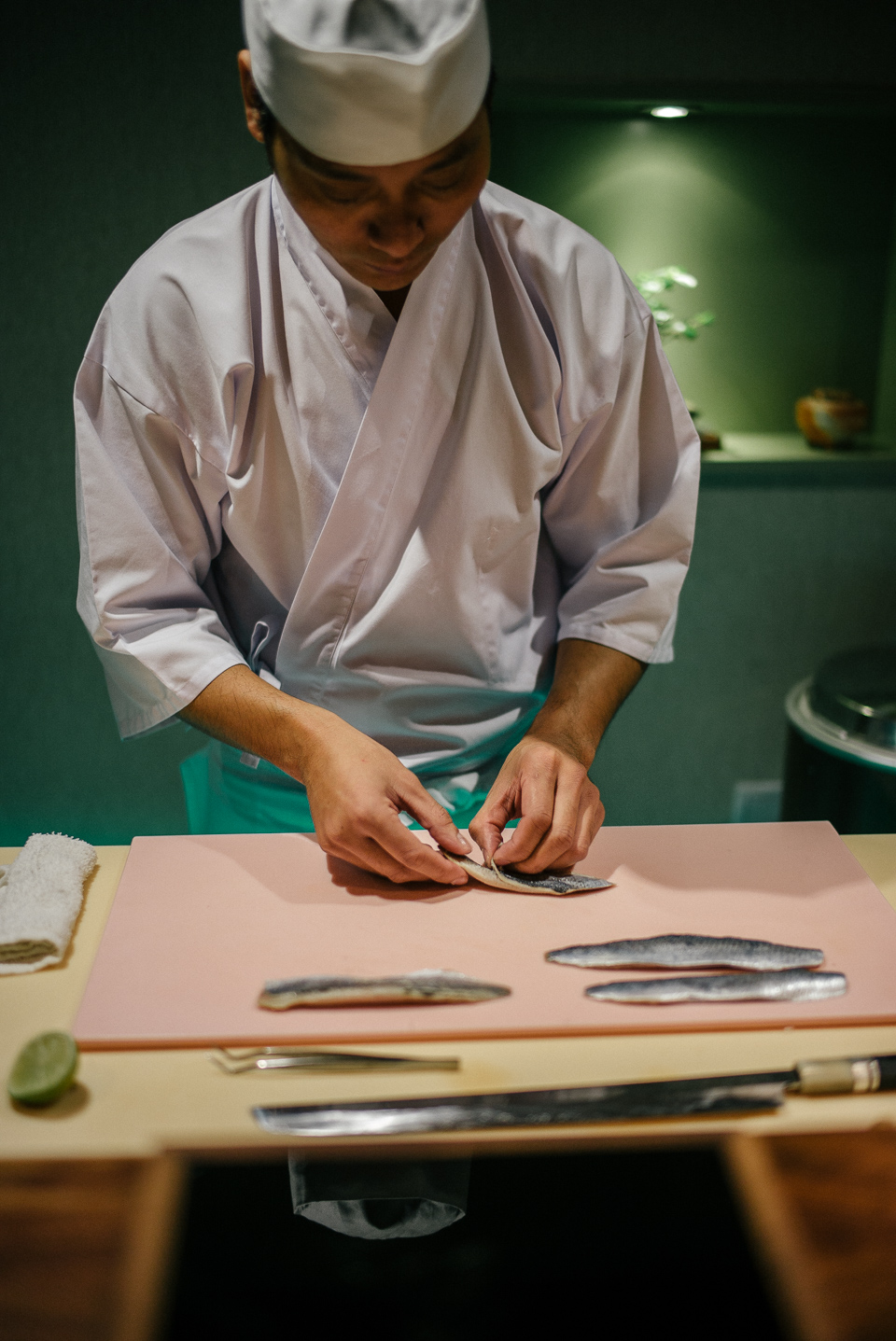 Sil. 100% Stavanger heritage. Roger takes the skin off prior to serving. This is like a mash-up of pickled herring and Sabazushi. Topped with nori, radishes marinated in chilli, kombu and another brush of soya sauce.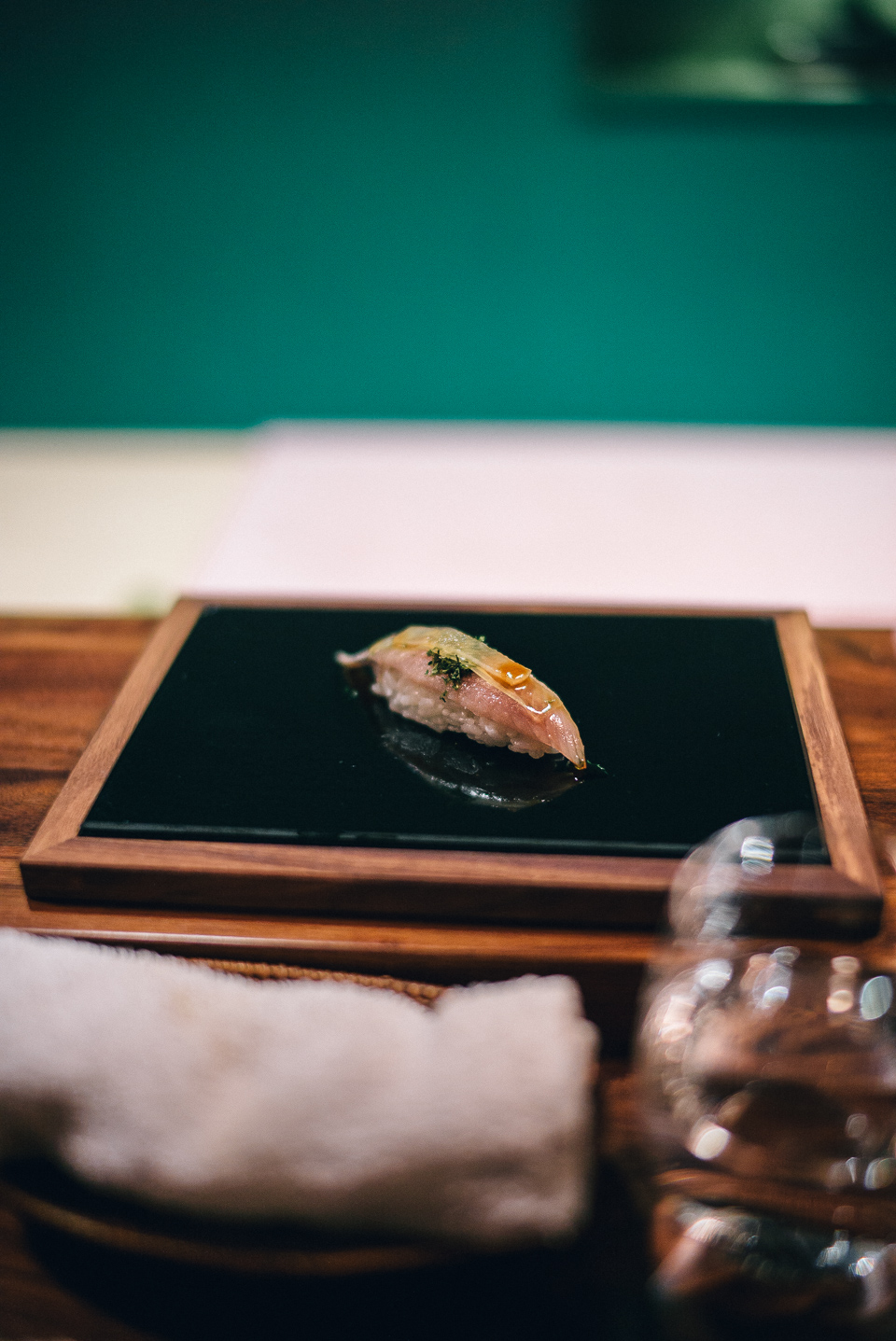 The kombu imparts acid to balance out the inherent fish oils, the texture itself is like, well, pickled herring. It's atypically juicy though. It's a difficult fish to turn into sushi, but I think they've done the humble fish justice. It's totally unique to Stavanger, and totally delicious.
10. Zuke Akami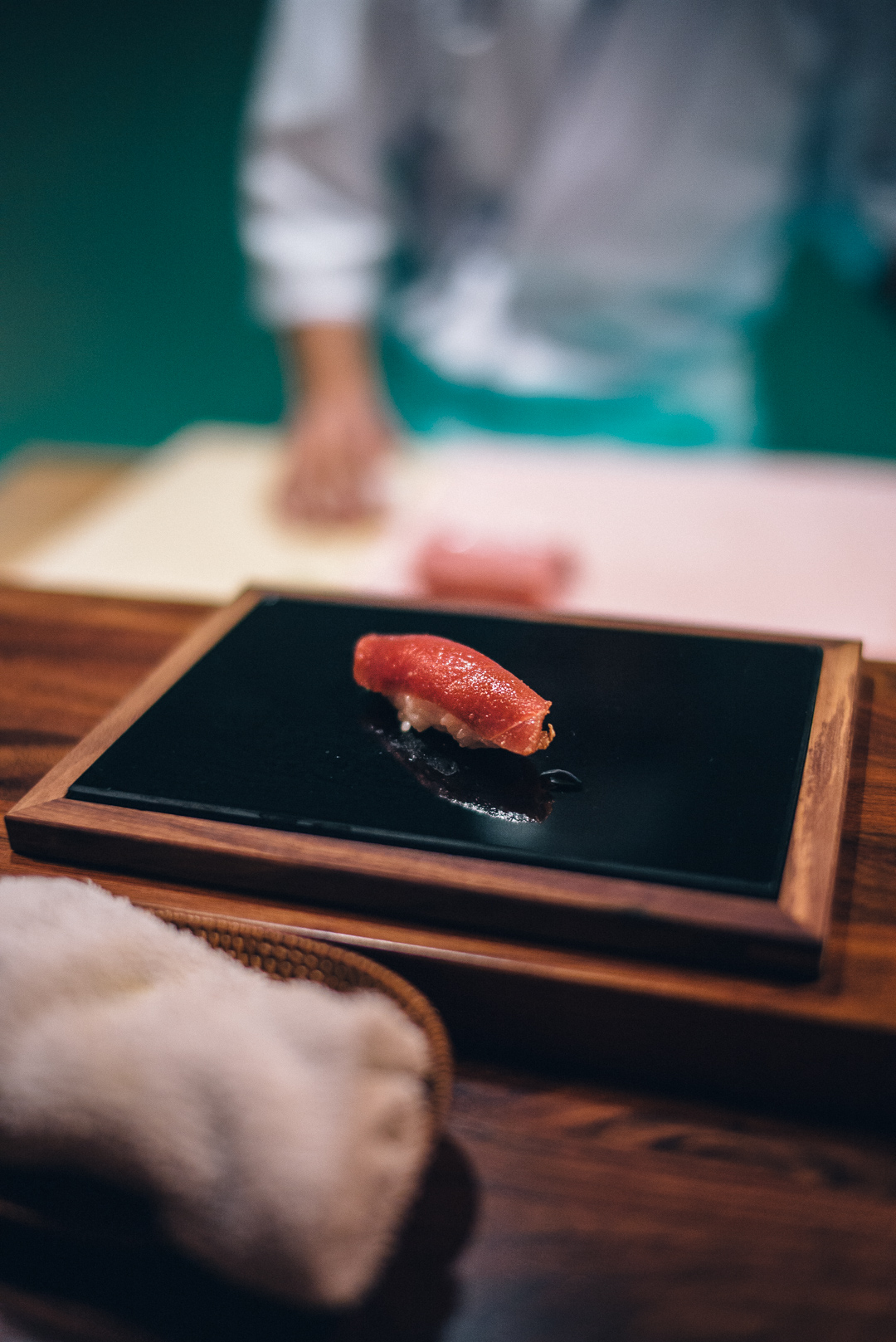 Lately, occurrences of Atlantic Bluefin have been increasingly part of bycatch, some of which has found its way to Sabi O.
Bluefin fishing was only reintroduced in Norway last year with tight supervision from ICCAT. Perhaps a sign that the fish are finding their way back to Norwegian shores again after a 30 year absence.
It is quickly blanche and then brushed with zuke. I'm not sure how central this lean cut is from, since it doesn't have the deep ruby red colour that I associate with akami. This is more of a deep pink, like a chutoro. However, it has a rich, meaty flavour, more like katsuo, than Pacific bluefin.
11. Toro
with Achleiten Gruner Jetliner Smaragd, 2011, Weingut Prager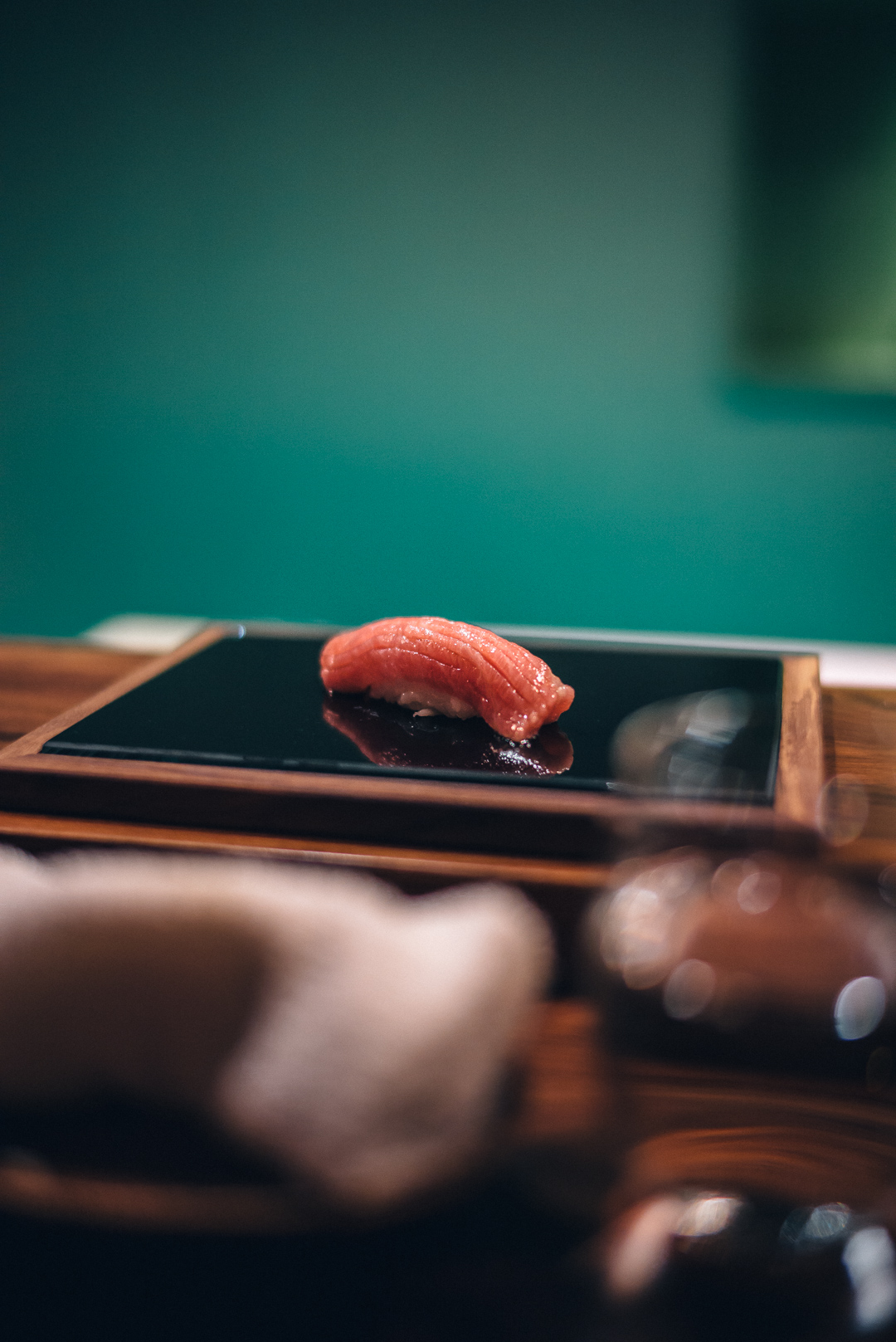 You know it. It's good belly. Butter and then some.
12. Salmon toro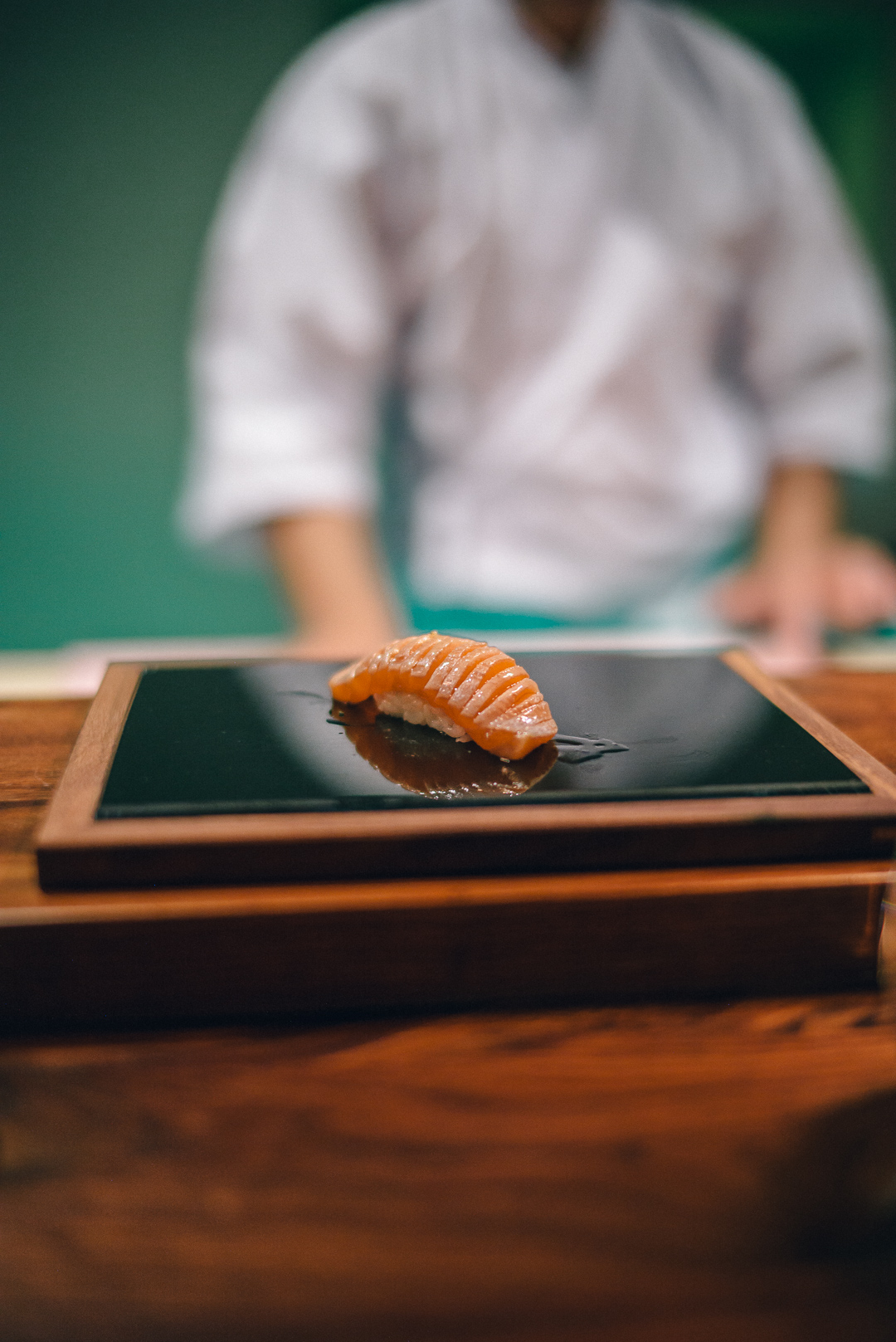 Naturally you'll expect to eat the best Atlantic salmon in Norway. Roger has opted to show the salmon belly for tonight's dinner.
Just a light aburi, scored and brushed with zuke. All that wonderfully fragrant fish oil just bursts onto the palate, delicate fatty textures that just dissolves away. Beautiful fish.
13. Miso Foei Gras
with 2001 Erdner Trepchen Reisling Auslese, Josef Christoffel Jr.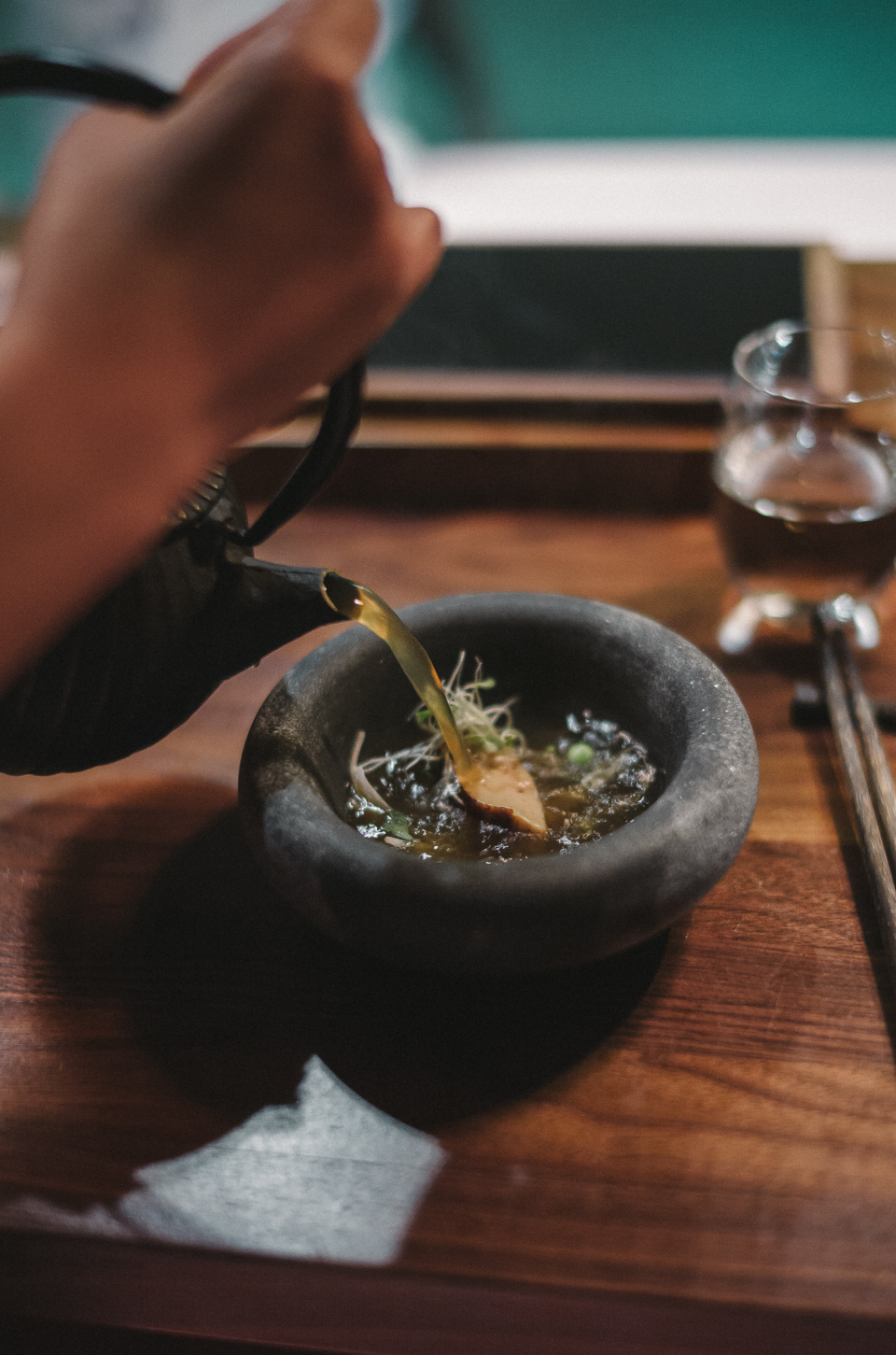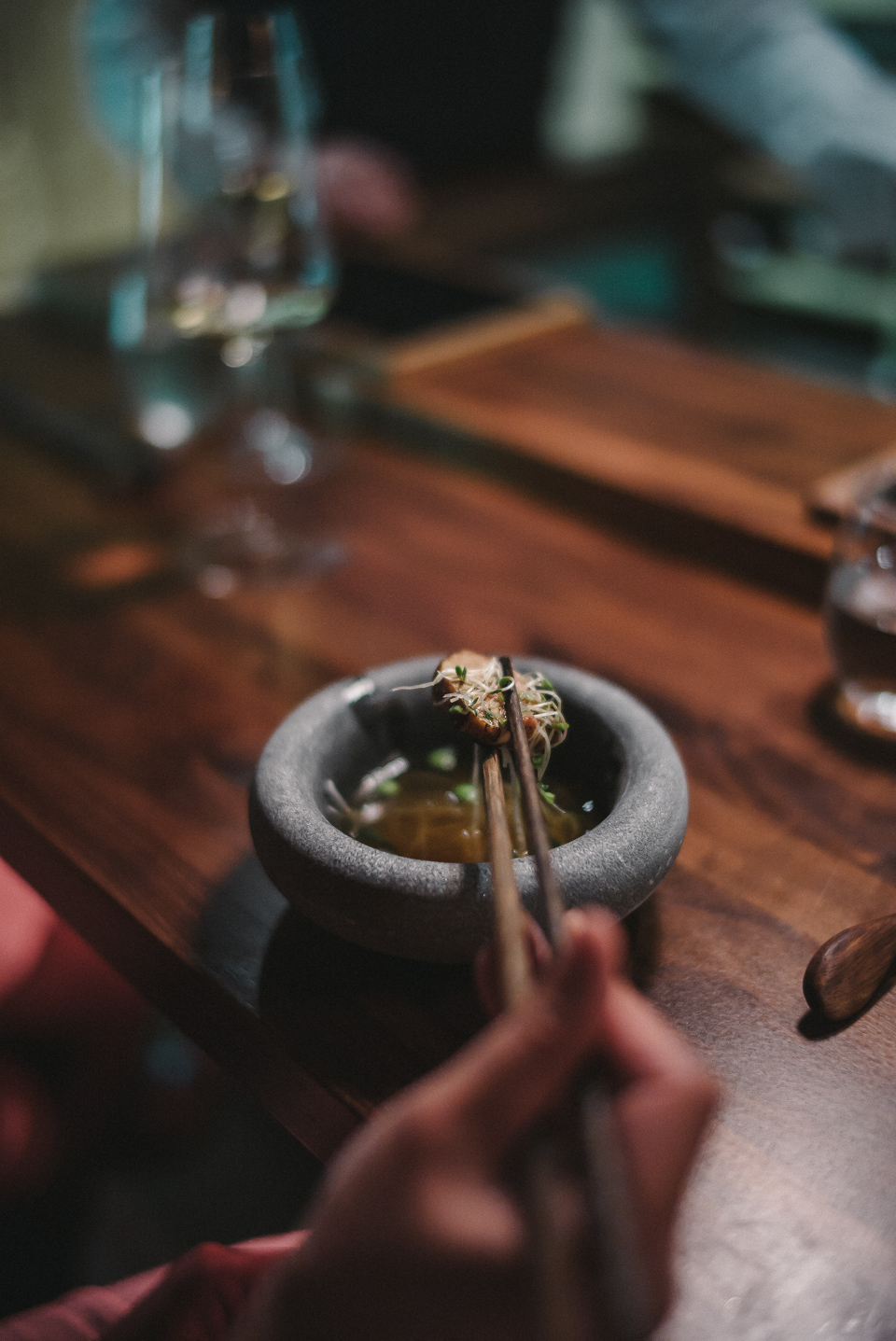 It's a pretty long meal. 3 hours and counting. Sugar peas, daikon and shiso to refresh the palate. The diner to your left, pours out the dashi which softens the foie into a parfait-like texture. Can't say I've eaten a foie that can be described as nourishing, but this is. Nice.
14. Danish Unagi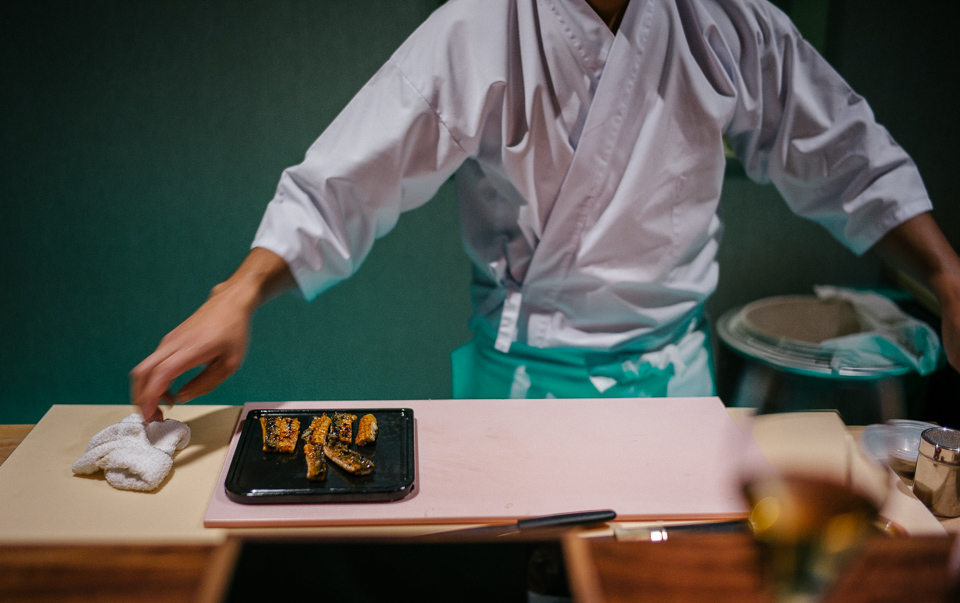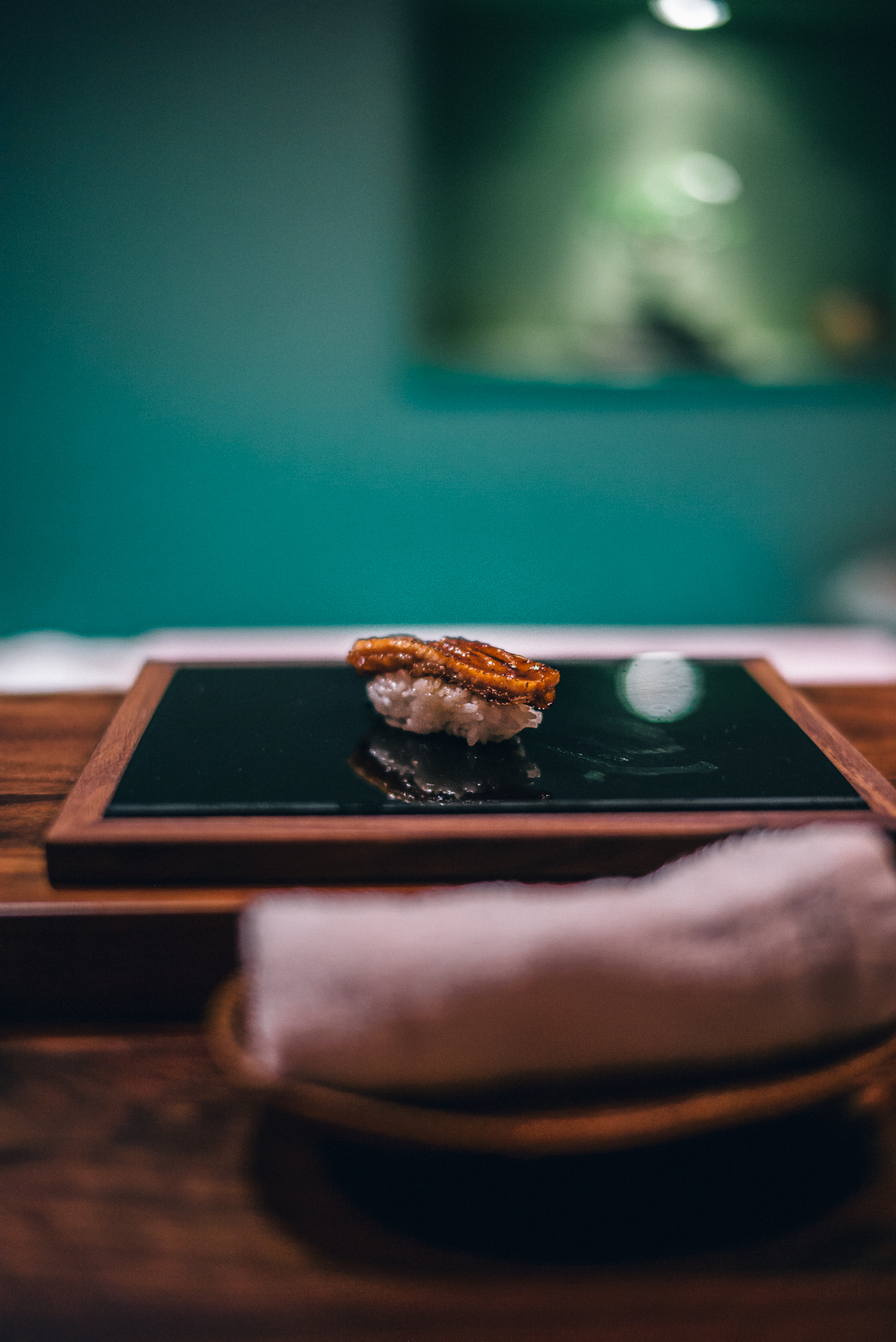 Intense sweetness and charcoal undertones. It's a lovely roast going on, though it is more 'wet' side, than toasty than say like Kyubei or Saito. I prefer the latter.
15. Mink Whale
with 2008 Vosne Romanee 1er Cru, Les Beauxmonts, Jean Grivot (magnum)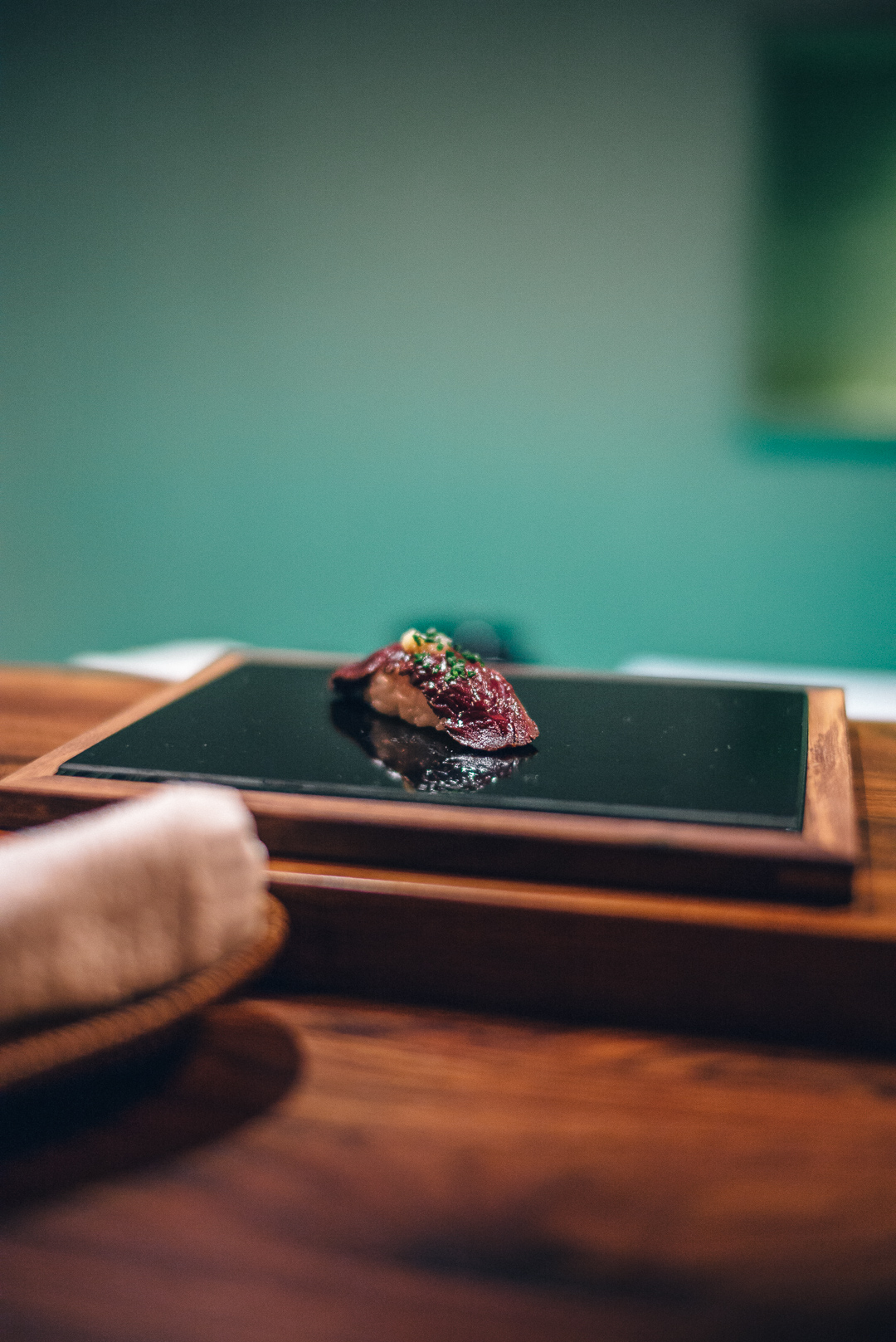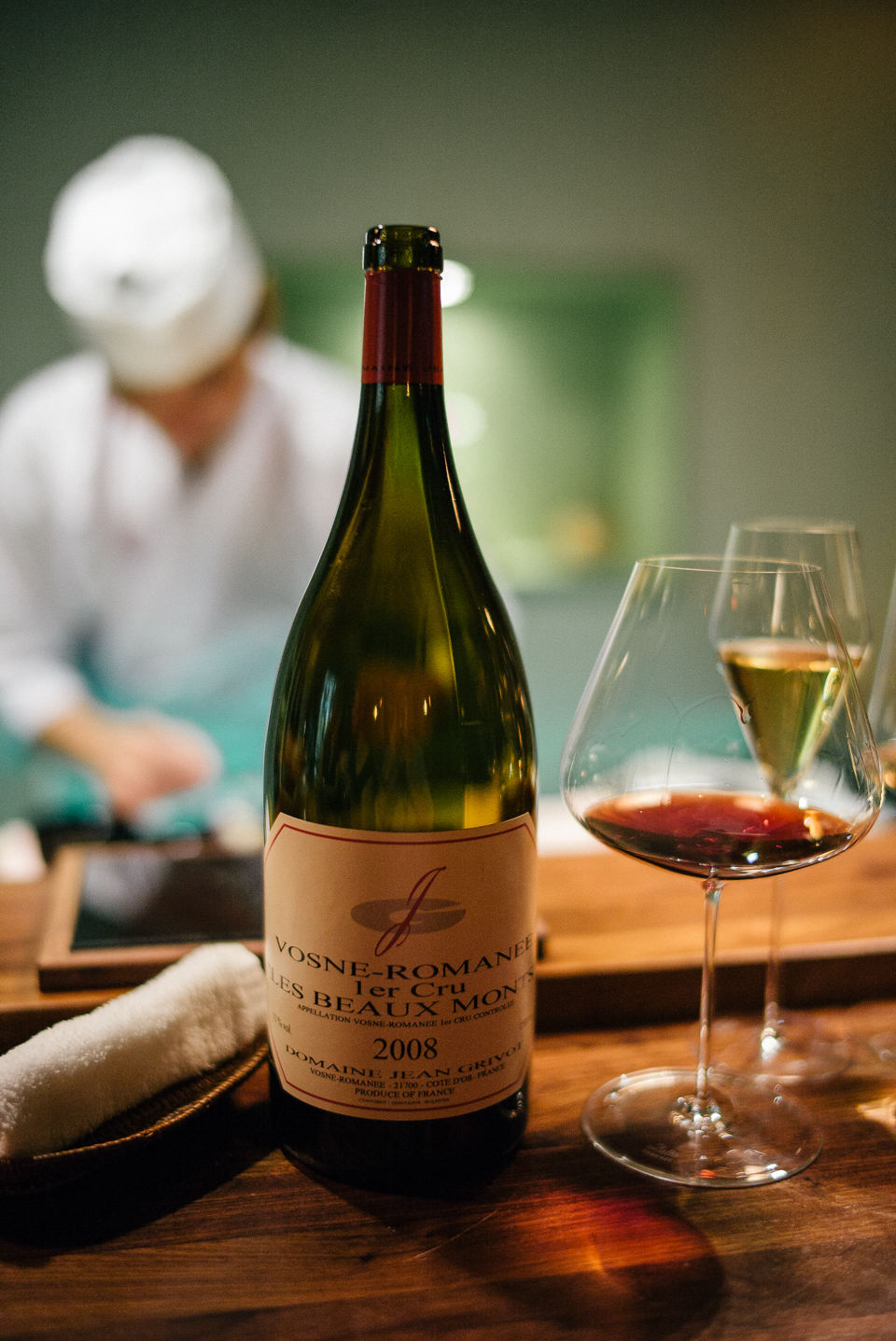 A few hundred are caught every year for various research purposes, of which some find their way here.
Whale has a certain gaminess to it, it's texture is chewy and strong. It really does need the ginger to balance out, sort of like marine venison.
The two red meat nigiri are served with a sumptuous 2008 Jean Grivot Les Beauxmonts. Deep ruby colour, very deep for a burg. The nose is an intense bouquet of roses, that builds with air. On the palate, it slides around like oil then spiciness, prunes, stones and these delicate grainy tannins into a long, smoky, raisin finish. Still has years to go before hitting peak. This wine has stolen the limelight from the red meat.
16. Reindeer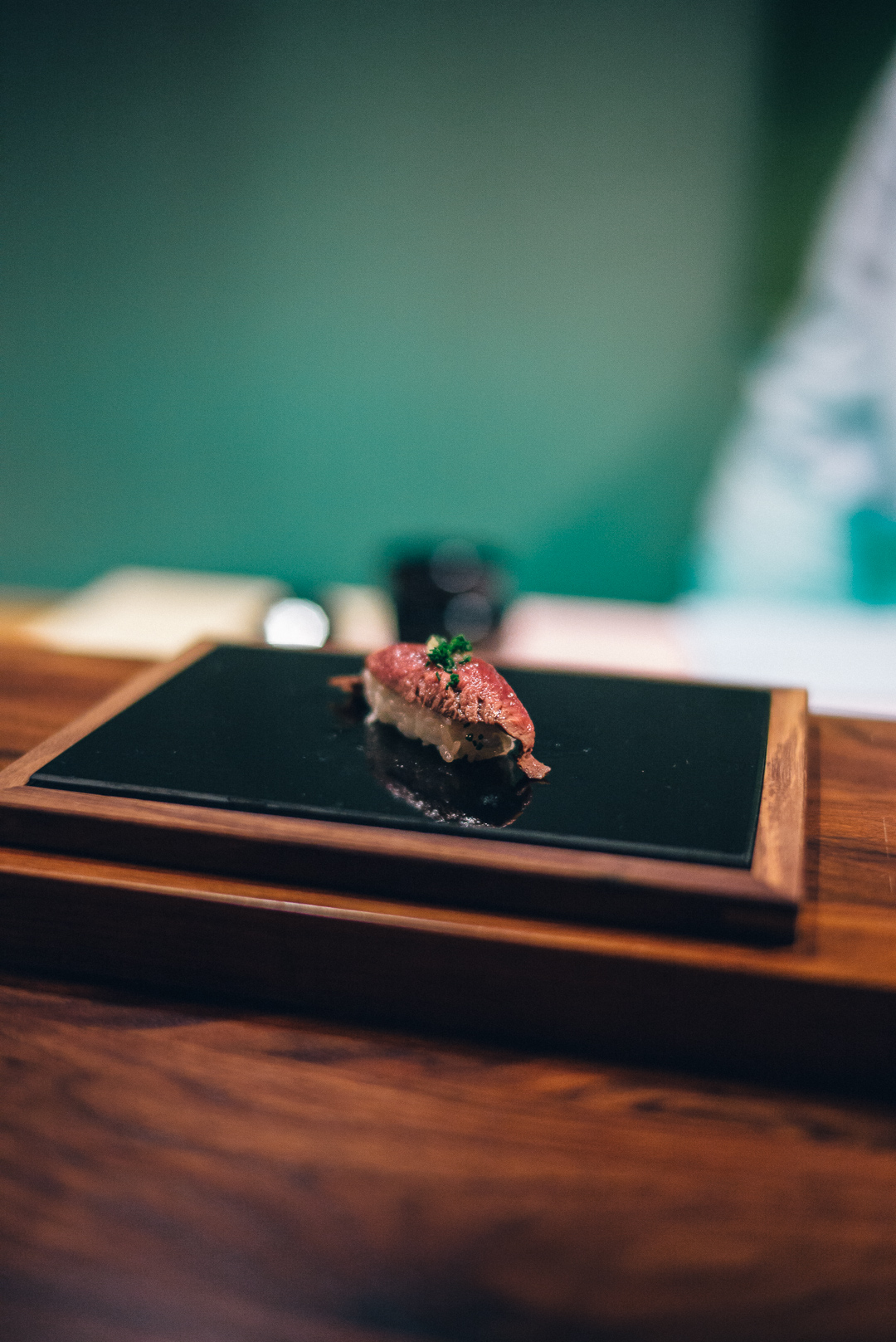 Quite a mild red meat, laced with sweetness and very tender. Could work on its own as a sashimi perhaps.
17. Black and White sesame ice cream, tofu and tapioca
with 2010 Trokenbeerenauslese, Samling 88, Tschida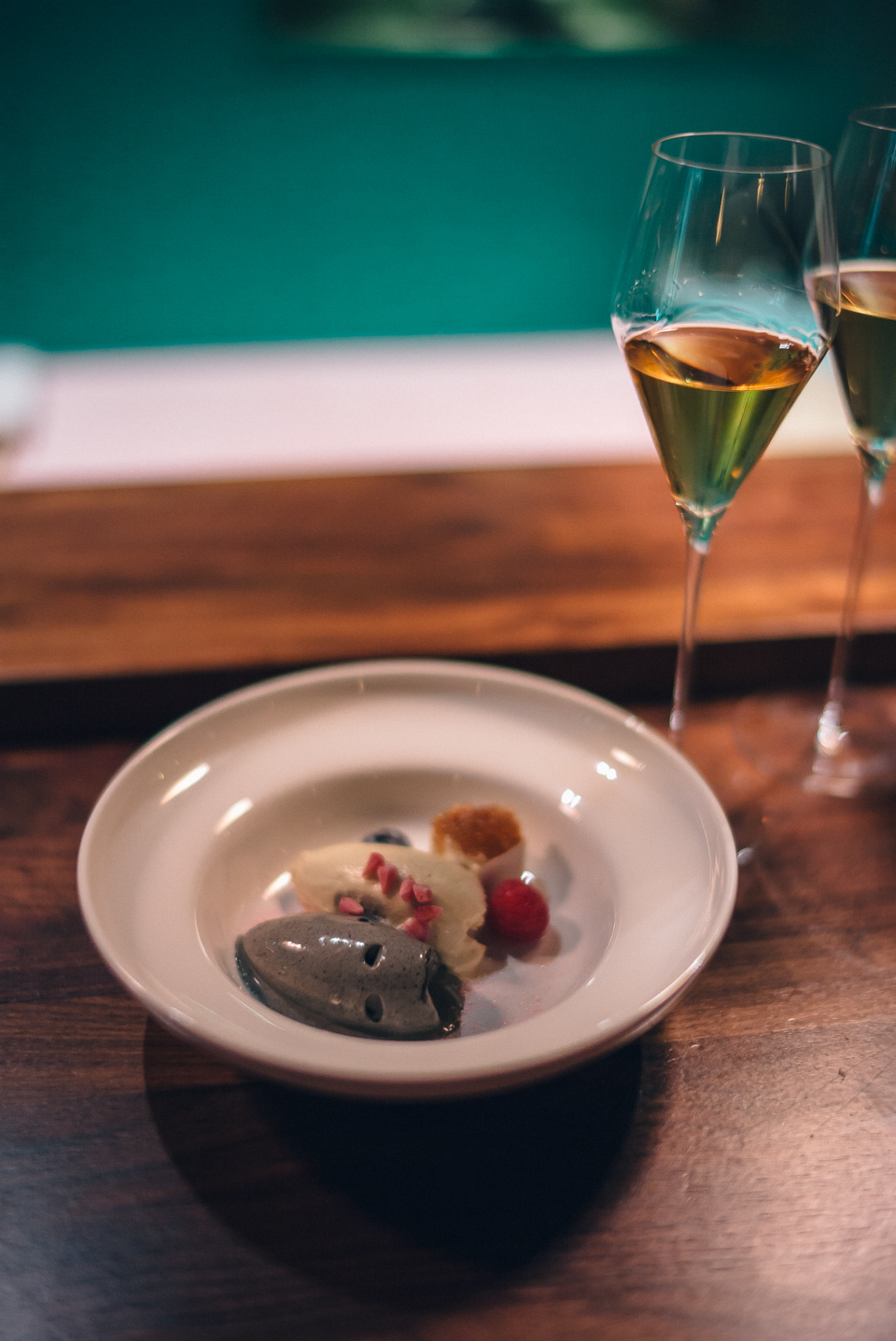 Nice grainy sesame ice cream to finish.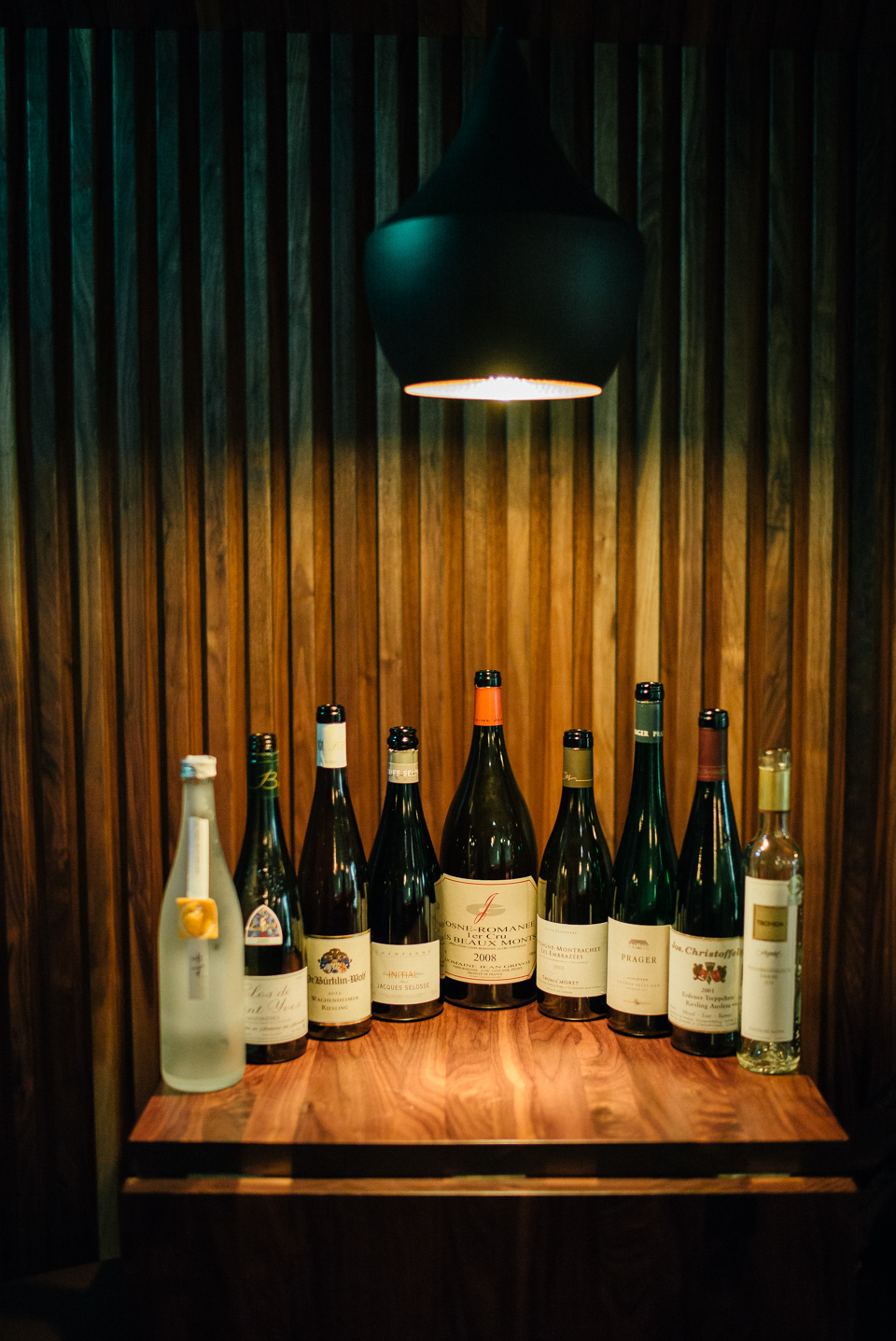 Njaal is adamant about making the wine flights work. They're still tweaking the selection, and are welcome to ideas. Overall, the selection works, though personally, I think there's one too many of the sweet dry white, perhaps they could do with a Jura Trousseau (for the oily fish pieces) to mix things up. I do like Riesling, but its not my 1st choice. However, they do serve up some exciting labels, making the £100 asking price rather reasonable. Also, the first pour is equally shared between 9 (that's like 80-100ml per glass), and then its free flowing till empty. It's more than a bottle per person. It's a lot of wine.
There are similarities but also distinct differences to Tokyo sushi. No pickles for example, and I did long for the phantom taste of custard tamago to finish. But that's the point in that it isn't trying to replicate, rather it's trying to do something totally local. The dinner is really quite long, so I wonder if they could personalise with a shorter menu and an option for smaller shari portions. Some people have those preferences, though for me, the servings – generally on the large size – are fine.
You Tetsu fans are likely to be intrigued by Sabi Omakase. They are off to great start in the 1st month, they've chosen a difficult cuisine to master which demands perfection at all times. But when it works, it's just a joy – all that effort in crafting these jewel-like morsels. Almost too pretty to eat. It's early days yet and they'll only get better more fine tuning. This restaurant is as much about the craft, as it is about the sheer quality of Norwegian seafood.
They've pulled it off, Norwegian Edomae is delicious. The best pieces are the ones that make use of the best local produce, which can only be delivered at this quality in its homeland. Considering the quality and amount of food and wine, it's decent value. It's cheaper than flying to NYC or to Japan and a meal at The Araki. (I did pay for my flight and hotel which was £50 return, £87 per night). Well worth a detour especially if you're thinking about visiting Norway. I'm still salivating over the langoustines, spectacular quality indeed.
Details
Sabi Omakase
Norwegian-Japanese
£110 for Omakase ; £100 paired wine flight
Pedersgata 38
Stavanger, Norway
+47 925 43 781