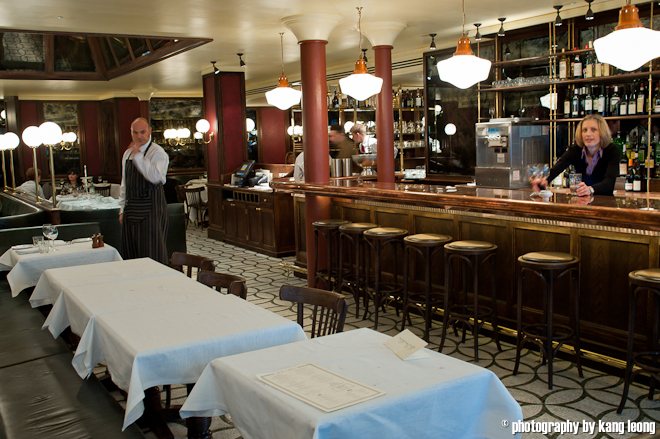 Les Deux Salons is into week 3 of operation, as of this visit, and I am glad to say that the kinks from the soft launch, crucially to do with service & speed, have been thoroughly worked out of the system. But thank goodness, this resplendent brasserie is not run with military precision, rather with a conservative friendliness instead. It is early days yet, though impressions are that Les Duex Salons is a serious contender for the title of ultimo Soho Anglo-French brasserie.
We must start with decor, and boy is it breathtaking. The site is on William IV Street – which is near another Gallic superstar, Terroirs – once a Pitcher & Piano, painstakingly (at great expense I gather) converted into a thirties-style brasserie that harks back to Middle Europe Grand Cafe traditions, of a champagne brass, green leather booths and vintage train station-style lamps. 250 covers are spread over two floors. The decor immediately reminded me of another throw back design that is the sheer grandeur of St Pancras Grand (at St Pancras Station), and sure enough, the man who has dreamt up this luxury is doubly responsible for both. Martin Brudnizki, London based and Swedish born designer, also the main man behind many of Richard Caring's luxury sites, including the recent redesigns of Ivy, Scotts, J Sheekey and Dean Street Townhouse. I really do feel a certain magic has been ignited with the design, the setting is half the excitement of visiting such restaurants. Just bootiful.
The other half, of course is food, and pedigree is assuringly found in heaps, since Les Deux Salons is the 3rd from the Demetre and Smith stables. You know I hold Demetre's restaurants in high regard; Anthony has an affinity toward offal, and is a successful interpreter of 'budget fine dining' what with both Arbutus and Wild Honey turning in a michelin star, each. To this day, both restaurants are still modestly priced, both with a la carte as well as with prix-fixe options, offering a balance of muscular bistro-style dishes, with a touch of elegance. The Arbutus braised pork head remains one of my favourite dishes in town. Of course, such a high profile chef equates to a high profile opening, and I imagined that its soft launch had serviced a logjam of interested restaurant collectors, bloggers and of course food writers. I avoided it however, not by choice, rather by work commitments which had taken me out of the country during the opening week.
Studying the menu, there are shades of Arbutus/Wild Honey, it is unsurprising that some dishes have simply migrated to this venture, especially the choice of ingredients, namely the ox cheeks, bavette, razor clams, boneless chicken wings and rabbit. Although the pairing of ingredients appear to have been reworked superficially for this 3rd restaurant. For all intents and purposes, I feel that Les Deux is an evolution of the Demetre/Smith formula, which thus far is a winning one, even though his muscular cooking does tend to split opinion at times. I for one, am a fan.
The wine list is predominantly French this time round, however, their house red is a Spanish Tempranillo by Puerto de Santos, at a reasonable asking price of £14.50. We ordered a bottle. Mark, myself on a table of four, in the joyous company of the kinder halves for Saturday lunch.
LES ENTRÉES
Ravioli of rosé veal, fresh goats curd, cavolo nero £8.95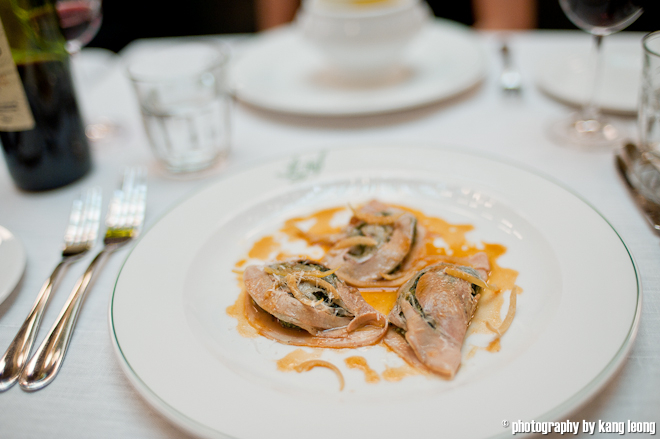 I kicked off proceedings with this pasta-free ravioli made from thin slices of veal, with a rather mild goats cheese and kale stuffing. Mmm. Hearty. Zealous zing in the jus, perhaps reduced from the undiscarded bones, and I surmise it had been garnished with orange peel, as the fibrous feel was certainly redolent of it.
This had Arbutus written all over it, the veal-ravioli is something of a signature accompaniment with the braised pigs head over there, albeit stuffed with something rather stronger than kale & cheese.
Autumn wild mushrooms and Clarence Court poached egg on toast, £8.95.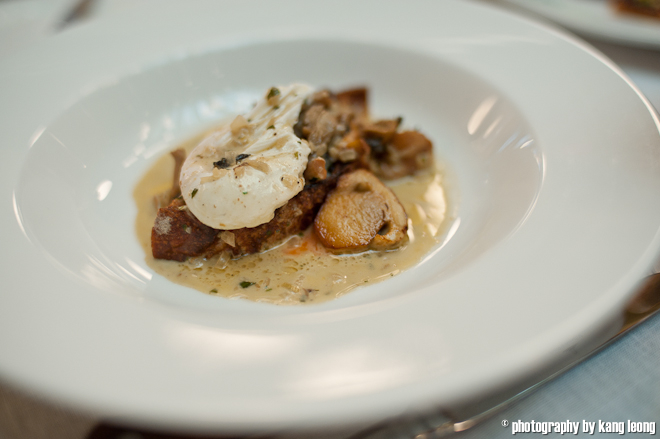 To my left, I thought Mark was the winner with this umami-rich mushrooms and egg on toast, which appears to be soaking in an equally umami-potent mushroom sauce. A swift ladle on to my side plate – yes fabulous stuff.
The women seemed equally at ease with their choices, an onion tart and a pumpkin soup (if memory serves) from the £15.50 set menu.
"JOSPER" CHARCOAL GRILL and LES PLATS
Andouillette de Troyes AAAAA, mustard sauce £14.50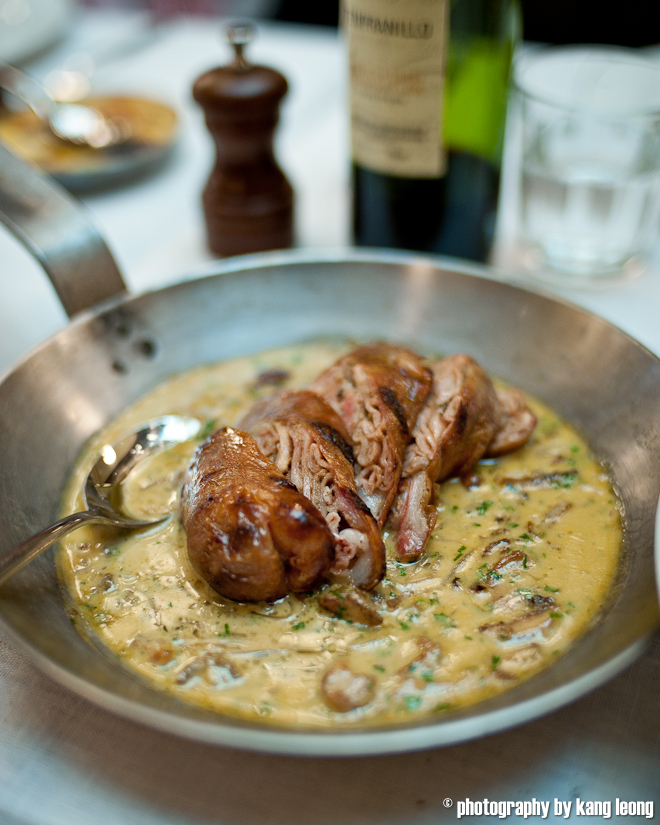 "This is a dish not for the faint hearted." said our affable waiter of a traditionally iconic pork chitterlings sausage. And here I'm going to be lazy and lift some content from this website which describes:
The traditional Troyes andouillette is made out from quality pork products – large intestines and stomachs – attentively selected. The original recipe dates back to the Middle Ages according to the Champagne legends.

The delightful – and distinctive! – taste of the andouillette results from cutting the chitterlings lenghtwise first, and seasoning these thin stripes with onions, herbs, salt and black pepper.

The next step is to wrap the mixture with pork bowels and slowly cook these typical French sausages in a court-bouillon stock for 5 hours.
Not for the faint hearted indeed. The sausages were regally presented in a solid copper saucepan – the vibrancy of the mustard sauce, eye catching, as were the folded intestines, now visible when sliced. Unsurprisingly, the dish reeks as it landed, the smell was near enough overwhelming… I can eat almost anything, but this dish eventually defeated me.
The first bite was exactly like a fart in the mouth – bold and resolute, a sobering reminder that I was eating swine insides. The texture was rubbery, but quickly dissolved, akin to squid, and actually quite pleasing. Kudos to the mustard sauce, a creamy, mild, onion and herb mixture that I could drink as if it were soup, and with the overpowering sausages, it ensured that I did drink it like soup. I ladled heaps of it, and drown the sausages in large gulps of red wine, and I must confess I could not finish it off. Though I was proud to have got through 3/4 of it. It was good considering the adventure it was, something to try if you are feeling particularly so, but I wouldn't attempt it again. I can do offal, but this is in a completely different league altogether.
As an aside, the 'AAAAA' suffix doesnt refer to a grade per se, rather it is an acronym for Association Amicale des Amateurs d'Andouillette Authentique or The Friendly Association of Authentic Andouillette Lovers, which convenes twice a year, I imagine to agree standards for this beloved Gallic dish, BO would go unnoticed at the meeting, I'm sure.
Frpm the Set Menu – Mullet and mushrooms.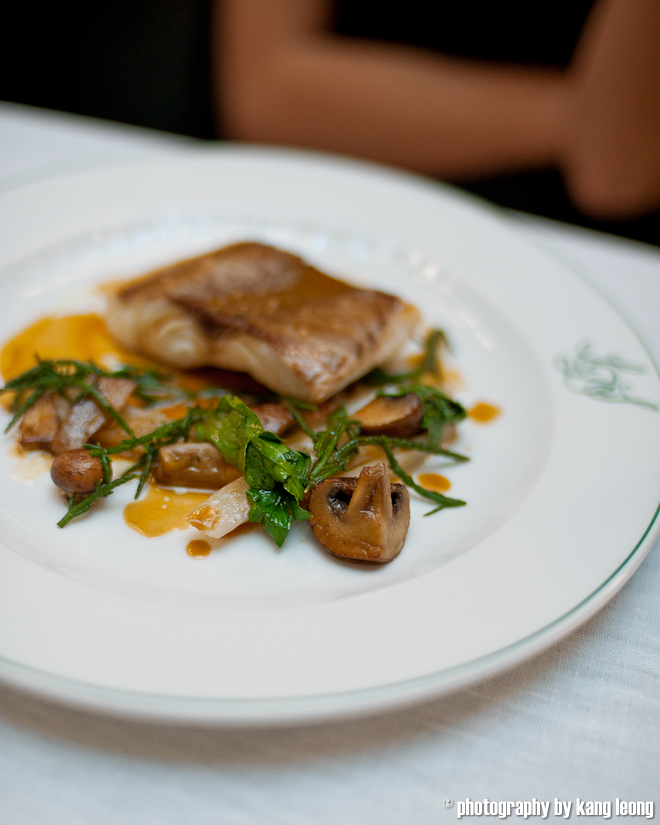 The missus' fish was effective and reserved brilliance – completely reminiscent of Demetre's style which had won him his first star at Arbutus.
Bavette of Scottish beef, shallot sauce. £15.95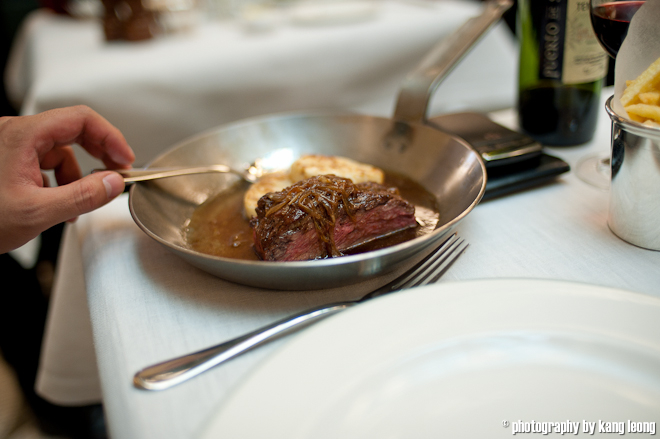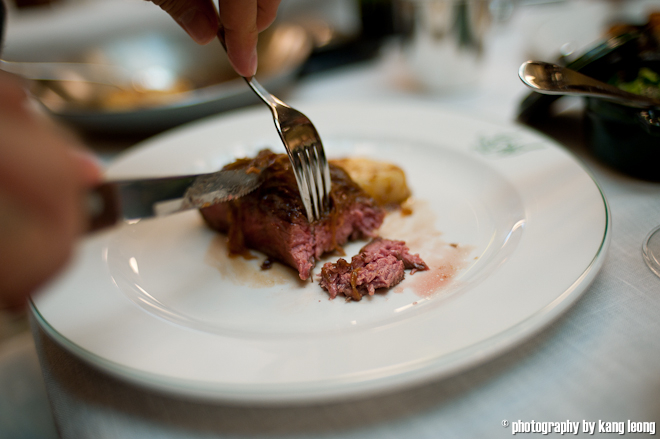 Mark and I, being the beefheads we were, thought the bavette was rather bland, dry and lacking of the crispy charcoal taste, which we knew a Josper was capable of imparting. This was a dish I had eaten before at Arbutus, albeit a roastier and meatier version served with the excellent gratin dauphinois. At Les Deux, the gratin had morphed into a £3.50 side dish, while managing to be creamy, it wasn't quite as cheesy and full-bodied as the Arbutus version which I love. I think they are still grappling to get the Josper up and running properly – it is a beast of a grill to tame, but I'm sure that once Smith's men fine tune it, this bavette will have the chance to really shine. Great jus however.
LES DESSERTS, all £5.95 each.
We hugely enjoyed this segment of the meal, all the puddings were distinctly amazing. All were benchmark material. For our incessant photography – both Mark and I freely papping away – we were 'rewarded' with a rum baba on the house. A first for me, perhaps a sign of changing times, what with restaurants accepting cameras as part of life? Brownie points to staff for this move in any case, I felt comfortable and well taken care of, as opposed to being scowled and ridiculed. Our waiter liberally poured Havana Club 7 year rum over the yeast cake and we savoured what we thought was one of the best examples of this classic French pudding. It were the sickly sweet rum flavours soaking with the cake that got us swooning, complimented by frivolous slices of pineapple and Chantilly cream.
Classic Creme Brulee.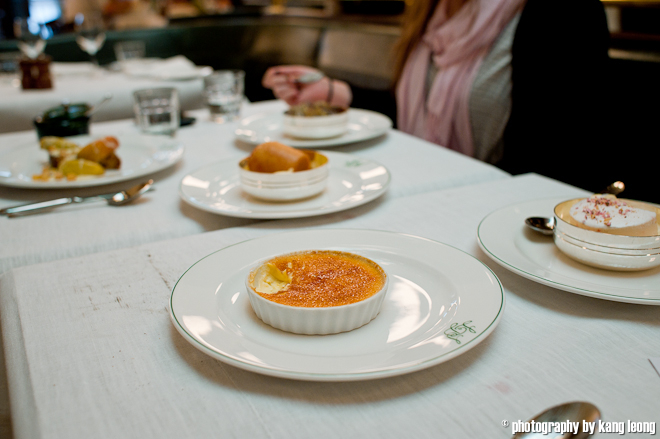 Great demerara crust – blowtorched to perfection which is to say it was not burnt. It tasted surprisingly close to candy floss..! The brulee itself was a cool, smooth and soft custard. I liked it for it was not overly sweet, it was restraint and lovingly folded – a classic indeed.
"Pain Perdu" with Cox apple.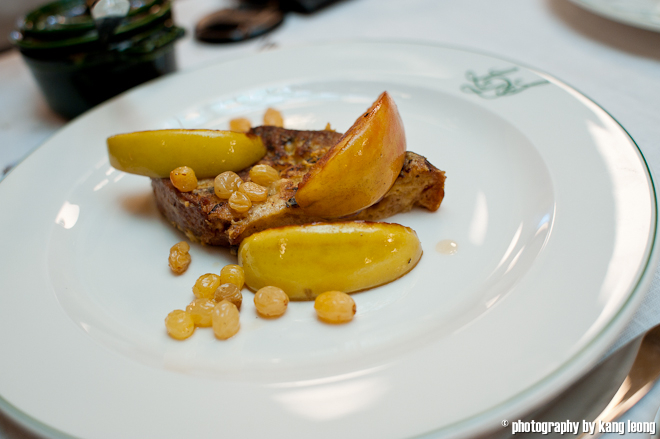 "Like a French bread and butter pudding." proclaimed the waiter, and perhaps a succinct description. Served warm with a raisin muffin-like flavour to it. It came with a creme anglais that was rich in vanilla, spoonfuls later, I wondered if I had died and gone to pudding heaven.
Floating islands with pink praline.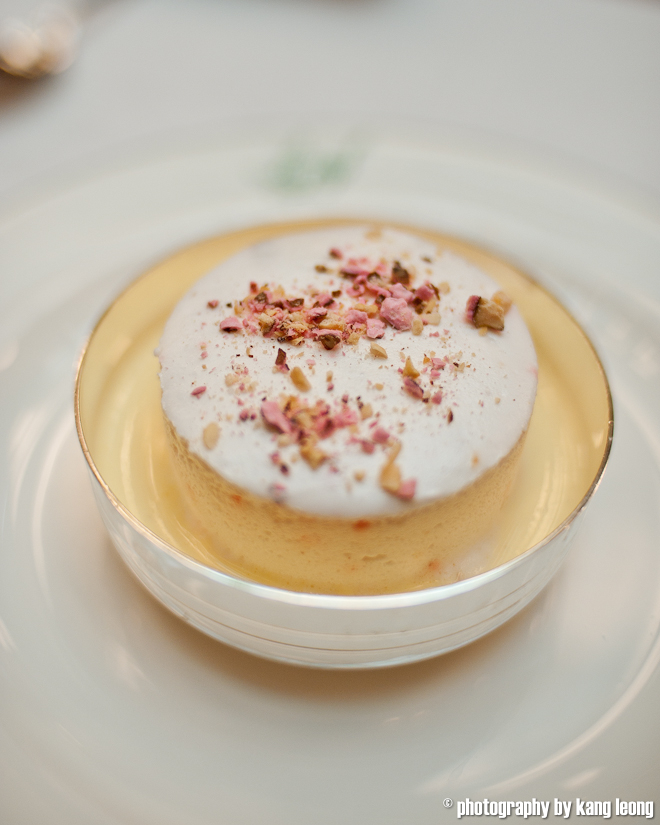 And finally, a replica of another French fancy, the excellent pink ile flottante which occasionally makes its round on the Arbutus/Wild Honey menu. A soft meringue that disappears like a whiff of mist the moment you eat it. Brill.
You must have pudding when you eventually visit Les Deux Salons, we tried five, and it was unanimously five out of five.
Our bill came to £150.86, working out to roughly £45 each, plus wine, coffee and service charge. A hugely enjoyable experience altogether, as I said, the venue is just great, it's a looker, yet the staff's high spirits ensured that proceedings were fluffy rather than stuffy. Most importantly, cooking was on the money, classic flavours that work. And classic seems to be the overriding theme – and I am guesstimating that Demeter wishes to be – catering to a wider audience who may not be au fait with offal, the flavours are definitely milder than his Michelin establishments. Save for the andouillette obviously. There is a danger that classicism might equate to being boring, but I think Les Deux strikes the right balance. Knowing Demetre's track record, I think this menu will continue to evolve over time. It is early days after all, and the potential for something exciting is only too apparent. Richard Caring has serious competition now, especially for those of you, constantly hunting for a spot that is central, apt for business and can cater to celebrations, in small or large groups.
I've always thought of Arbutus as the bold version of Anthony's vision, fully developed, unhindered and brawny. Wild Honey, its sequel, was always the softer alternative, the feminine companion for delicate palates. And if I am allowed one more hyperbole, then I think Les Deux Salons is the perfect child borne of the marriage of Demetre's two restaurants – French allusions, with a decidedly London accent.
More photographs from the visit here…and apologies for the unsightly wordcount, but I was excited.
The Gist.
Les Deux Salons
French Bistro, £40pp
40 – 42 William IV Street, London WC2N 4DD
Tel: 020 7420 20500207 377 0155
Underground : Covent Garden
Nostalgia: Guy Dimond for Time Out London ; owjk ; Slow Food Kitchen ; Gourmet Traveller ; Hardens
Did you enjoy reading this? You can subscribe to the Newsletter. Alternatively, you can subscribe to the RSS feed.