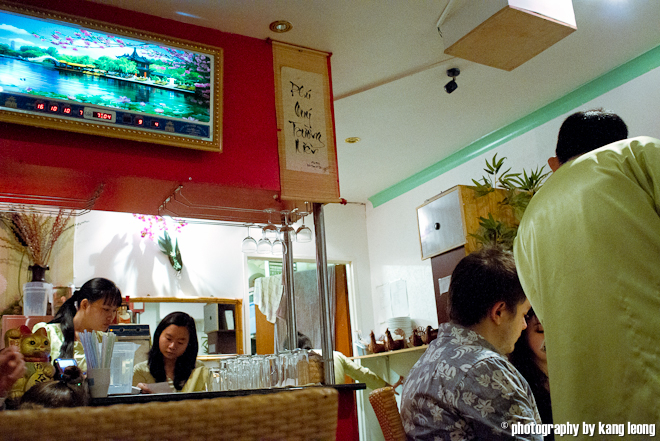 One can do no wrong dining in Phởmile, even though I think it is established that arguably the best London Phở is found outside of it. Arguably. After a fantastic experience at Cafe East, the better half was craving yet more soupy noodles, and so we decided to head toward Shoreditch. Mien Tay is one of the better published brethren amongst Vietnamese restaurants, though many (if not all) are reputed anyway. Success has since led to the opening of a second Mien Tay in Battersea (which AA Gill loved) , and most recently, they launched a strong PR campaign which saw the Vietnamese restaurant collabing with Bibendum to tailor a wine list to match the spicy menu. No doubt you would have heard about this in one form or the other.
Meanwhile at the Dalston Kingsland branch, we arrived at a modest little eatery. The room is rectagular shaped, long and narrow, lit by nefarious bulbs with wattage that bordered the limboland of being bright enough to see, but underpowered that it felt suspiciously dim. Decor is whimsical, clad in polished rattan, especially the tables – Rattan foundation holding up a glass surface that gave the illusion of eating atop violet coloured flowers (artificial I gather). It all looks so flimsy that this may as well be a film set. Then again, what is one to expect from such a modest restaurant right?
Fresh Coconut and Three Coloured drink.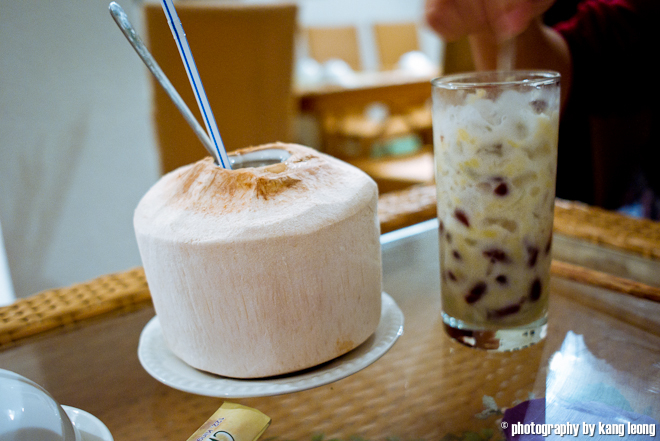 Ahh… refreshing, a young coconut which tastes surprisingly 'old', which is to say that the juice wasn't sweet. There was alot of water content in anycase, and of course, we couldn't resist the multicoloured, multi textured sweet drink. Maybe it is just psychological, but of all the places I've been to, I like Cafe East's version the best – the green tapioca jelly was chewy and addictive.
Crispy Chicken with Fish Sauce.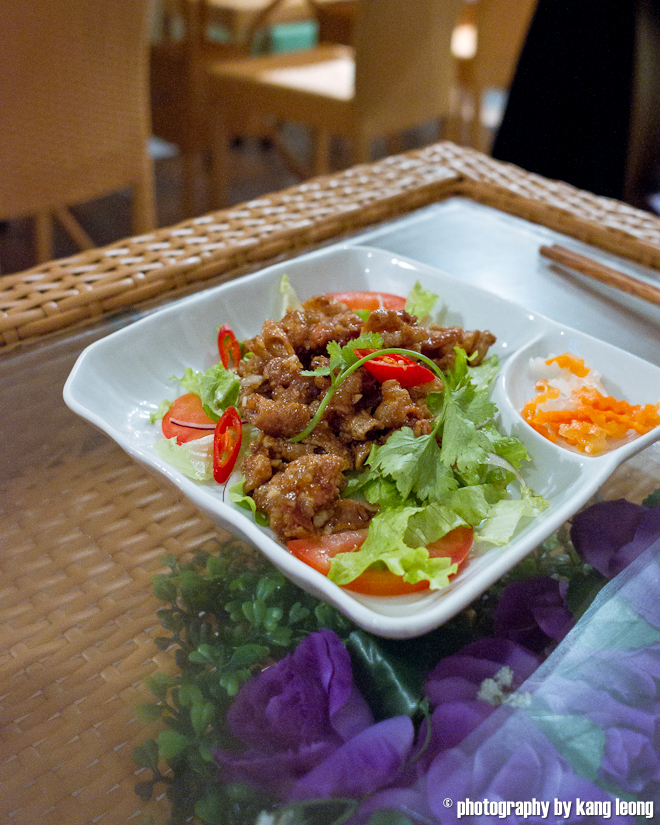 The sauce was syrupy, sticky and mildly fishy. The chicken was indeed extremely crispy, similar to crispy sliced beef and alot like deep-fried chicken skin. Note the flowers, underneath the glass table top.
Pho with Sliced Beef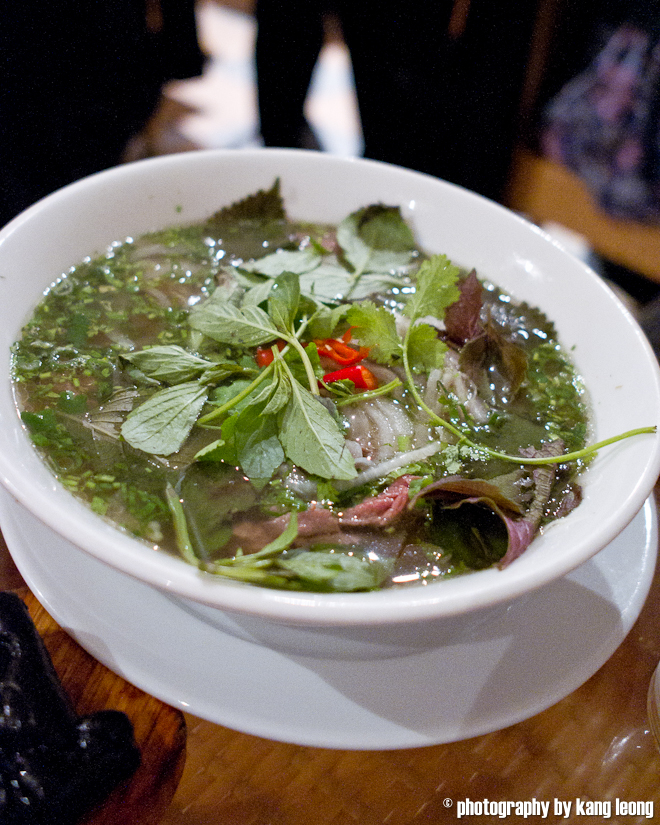 Expectedly cheap at £5.50…. but we didn't like it. It was underwhelming. The broth tasted of fat and it was so mild that it may as well be just hot water. Too bland, at least for me. Most disappointing however, were the noodles. The ho fun carried a tinge of bounce, but at the same time, it was soggy like a rainsoaked, muddy football pitch, and like soggy chips, it lacked vibrancy. To be fair though, it was perfectly edible, but it just paled in comparison to contemporaries, in my opinion. Out of all the pho we had tried up till now, this was the least exciting. All relative.
Stir-Fried Goat with Galangal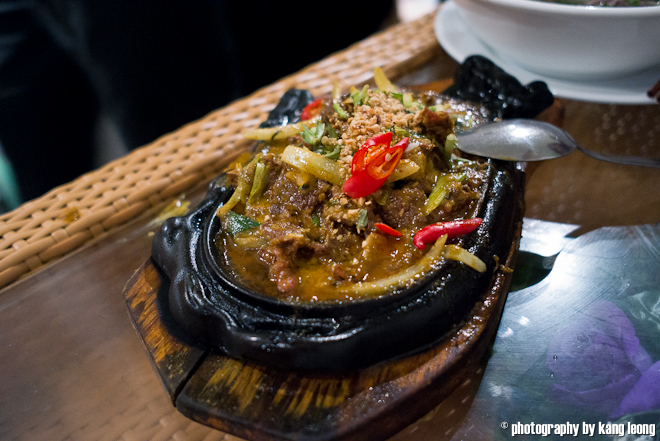 A strong flavour, a distinct sweetness too, like plums, but I felt there was too much spring onion and shallots in this sizzler. The goat meat was about as chewable as latex. I didn't enjoy it at all.
I do feel bad having to write about this rather forgettable meal, since staff were such sweet little angels, and I can't remember how much we paid because I forgot to take the receipt with me (but I did pay), pretty sure it was no more than £30 (for two). So at least the damage was limited. In the end, I'm slightly miffed as to why Mien Tay has received its praises as it has done, as regretfully, Mien Tay didn't do it for me. Food was average. I guess you could possibly do worse in Phởmile, but truthfully I wouldn't know.
But I do think you can do a lot better. Look for the bright green signage…
The Gist.
Mien Tay
Vietnamese, £12pp
122 Kingsland Road, E2 8DP
Tel: 0207 729 3074
Overground: Hoxton
Steamy: Metro ; Hungry in London ; Krista ; The next R.W..
Did you enjoy reading this? You can subscribe to the Newsletter. Alternatively, you can subscribe to the RSS feed.