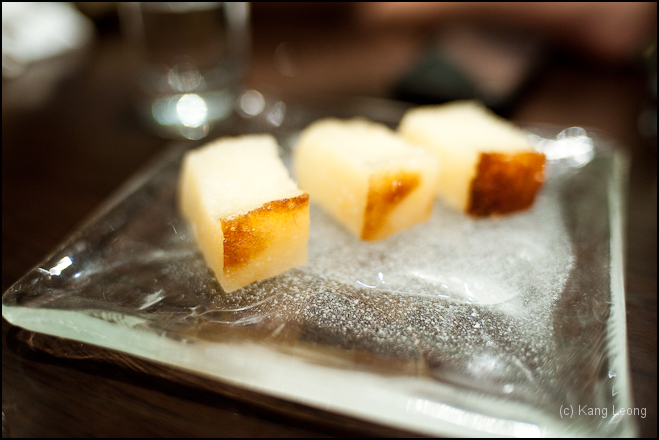 I have been a runaway train wreck with my commentary lately, neglecting to edit myself. Jay Rayner called it 'a bad case of blogorreah' and I can't say I disagree. Chop, chop, 574 words. Starting with Sedap, Malaysian in East London.
A minor change to structure. Separating the blurb from the photographs, let me know if this works…
Thoughts
Malaysians are proud of Malaysian cuisine, a reflection of the harmonious integration of the local culture, a lovely melting pot of treasures. There are wonderful examples of beautifully cross-pollinated dishes such as the augmentation of Bak Kut Teh (Literally "Meat Bone Tea"), a pork-rib soup of exotic herbs and spices, which has Chinese roots, but which evolved greatly in olden-day Malaya.
Sedap is also the Malay word for delicious, and this East London restaurant delivers Nyonya cuisine[1. Brief history of Singaporean Colonial cuisine]. A style of Chinese-Malay cooking that is a direct reference to the culture of settlers[2. Origins of Peranakan and Baba Nyonya] who lived in what was then the British Straits (Penang, Singapore, Melaka) infusing local ingredients such as coconut milk, tumeric, lemon grass, chilli as well as adapting entire Malay recipes into their cooking.
I was dining with a table of five, the tweat-up crew, we deliberately chose Sedap for its affordability and for sharing plates.
Okra (ladyfingers) is a great vegetable, slimy beans and coarse skin, an excellent distraction from the heat from spicy dishes, well illustrated in the sambal okra & prawns we began with – sambal being a sort of pickled chilli relish. I hugely enjoyed the Penang Char Kway Teow which is the Malaysian variety of wok-fried flat rice noodles which obviously is a re-jigged wok-fried Ho-fun of Canto-cuisine. Though it differs in execution, where the former is oilier, eggier and carries a distinct spiciness as opposed to soya sauce, bean sprouts and 'wok-hei'. Sedap does them with fishcakes, prawns and Chinese sausages ('Lap Cheung' – like sugary salami) that gave it an intriguingly attractive fishiness.
You cannot do without rice in Malaysian/Chinese restaurants – it's staple after all – and I'm so happy to report that all the variants from puffy plain-jane steamed rice (I grew up on Thai Fragrant), the aromatic coconut rice to the chicken-stock infused rice soaking with oily flavour, were excellent.
I enjoyed most of the curries, though they looked deceptively similar, of a muddy yellowish hue. The beef rendang swimming a thick, quickly drying, concentrated reduction with a dash of zest, meat mostly tender, though some bits were unchewablely sinewy. I liked the chicken curry, but found bitterness with the lamb. We also ordered a sweet and spicy sambal-pasted deep fried mackerel which was a little dry, similarly the sambal Brinjal (aubergines, sambal paste with shrimp) was equally deflated. I did not enjoy the roti pratha, reminiscent of the frozen supermarkets variety, too floury and carried a very subtle (but detectable) sweetness, rather than the savoury, spongy, eggy, twirl-in-the-air roti otherwise called murtabak[3. Zam Zam Murtabak in Singapore] which I am used to in Indian coffee shops dotted around Brunei, Singapore and Malaysia.
We ended with two versions of the Nyonya Kueh[4. A recipe for Nyonya Kueh] (which usually means bite-sized and sweet), the first a coconut and sugar based cake and the other a two-tier pandan jelly and salted sticky rice cake, warm and seductive. Just like buffets at Malay weddings. Teh tarik (cold) always a welcoming beverage to wash down the spice.
The final bill was a mere £100 split five ways, good value. It's not half bad, the location prevents me from making a return visit, and I actually found the portions to be a tad small. Prices are reasonable, no single dish costed more than nine pounds. I think Sedap is good enough – personally I prefer Kiasu[5. My thoughts on Kiasu, visited Sept 09.] – and it is certainly worth a visit on your lunch break (assuming you work near Old Street), where there is a three course for six pounds deal.
Photographs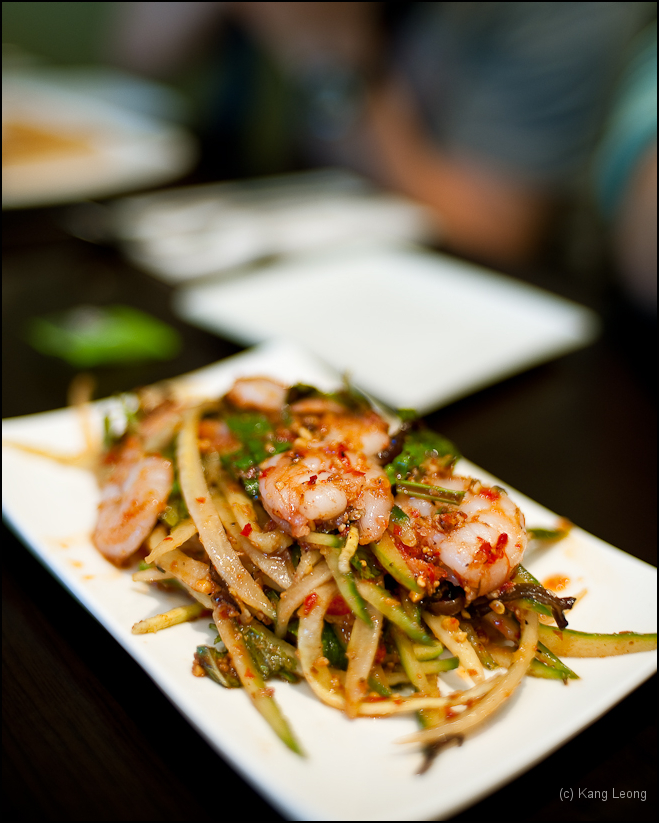 Kerabu Prawn, £6.50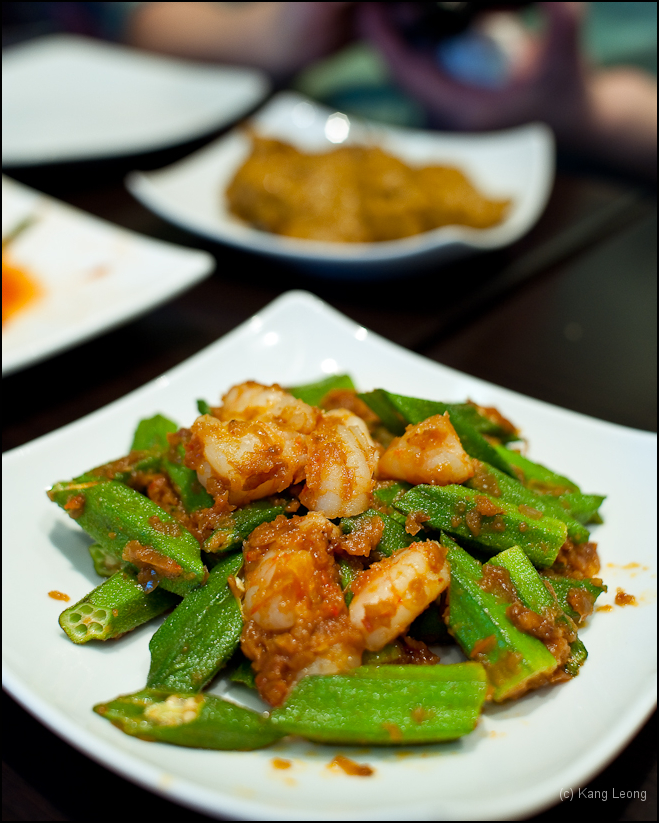 Sambal Okra, £5.20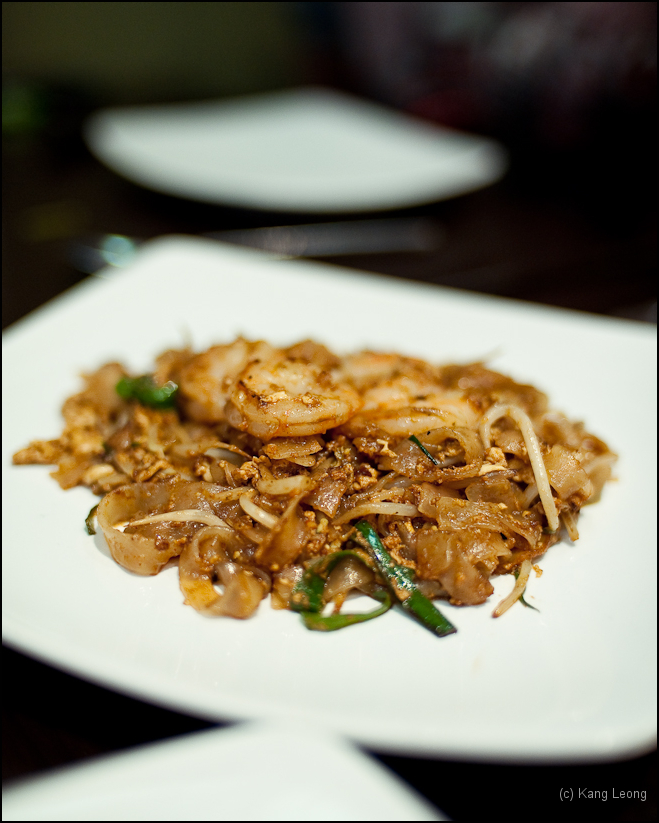 Penang Char Kway Teow, £7.25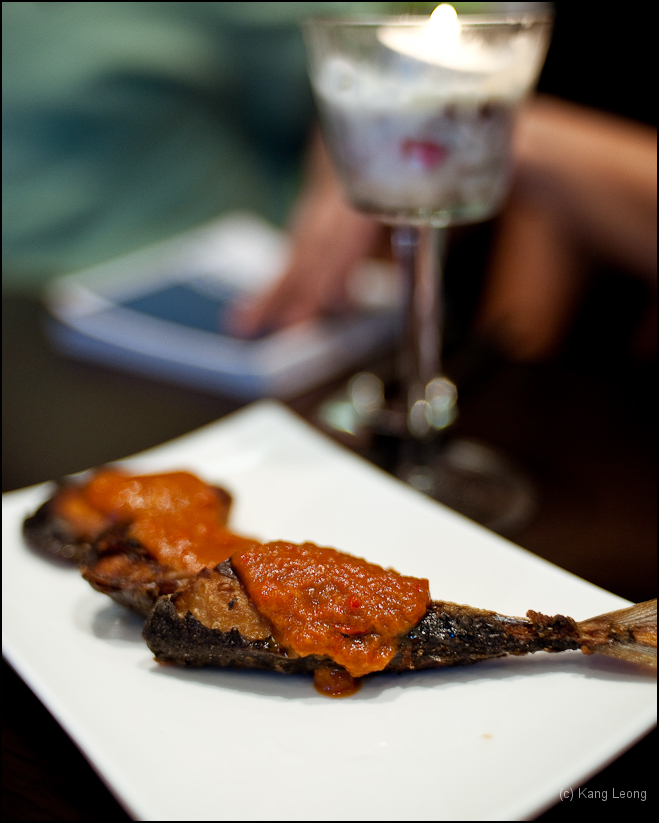 Sambal Fish, £6.50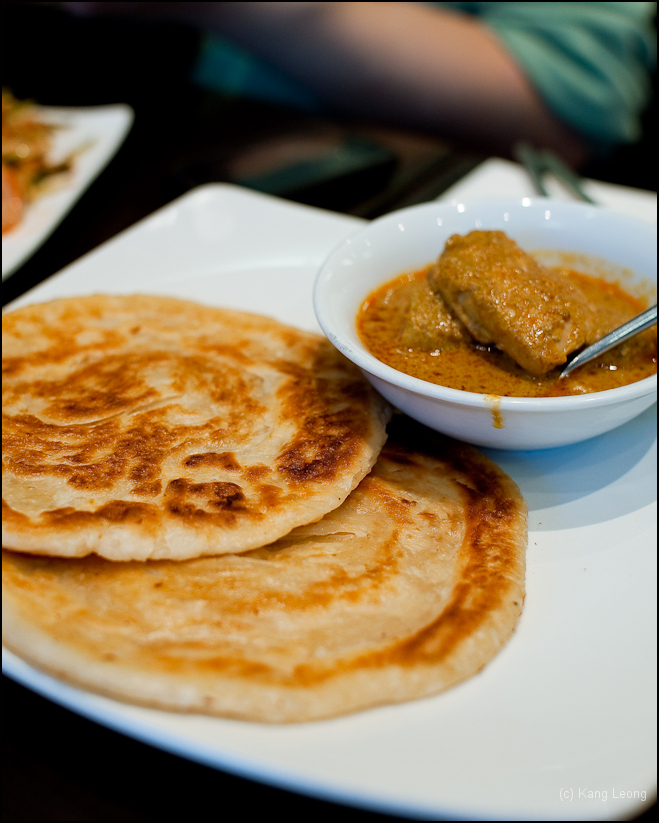 Roti Prata with Chicken Curry, £4.80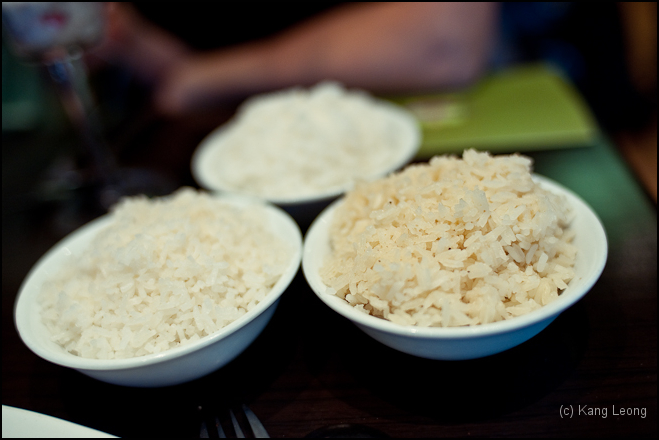 Three types of rice, £2.80 each.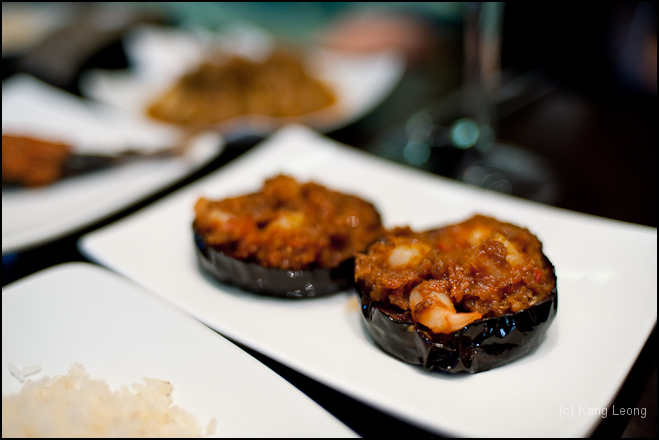 Sambal Brinjal, £5.30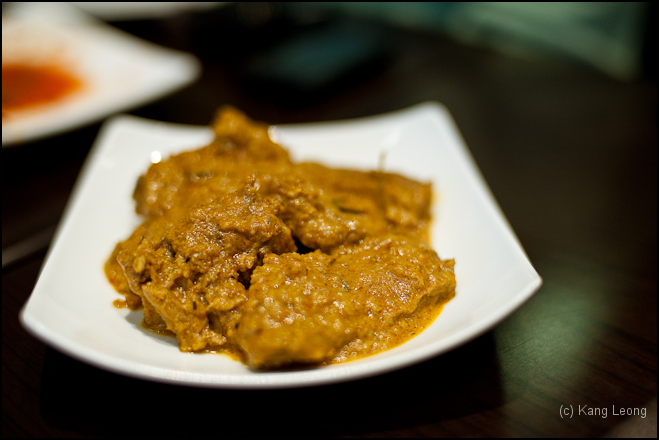 Beef Rendang, £6.90
Lamb Curry, £7.80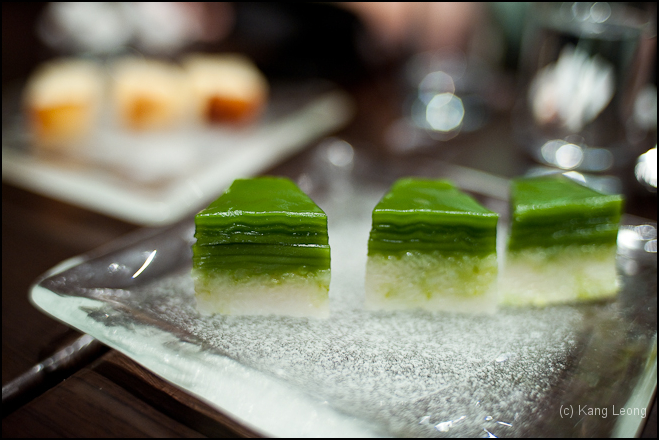 Nyonya Kueh, £2.00
The Gist of It
Sedap
£20pp, Malaysian.
102 Old St EC1V 9AY
Tel: (020) 7490 0200
Tube: Old Street
In Summary: Dependable Malaysian cuisine with a more than reasonable price tag, portions a little wanting, but overall not bad.
More than Words: Time Out ; Thecattylife ; The Happiness Project London ; WFG
Did you enjoy reading this? You can subscribe to the Newsletter. Alternatively, you can subscribe to the RSS feed.