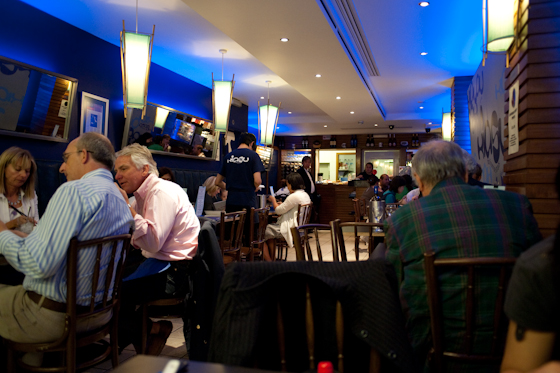 Bayswater is a culinary destination onto itself. It already feels like Chinatown, the sequel with dim sum superchain Royal China and the King of Lobster noodles Mandarin Kitchen in the area; Not to mention that ultra reputed curry house Khan's as well as meatfest heaven Rodicio Ricos. It is also where you go to get a taste from the Straits. Taking its name from the Hokkien expression for 'Fear of Losing', I was recently at Kiasu to sample their skills with the one plate wonder: The Nasi Lemak.
Firstly a very brief exposition. It is not the Far East, its South East Asia – a collection of countries paying billions in TV money to watch live Premiership games – and there's actually an association which officiates the region and it's called ASEAN. That's where you'll find the Straits Settlements. Once part of the glorious British Empire, they refer to the historically significant trading port towns of Melaka, Penang and Singapore. The region welcomed Chinese migrants of the time looking for work (including my Granddad, although he landed further south on Borneo) and through the generations and through the melding of the cultures (predominantly Malay, but there are also other indigenous cultures), we now have what is known as Straits Food.
To my mind, straits cuisine – recreated in the Singaporean/Malaysian restaurants in London – is a kind of street food; rather its a sort of 'stall food'. You don't get open air food halls in the UK as you do in South East Asia, but for me, that's where all the magic is. Rice crashing and crackling in oversized woks; waitresses shouting orders across the hall; the rhythmic chopping of soya chicken being prepared on equally oversized wooden chopping block. You would get your food from a stall that specialised in it, say the chicken rice stall for example and then you would get your drinks from another that only sold drinks. Picture this: wobbly foldable round tables standing on rusty legs, pink plastic chairs (also wobbly) and on the table, a whole coconut, with the top loped off so you can stick a straw in – Now that's ambiance and authenticity right there.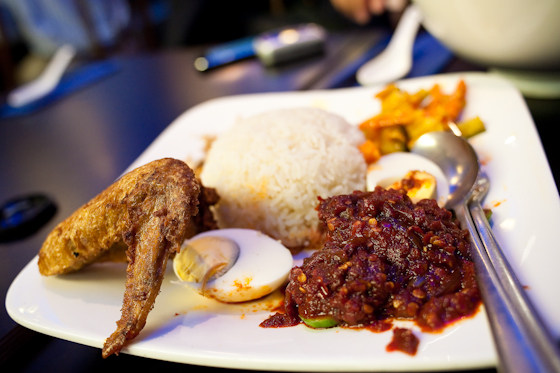 Prices in London 'Straits' restaurants always make for bulging eyeballs; I suppose the running costs aren't comparable, but to charge £7 for a plate of nasi lemak would be daylight robbery in parts of Malaysia.
Ranting aside, I had heard that the restaurant which fears failure churns out a faithful rendition of the popular Malay dish. After my lukewarm experience at Rasa Sayang, the hunt was on to find something more significant. The Kiasu version weights in at a hefty £8, it is advertised as a 'complete meal' and it looks to be spec-ed out with all the bells and whistles. The default option was boiled egg, but you can ask for it to be sunny side up (runny yolk on rice is a great combo by the way) and a huge dollop of belacan – the chilli shrimp paste which is the crux of this dish – and what a great paste! It is completely saturated, oily, sweet, sour and spicy, it is a faithful version. The greasy bird is seasoned like a true Malaysian fried chicken, a little more savoury and spicier than the usual Colonel Sanders recipe. The anchovies are spot on, but for some reason, the rice was chicken stock infused – the type which usually comes with Hainanese Chicken Rice – instead of a fragrant coconut rice. It was delicious though, so no complaints there. Overall – a capable performer.
The Laksa on the other hand, was a major fail. So full of coconut cream that it was sweet instead of spicy. No characteristic citrusness, and I felt that the rest of the flavours were drowned out by the coconut cream. The sauce was far too milky, like having a noodle pudding – with prawns. No zest, no kick, it was so woeful, we asked for lemon wedges… which curiously never arrived. I'm sorry, I just didn't enjoy this.
But let's not take the shine away from the excellent nasi lemak, that was well executed. As this was a swift meal, I didn't get a chance to try the rest of the menu, so I'll reserve judgement about the rest of the food. As for the ambiance, well I liked the neon blue theme, felt rather like eating in an aquarium and the chirpy waitresses were a breathe of fresh air. So far the best nasi lemak I've had in London yet.
The Gist of It
Kiasu official site
£15 per person
48 Queensway W2 3RY
Tel: 020 7727 8810
Nearest Tube: Bayswater
Like this blog? Why not subscribe to the email newsletter ; alternatively you can subcribe to the RSS feed.