My search for the fabled beef began about a year ago when I first visited Japan, spending 2 weeks or so trekking around Tokyo, Yokohama, Kobe and Kyoto; and then again this spring back to Tokyo. I've spent nearly just as long trying to write this blog post, a spiritual follow-up to series of steak blog posts (here and here) I wrote a couple of years ago. While wagyu has been successfully raised in many countries, none have yet to attain the same status which Japan's 'pink gold' enjoys, seen by some (and I mean me) as a sort of holy grail of meat.
I opted against the luxe option of (failing to get into) the cult wagyu restaurants in Tokyo like Kawamura, Aragawa and did this the old fashioned way, as a wide-eyed Japanophile trawling the cities for the fattest cow hides I could find.
And so we were off to Japan, starting the journey with the region and the brand that gave Wagyu its rock star status: Kobe.
There are two things about Tokyo department store food halls which, in my opinion, differentiate it from ours: wide range of Wagyu (from the fatty to not-so-fatty) and an unusually large selection of Leroy wines, thanks to Takashimaya's stake in Ms Lalou's pride & joy. And probably a better supply of Kusuda wines than Selfridges.
The photo above was taken at a Takashimaya food hall of 'strictly selected' Kobe sirloin. About £30 / 100g, so it's definitely not cheap…
Just pretty to look at isn't it? No other beef has quite the same density of marbling as wagyu. You don't really see this stuff outside of Japan, well I suppose that's partly because the UK isn't allow to import it, but then again there's probably enough demand internally to choke the supply and ultimately drive the prices up.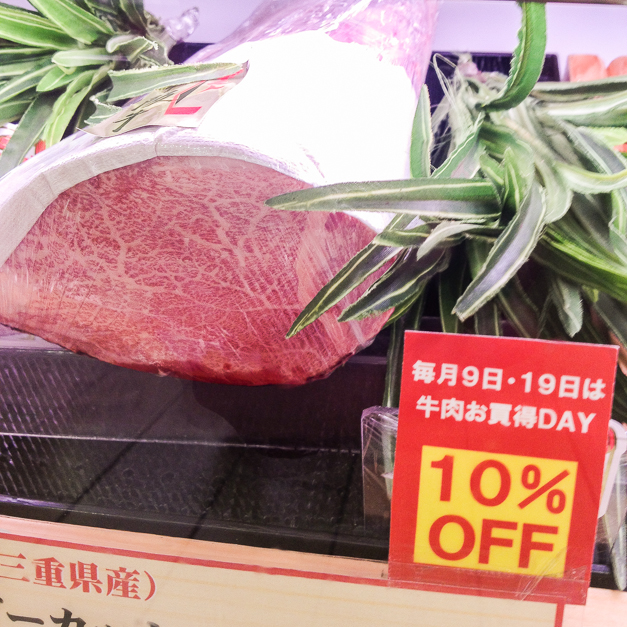 The second shot is of Matsusaka beef. A much finer marbling pattern than the Kobe and some say it is a far superior product to Kobe beef. It's supposed to smell nicer with fat melting at even lower temperatures.
There are four breeds of wagyu : the Japanese Black (Kuroge washu); Japanese Brown (Akage Washu), Japanese Polled (Mukaku Washu) and Japanese Shorthorn (Nihon Tankaku Washu). Not all wagyu are of the unusually fatty variety but those which are primarily Japanese black.
The most famous wagyu are the 'big three' namely Matzusaka (Mie Prefecture), The Tajima blacks of Kobe (Hyogo Prefecture) and Ohmi (Shiga Prefecture). All three are from the Kansai region, south central of Honshu island.
You've probably read about the rearing myths which had brought about the unique marbling like cows being feed on a beer or sake diet (or both), restriction of movement, cows listening to classical music, air conditioning, fine Persian rugs, but my opinion is that marbling is largely down to good genes. Inherently fatter cows, so broadly speaking, the generic Wagyu is fattier than generic Charlorais. Wagyu is also said to contain higher ratios of monounsaturated fats to saturated fats than typical beef, making it ironically less …unhealthy.
The grading system for Wagyu is a little long winded but nice to know since this scale influences prices greatly. The overall grade consists of 3 elements:
Yield – Quality – BMS
The Yield is to do with absolute yield of carcass. Higher the yield, higher the grade. The scale starts from C (less than 69%) to A (72% and greater).
Quality is indicator for colour, texture, luster, quality of fat and just overall quality of meat. It starts from 1 and the top beef maxes out at 5.
BMS or Beef Marbling Standard is a measure of the marbling or sashi. Administered by Japanese Meat Grading Association and here. It starts from 1 and only the realy mythical stuff attains a 12.
Specifically for A5 grades, they vary from A-5-8 to A-5-12. That 1 point differential from 11 to 12 is separated by a wide price differences. If there ever was a holy grail in Wagyu, A512 would be it.
So we're really looking in the A-5-11 bracket, and as I understand it, A512 is the everose gold dust that only really shows up in the cult wagyu restaurants or the National Competitive Exhibition of Wagyu , otherwise affectionately known as the 'Wagyu Olympics' which happens once every 5 years. The last two competitions held in 2007 and 2012 were won by cattle from the Miyazaki Prefecture.
So… armed with some background knowledge, we continue our little misadventure in Kobe to see if they really do melt like hot butter…
.Kobe beef in Kobe.
I had expected Kobe to be lined with streets of restaurants selling their pride and joy. But to the contrary, the city is modest, dare I say a little industrial and we struggled to find steak restaurants. Eventually we were attracted into a faux-american style restaurant which advertised 'champion' breed wagyu. (Ok, I suppose I fell for the tourist trap afterall.)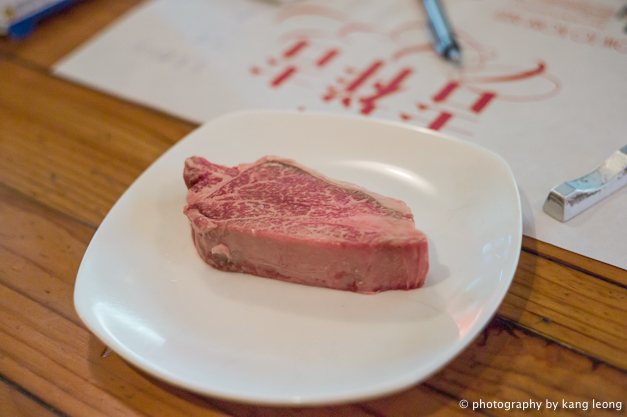 This was our fillet cut, the 'champion' breed, 120g for £120. A modest slither of beef, looking a little pale but certainly well-marbled.
The plate came 'decorated', like the stereotype of western food, almost as cartoony as depicted in Japanese anime. I made the mistake of asking for it medium rare and you can almost still spot blocks of unmelted fat, indicating unreleased potential.
Well first off, it is definitely tenderer than comparable fillets from other countries. Softer than a good prime USDA and definitely softer than the best dry-aged O'sheas Irish Angus I've tried. It has a natural oiliness, as if the meat had been strategically injected with olive oil. A lot of very appealing, mellow, sweet, fragrant beefy aromas, pretty good considering it was a fillet. Not sure it's really worth £100/100g and the experience as a whole, lacked the pure concentrated punch of a well hung steak seared over hot charcoal. I think that due to the abnormally high fat content, medium rare was just not warm enough to melt all the inherent fat. Kind of like a good bordeaux that needed to breathe before consumption.
.511 in Tokyo.
We held a table at Dons de la Nature – Michelin starred and wagyu purveyors – but ultimately decided against it given the high prices (Y30,000 for 400g). Instead we chose 511, a seemingly high street type outfit which has its entire menu centred around A511 graded Kobe Tajimas. Prices were around the £100/100g mark.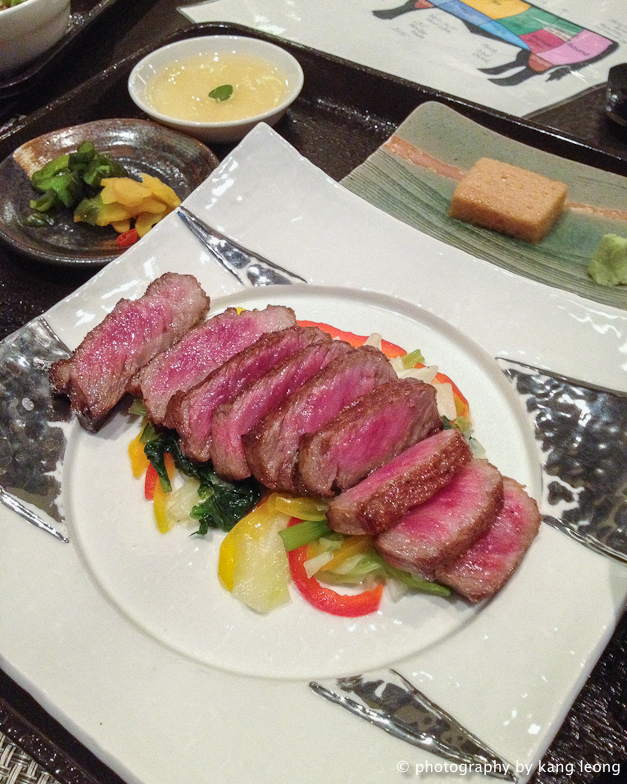 150g Kobe reared wagyu sirloin. This time, I asked for it medium to melt the fat. Grade is A511, not quite the mythical 12, but already oil heaven…
This was better than the steakhouse in Kobe. Up close, the ratio of fat to meat is just immense. People use the hot butter or foie gras analogy to describe its tenderness, for me, it's not that smooth or consistent, rather, it's more like a fried beef flavoured mousse. Crispy crunchy exterior due to the grill, but imagine a whipped mousse with air pockets injected with sweetened, perfumed beef flavoured oil. All this oiliness makes 150g feel quite overwhelming to the point where it bordered on queasy. But it was gorgeous beef, magnificently decadent, uniquely buttery and just delicious.
.Yakiniyu in Yokohama.
My next experience of wagyu was to veer away of eating it as a whole steak and to try it local style. An old colleague of mine took us to his local Yakiniyu, grilled meat restaurant – the Japanese parallel of the Korean BBQ.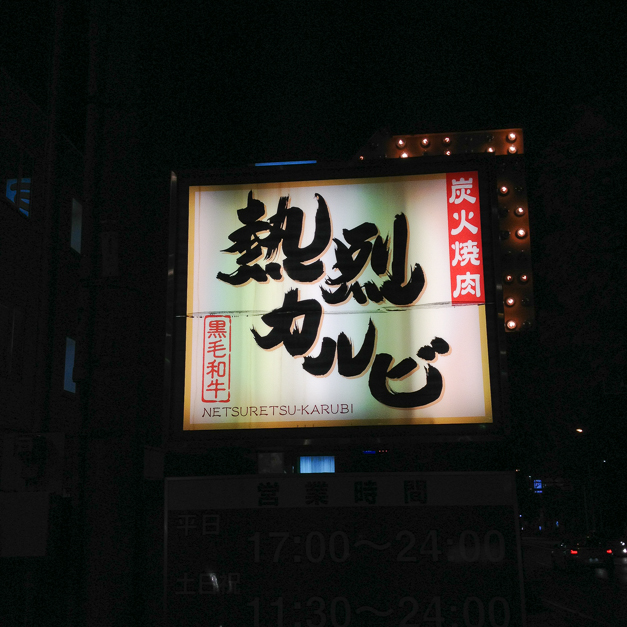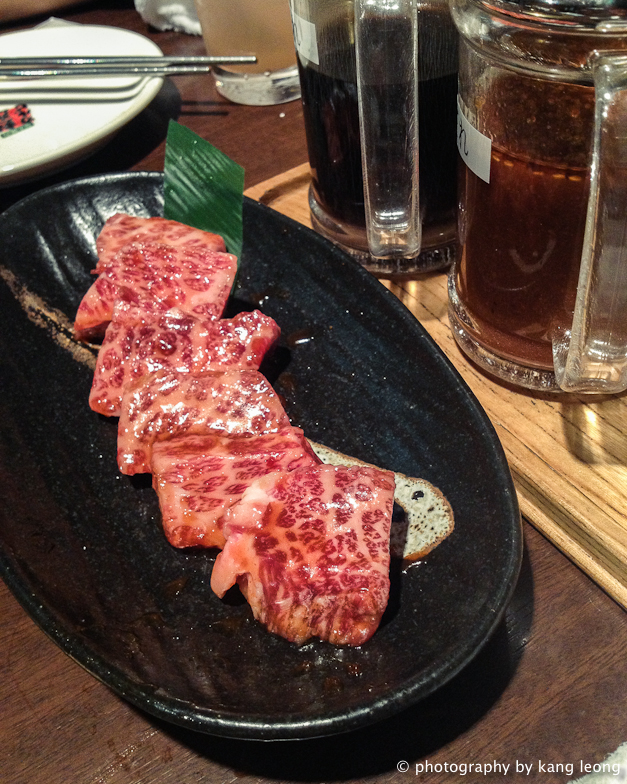 Unconfirmed provenance of beef, but the shortrib was still ridiculously well-marbled and nearly five times cheaper than the last two meals.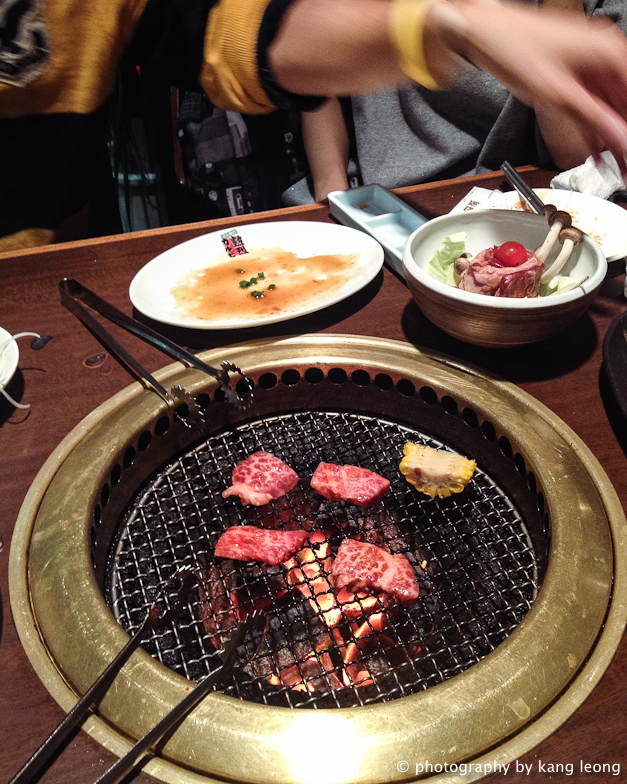 Hot, melting, buttery fat, sizzling away over hot charcoal. Like our previous meals, this beef just smells great. Sweet, mellow. It still obviously beefy, but lighter, sweeter, less intense than a well hung steak.
I let the meat cook to well done and that's when it was best. All of the fat completely melted, with a buttery layer of oil coating the cubes of tender beef, it was absolutely delicious.
.Ohmi Beef in Kyoto.
MAR16 UPDATE: I finally found it. This is called Teppai and it is located in Pontocho alley that runs parallel to the west bank of the Kamo river, between Sanjo and Shijo.
Address is
203-9 Shimokorikicho, Nakagyo-ku, Kyoto 604-8016.
Tel: 81 75-253-6550
Unfortunately I lost the contact details for this place… hopefully it shouldn't be too hard to find it when you are in Kyoto even if it is buried along the long street of restaurants that follows the Kamo river.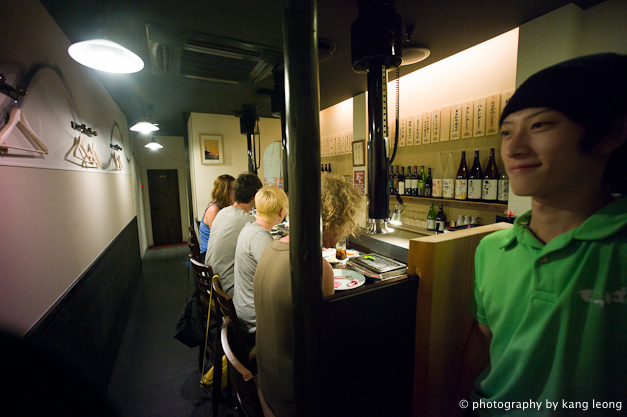 Essentially, this is bar which supplies customers with portable grillers for a seesion of beer & beef. It's very affordable, in the £10-£20 / 100g range. An inspiration for FlatIron v2.0 perhaps?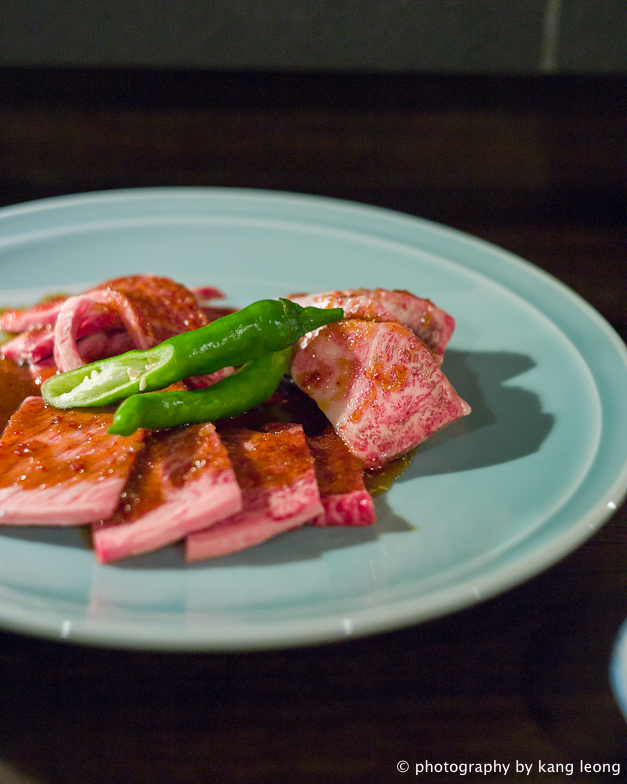 If memory serves, we opted for a taster platter which includes sirloin and shortrib. Thinly sliced and just look at that marbling. Awesome.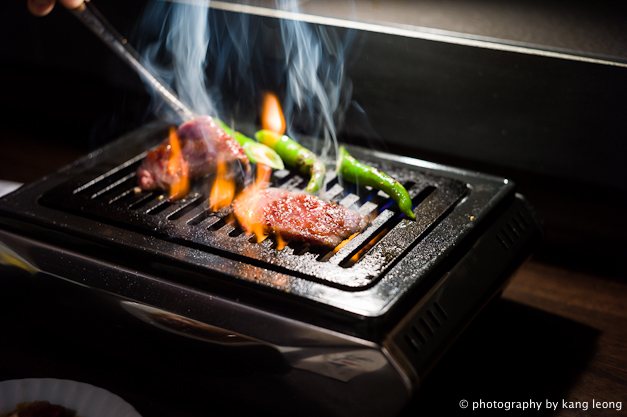 All that fat burns like wild fire! Like our previous experiences, this wagyu was also best eaten well done. Tender, melts like butter, fragrant, of the entire trip to Japan, this was our favourite experience of wagyu.
.Eating in.
On our 2nd trip to Tokyo, we stayed at serviced apartment, Citadines Shinjuku, which came with a small kitchenette. We went to Takashimaya & Daimaru to pick up a range of wagyu from the pricier Matsusaka to less marbled stuff. All in, we picked up approximately 500g of beef for £50.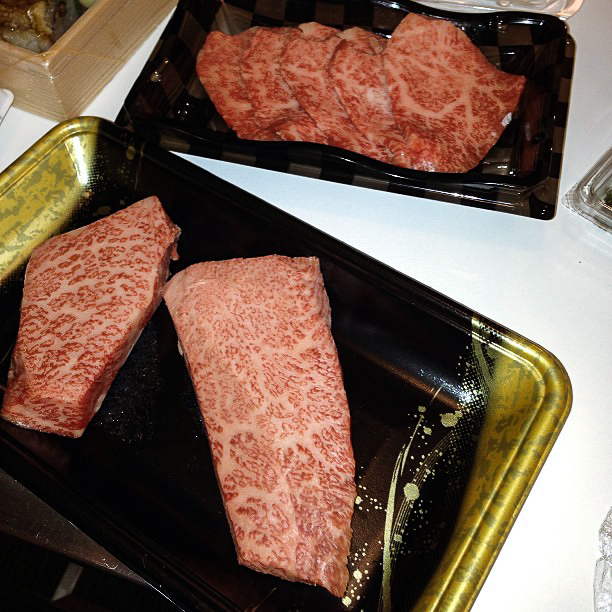 The cut that's front and centre is the Matsusaka. Not sure what grade it was, but the marbling was ridiculous and it wasn't expensive. The fat does melt at room temperature, just by leaving it out, the block of meat starts collapsing, picking it up, oil ran down my hands. Hot cow fat indeed.
I fired up a hot pan and cooked each piece till bloodless. I gave it a few minutes to rest and served up with salt and pepper.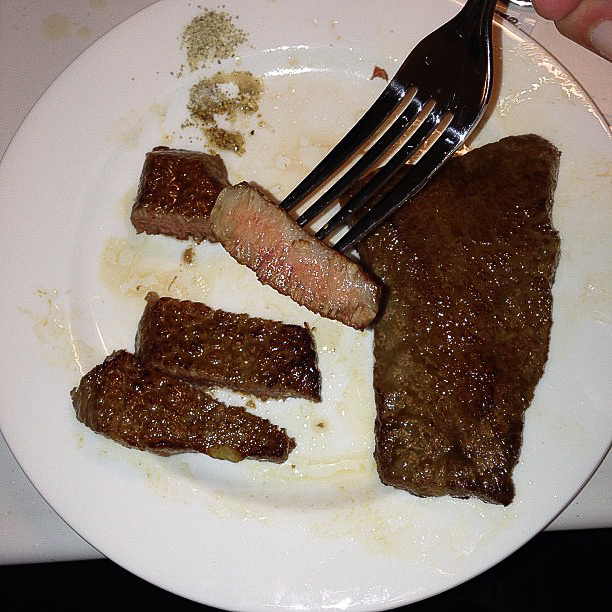 This is the least glamorous food photograph I've ever posted on this blog, but man did we savour the beef. It wasn't so much melt-like-butter, but more like chewing into hot cow-fat, laced with beef that has this sweet, nearly floral fragrance. We shared the beef out amongst four people, so about 100g each and afterward, we just felt queasy.
….The Quest for Wagyu…
Did reality live up to legend? Well, yes and no.
Some myths were dispelled like for instance the high fat content while decadent also makes for a queasier experience. Really you can't treat wagyu as a NY style steak, in the same way you would do leaner meat. Japanese food culture seems to coax out delicateness, refinement, singular zen-ness (even their soft-ice has advanced ridiculously in terms of degree of whip & puff) and I suppose this extends to their cattle practices. Wagyu seems to be inherently tender enough that it doesn't require maturing for tenderisation. The tenderness and fat ratios of wagyu is just next level business, no breeds in the world seem to compare. My opinion is that the international wagyu clones, from Chilean to Australian are not at the same level or perhaps they were not meant to be. But the one thing I'm certain about is that wagyu is completely unsuitable as charbroiled steaks. Wagyu also doesn't have the same flavor concentration as aged counterparts. So this preserves my memories at Goodman with USDA and Irish angus steaks, inch thick, kilogram heavier slabs of dry-aged meat on bone – They are unbeatable in their own manner.
The real debunked myth however is that you don't have to spend half your fortune to experience Wagyu's unique selling points. There is a lot of very tender, well-marbled beef across the board in Japan below the A511/12 grades which give you near enough the same oiliness at half (and possibly even lower) the cost. In fact the best experiences for me were from the cheapest meals.
Is it worth the flight to Japan? Oh yeah, that and the hundreds of other unique gastronomic oddities to experience. Just make sure you get a hotel room with a kitchenette and drink with a reasonably priced Leroy village wine.
So this is where we'll leave our conversation on beef for now. Till the next time (maybe Argentina), don't forget to eat your vegetables.