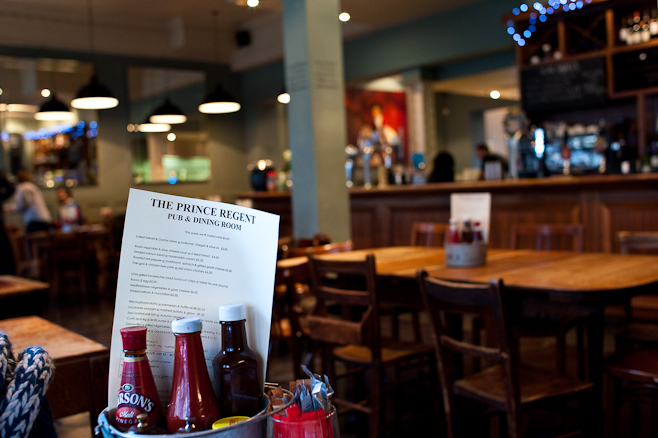 Weather woes continue to ground my eating habits as the 2nd week of the New Year leads me to venture out to…only about as far my local pub. Not that it was a bad thing since I spend alot of time in the Prince Regent anyway. It was as if someone upstairs had decided that it was finally time to write about the my local pub.
Ahh so welcome, welcome to the great and grand Prince Regent. If you should ever walk past this imposing establishment do make sure you take a peek inside and if you spot a chinese guy twittering from his macbook, then you'll know LondonEater.com is getting updated fairly soon. I have a love affair with vintage pub spaces that are suitably quiet enough to get a good day's worth of writing done. As much as I like battering away in my blogger's studio, my mind longs for more space, and frankly abit of humanly interaction. My romance began with an excellent hotel pub/restaurant while I was based out in Pembrokeshire, Wales (once upon a time) called the Old King's Arms. Pembroke is a port town and the local restaurants serve up daily hauls of the freshest catch. The best grilled monkfish, warmly toasted pawn mar (a soft cheese, like a brie) , a proper Welsh breakfast (cockles and bacon) and even a crispily fried duck confit. If the Old King's Arms was one part of the trendy London pub food culture – it would score very high marks. For about two months, I ate at the King's arms every other day, sampling pretty much everything on the menu. That place just had something very human about it. I loved it because I felt connected to it… wow the snow has turned up my cornometer. Sadly though, I haven't found a London equivalent which serves pub food quite to the same standard (note: I am due to visit Harwood Arms soon). I am however glad to have a pub (close to me) which has such a comfortable space.
Enter the Prince Regent, a 4 minute hop around the neighbourhood and is both pub & dining room, serving food throughout the day. I usually have breakfast here though the real reason I like hanging out here is because the breezy environment is conducive enough to get alot of 'work' done. The expansive bar area is abit like a London version of Central Perk. Very cosy wooden floors and huge leather sofas to sink into. Ahh….and the wifi is reasonably quick as well (food and fuel, in case you are wondering). Over the years, I have had pretty much everything on the menu, ranging from their rather watery (but edible) eggs benedict for breakfast, to their epically oversized fish and chips (ooh so good) – complete with proper dollops of mushy peas. Their cappuccinos aren't roasty enough, but as it is my local, with such a beautiful space, it's hard not to love it.
Anyway, so let's get the ball rolling with the starter of Foie Gras and Chicken Liver pate with Red Onion Chutney (£6).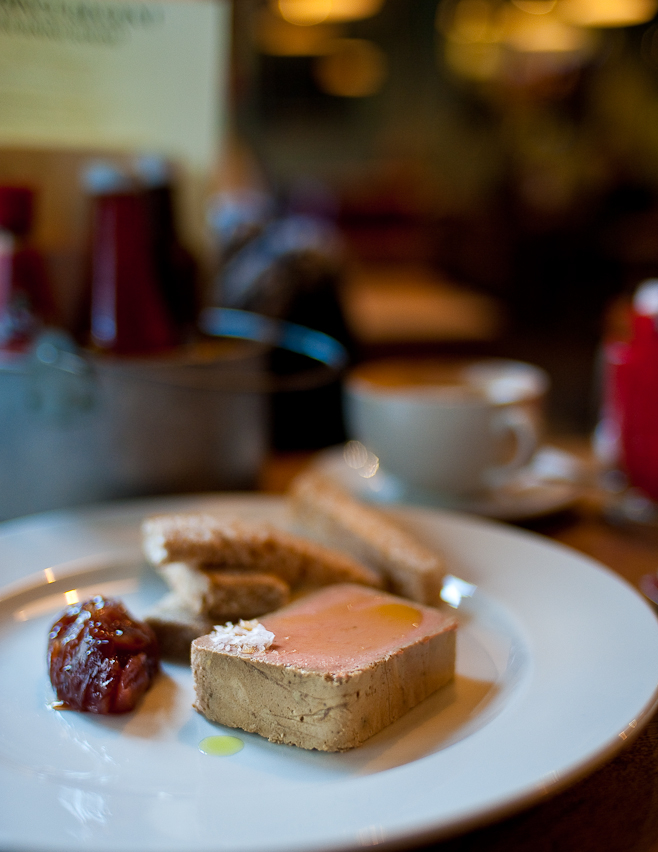 The pate was smooth like whipped air, however I was really disappointed with it being so bland – just a faintest hint of liver was picked up. The miserly crackles of sea salt annoying sprinkled on one corner of the pate suddenly seemed significant. I liked that the portion was suitably large , but it completely lacked oomph factor. The red onion chutney was forgettable. My major gripe with this dish however was their choice of bread. A single slice of toasted wholemeal bread cut into four strips is not fooling anyone. I can understand their need to dial up the ponce meter being that we were in Kensington but for heaven's sake, can they not invest in some proper bread? A brioche perhaps, maybe a ciabatta, flame it or roast it if you wish, something, anything, I could walk to partridges next door (!) to grab a baguette for a pound, but to serve a single toast cut into four strips. Let the pigs fly won't you. I could hardly spread the pate on the massacred bread.
Epic fail in my book.
Unfortunately, this gets worse and it pains me to report on the next dish: duck confit with lentil puree and a crispy bacon jus (£13).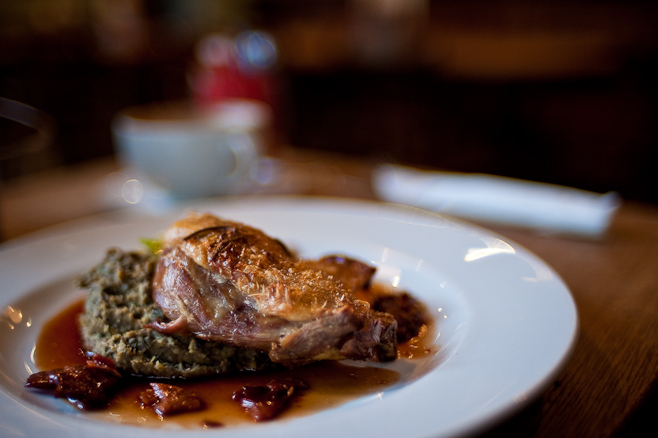 Good news first : the lentil puree was good, starchy, hearty and something I would guess is healthier than a plain jane potato mash.
Now the bad news : Crispy bacon jus – utterly inedible, it had a very papery mouthfeel, I don't know, tasting juices from pieces of dry bacon was like sipping on a lard and vinegar cocktail. The confit was very bland, I was salting it heavily. The skin was not crispy, it was soggy and sort of rubbery, and the meat was just dry and horribly overcooked. Duck and bacon just didn't do work for me, really I am actually better off chewing on paper than this torrid example of duck confit.
I have to say, food didn't used to be like this. It used to be rich, hearty, full of flavour, proper pub grub, instead of this aspiring poncy mess. There are lots of good pubs around serving wholesome grub and on their current form, The Prince Regent is merely average. You know, I'll put this one down to a bad day in the kitchen, and as it was snowing outside, maybe their usual salt supplier didnt show up that day or something. Despite my cutting stance on the food, I still enjoy hanging out at The Prince Regent and as a long term customer, I would happily return, fearful that the chefs might poison my coffee after reading this, but hopeful that they will return to their former glory days once again.
You can view more photographs of the meal here.
The Gist of It
The Prince Regent Official Site £25pp
25 Gloucester Road SW7 4PL
Tel : 020 7589 090
Tube : Gloucester Road
Did you enjoy reading this post? Why not subscribe to my feed updates for free. Alternatively, You can subscribe via email.