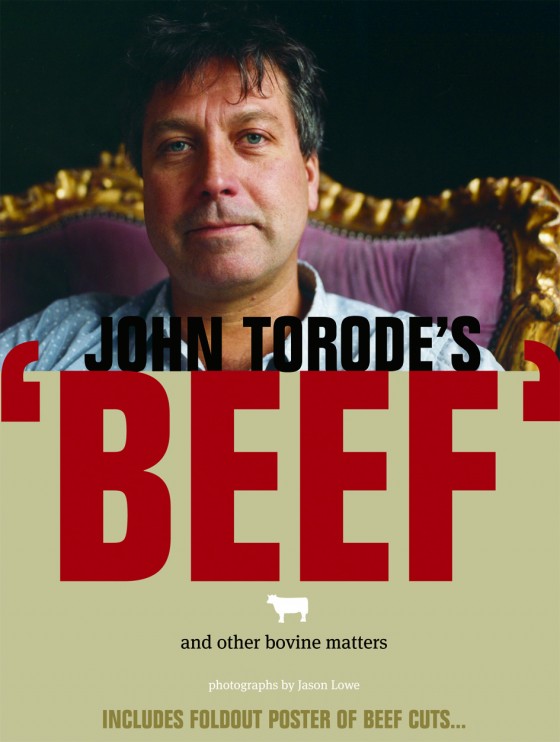 John Torode's 'BEEF' £ 20
John Torode
Published by Quadrille Publishing Ltd

Quadrille kindly sent me a copy of John Torode's BEEF to review/buzz/promote. I read through it and wrote up my first cookbook review, ever (yay). I was also kindly given permission to reproduce one of the recipes from the book; I chose the Carpet Bag Steak, which is an Australian classic of a fillet steak stuffed with fresh oysters. Very yummy indeed, I've included the recipe at the end of this review, so do keep reading to find it. John is truly a beeflover! Hope you enjoy this one folks.
Review.
We've all seen the man taste food on Masterchef, and a few of us have even dined at his four storey glory that is Smiths of Smithfield and in BEEF, John lays out one of his greatest passions: Beef. I can almost hear John's voice guiding me through the recipes as I read this book, he writes mostly in a conversational tone and…
this unpretentious approach is refreshing and really highlights his true passion for the red stuff. Naturally, I flipped to the steak section as I opened the book. He dedicates a full two page spread on how to cook a great steak and suggests pan frying more delicate cuts (fillet)  and grilling the chunkier ones (rib), keeping in mind that if you see yellow flames over the charcoal, then the fat has caught fire. His prime advice when it comes to steak is to just 'relax and enjoy cooking it!' – great advice indeed. John doesn't just start and stop with the steaks, he covers alot of the 'other stuff' and provides recipes for soup and gravy, preserving beef, salads, pasta, make a great burger, a huge section on veal and even includes a recipe for the jam roly poly to finish.
You can tell that John has a real passion for beef as this book has really set out to cover the whole rainbow of ways to cook this great ingredient. He provides excellent commentary about the different cuts & breeds in the introductory section, and has also included details to butchers dotted around the country. And if that's not enough, the dust cover also folds out to a diagramatic representation of the different cuts of beef, in A1 size, making it a comprehensive handbook to beef.
If you love your red meat, and are looking for an ultimate cookbook for it, John Torode's BEEF fits the bill. If you're after a cookbook with recipes written by someone who's totally down to earth and most importantly a beef lover, then I can think of no better one than John's celebration of the bovine, in print.
John Torode's 'BEEF' £ 20
John Torode
Published by Quadrille Publishing Ltd
John's Carpet Bag Steak Recipe

4 fillet steaks, about 175g each
8 oysters in the shell
4 large strips streaky bacon
vegetable oil
salt and pepper
200g butter
This is an Australian classic – steak stuffed with fresh oysters, then wrapped in strips of streaky bacon and fried. It is important not to drain the oysters of too much of their liquid (you need to reserve this for later) as its saltiness tenderizes and flavours the meat and keeps the oysters lovely and moist. When the steak is cooked to your liking, take it out of the pan, remove the pan from the heat and add drained oyster juice, then scrape up the bits from the bottom of the pan and pour the resulting liquid over the steak.
Take each fillet and slice a sharp knife into the side to make a pocket – not all the way through or that won't be a pocket.
Shuck (that is, open) the oysters and release them from their shells, draining off and keeping the juice. Put four oysters back in their shells to serve on the side of the steaks. Take the other oysters and put one inside the pocket of each steak. Pour in some of the juice – the salty water acts as a seasoning and keeps the oyster and the beef moist. We love things moist!
Wrap each fillet with the bacon and stick a toothpick in to hold it all together. Put a solid, heavy-based pan on the heat and get it super-hot. Open the window as there is about to be a good amount of smoke. Rub the steaks all over with oil and season with salt and a little pepper.
Put the steaks in the pan and cook for a good 3 minutes each side, then turn the heat down and cook for 2 more minutes each side. Add the butter and any leftover oyster juice. If you want to cook the fillets well done then they need to go into a not-too-hot over for about 5 minutes to finish.
Serve your steaks with chips (page 134) or a big tomato salad… come on, you know how to make a tomato salad.
John Torode's 'BEEF' £ 20
John Torode
Published by Quadrille Publishing Ltd

Did you enjoy reading this post? Why not subscribe to my feed updates for free. Alternatively, You can subscribe via email.