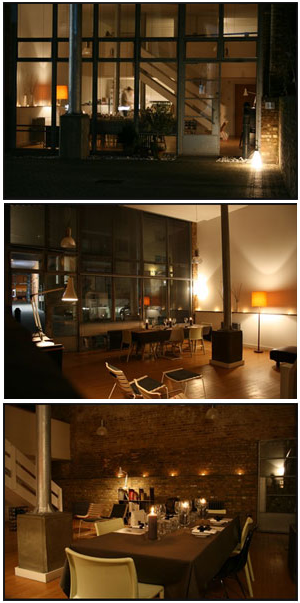 Ok I know you'll like this one. As far as I know, the latest foodie craze to hit the Smoke are secret restaurants which nobody seemingly knows about, except everybody does. If you've not been to one yet (just google secret underground london restaurants) then this might just be the ultimate one to check out. 
The scene will be set at the private supper club called The Loft. It is also the private training kitchen of El Bulli trained former head chef of Bacchus,  Nuno Mendes. The event is being organised by Paris based food consultant Rachel Khoo. She will be serving up a five course dinner (with wine) which combines far eastern flavours with the designs of HK based designers PikPikZoo and ya'll will be grooving to the musical landscape of Joseph Seresin. It's being touted as a mash-up: melange of different sytles of food and media incorporated into a delicious dinner. This is about as slick as underground restaurants can get.
Interested? The event is £65 pp, space is superiorly limited to 12 guests (about half are already gone) and it will be held at The Loft on Wednesday 15th April at 7.30pm.
Send your reservations to rkhooks@gmail.com.
As usual, I've included the PR blurb with the rest of this email so keep reading for all the details.

After 'khooking' up a storm for the past several years in Paris with her signature culinary events, Rachel Khoo is going back to her London roots with a mouth-watering "mash up" meal. The unique dinner will showcase Rachel's range of tasty ideas using food, music and the arts as forms of expression. For this scrumptious supper, Rachel will combine far Eastern flavours from PikPikZoo, Hong Kong based design duo with a hint of more local flavour in the form of a musical mash up by Joseph Seresin. Of course, Rachel will be adding her own creative touch to the 5-course dinner (paired with wine).
The festive feast will be held at the private dinner club The Loft on *Wednesday 15th April at 7.30pm.*
Rachel Khoo is a Food creative based in Paris. With an Art & Design degree from Central St Martins and Pâtisserie diplôme from Le Cordon Bleu, Paris Rachel brings her unique touch to culinary events.
The Loft <> is a private supper club and personal test kitchen of Nuno Mendes, one of London's innovative & revolutionary chefs (El Bulli trained & previous head chef of Bacchus, London). He will be opening his next restaurant, Viajante at the Bethnal Green Town Hall in 2010.
Joseph Seresin runs by day a bespoke creative studio whose ethos is to provide a tailored solution to your project with a range of creative services encompassing anything from brand identity through to one-off illustrated pieces. At night however he is known to put his creative talents to spinning tasty tunes in hip places from London to Ibiza.
PikPik Zoo are Hong Kong based design duo Zoe Lydia and Miss Kate. Touring the world (New York, London, Paris, Stockholm & Hong Kong) with their PikPik Panda character they've been spreading their philosophy of we care, we share.
Places are limited to ten people.
Email rkhooks@gmail.com to reserve. Payment by cash or paypal only. 5-course dinner paired with wine at *£65* pp. Address details will be sent out once reservation has been confirmed.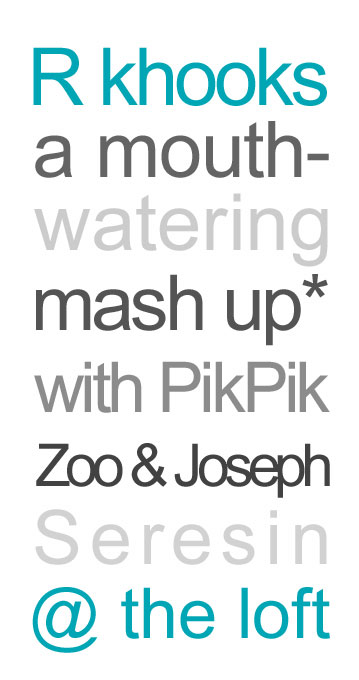 Did you enjoy reading this post? Why not subscribe to my feed updates for free. Alternatively, You can subscribe via email.