You have been kind to me. You keep coming back to visit and you leave your comments on my many posts to lift my spirits. London Eater has been -and still is- a journey for me. I feel as if, I am just a child in the many worlds in which I am trying to make a mark. Many worlds? Why yes; there is the world of food, the world of blogging, the world of photography and life.
Its a bit of a dilemma. On one hand, a blog- in it's very nature – is a tool to broadcast your thoughts, on the other hand, LE ain't a personal venting machine for my emotional musings …and it's rather like shouting to the wind if I ever did so (don't think I have that many interesting thoughts to begin with).
But the attraction to do so is seductive. Once the thoughts start forming, and then the words start flowing, the process becomes a little unstoppable and it just feeds itself. I feel proud looking back at the past few months on the bulk of stuff I've managed to achieve. Granted, this site is still in it's infancy, and I have many hopes and dreams for it going forward into the new year. I want it to be more than just a personal guide to london, I want to show you the colour and beauty through which I experience and above all, I wish to bring a smile to you.
If you'll let me, for the 93rd time, I'd like to invite you once again to go on yet another literary odyssey, filled with wonder, excitement, the odd burst of humor to experience the sights through pictures and this time, let me take you through some of my own, personal, fondest memories of London Eater, 2008.
the accidental portrait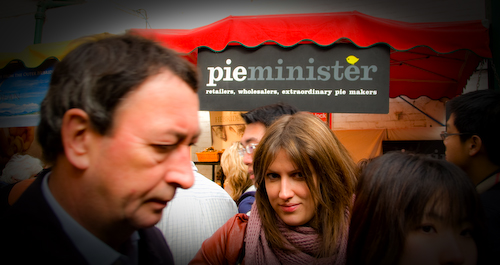 This one was taken on my visit to borough market. It's completely accidental. I was snappy-happy with my camera and and swimming in the middle of the crowd hoping to get a shot of the atmosphere in the middle of the busy food market… and somehow I caught her – totally in focus – and smiling for the camera. When I wrote this post, I offered to give her this photograph if she ever came across this blog and I still am. Who are you oh lovely lady walking about in borough market? I think this is a great picture of you.
welsh monkfish tales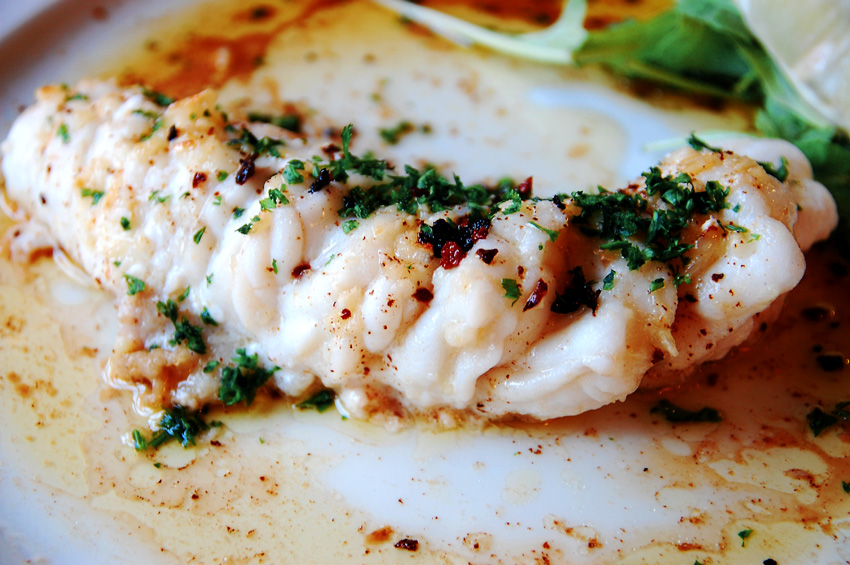 I spent alot of time at this restaurant when I was away in Wales earlier this year. When I say alot, it's like five dinners in a week for two months. I've practically eaten everything on the menu. I was still learning my way around the camera and this was still shot in jpeg and I was still rather clueless about levels. It was a really bright and sunny day ( rare, really it is) , I sat by the window and the lighting was just really perfect. So was the fish too. Just, Perfect. Quite possibly, the best monkfish I've ever had… for now.
Eating in the dark at dans le noir… not dan le noir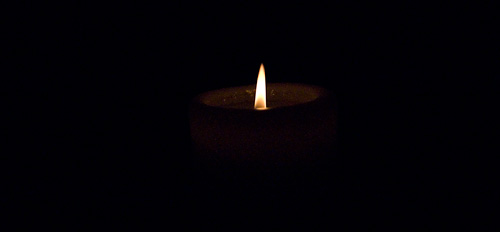 There is a superb typo on my blog. Superb because my eating in the dark write-up should have been about dans le noir and not dan le noir and its amazing how this little typo has propagated throughout the blog…. the funniest thing is that's what people point out to me when they first read my blog.
"Kang I caught you" says reader.
"Caught muah, the infallible Genghis Kang?!" sez me.
"Yes you have a typo, it's 'dans' not 'dan' " quips the now winning reader.
"Crapola" says the no longer such infallible Genghis wannabe.
Yes you read it here on LE and if you hadnt yet – maybe you should do so here. It really was quite fun , but the photograph of the candle is real. Real in a sense that it's not a stock photo. I actually took it at london's oldest wine bar: Gordons. It's pretty much like drinking in an underground wine cellar, atmospheric ( claustrophobic to some) and fun. I don't know what it is, I just like this photograph alot – the saturation of the blackness against the solitary candle light. The blackness is so dark that there is no luminosity emanating from the flame… blackness, darkness, there's just much more to this picture that you don't see and I think its in the darkness that you don't see which kind of sums up my experience at dans. There's so much you don't see – but it doesnt mean it's not there.
Ah , I just like it.
talking about soul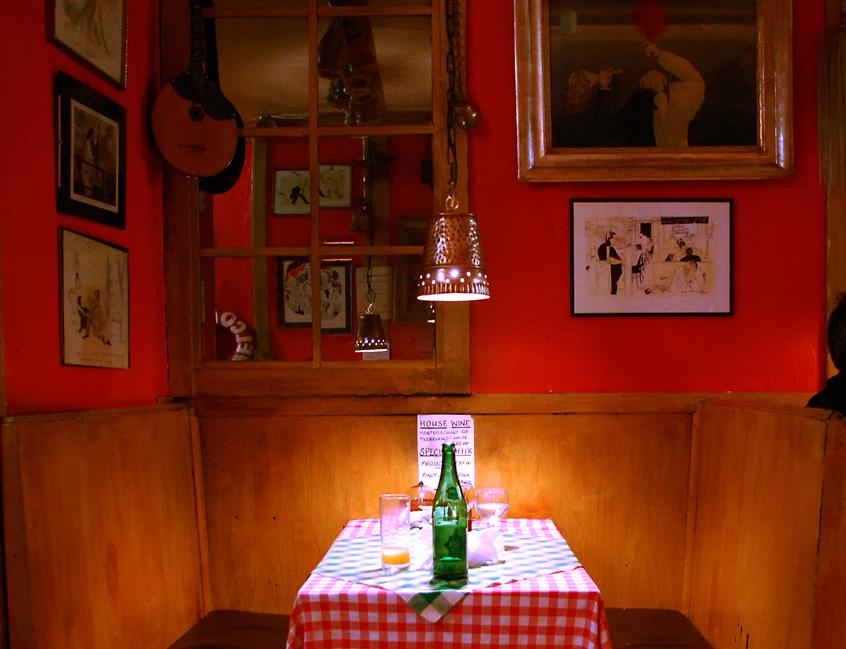 I talk about restaurants and soul alot. If a kitchen is the heart that beats, then the setting and atmosphere is, naturally, the life and character which makes a restaurant come alive. Food at da aldo's in soho will never be good enough for the michelin man but boy does this restaurant have soul. Heaps of it, bags of it. The vintage portraits seemingly untouched and dusty since the 1970s , the low hanging incandescents, the all too brash table cloths, the maturing wood and the burgundian walls. Da Aldo's is alive, the food is so heartily bad, it's good. We live for memories and I remember Da Aldo much like I remember nobu cod.
heroic sushi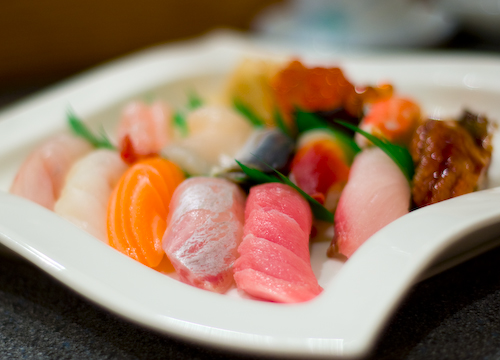 Some say that sushi hiro is the best kept secret in london. After my first visit – I'm afraid I have to agree. It's run by no more than three people and the sushi is ultra fresh. But I want to talk about this shot. It was the first time I used my 50mm primer for a shoot and I loved the images it produced. The wide aperture meant that I could create these fantastically striking poses with good bokeh and extremely shallow depth of field. The white edge of plate jutting out at you and the dramatic in your face nature of the shot somehow made the sushi seem so alive. This one was accidental, but quite possibly , the photo I'm most proud of so far.
breaking the fast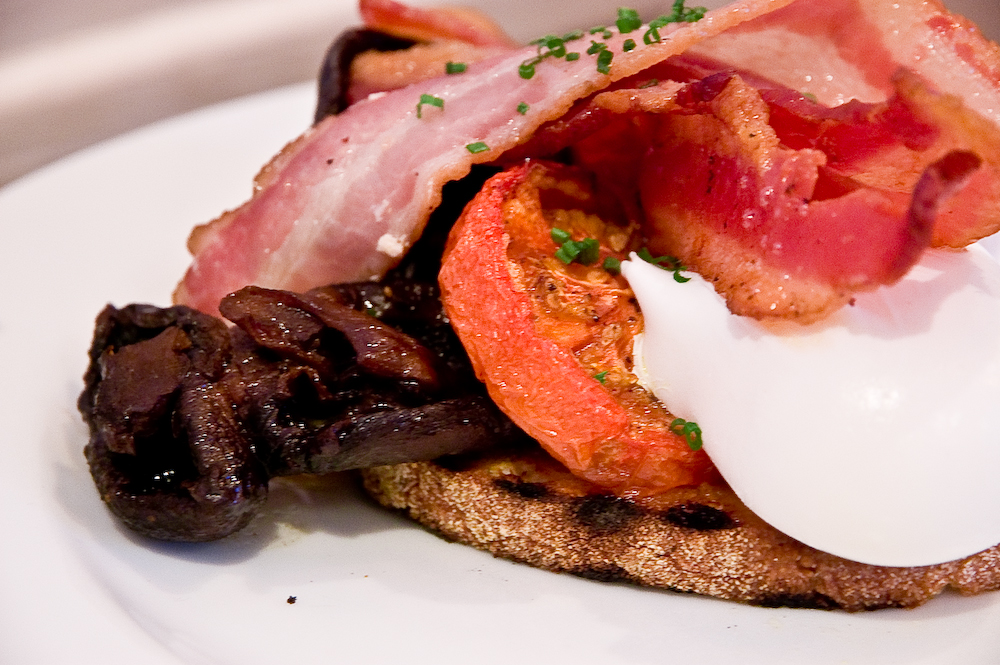 Hands up who hasn't had, or heard of an english breakfast. I was in search of an 'alternative' to the old fry up and stumbled upon the tapa room in the marylebone area run by a couple of kiwis. Ive had my heart set on the nikon 16-85mm for awhile now. Its got great features in it's excellent antishake capabilities, the ED glass and the wideangle. Lately, Ive been experimenting with closer shots of food. Instead of doing a full wide angle shot of the dish, I decided to focus more on the details. Leave some of the other bits to imagination and just zoom in close to really give you a flavour of the dish. The room was dark resulting in a shaky picture. I really should have taken a few more shots of this, but I got hungry. But still, the tomato is totally in focus and the poached egg toward the right hand side is just cool. This picture represents the style and direction to which my 2009 pictures are headed… for now, who knows what I will feel like changing to abit down the road.
finally, old vino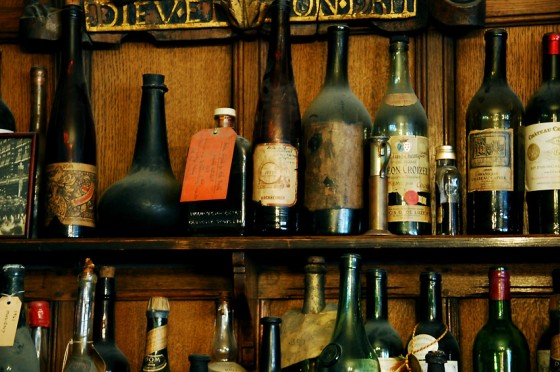 This was taken at berry bros & rudd, only my favorite wine shop in londres. The shop is more like a museum to be honest. The reception area had this shelf which housed these old wine bottles, all dusty and musky and detailed and vintage and super cool. Stare at the photo abit and you can see all the details in the wine labels. 
And on that note..
I hope you enjoyed this little trip down archive-land. I do hope your 2008 has been a great one, reflections are nice – taking a deep breathe and going 'wooo, I ate all that?' Hope your holidays continue to be merry and do come back here in a few days for my 2008 best eats list.
Did you enjoy reading this post? Why not subscribe to my feed updates for free. Alternatively,  You can subscribe via email.