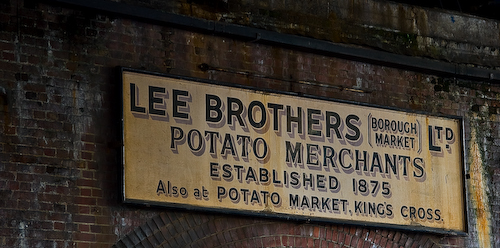 Borough market is the tour de force of a food market situated in the heart of London. After much procrastination, I finally paid a visit to the famed market and started off my photo essay in part one. I last left you on a sweet and smelly note with dulce de luche & some black truffles to munch about. Are you ready for more?
There and back again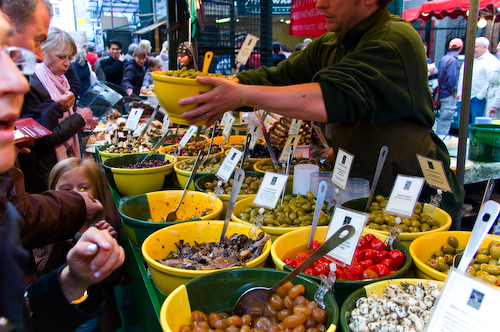 Borough market is not one big, continuous market. Rather it's kinda made of different 'hubs'. Each hub sells different types of food, for example, the first hubs you saw in part one did sweets and cheese. In this particular section of the market, there was a mixture of cooked food, veges and meat.
I love antipasti for the colours, olive oils, its savoriness and the appetising qualities. I am a stickler for small tasters and nibbles. I think it's the attraction that you get to try a variety of flavours that makes it so appealing to me… either that or I'm just plain greedy.
She sells honey and smiles like honey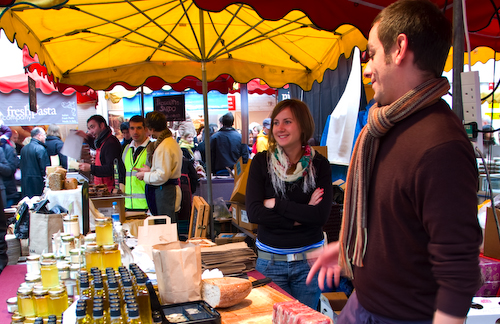 Part of the attraction of a food market is the buzz. The chatters from the large crowds and just generally that warm human factor. You know what I mean right, when a place fills up with people, it seemingly comes alive. Of course, the vendors themselves exude a lot of energy, so much so that you can almost feel a glow emanating from within. This is especially true when they are trying to sell their stuff, they'll normally use the phrase 'very nice' when asked how good their produce is, with a slight wink no less.
Bread + Fillings = Happiness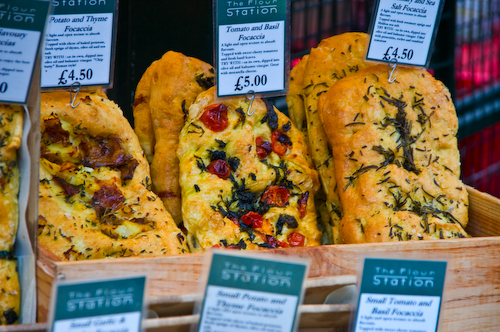 Some rather interesting breads with the one on the left, in particular, catching my eye. Potato and thyme flavoured! Look at the colours of the cherry tomatoes on the one in the middle. I missed a trick yet again, when I was spending time taking pictures rather than buying food…. oh well, yet another reason for me to go there again.
Erm…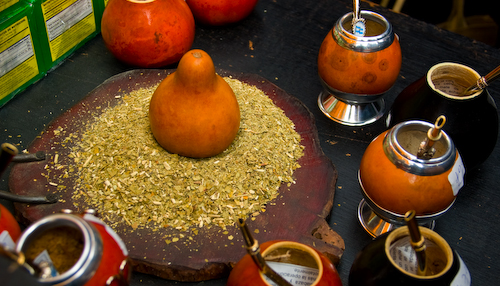 I want to say that this is hummus… but I can't be sure if it is or not. To be honest, I cant seem to remember what this was. While I was processing the pictures I studied this shot over and over, but just don't know couldn't figure it out. You got to help me out, do leave a comment if you know what this is. It does appear that I'm just all too human after all.
An accidental portrait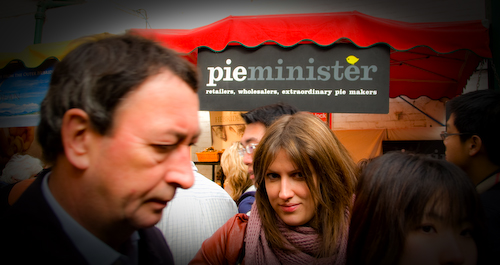 This phenomenon has occured a few times and frankly it's pretty amazing. I always try to get a picture of the scenery whenever I'm out and about so as to try and capture that 'in-the-heart-of-it' buzz in digital print. A fast shutter speed is essential to freeze that moment in time.
Often a times, there's almost always a crowd ( I'm beginning to feel like I have a strange attraction towards crowds.. ) and almost always, I get a picture in which just one person, not two or three, but just that one person out of the dozens in the frame who's looking straight into the camera. But it's not like a deliberate 'here's my money shot' look. Rather, its a candid and sincere, almost embarrassing nod and wink at the photographer. In other words, a picture that is real and completely human.
The funny thing is that I never realise that I'm capturing them on film, let alone them being totally in focus! Completely and totally accidental, but in a good way.
In this case, I don't know who she is, but she's got a great smile, she's pretty and the camera is loving her. Lady, if you're reading this ( or you know this sassy lass ) , I hope you like the photograph and if you'd like to claim it, please do leave a comment, I'll send you a hi-res copy.
Cremin' it at £1 a pop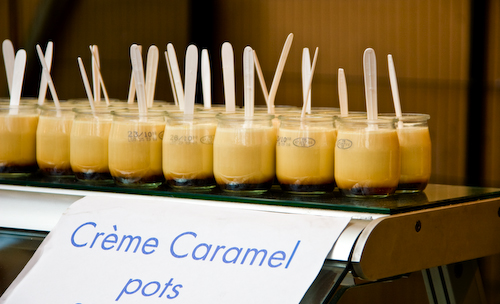 Im feeling a little bittersweet as I write this. My parents were in town for a week and it's the first time in about two years since my whole family has been in the same city for more than thirty six hours. Was really great seeing my family all-together once again, in true foodie fashion, we ate our hearts out for the entire week, stuffing ourselves silly with a variety of foods from all across the city. My parents, after all are the original eaters and they boarded their jet plane back home just this morning.
Anyway, the reason I tell you this is because my dad loves creme caramel. He likes all kinds of eggy and custardy puds and I know he would have loved to had a couple of pots of these if he saw them. Going for £1 each, its really a steal. After missing out on the super-terrine ( from part one ), I was glad to have had one while taking a break from the snapping.
All rise for the pieminister of Great Britain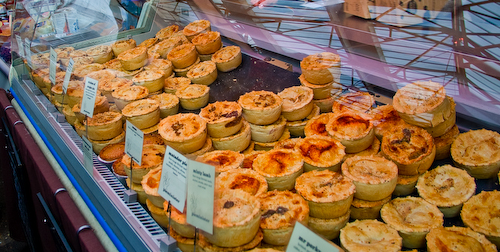 Pies in this country are like wow. My favourite is steak and stilton with guinness, I can manage a formidable cheese and onion, but I'm not a big fan of the chicken mushroom I'm afraid. However, I do think that the cornish pasty is the holy grail.
I'm told the best pies reside opp north and also down south, so my keen sense of geography will tell me that I've only ever tried the sanitised city versions of these classics. You know, this just gave me an idea.
London Eater goes to Cornwall…. for pie. My beloved UK readers, suggestions please, if you know the best pie in england which deserves the foodblogging community's attention, then let me know.
You will make a million dollars if you read this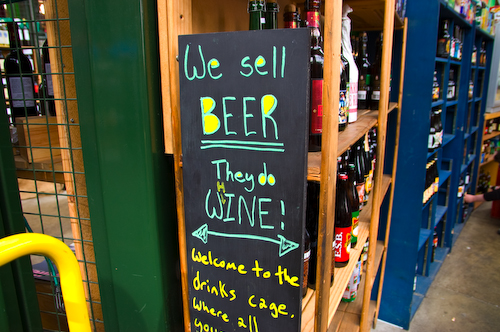 Well no you won't, but I'm big on headlines. Ok, this requires your opinion fellow bloggers, you are probably familiar with the concept of copywriting ( no, not plagiarism) , but rather copywriting is the art of persuasive writing. It's the method employed by journalists and advertisers in an effort to capture your attention and send their message in as little words as humanly possible.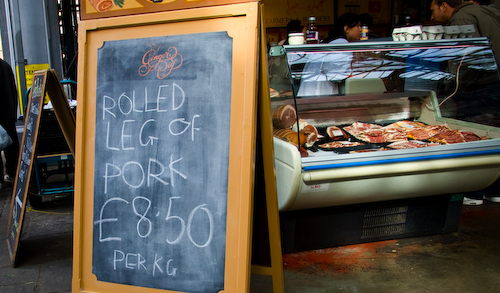 I think blogging is a lot like copywriting, where the writing is tighter, doesn't waste words, seeks out an instant connection with the reader and most importantly, is geared towards easy reading. Its abit like a rather engaging conversation, because as we know, web-surfers don't read digital print word for word like they would do Stephen King; online, we all tend to whiz through stuff alot quicker.
So it's quite essential, in my view, for bloggers to distill their content into easily digestible sentences and engage the reader in an entertaining ( and quick ) way.
Of course, that is just my opinion.
Going back to the label, I think its just a piece of excellent copy which adheres to the three Rs (Lindsay Camp 'Can I change you mind?' if you are wondering what they are) which is to Remember the Reader and Result. Come into the shop for beer and go either left or right if you want wine … brilliant stuff and so very human.
And now, here is the secret to making a million bucks. Gotcha.
Ending on yet another sweet note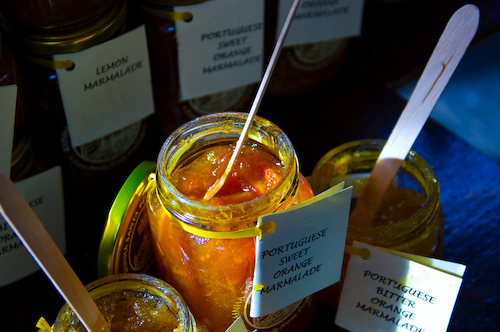 Alas, I have reached the fringes of the market. At fine food world's end, we come across some rather lovely jars of marmalade. Not forgetting that throughout this trip, Yenni has been beside me every step of the way, and now you too. Well, I sure enjoyed this trip to the market, maybe I'll do it again and maybe I'll bump into you the next time. Remember, if you see a foodie taking pictures in a crowded market, make sure you put on your million pound smile and all will be well.
Not before a fishy encore…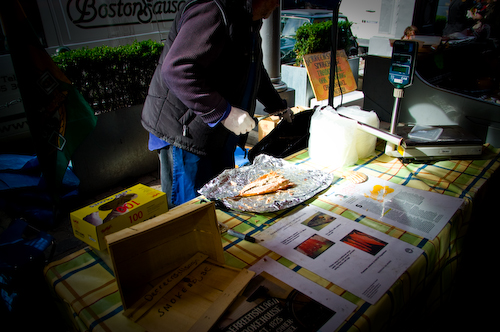 Missed part one? Read it here.
Did you enjoy reading this post? Why not subscribe to my feed updates for free. You can also subscribe via email too, and for free.