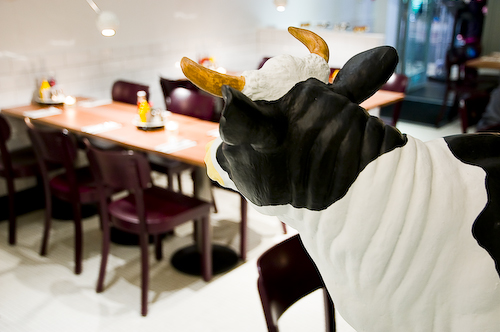 With the explosion of the london posh burger phenomenon at critical mass, I wonder how relatively new boys Byrons stack up against the establishments. Welcome one, welcome all to yet another entry in my loosely connected series of burger posts. Today, I've decided to go mini at Byrons, come join me in finding out if its any good..
Trackback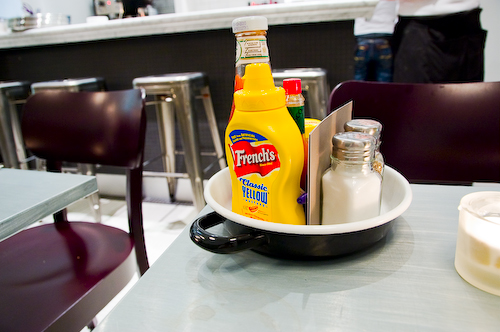 Byron hamburgers are relatively new having opened their first branches just little over a year ago. Most recently they rolled into my neighbourhood on gloucester road and it was perfect timing for me to pay a visit. According to their story, byrons are proper burgers which are made from 21-day matured aberdeen angus beef and the (soft) buns come from a 4th generation family baker in the east end. Truly big words for a humble franchise. It's all well and good to have strong advertising spin – but at the end of the day, do they actually taste good? Bearing in mind the embarrassment of burger riches in London at the moment (GBK, Hache comes to mind..) , the bar has been raised several times – how are they going to compete?
proper menu and no nonsense decor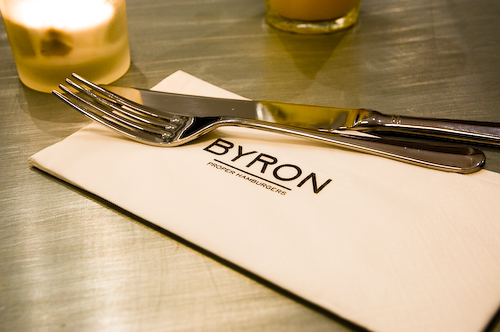 The menu is mind-bogglingly simple… almost too simple in this day and age of more is more. There are really only three choices on offer: beef , chicken and veggie. Naturally, you get to obligatory cheese & bacon add-ons to the classic beef, but aside from that, um.. that's it.
And here I thought the menu was sterile , the decor is a physical manifestation of that simplicity ideology. White walls and soft fluorescent lights with a george foreman quote reading "I want to keep fighting because its the only thing that keeps me out of hamburger joints" scribbled across the wall. The place is also adorned with replica bulls ( in many shapes and sizes ) with cold steel for tables and dark woods for chairs – it feels abit like eating in an empty white kitchen. This place is about as devoid of personality as paris hilton and is quite possibly the most drab and colourless dining space ever. Talk about going proper, even the staff seem stiff when it comes to service… maybe they need to loosen up a little. I just don't quite understand it, simplicity should imply easy going 'we do burgers and do it well'  and not a stuffy ' I know its not a 4 course french dinner, but we do burgers so well you might as well have 4 courses worth'.
At least let mark ronson loose on the stereo or something.
Sliders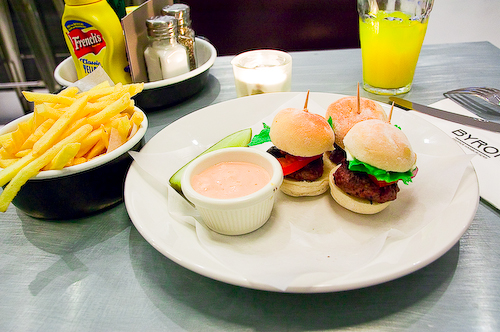 Ramblings aside, all can be forgiving if the food measures up to all the marketing spin. On this occasion, I was intrigued by the mini-burgers options. I was imagining three medium sized burgers, rather than three mini ones… so I thought to myself that this would make it a great valued option. I was looking at their in-house byron sauce special, which is some sort of secret mix of capers, pepper chillies in mayo. Also ordered the skinny fries, I prefer skinny fries to fat chips, they get crispier than fat chips do.
Ok let me start off by saying those mini burgers….. are too small. They are literally three bite sized burgers, while this is cute – I did not appreciate it at all. Granted it costs 25p cheaper than the £5.75 classic option, cumulatively speaking it must be just half the size of the standard burger! It's abit of a rip-off to be honest, being that this place is a proper hamburger place – it really should be mindful of burger enthusiasts who expect burgers to be, at least of proper sizes, even if you are offering a 'mini'. Ok ok, so it does say its mini on the menu, I suppose what I'm after is some sort of disclaimer warning people of the actual size of those things.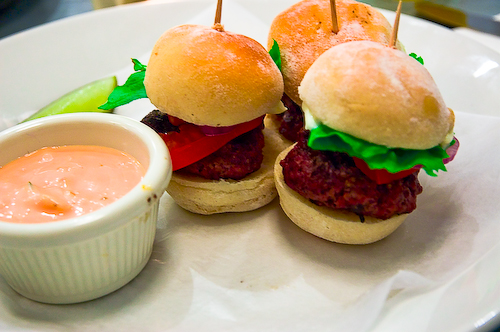 Moral of the story, don't order the minis. Size aside, the burgers actually taste quite nice. I must say, it's a rather refined taste. The burgers are wonderfully flavoursome, definitely held up to their promise of it being totally 21 day matured beef and it is grilled nicely as well. The smokiness wasn't too over the top, rather it was quite delicate and surprisingly, carried very little oilyness. I think the best part of the burgers were the buns. They were indeed soft, but they were strong enough such that it didn't break apart when you bit into it. Very nice. However, while the burgers here are commendable, it wasnt the best I'd ever had. As I said, the burger tasted very delicate, and so it didnt really carry a wow-factor. You know what I mean – that feel-good factor you get when you chomp down a really huge, really nice burger bursting with richness.
I didn't get that.
I did however get a mini wow from the byron sauce. The secret recipe was a really appetising version of mayo with hints of spice and a really flavoursome edge. It went wonderfully well with the fries and I found myself constantly dipping my mini burgers into the mix to enhance the flavour. Looking over the menu, the 'Byron' is one which is topped with their sauce, bacon and comes in at a hefty £8. I suspect that flagship burger must taste truly proper.
Burgering up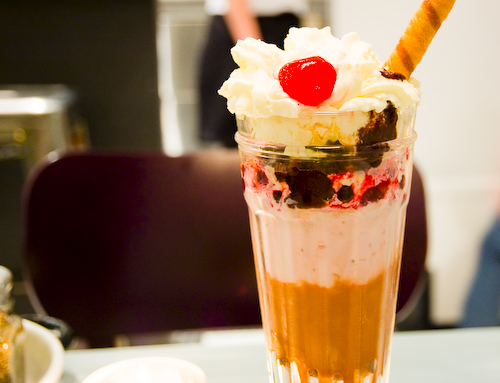 Well, its okay. I finished with this rather unglorified knickerboxer glory which was just bits of cherries and boring ice cream. Overall, my visit to Byron was subdued, seriously this place must have some sort of soul sucker built in because I came away feeling, well… empty. And it's suppose to be a burger bar.
In all fairness the burgers do taste ok, just not great and compared to GBK or Hache, in my humble opinion, byron's still got alot of catching up to do.
If you're pushing for a simple menu, you better make damn sure your product is up to spec, because if it isn't, it leaves little reason for me to return. GBK anyone?
Did you enjoy reading this post? Why not subscribe to my feed updates for free. Alternatively,  You can subscribe via email.

Basics
Byron proper hamburgers 75 Gloucester Road SW7 4SS | 020 7244 0700 How to get there: gloucester road tube station How much: OK, starts at £5.50
http://www.byronhamburgers.com