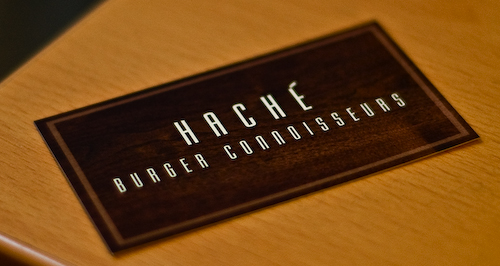 There's only so many ways I can photograph a business card, but that's all Hache burgers left me with after my visit to Timeout's best burger place. I didn't understand their refusal for pictures but I tell you what, I might have just ate the best fish burger… ever.
A thousand words is worth a burger
It's going to be a little different from my other restaurant reviews, in that I was not allowed to take pictures in this burger place. Odd I must say, I wouldn't have expected a chic and relaxing burger bar banning photos of their juicy creations. No bother really, I'm going to do this old school style and flex those copywriting muscles.
A reputation to envy

You should know by now that I hold the timeout guide in high regard. This year they bestowed upon Hache , their best burger award. If you search the web and keep your ears open on the streets, you'll find that there's alot nice words like 'juicy' , 'lovely' , 'delicious' , 'ohh..' being used in the same sentence with Hache. Word of mouth is a pretty powerful thing and you know that just means one thing – I have to check it out.
Hachin' it
Following my visit to burger shack, I've decided to follow up on that review with a loose series of visits to some of the best burger bars in the city. Hache brands themselves as Burger Connoisseurs, that's a pretty bold claim especially when it comes to dealing with fast food. But these days with a general trend towards healthier eating ( even McDs have re branded with 'healthy deli buns' ) , making the ol' burger fit for posh palettes seem appropriate. Besides, I think there's a little bit of burger connoisseur in every one of us. Yes, admit it, you love a good hearty burger.
Constructing the decor
It's wet and rainy as I write this so the atmosphere is alittle dreary to say the least. I am in need of a warm burger to clear those rainclouds. There's two branches one in camden and the other on fulham road. I headed towards the fulham road branch today and it's immediately recognisable as the outside is a beautiful brown wood and does seem to exude the appearance of a connoisseur.
Stepping through the door, I am greeted by loud 80's pop music, pots of green plants hanging off the door, mirrors on white walls and fairy lights in the shape of floral patterns. The lights are low and lend it a an urban candle-lit atmosphere. Also, I should mention the mini chandeliers hanging off the exposed white ceilings with which the wooden beams are visible. The space is very reminiscent of a family run restaurant who've had a secret burger recipe which has been passed down from the centuries. Aside from the blaring 80s music, the restaurant is alive and cosy and is coloured with the brilliant grilled smell in the air.
Something delicious is definitely cooking in the kitchen.
Duck, lamb, fish and anything you can put between two pieces of flour
How many ways can you dress a burger up anyway? It's just meat in buns isn't it?
I got to say, these guys deserve an award just from judging their menu alone; there are a multitude of options available! In addition to the standard beef + innovative add-on , they have options made from english shoulder lamb , dabble with a venison in a rich coating of cassis and even indulge in the aromatic crispy duck option. I mean, seriously, the description of the options alone seem they belong in a restaurant serving proper meals. Do have a read at the full menu here.
Gone fishing
I'm a seafoodie , fresh seafood is just good no matter how you cook it. Being that they are connoisseurs – I just had to order something a little less common to test their mettle. Not that fish burger is a rarity in any case, while I do love the angus option at Burger king, I tend to enjoy their ocean's catch a lot more.
I spotted this on the menu:
COD A CROÛTE. Chunky Cod Steak topped with our chef's own recipe of crust of blue cheese, red pepper, corriander and a touch of chilli … £9.50
Sounds really unique especially that crust with a medley of ingredients. I took the plunge with this. As it's lunchtime ( and I actually just woke up by the way…. so er, it was actually fish burger for breakfast.. ok brunch. ) I also ordered their banana berry smoothie which was frothy and very light as well as some thin frites on the side.
Finally sinking my teeth in
The plate is deliciously beautiful. The bread is a rather dry ciabatta bread, which is crusty but soft on the inside. I appreciate the fact that it's dry because that helps mop up and suck in all the juices from the burger.
If indeed the burger is juicy that is.
Complimenting the burger are the run-of-the-mill fresh and delicious giant tomato slices and super fresh lettuce. The burger is served semi-open, so the fish is exposed. I normally dip my head into the dish when it comes to the table just to take in the aromas of freshly cooked food. A deep breath and I'm just absolutely swooning, that grilled fish smell is very nice indeed. The searedness comes through just nice and I'm in abit of grilled heaven. The first cut and I can see that the fish is just on the side of perfectly grilled. The fish flakes perfectly being that it is just ever so slightly undercooked ensuring that the fish's texture is still not falling apart and thus still has a bouncy bite rather than an overcooked chewiness to it. Hats off to the chef getting the cooking spot-on.
I will note that this is a pretty big chuck of cod, so there's no way for me to pick up the burger and take a bite out of it ( which I would have loved to do, but fearing it may be abit of a messy affair for public eyes.. ) . Wow, wow, wow, the grilled smokey taste comes straight through and it's just so nicely seasoned peppery , a little garlicky and just full of that fresh cod goodness. I have a sneak suspicion the rich tastes partly come from the excellent crust which accompany the fish. The crust is more likely described as a thinly grilled savoury cake of sorts. It's definitely as advertised on the menu being cheesy, peppery and alittle fiery at the end of it as well. I'll note now that while the fish itself is not oozing juices, though it's not meant to be, it does taste just so hearty.
I have got to say, this is an excellent fish burger that is well-executed, probably the best I've ever and miles better than an ocean's catch. This definitely does seem like burger taken to gourmet levels, but thankfully it hasnt taken on any snotty pretentiousness.
Thoughts
I forgot to mention that the frites are very tasty as well. They are fried crispyly and are full of that nice potato flavour. So, at the end of this meal, I am left nodding along to their reputation, I must say I thought I knew burgers but Hache really helped re-introduced me to burgers. Now, if you're clamoring for some pictures, do pay a visit to their website here , but if you are after, dare i say, the best burger in town , do pay them a visit.
Did you enjoy reading this post? Why not subscribe to my feed updates for free. You can also subscribe via email too, and for free.
Basics
Hache Burger 24 Inverness Street, Camden Town NW1 7HJ | 020 7485 9100 or,
329-331 Fulham Road Chelsea SW10 9QL | 020 7823 3515 How to get there: Camden town or South Kensington tube How much: burgers from £6.50 to £10
http://www.hacheburgers.com/