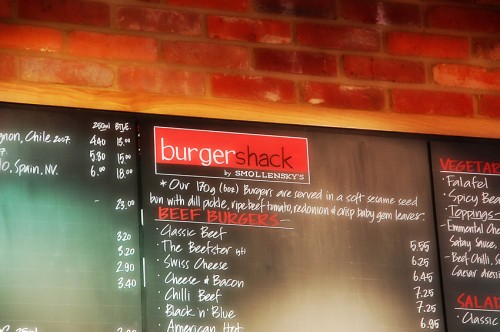 Fast-food is slowly being redressed as proper food. Take burger joints for example. They have been 'gourmet-ised' and have been springing up all over the capital. Smollensky's burger shack is one of them. I get peckish when I'm out and about, so I decided to drop a visit.
Burgering up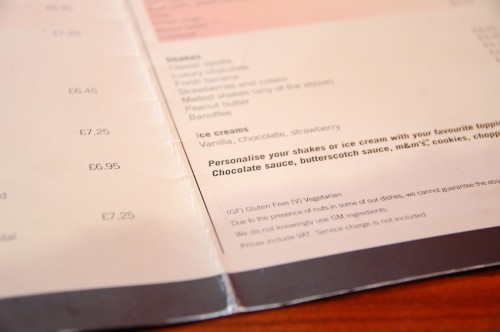 One of the many blogs I read is a hamburger today. I'm telling you, the number of ways burgers can be eaten today is startling. In this post, we have the one pound chateau louise burger which is an absolute beast.
People tend to give burgers alot of stick, yeah sure, sure its not healthy and all that, but think about it, let's throw away the crappy mince and use some premium protein boosting meat. Really fresh tomatoes and leaves. Top up with fresh tomato chutney and some nicely toasted buns and sesame seeds… is it just me or does that sound like ingredients of a balanced diet all rolled into one?
Step inside the shack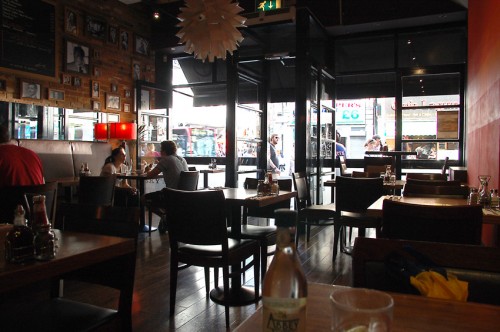 Where all the magic happens. There are 2 branches, the flagship one is in leicester square.  I went to the other one on charing cross road, which is about a 10 minute walk from totenham court road tube station. I really want to talk about the decor because its all dark woods and brick walls, with lots of retro photographs of stars from the 30's. It's a relaxing space to sit down and just chill, read the paper, oh and eat some great burgers.
Grill me, lick me, eat me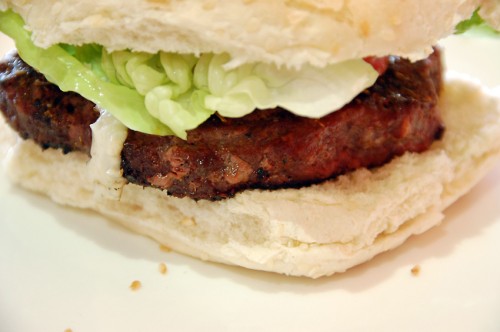 If the burgers don't work, burger shack doesn't work. Thankfully its great. There's alot of different varieties, you can get chicken, lamb, and all kinds of toppings in addition the classic beef. I went for the no-nonsense £5.50 classic beef burger. Affordable. All the basics are spot-on, the toasted bun is especially nice being flour-y enough to absorb all the juices. The highlight though is the grilled beef itself. It's nicely chargrilled with lots of smokiness and the meat is just very juicy. Appetising, my only qualm is that the portion is a tad bit small… especially compared to places like gourmet burger kitchen. 
What say kang the London Eater?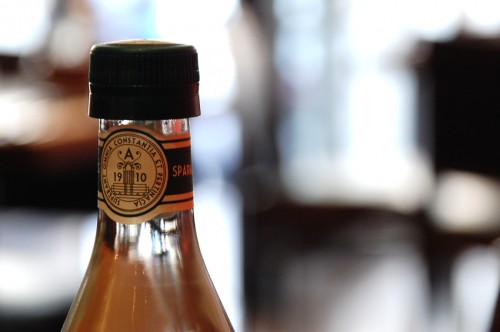 Hey the taste of the beef is awesome. I like it and it's cheap. Definitely worth a visit if you are hunting for a good burger. I think there's great debate over the best burger joint in London. I would say for taste, definitely go for burger shack. But for sheer novelty, value for money then do gourmet burger kitchen. 
Both are great, which do you prefer? 
Basics
Burger shack 17 Irving Street, London WC2H 7AU | 020 7839 3737  or, 149 Charing Cross Road, London WC2H 0E | 020 7287 8728 How much: burgers start from just £5.50
http://www.burgershack.co.uk/