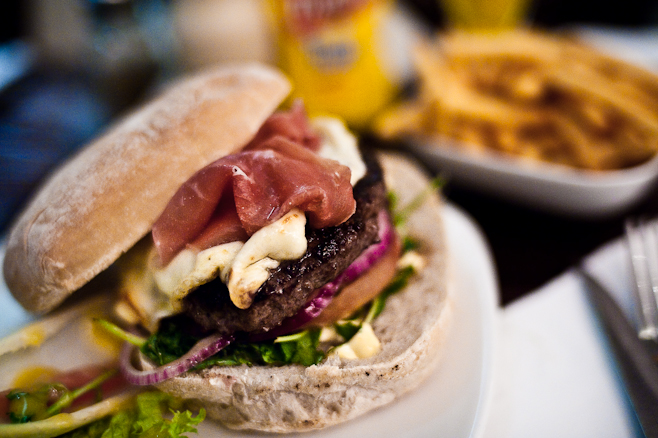 Cast your mind back a couple of years ago and the emergence of the gourmet burger in this country, particularly London. I contributed my two pennies with a burger shoot-out of my own last year, pitching some of the well regarded burger bars against one another. Since then, the momentum for sleek burgers have subsided. And then I saw this post about what our NY cousins have for lunch.. oh man, it blew my insides away and then some. I am told that we are still lightyears behind American burger places. This year's burger battle is a much more quiet affair, I've decided to focus only on the top two burger joints (arguably) in the smoke: Hache and Byron.
I'm no burger connoisseur, I haven't tried every burger in the city (if I had I probably won't be writing this), but I have tried most of the big hitters, and on a pretty regular basis. I live in a unique location in West London where I am within about 10 minutes walking distance from a Byron, Hache and two GBKs. Now, I've heard much about the Hawksmoor burger but that's still on my to-eat list so can't comment as yet. In anycase, feel free to chime in with a recommendation or two if you know something I don't.
The Case of the Byron
When I did my burger battle last year, Byron was still the new kid on the block, but today it is very much 'the' burger joint, springing up in loads of locations (including twitter) and garnering many an internet fan.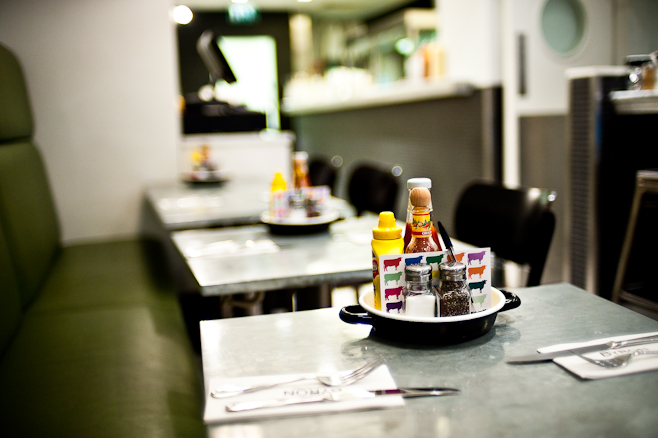 One thing I really like about Byron is that they seem to take feedback seriously and make the little adjustments. Take for instance the mini burgers they once had on their menu – now gone, since people thought the portions were too paltry. Byron are also abit like zen masters, preferring to keep their menu short and focused on the delivery of 'the perfect burger'. Prices start at £5.95 for the classic. Before we get into food, let's talk abit about the atmosphere. I think it reflects the Byron mantra, steely, calm, controlled.
Alright – let's get into the food: We have the blue-cheese burger, £6.95.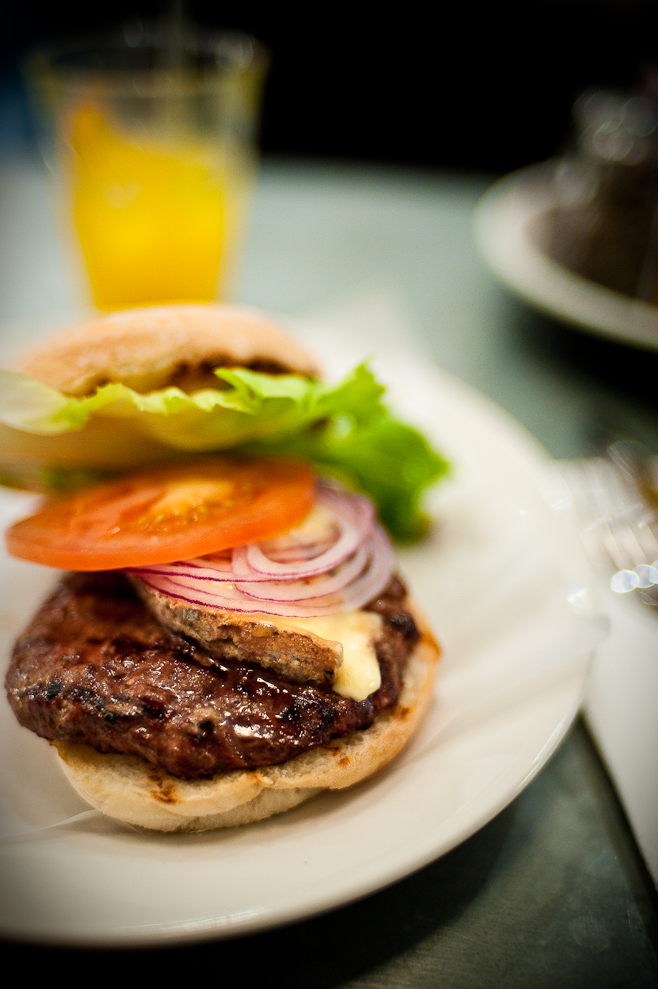 Let me just start by saying that I was the biggest GBK fan, the tomato relish is still unbeatable in my humble opinion.
I pick up a Byron about once a month (because its so close) and over the months, I had noticed how the Byron got better, and better and better. The bun is much like a floury sponge capable of soaking up all the good juices without falling to pieces. I've noticed how the bun seems to get better and better at holding the burger in when you take a bite. Right now, I think it is at that point where it's abit special, and miles ahead of the competition (especially GBK). As for the burger itself, well its juicy, its beefy, its flavoursome and its sizzles; It is very nearly perfect to my humble palate.
The strength of the Byron is how all the elements gel together to form one consistent taste – a signature taste I might add – which leaves a real impression on you and makes you want to go back, which is to say that th Byron is something I can eat again and again and again.
I used to be Byron skeptic when they first came on the scene, but as the months rolled by, I actually think that they are continually refining the perfect burger and they've now got something distinctive.
The Case of Hache
Hache has universally been hailed as the best burger makers in town and few can fault them. Their secret to burger success, is to not to serve burger with their burgers…. They serve steak haches instead. As I said, I'm no connoisseur, but with Hache, I believe the main difference with their burgers is that it is made from chopped steak as opposed to minced beef.
I think the décor at Hache has infinitely more ambiance than any other burger place in town. It has lots of warming lights and it feels more like a neighbourhood restaurant. I especially liked that they were playing Ella Fitzgerald at the Fulham Road branch, it's magic, especially on a lonely Wednesday night. I was glad that they have relaxed their photography policy, which really ticked me off. When I was there last week, they didn't seem to mind my D700.
The Hache burgers are just a tad dearer with the classic steak au naturel starting at £6.95. Now, the Hache menu is much longer and has more variety. In addition to steak haches, there are fish burgers, duck burgers and lamb burgers. I was a little disappointed to see the cod burger being taken off, I loved it when I had it.
Anywho – I ordered the Sicilian: parma ham and melted premium mozzarella cheese, £8.95.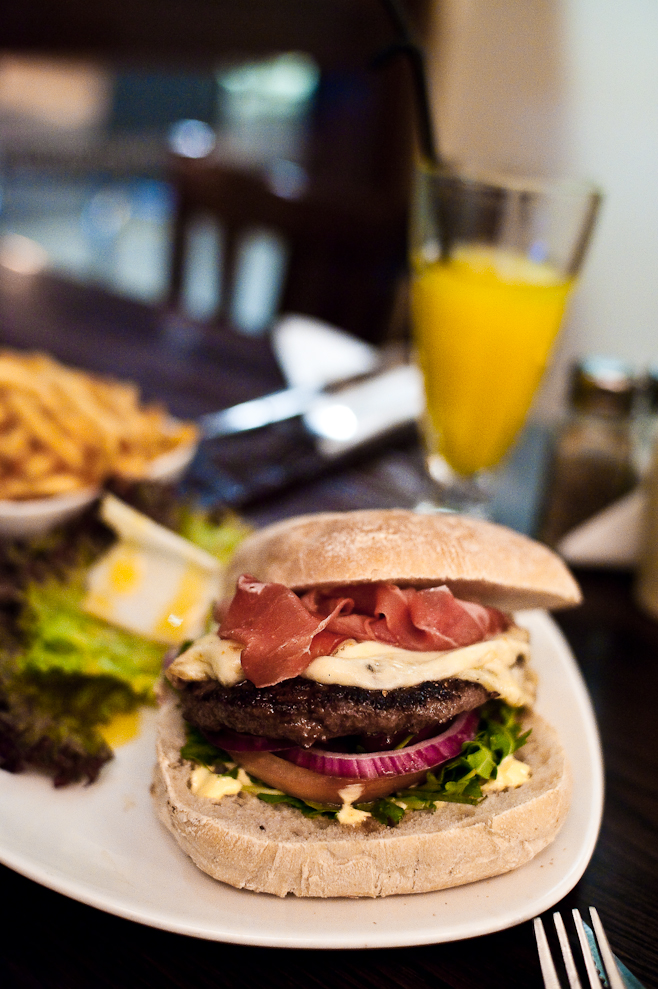 I asked for it medium rare, it was cooked as requested. Tick. The hache texture is rubbery and bouncy compared to a 'normal' mince burger. I was disappointed that my burger was abit dry and unenthusiastic. It was tepid and it didn't impart that grilled sensation. Flavourwise, a lot beefiness but on the whole it didn't feel alive in my mouth. The hache bun is probably its weakest link – in short it's crap. You cannot palm a hache in your hand, this posh cow requires you to eat it with a fork and knife. Not that there's anything wrong with that, but compared to Byron who have perfected the dark arts of the burger experience, I think Hache has lost abit of its bite.
The king is dead, long live the king
I tell you what was smashing at Hache: the mocha (£2.50) , the deep chocolate infused coffee was a devilish way to end my meal.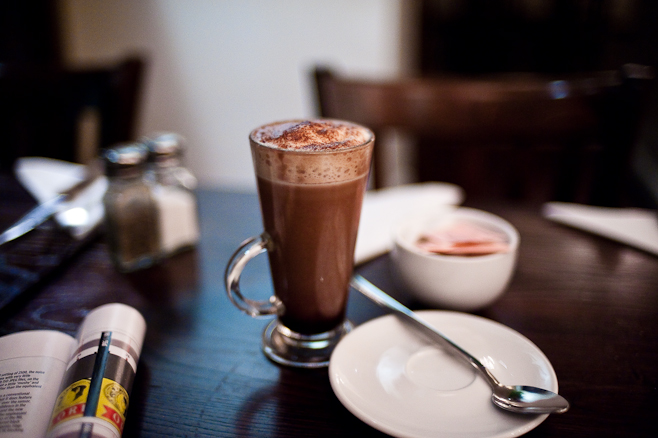 I think Hache has taken a step back, I distinctly remember being properly blown to bits once upon a time, last week it was good but not memorable. On the other hand, Byron continues to wow, everytime I go back, I feel like I'm having yet another enhanced version of an already perfect recipe. I just get the feeling that Byron are obsessed with their product, and that can only be good news for this regular burger goer.
If you have yet to give Hache a try, I would still recommend it because it is still pretty special in its own right. But for me, given the choice, I would go to Byron again and again. Long live the king, baby.
Did you enjoy reading this post? Why not subscribe to my feed updates for free. Alternatively, You can subscribe via email.