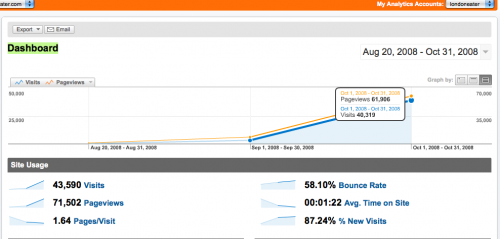 A timeout from the usual eating to talk about site stats. After about 53 posts in 2.5 months, I think it's a good time to stop, wonder and analyse the past in order to find the way forward. I'm following Krista's lead, one of my favorite London food blogs, Londonelicious, and publishing my traffic numbers here.
The raw numbers
I think it's actually quite nice to be able to look back at how many people are reading my stuff and it gives me an indication of what works and what doesn't. I use a number of other programs such as sitemeter and also the built-in wordpress stats program, but analytics has been there since day one.
Let's start with a breakdown of the last three months:
August : 923 pageviews / 118 visits
Hardly any visitors in the first month, understandable really as I was mostly spending the time tweaking the site and changing things up. In fact, if you go through my august posts, nearly all of them are about site construction.
September : 8673 pageviews / 3153 visits
Construction continued well into september and it wasn't really until mid-september that I started posting on a regular basis and get all my pages up and running. Joined Foodbuzz, started my stint at Metrotwin and also started a presence on stumbleupon. Interestingly, I actually started London Eater while I was away on assignment in Wales. Spent two months in Wales and returned to London in early october.
October : 61,906 pageviews / 40,319 visits
Just in time for the ramping up. The majority of visitors read my eating in the dark post and there is a good spread of visitors reading all my other stuff too.
To date, I've had 70,000 pageviews, with just under 60% bounce rate and an average site time of 1:22 minutes. I'm not really sure what benchmarks to compare these numbers against to be honest, but I've always said to myself that if I have at least 100 readers per day, I would be quite satisfied.
Content Drilldown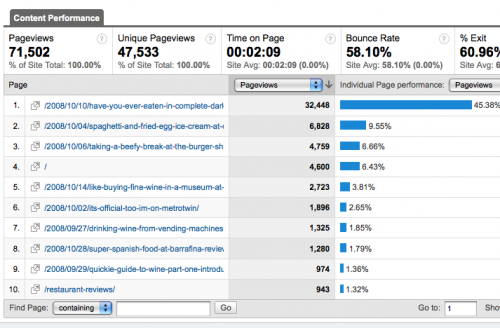 This is probably the most useful stat to a blogger, it tells me what you really like when you come to this site. And 45% of you tell me that you want more of the eating in the dark post. That's a staggering stat line which I don't think I can replicate again. I mean, I can only eat in the dark so many times right? Joke. Cue Laugh?
The next two leaders are my visit to ciao gelato & my first burger visit to burger shack. And then after that, it's starts dwindling.
Let's break that down a little bit. The top post is about 1400 words , while the next two are around 500 words long. Most of my reviews are at least 1500 words I think, but they are hardly breaking into the top ten. I've always thought that my wine posts would be second best to my restaurant reviews, but clearly the reverse is true. Number 5 , 7 and 9 are wine and only a visit to Barrafina is in the top ten. There is one common theme with all these posts – their headlines. Incidentally, these posts are the ones in which their headlines I have spent the most time constructing. And it looks like that's time well spent.
Discounting my eating in the dark post, I'm getting about 500 views for all my other posts.
Content Structuring
Top bloggers always say that the recipe for a great blog is content, content and more content. And dash of blogging mojo.
I follow some sort of formula here when writing my posts and rarely stray from food. I keep my personal musings to a minimum, then again it's not really difficult since I think about food all the time 😀
I broke my posts down into categories:
Reviews 37.78%
Personal Musings 22.22%
Just food 17.78%
Wine 17.78%
Sweets 4.44%
Being that this is a restaurant review site, I spent almost 40% eating; 20% rambling about everything else and the rest of the time is an almost equal split between food & wine. That's not too bad really, I think the 'pillar' posts are quite well established, especially now that I've settled into a rhythm of posting every other day. Perhaps now is a good time to start branching out a little?
Is it a masterplan?
Who knows.
I do know that I want to keep creating new & exciting content that is both digestible and delicious. That's always been the priority. I can reveal some of my more imminent plans for the immediate future:
Start Twittering. Already started this, you can follow me here.
Start a bi-weekly newsletter. I've even got a name for it 'London Eater presents… Digest'. Been toying with the idea of a bi-weekly food/guide to london e-zine. Don't know how it's going to work, will let you know when its first published and throw in a free gift so make sure you subscribe 😀
Branch out my writing. One word: Opinion. To date I've not written any editorials, maybe it's a good time to start squeezing some in, you can be the judge of whether it works or not.
Site upgrades: Im fairly happy with the site design so far to be honest, but there's always room for improvement. I have some ideas about sidebar mods, like adding twitter for example, or maybe a photostream of some sort.
Great British Exposure. I've started to farm out links at Urbanspoon and Dine-Online, which can hopefully increase my exposure to the UK eating world. I really would like to catch more UK readers since right now, they only make up about 20% of traffic. Funny stat really, I always thought the majority of readers would be local, but it doesn't appear so.
Increase subscription numbers. Apparently an important stat to blogs. I think the major issue with this is advertising it correctly, ie , making it clear what RSS actually is. The newsletter's main aim is to increase this number really. Although, I still believe that longevity is based on truly great content.
Site Tour/Landing Page. I'm working on this one as I was speaking with one of my mates who suggested he wanted to 'see everything on my site in two minutes' . I suppose it's a great idea, will give new readers a cushioned entry into the world of london eating. Chomp.
Last but not least, Your feedback
Firstly, thank you all for reading London Eater, it fills me with all kinds of fuzzy feelings knowing that you enjoy reading my stuff, I will strive to keep content fresh & exciting, so please do keep coming back.
I'll appreciate any feedback you offer, although I particularly want to know what you think of a newsletter arriving in your mailbox every other week, will be short and concise, containing a few pictures of sumptuous food, a short editorial and a few dates/events coming up in the next few weeks – would you subscribe to something like that?
Did you enjoy reading this post? Why not subscribe to my feed updates for free. You can also subscribe via email too, and for free.