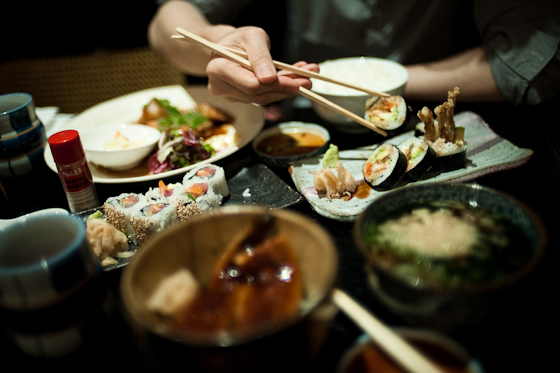 Hands up who caught the repeat of 'Dawn Porter: Geisha Girl' last week? I have it recorded. For me, Japan is a beautiful country; Their rich culture is evocative and it is a country that is high on my list of holiday destinations – especially the thought of sampling 'real' sushi. Luckily for us, Japanese restaurants have sprung up like busy sushi trains over the years and we Londoners are able to sample very capable pretenders. While the glitterati continue to dine out on overpriced stylised substance in the plentiful high end market, there is also a cluster which caters to the budget friendly who might enjoy a quiet sit-down lunch, as opposed to stalking Cheryl Cole.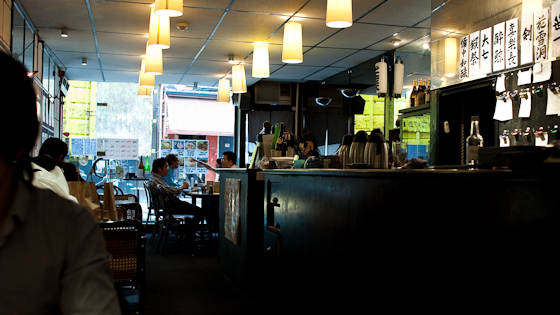 Enter Tomoe, comfortably embedded in the Marylebone quarter, this humble sushi joint has mainly received positive interwebs press from 'New Media', some even call it a sushi heaven. I must admit, I haven't been sushi hunting in the past few months, since I usually get my hits at Sushi Hiro which is only a 10 minute tube ride from my workplace… however, Hiro has been closed for a good MONTH this summer. I was actually standing in front of Hiro's kicking, screaming and blaming, and that's when I realised it was about time I looked for an alternative. Forty-five minutes later, my brother – kicking, swearing and complaining – and myself arrived at the darkly environs of Tomoe. The place felt out of sync with the pace of the city which invited us to sink into our seats.
You know what to expect in a sushi joint like this one, and unsurprisingly we've opted to start with sashimi.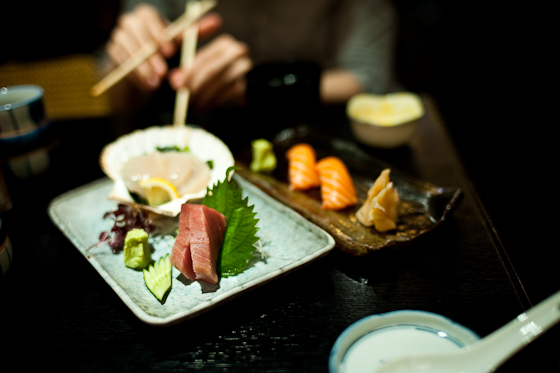 The sushi is not entirely affordable but not overly pricy either. Three slithers of scallop (which I think is cut from one scallop) and two meagre slices of 'fatty tuna' , priced at £7 and £8 respectively. Yup, five slices at £15, that's £3 per bite. Yikes. The scallop was sweet and silky, but the fatty tuna was ordinary, it was so lean, it could have easily been cut from Arnie's belly when he was still making movies. We stopped short of the full-fat belly tuna because it was just too expensive, at £13 – it was far, far too much money. Of course, I had to order my benchmark salmon nigiri since it is usually quite affordable and this was £1.80 each. Alright, call me a sushi snob but I was stumped with the salmon brick that landed. While I'm no sushi slicing expert, the nigiri was too thick and that mean it didn't dissolve in my mouth as I expect good sushi to do. I like my sushi to be so fragile and oily as opposed to chunky and chewy. I noted the same chunkiness with the tuna bricks as well. In fact, they were so upright that they stood on the plates without support.
Monumental failure in the 'traditional sushi' department I'm afraid, at nearly twenty quid of non-existent portions, I had hoped that we were paying for quality, but that was equally absent. Luckily, the high costs were limited to just the sashimis as the sushi rolls were much more affordable. Spider roll at £7.90.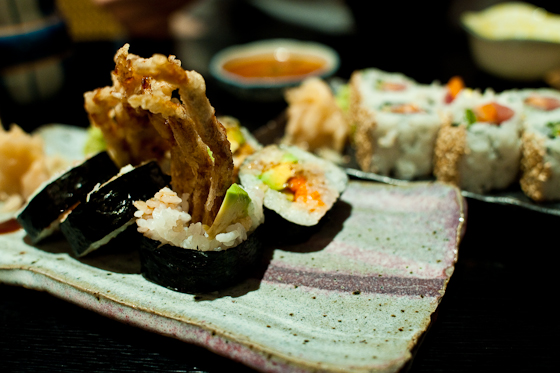 Stuffed with deep-fried soft shell crab, avocado, fish roe and abit of spicy sauce, the roll was every bit the delight. The rice was sticky and oily, the avocado was a melting pot of texture and the soft shell crab was crunchy and appetising.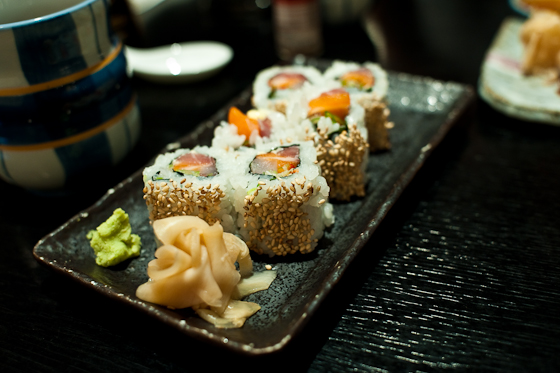 Also good were the three fish dynamite roll (£5.70) with a sesame seeded crust and a trio of rainbow colours. The spicy paste it was rolled with provided just the slightest of dynamite punches (ka-pow).
So far Tomoe sushi has failed to excite me, its not better (or worse) than some of the respectable places around, and I think it is fair to say that one gets what one pays for. Luckily, one's meal did not end there, as we moved to the lunch menu. A breath of fresh air, the prices are altogether more pleasing mostly in single digits and our options opened up dramatically. They have an expected range of meat on rice combo, but they also offer a rice+noodle+meat combo as well. I went for the unagi on rice with soba noodles (£9.90).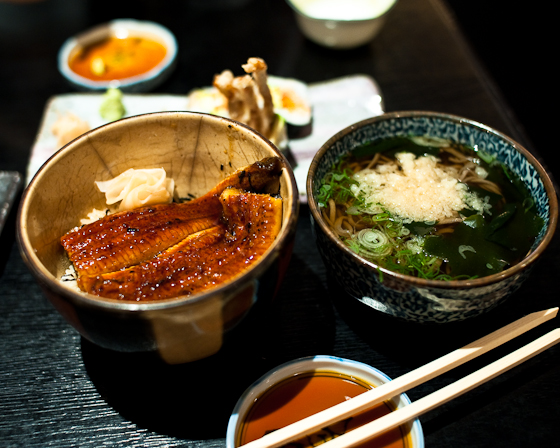 At a tenner this was a right steal. They had suggested a small bowl, but instead it was two large fillets of eel. I love unagi by the way, and I was really chuffed with the portions. As expected, the unagi was a puffy, silky and aromatic liquefy-in-your-mouth sensation. Wonderful stuff, with an equally delicious bowl of soba full of stocky flavours. A one plate meal onto itself.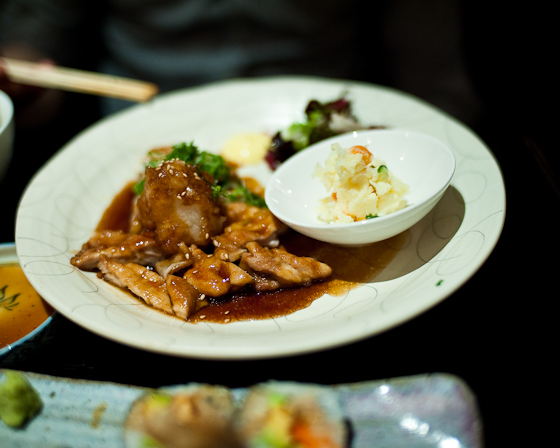 My brother chose the chicken teriyaki set (£8.90) – another excellently valued selection – which comes with a small dollop of Japanese style potato salad, rice, miso soup and a small bowl of fresh salad. Tender cubes in a home style gravy, we were both enjoying this part of the lunch so much that we fell silent and heartily munched our way to happily ever after…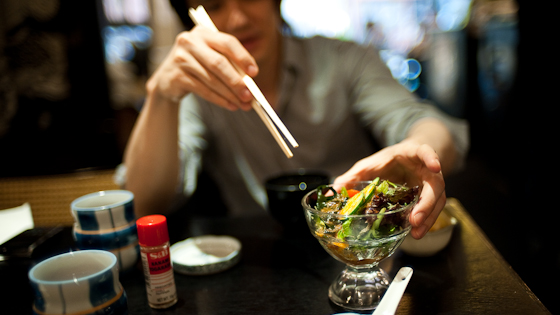 …. I would not go back to Tomoe for sushi. While the fish was unquestionably fresh, I believe good sushi also takes skill in preparation, and in this department, I think Tomeo falls short. I'll reiterate that I am no fish slicing expert (perhaps one of you can contribute to this subject in the comments section) but I have had a lot of sushi over the years, and I do think that good sashimi is much like a sculpture which requires the delicate attention of an artist to chip away the rough bits, leaving just the bits that please. Otherwise, I may as well get a special order of sashimi grade fish from James Knight and knife it myself, at wholesale prices. On the other hand, I would return to Tomoe for their excellent cooked food. The unagi in particular was a real winner.
PS: The last photograph is an exercise regarding the beauty of Bo-Ke (Japanese term which describes the subjective quality of the out of focus areas in a picture), analogous to Umami. Have a great weekend folks.
The Gist of It
Tomoe official site
£25 per person
62 Marylebone Lane W1U 2PB
Tel: 020 7486 2004
Tube: Bond Street or Baker Street
Like this blog? Why not subscribe to the email newsletter ; alternatively you can subcribe to the RSS feed.