I wanted to come up with a big headline, but thinking about it, there was really only one emotion. Getting awards from fellow food bloggers is just rewarding. I must say, it's really quite uplifting knowing that there are people out there who read my posts and also enjoy reading them. I am (almost) lost for words. What's even more awe-inspiring is that I not only received my first award.. but I got my first four in the space of two days.
My first one, the Premio Arte Pico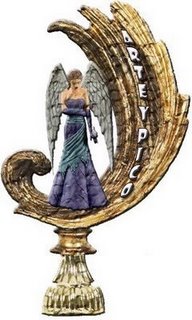 The first one is always so special. I received the Premio Arte Pico from Jo over at the adventures of kitchen girl . This award has an interesting background, in that it originated from a blogger who makes all kinds of interesting looking dolls from knit over at Arte y pico . The blog is written in spanish so I sincerely hope nothing was lost in translation when I described her stuff.
Accepting this award comes with the following rules:
Pick 5 blogs that you consider deserve this award, creativity, design, interesting material, and also contributes to the blogger community, no matter of language.
Advertise name of the author and also a link to his or her blog to be visited by everyone.
Each award-winner, has to show the award and put the name and link to the blog that has given her or him the award itself.
Award-winner and the one who has given the prize have to show the link of "Arte y pico" blog, so everyone will know the origin of this award.
Share these rules.
I like this part, this award is not really about me, but it's more about the great foodbloggers who have inspired me, with that I pass this award along to…
Jo, this one is indeed special as it is my first.. that you so much for it!
The fabulous food blogger award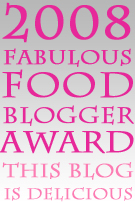 Jessie who runs the wonderful hungry mouse blog gave me this one today. I have to echo her words in her post , there really is a big community of super nice people in the food blogging world. Jessie is surely one of them :D. She has some really interesting recipes and memorable as well, because she captures the entire creation process of a recipe in pictures. Everytime I read one of her post, I always wish I could be right there in the kitchen watching her work her magic.
I particular enjoy this post which is baked chocolate french toast served with fresh cream , and then she goes and thoroughly blows my mind with this post , in which i expected her to review an interesting bottle of maple flavoured whisky….but instead she makes her own ! That is just plain cool.
The double E is for Excellent
This came as a delightful surprise. I received this award twice! The one on the left was given to me by April over at the hungry engineer and the one on the right was given to me by Reeni who runs cinnamon spice & everything nice. April, Reeni thank you so much! As I said earlier, it really does mean so much when fellow foodbloggers recognise my stuff, it's just such so inspiring!
The rules of receiving the award is as follows:
Please find 5 blogs, of any kind that you love to read. Write a post about the blogs you picked, linking back to them. Make sure you let them know you gave them an award.
There are so many excellent blogs out there whom I think thoroughly deserve this award, here's five:
Here is the next five which I am passing this award along to:
This has been fun, hope you guys enjoy the awards and thanks again Jo, Jessie, Renni and April; you guys are awesome, keep the great posts coming and have a great end to the week.