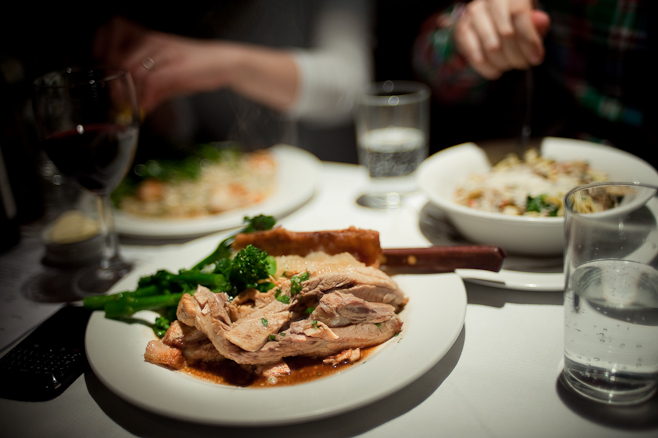 Getting a table at this rather cosy restaurant is a bona fide challenge, even in light of its rather low-profile existence. I don't think it has a web page. It does however have a fervent following spreading the good word on the intertubes. Twitter was equally in love with Andrew Edmunds (same people perhaps?). I pieced together a coherent picture of this hidden gem of a restaurant through the online dining community channels, which I am unofficially apart of. Enthusiast restaurant collectors abound. I failed to secure a table on three separate occasions, but I persisted anyway till I managed one in earlier this year. I needed to try Edmunds because it intrigued me so much. The last time I felt this way was discovering the equally elusive Dinings.
I was to meet with two of the coolest peeps who run two of the coolest websites on the internet. Helen the former world foodie guide and now a living legend in internet foodie terms, so to speak; Garson the consummate street photographer, custodian of the 'Garson blur' and my unofficial mentor of sorts, I've learnt so much from him already. So Food & Photography. I couldn't be in better company. It was a slippery Friday night in January, the snow refusing to melt from the storm which had hit us the year before. The front door at Edmunds was as grey as the January gloom. I was a little surprised at how modest the décor actually was. The restaurant was well-worn, but well-maintained and with an aged character that felt genuine. Space was necessarily wanting. Twisting and turning as I made my way past the narrow gaps in between the backs of chairs. Our table was in the basement, the chatter cuts off as I enter the cellared surroundings. I prefer the upstairs area, where the lowly light ambiance is as romantic as word of mouth suggests. The menu was a hand-written photocopy, perhaps a suggestion that it is refreshed on a frequent basis. A mix of efficient British and Eurocentric recipes, dare I say, a kind of precursor to gastropubs. Anyway let's just dive into the food.
I started with the roast woodcock on toast.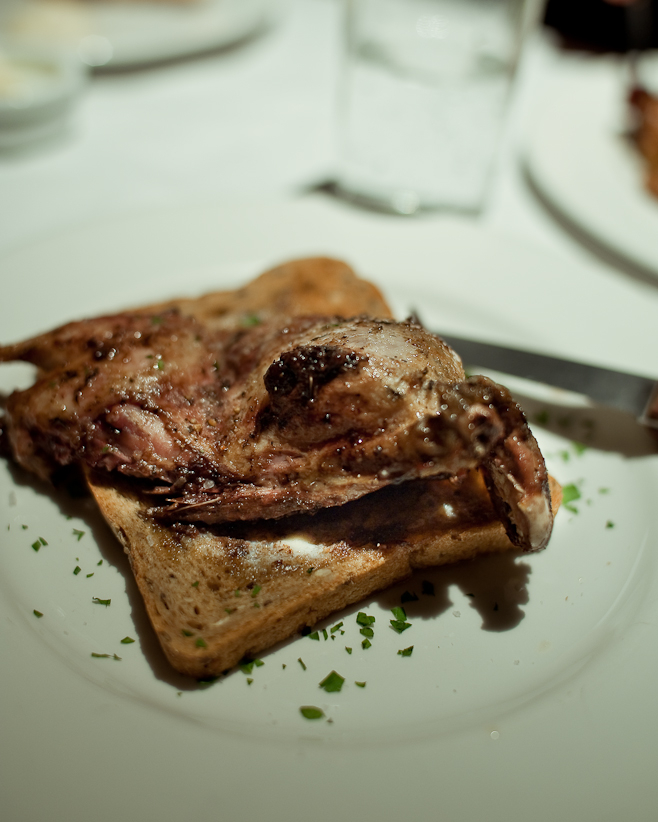 The natural game saturated my palate, heavily-seasoned, and with an intensity just enough to distract from feeling the pinch of the game. Complete with a lovely baked comfort and a texture still juicy, with the bird just a tad pink. Oh I loved this, such a rustic accomplishment.
And here are a peek at what H and G were having.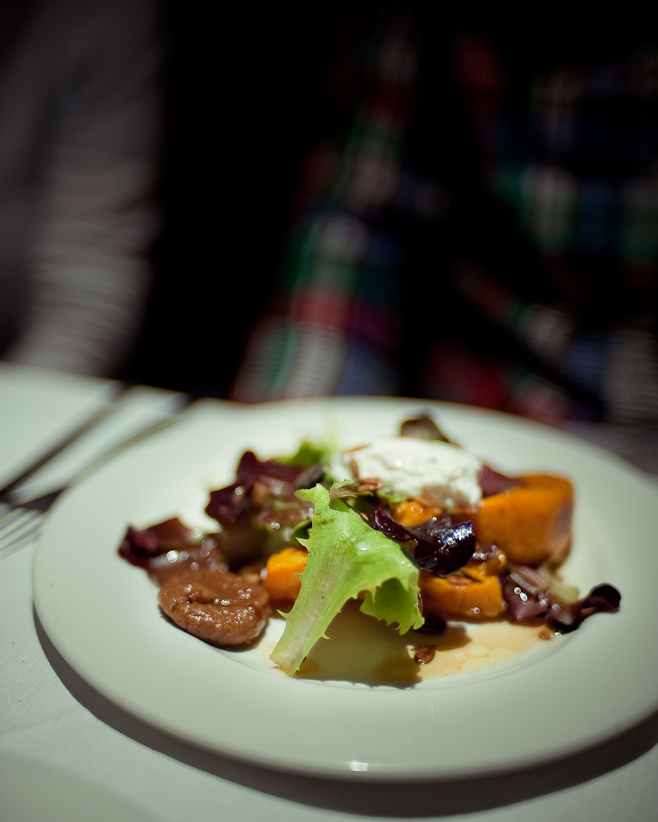 G is vegetarian, so naturally he had a salad. Fortunately company was so unbelievable good that I forgot to jot down what he had. He did appear to have enjoyed it though.
And here is Helen's dressed crab.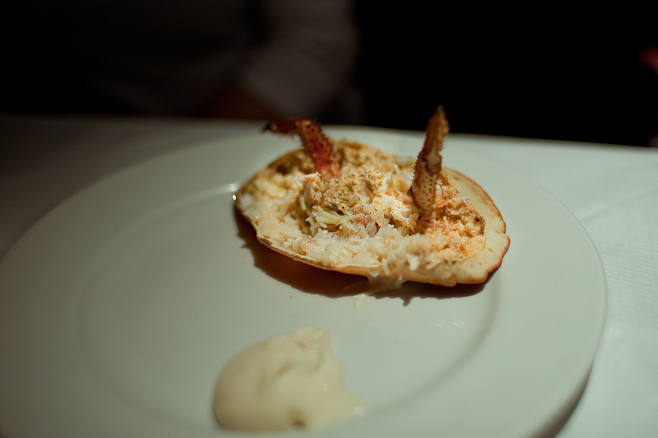 I found their choice of (or lack of) styling quite abit puzzling. The distance between the shell of the crab and the dollop of aioli (or was it mayo?) made it look so empty. Helen also seemed to have enjoyed this.
This is one of those rare occasions where I behaved myself and didn't reach across the table to steal food from neighbouring plates. I tend to think of it as a sort of 'Blogger tax'. Blogger tax usually comes with a 2 minute wait, for photos.
Helen's scallop risotto.
Ah, this I did have a small sample, not enough to deliver a full blown assessment, though my tastebuds did register a similar response to its heavenly appearance.
G's mushroom tagliatelle.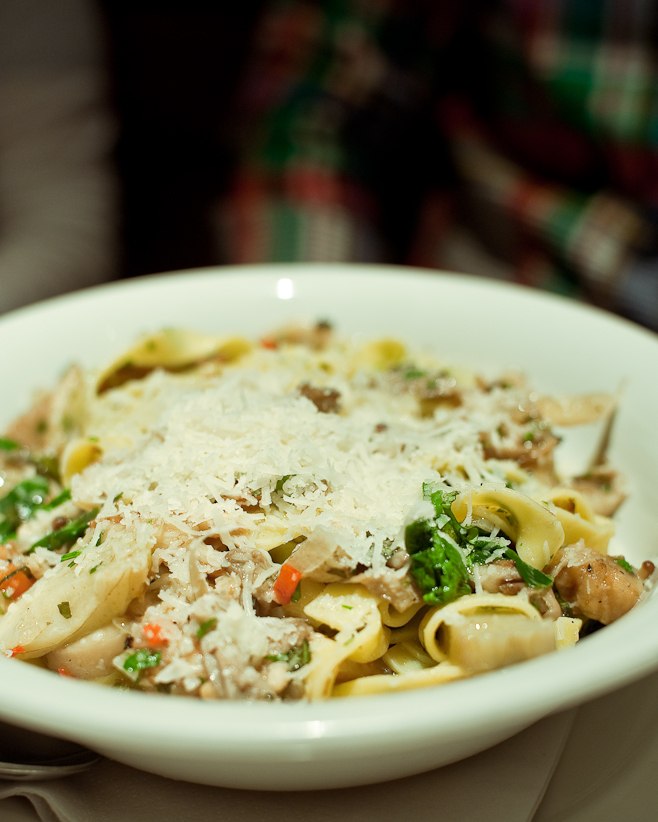 I noted the substantial portions of every course, it seems the chef is genuinely in the business of satiating appetites. I didn't give this a go, but G seemed pleased with it, it was redolent.
And finally, my turn : Pork Belly, apple puree, mash.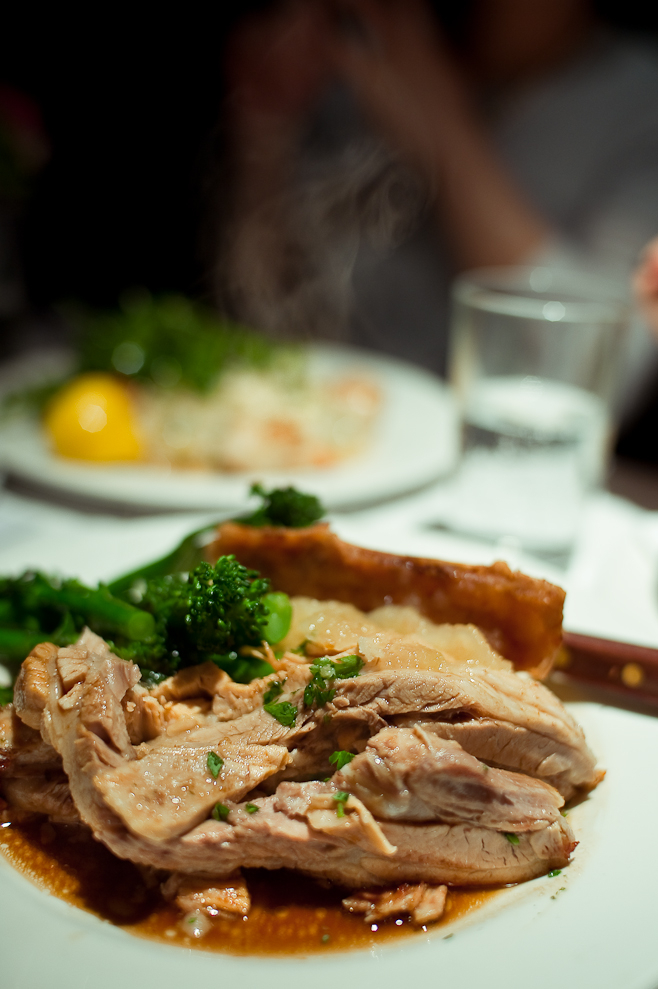 I was bemused when they handed me a large knife, but it all made sense when this dish landed. A herculean plate of food. Chunks of sliced pork belly glistened under the spotlights, it looked so good, I was struggling to refrain myself from poking a finger as I took pictures. Hearty and homey aromas steaming quite visibly from the meat. Oh gosh, what regal texture. The juices go everywhere as I bit into it, so hearty and so beautifully roasted. The mash was equally so, buttery. The best bits though were the apple puree and a large slab of crunchy crackling which they had left to one side on the dish. I picked it up with my hands and ate it like I was chewing down on a Cuban. Not that I smoke cigars. What a remarkable example of this most classic of dishes.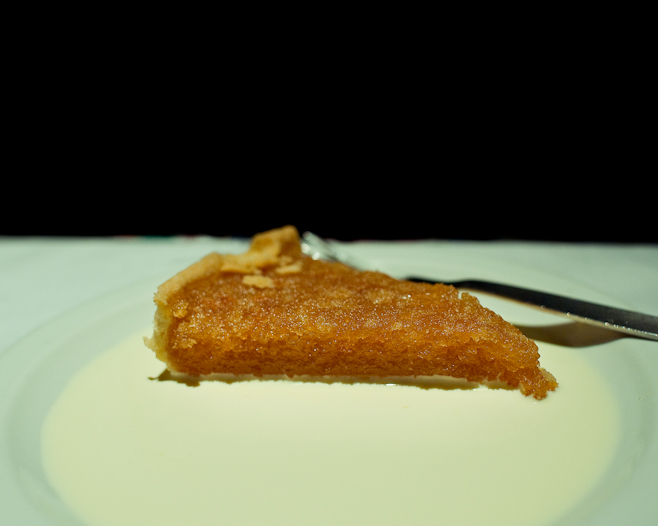 We each ended with rather safe if classic puddings. Treacle tart, toffee pudding and a slice of white chocolate, pistachio cake. All in all… G very kindly paid for the meal, so I need to thank him for this. I've promised to return the gesture on our next meet. Yeah I believe it. I can seen why the Edmunds charm has seduced so many. It was fully booked on a Friday evening, barely room for outstretched elbows, or even to undo the top button on my trousers. I thoroughly enjoyed my meal at Edmunds, not for phenomenal nor ground-breaking cuisine, but for recreating solid recipes which were – very simply – cooked well. It is completely unpretentious, is a place I would not hesitate to revisit, and also is a restaurant which I wouldn't mind taking visitors to; something uniquely local. I can think of mustier, smaller and older looking joints in and around Soho for those of you searching for evocative romantic evenings, but many will not match the kitchen's output at Edmunds. Maybe Giaconda Dining Room. I would put both restaurants in the same category. Soho's modestly hidden British restaurants, reticent, accomplished and comforting. It is discoveries such as this that make the hunt to develop a palate such an exhilarating adventure. I do wonder about the history of it's name, though it might be better if I never found out to protect its mystique. Recommended.
The Gist of It
Andrew Edmunds, £30pp
46 Lexington Street, Soho W1F 0LW
Tel : 0207 437 5708
Tube : Leicester Square
Reviews elsewhere : David Sexton ; TimeOut London ; The Silver Spoon ; Intoxicating Prose
Did you enjoy reading this post? Why not subscribe to my feed updates for free. Alternatively, You can subscribe via email.