The sun came out last weekend after grim forecasts that it was suppose to be a wash-out. Life, often strange and unpredictable, always seeks to surprise doesnt it?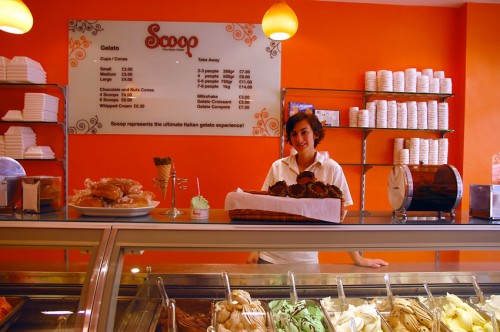 Hot weather can mean only one thing after spending hours pounding the streets of London, ice cream.
the five families of gelato
We're fortunate to be blessed with family run businesses setting up shop here in the UK. Especially in London where you will find lots of italian gelato shops and most of them are located quite centrally too. Scoop is in the heart of Covent Garden. It is a little hidden away, on one of the side streets behind the Marks & Sparks outside the station. It'll be abit of a treasure hunt, but once you find it, its like you've struck a gold mine!
In case you didn't know, gelato is Italian ice cream made with all the goodness of milk & cream. The hallmark of gelato is the dense and creamy texture, I would say almost sticky nature. This is opposed to something like soft ice which is light and whippy. Gelato is generally made with less than 55% air, thus giving it the luxurious feel and making it, in my opinion the king of ice creams.
the scoopy story
A quick gander at their website and philosophy : "Scoop introduces for the first time in London the pure italian gelato experience."
Wow, these guys sound serious, their ice-cream is not just cold milk & honey, its an experience. With such a bold selling point and the fact that the sun is melting me by the minute, I had to indulge in the pure Italian experience.
lets talk flavours
There are a lot of flavours to choose from that generally fall under either the sorbets or the milk based stuff. Among the sorbets you'll find a pretty formidable list including pear, pineapple, watermelon, melon, blueberry.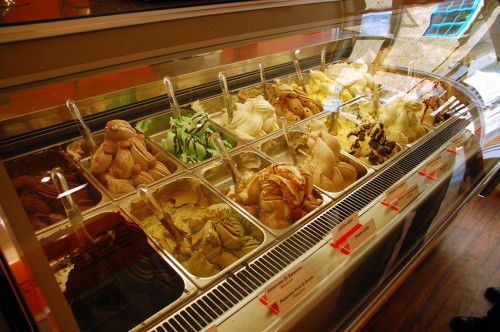 The gelato selection feature a few famous italian puddings such as tiramisu and panna cotta. Some of my favourites are fior di latte, cookies and cream, triple chocolate and stracciatella.
Do have a quick flick through scoop's flavour page here. They give a pretty insightful look at what goes into their product and what each flavour really means, its clear ice cream flows through their veins.
So how good is the Italian experience?
I got to to admit, it's pretty damn good.
Generally speaking, the 'base' of the product is very rich and creamy, but it won't make you queasy. The flavours are all very nice and does indeed taste 'real' as opposed to being artificially too sweet. Comparing against the benchmark Haagen Daz line, Scoop gelato is a little lighter, more balanced and less sweet and for some strange reason, it taste livelier, like it's indeed more 'fresh'.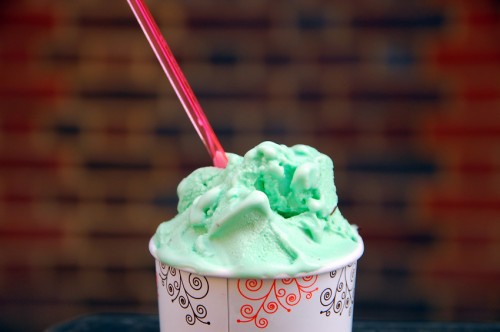 Today I had the green mint flavour. Look at how vibrant that green is! It taste exactly what mint should do, its just so nice.
Scoop also doubles as a cafe too, I never got round to trying the cafe bit, but something interesting, is that they make ice cream cakes, and they deliver. Something to consider for any upcoming celebrations perhaps?
Bottomline: It's so good, if you scoop that special someone you've been after all this time – she might just say yes.
Basics Scoop Fine Italian Gelato 40 Shorts Gardens London wc2h 9ab | 0207 2407086 how to get there: covent garden tube station how much: money is no object with good cream..but just in case, £2 per scoop