Isn't he just the minimalist. Sushi ya or Sushi house/restaurant (すし 家) is one which has built up a quite the following since it opened in 2012. The Itamae fronting this is Takao Ishiyama, barely 30, who has been widely lauded for his potential as the future of Ginza Edomae.
His popularity is partly due to his 2 year stint with the mythical Sushi Saito, and thus a seat at Ishiyama san's counter is (probably) viewed as entry-level access to his former mentor's gold-dust, as bookings to Sushi Saito are increasingly harder to come by in recent years (FYI you can also try Kubota san at Saito's KL branch, Taka in St Regis KL).
Ishiyama san has also (mainly) cut his teeth at Sushi Kanesaka -like Takashi Saito- to the tune of 5 years and you'll recognise the lineage (in a way, these are 'Sons of Kyubey') through his fundamentals including his shari (rice), choice of neta (topping), the overall composition/flow of meal, Kanesaka's (who is his backer) red noren curtains and emblem.
side note: I've only ever managed a single visit each to Kanesaka (Honten 2013) and Saito (carpark, 2012), both meals to my inexperienced palate were brilliant. Though Sushi Saito was head and shoulders exceptional and for me is benchmark sushi. Mainly, I think Saito san's edge is down to his shari – perfectly warm, richly seasoned, individual pearly grains of eerie perfection.
We visited for lunch where two options were offered. The better half chose the base model of 10 pieces for ¥4500; I chose the 14 for ¥8000, i.e. 4 extra premium pieces.
I wouldn't say I ever noticed the overt theater during my meal at Sushi Kanesaka – in which performance on the 'stage' is an integral element of the meal – but here, Ishiyama san has most definitely taken those ideals to the next level.
He doesn't freely interact with diners, instead he goes into -what I'll describe as- a trance. Melodic and balletic, every motion considered and a little poetic; from the careful slicing and delicate shelling, to his eventual forming of each piece.
He definitely projects his feelings outwardly to his diners, the bowing of his arms, the swipe of wasabi, the gripping of shari, then neta, then neta-shari-warmth of palm. He stops, he blinks, compresses, blinks and so it goes. A rub of soya here, a dab of sudaichi there before landing in front of you. This Lang Lang of Itamaes is a performance art unto itself (he does have long limbs) and it is certainly beautiful to watch his distinctive style of preparing sushi.
Does the theatre then translate in taste? Specifically, does he come close to great Takashi Saito? For certain pieces, absolutely yes, especially his white fish, in fact the very first piece of hirame/flounder, a well-bled opalescent gossamer; fatty yet crunchy and so sweet. Pressed into subtly seasoned and warming shari – a miracle in a mouthful. Kampachi (amberjack) and then Chutoro (from Oma) followed and they too were equally marvelous.
While his rhythmic performance did not waiver, the consistency in taste did as the meal wore on. Zuke akami (marinated lean tuna) while tender was soaking wet and overly salty. Verging on too soft as it had probably spent too long in the soya marinade. Ika (squid) was crunchy and pretty good, but just missed the taffy-sweetness from knife work of more experienced hands. The poorest point in the meal was at half way during rice change-out. The preceding piece had shari that was cold and sticky (quite terrible actually) and the piece immediately after, formed with freshly steamed rice, was so wet that beads of rice slid off and the shari just disintegrated as I attempted to lift it off the plate.
I also thought his vinegared pieces were off balanced, the kohada in particular was over-pickled beyond belief. The 'pink' ones like the shima aji (stripped jack) and aji (horse mackerel) were a little ordinary, it was the stench that put me off, where I was expecting a cleaner profile. While his saba bozushi looked the part, it tasted unbalanced (too much ginger, again over-aggressive acidity), unfortunately paled in comparison to Saito's version.
Although, I easily overlooked these shortcoming, as it was clear that most of his energies were pooled into the remaining premium pieces.
Botan ebi (prawn) expertly shelled in Ishiyama san's inimitably delicate fashion. Aburi of Kinmedai (Golden eye snapper) ,salamandered until its surface was a moist and firm mi-cuit of white-pink covered in its own oils, was complex and incredible. Then finally to the Bafun uni from South Hokkaido, served ice cold as gunkan which was 100% umami. For that brief moment in time, I clearly felt I had tasted the very definition of Delicious. Superlative work.
The last savoury pieces of smoked baby tuna -the taste of burnished hay meeting sweet natural flavour- and anago -toasted sweet and savoury like buttered French toasted- confirmed Ishiyama san's talents.
After the finish, I opted for an additional piece of botan ebi (¥1000 supplement) as it was my favourite of the meal. The shellfish was of incredible quality during my visit. Pure, creamy, clear, sweet, pearly and (nearly) perfect. Zero bitterness. I surmise that a few hours in a cold fridge helps to contract the flesh and accentuate sweetness. I also speculate that the young Itamae's gently seasoned shari, which carries a rather pure taste of salt, helped to bring out the sweeter side of the shrimp.
Plus a beer and tea, we paid ¥15768 (£109) in total for two.
Yes overall I enjoyed the meal. I think he is offering very good value, for a fairly long meal, generous portions and occasional flashes of true brilliance. Depending on how much you enjoy watching sushi chefs work, you also witness a consummate artist fully committed to his craft. It was quite the show, mesmerizing to watch.
The young Chef clearly lacks experience, but this will obviously come with time. What is certain however is the talent. When he has better control of his shari, in time, he may yet emerge as one of Tokyo's finest.
Details
Sushiya すし家
Sushi
10pieces ¥4500 / 14pieces ¥8000 / Omakase ¥12000
6-3-17 Ginza Chuo Tokyo
Tel: +81-3-3571-7900
Metro: Ginza
—
Pictures of lunch in sequence.
1. Hirame / Flounder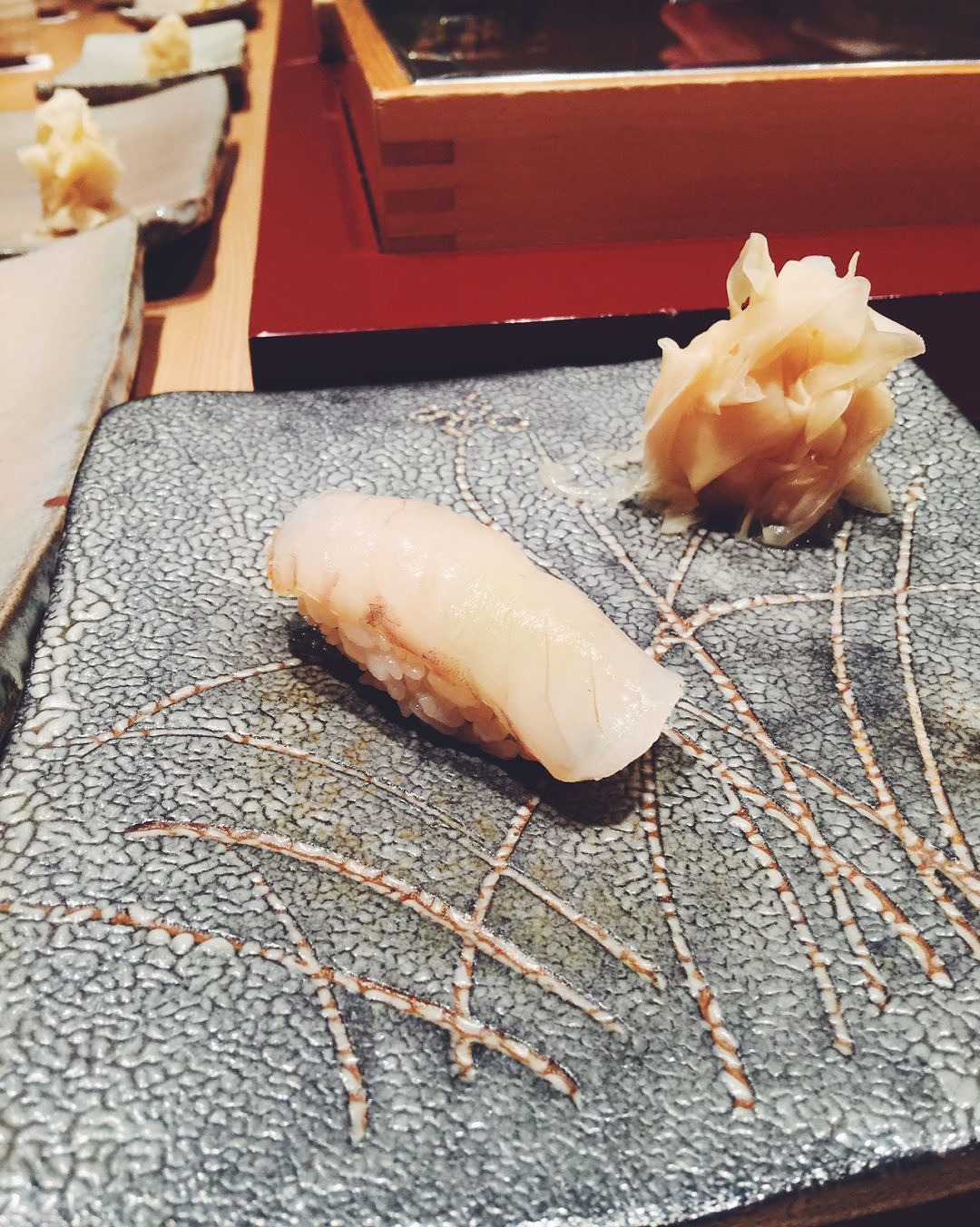 2. Kanpachi / Amberjack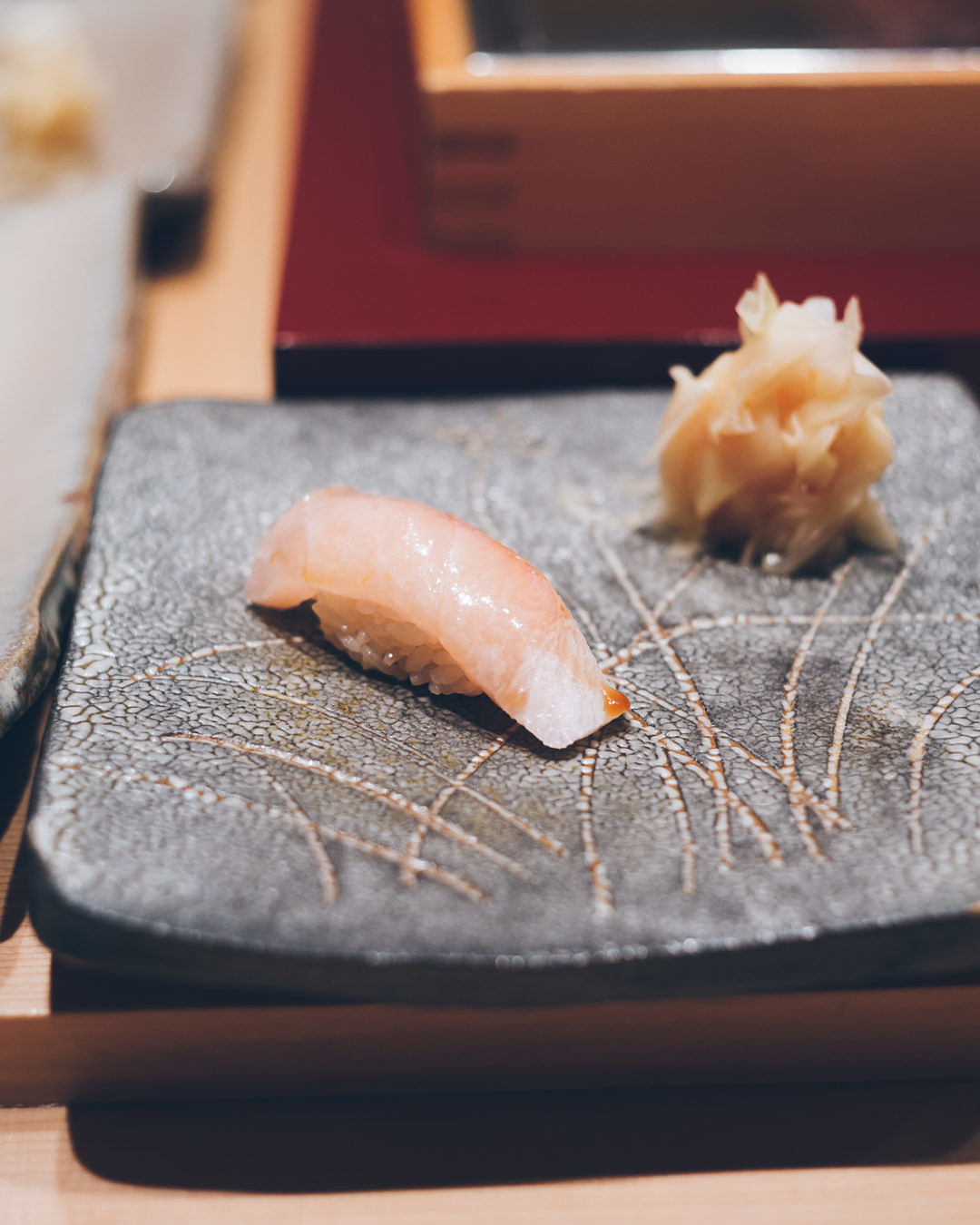 3. Shimaji / Striped jack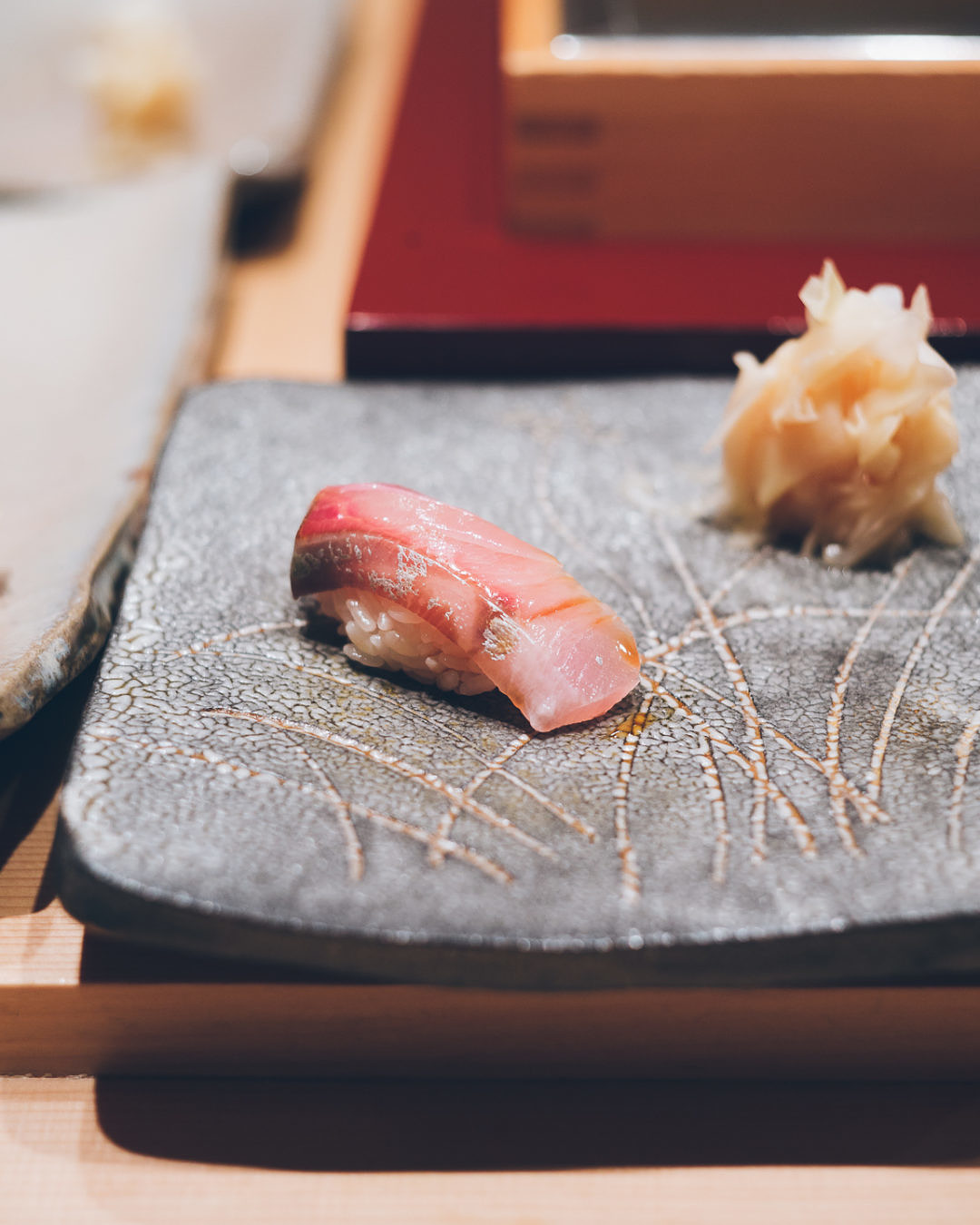 4. Chutoro / Medium Fat Tuna belly from Oma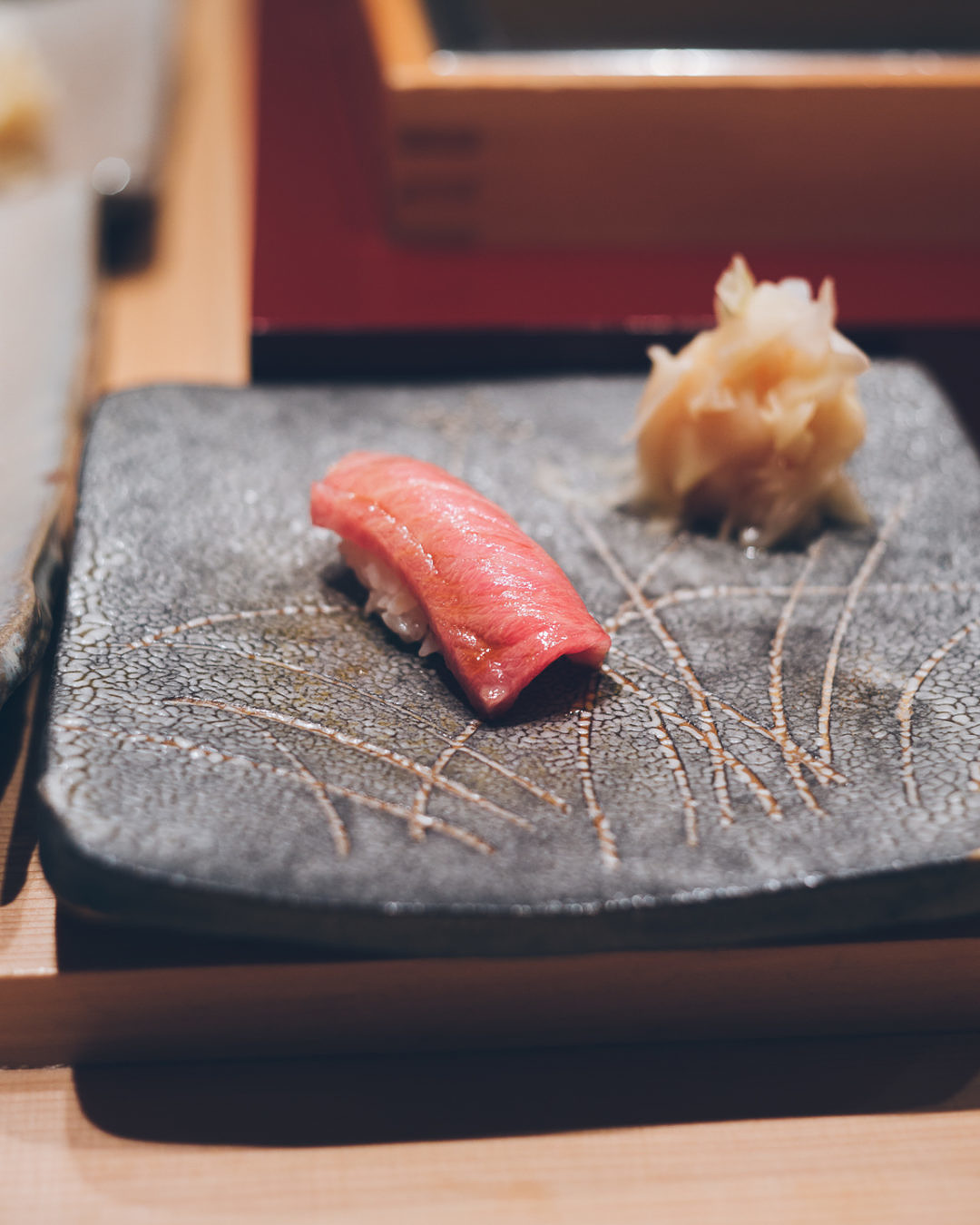 5. Zuke Akami / Marinated lean tuna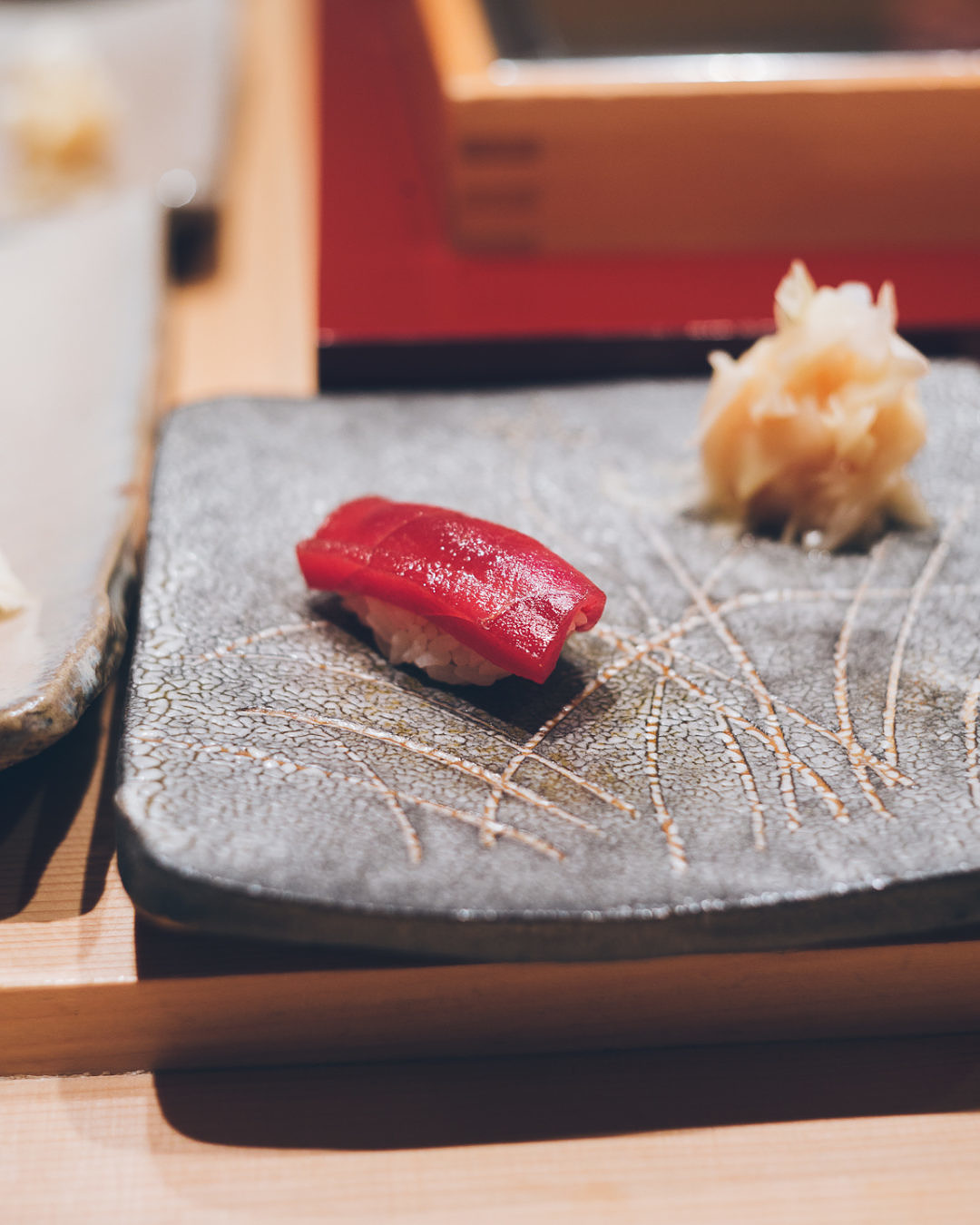 6. Sumi Ika / Squid with salt and lime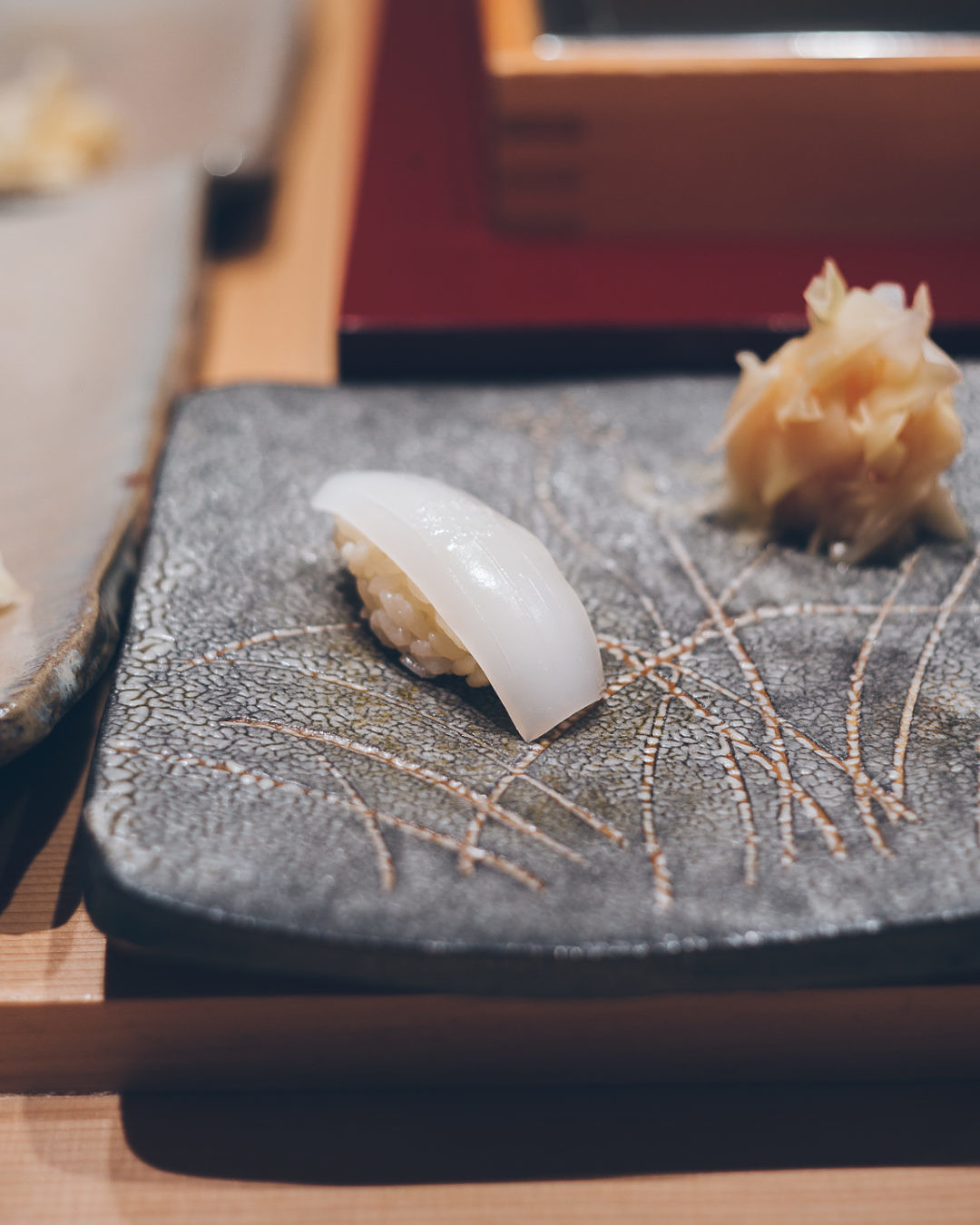 7. Botan ebi / Botan Prawn tail with roe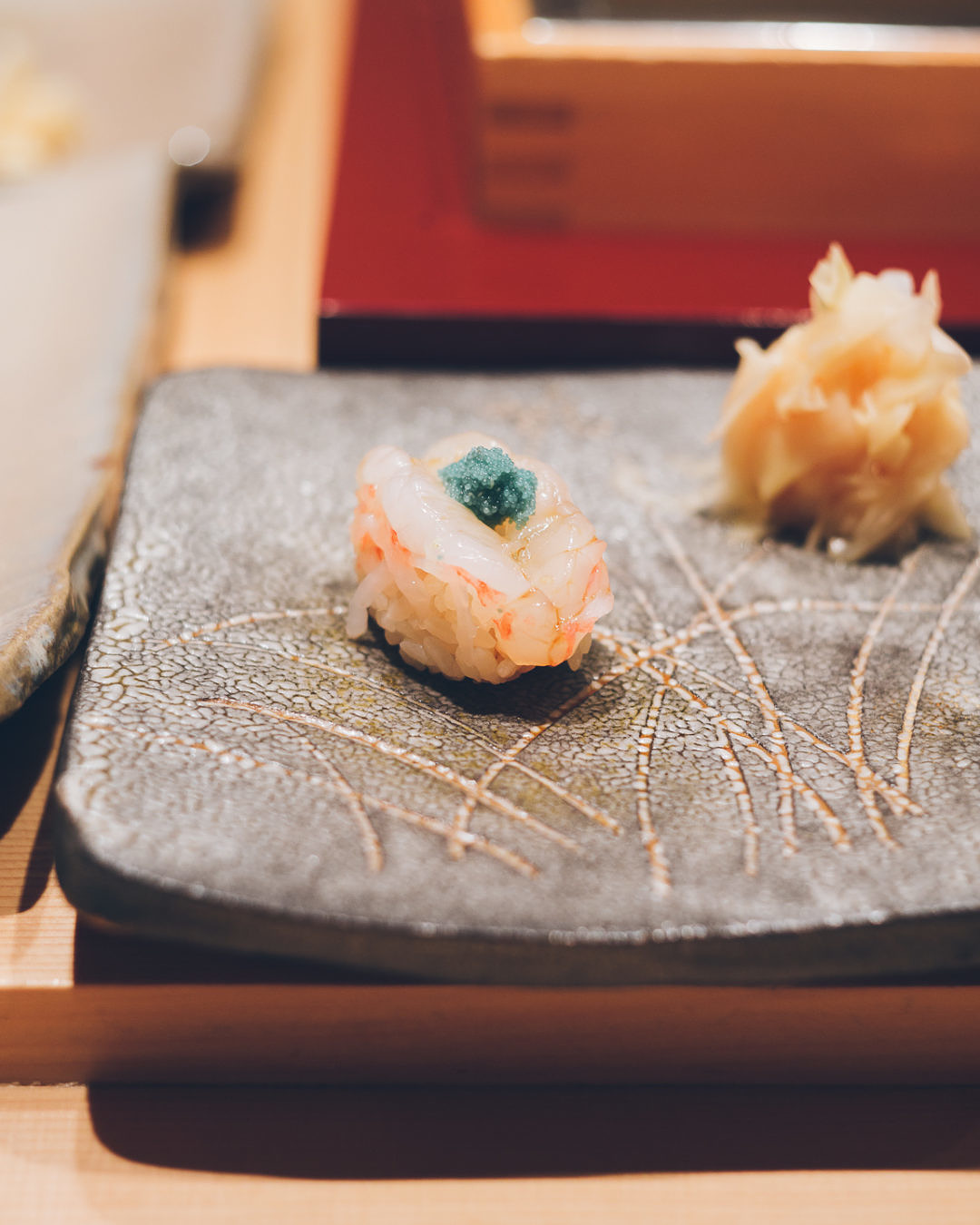 — CHANGE OF RICE —
8. Kohada / Gizzard Shad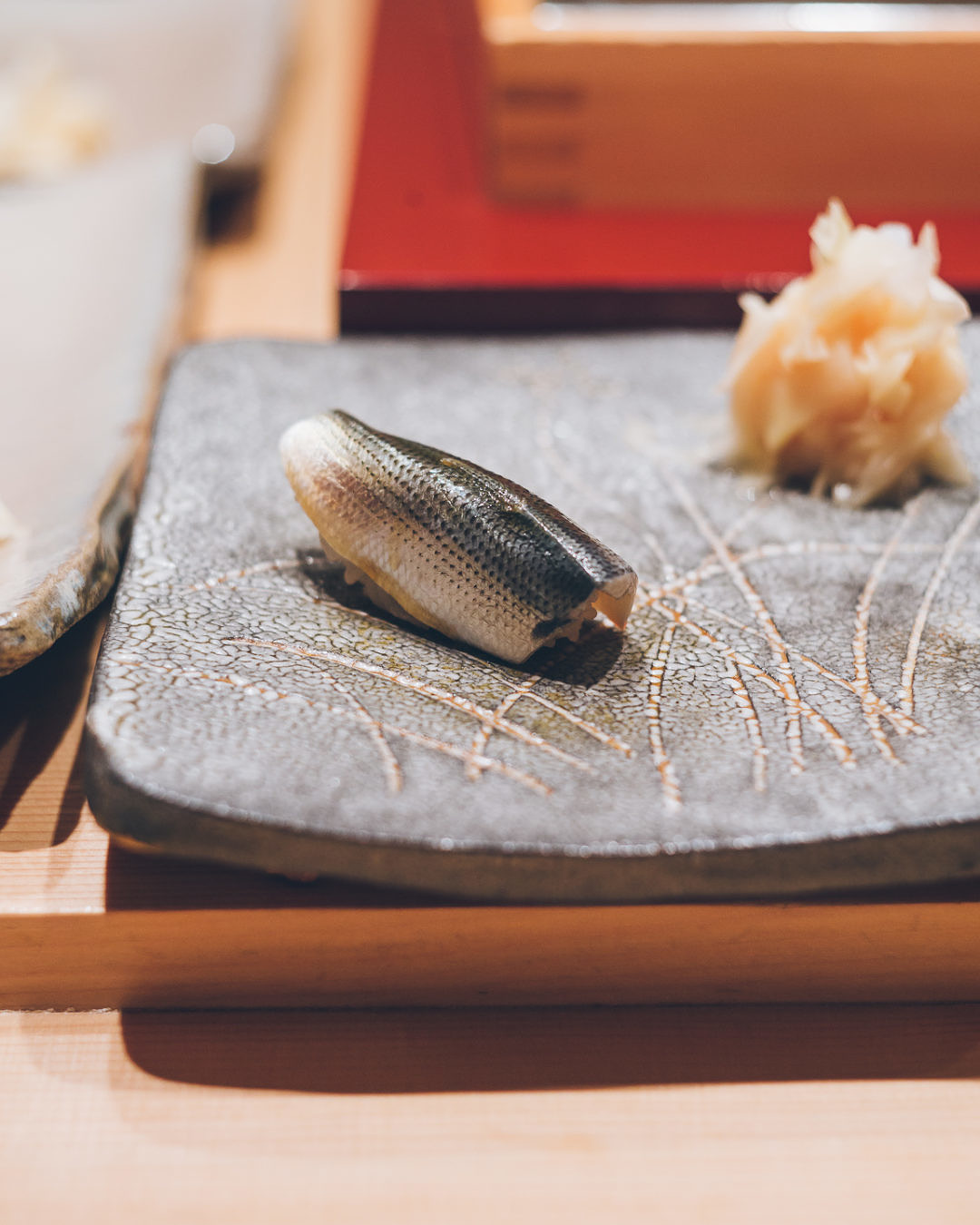 9. Aji / Horse Mackerel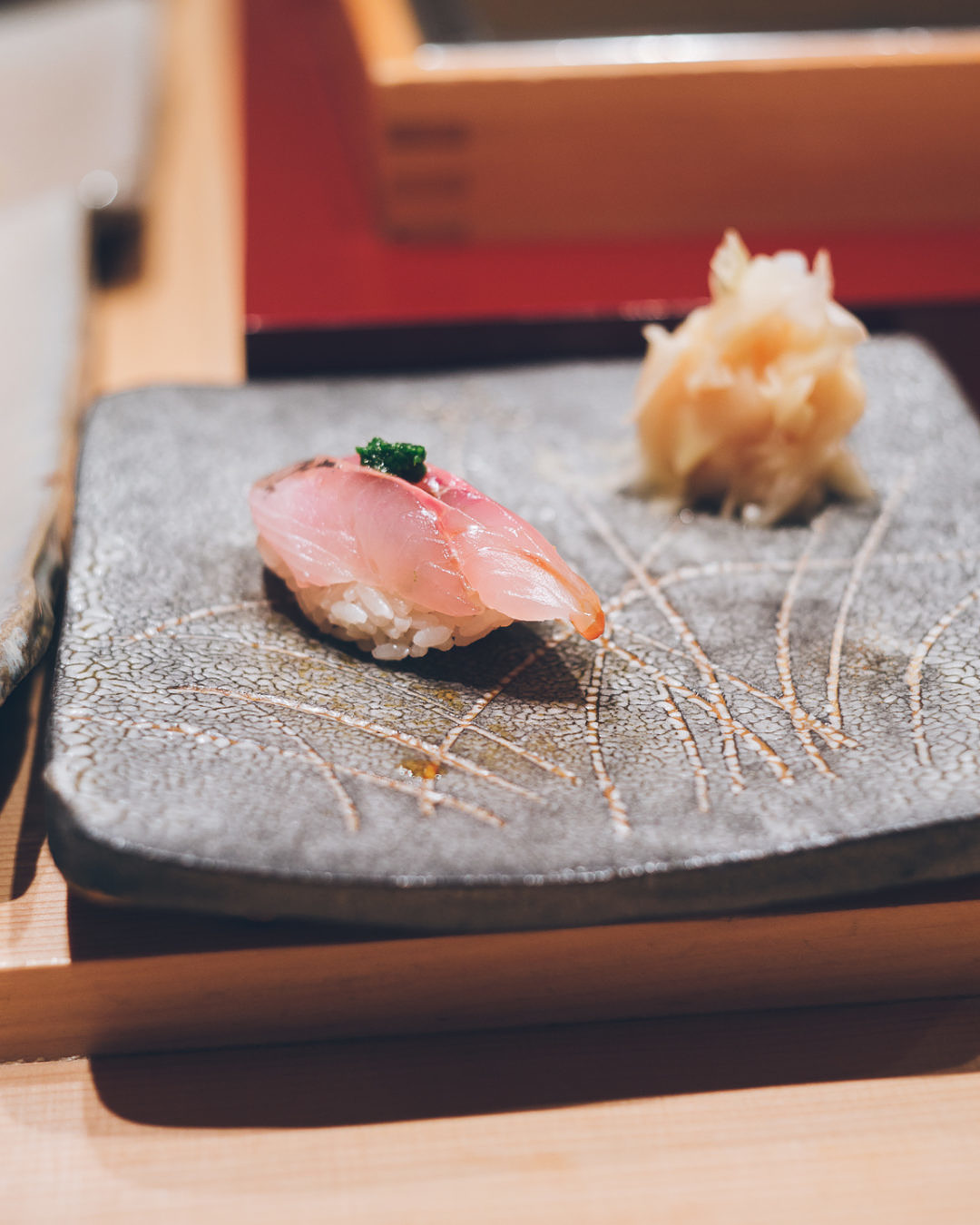 10. Meiji Maguro / Smoked Baby tuna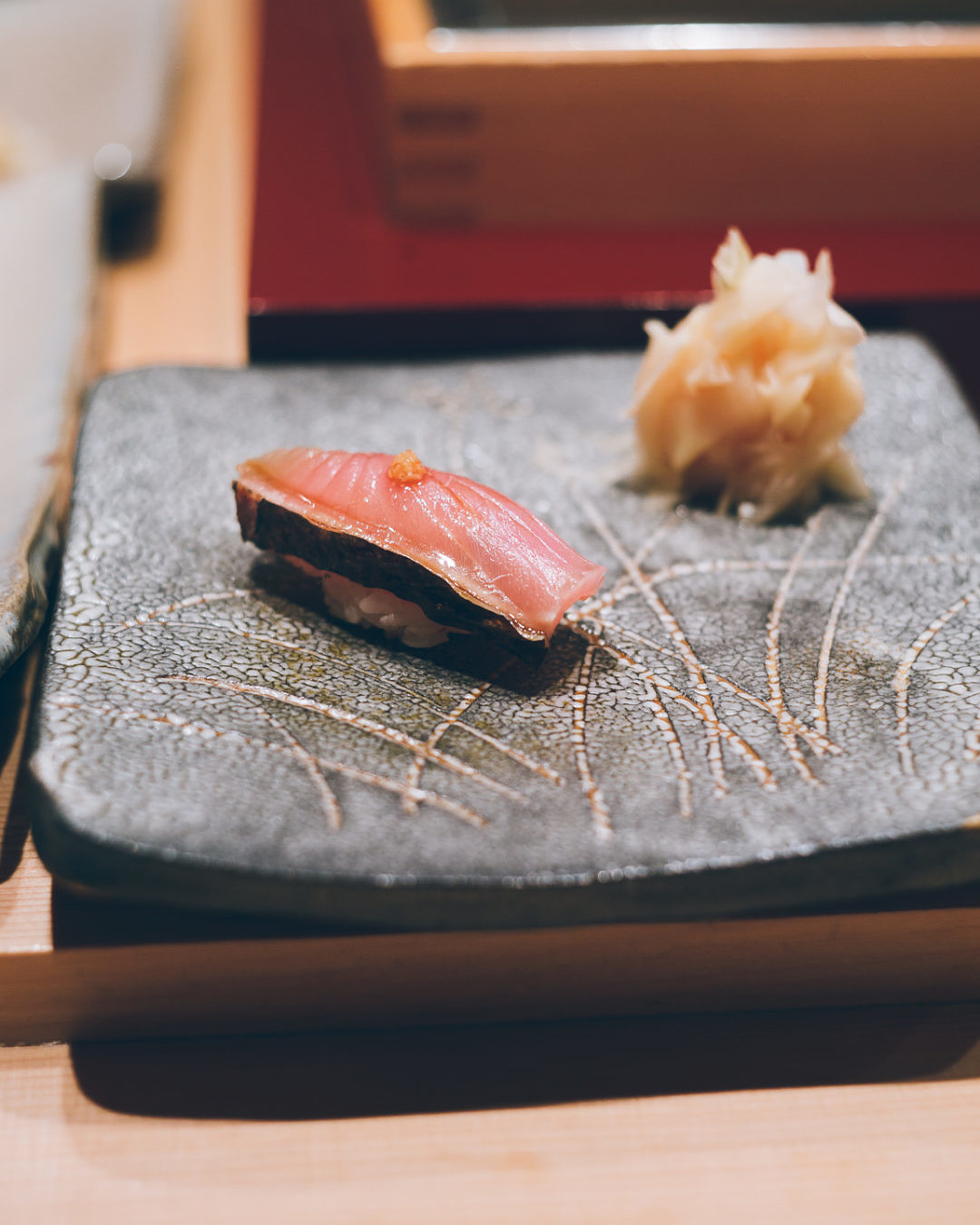 11. Aburi Kinmedai / Grilled Golden Eye Snapper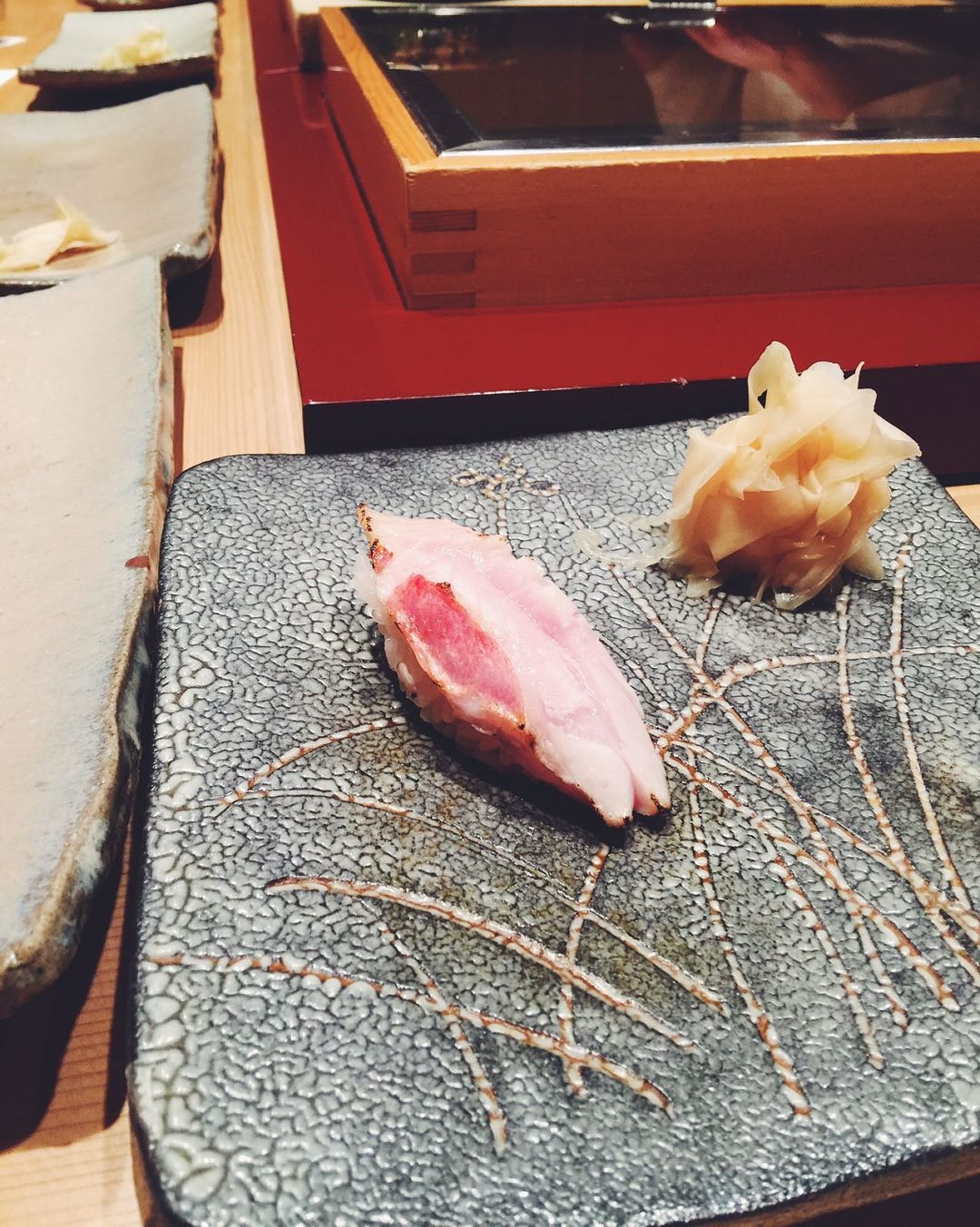 12. Saba / Mackerel Bozushi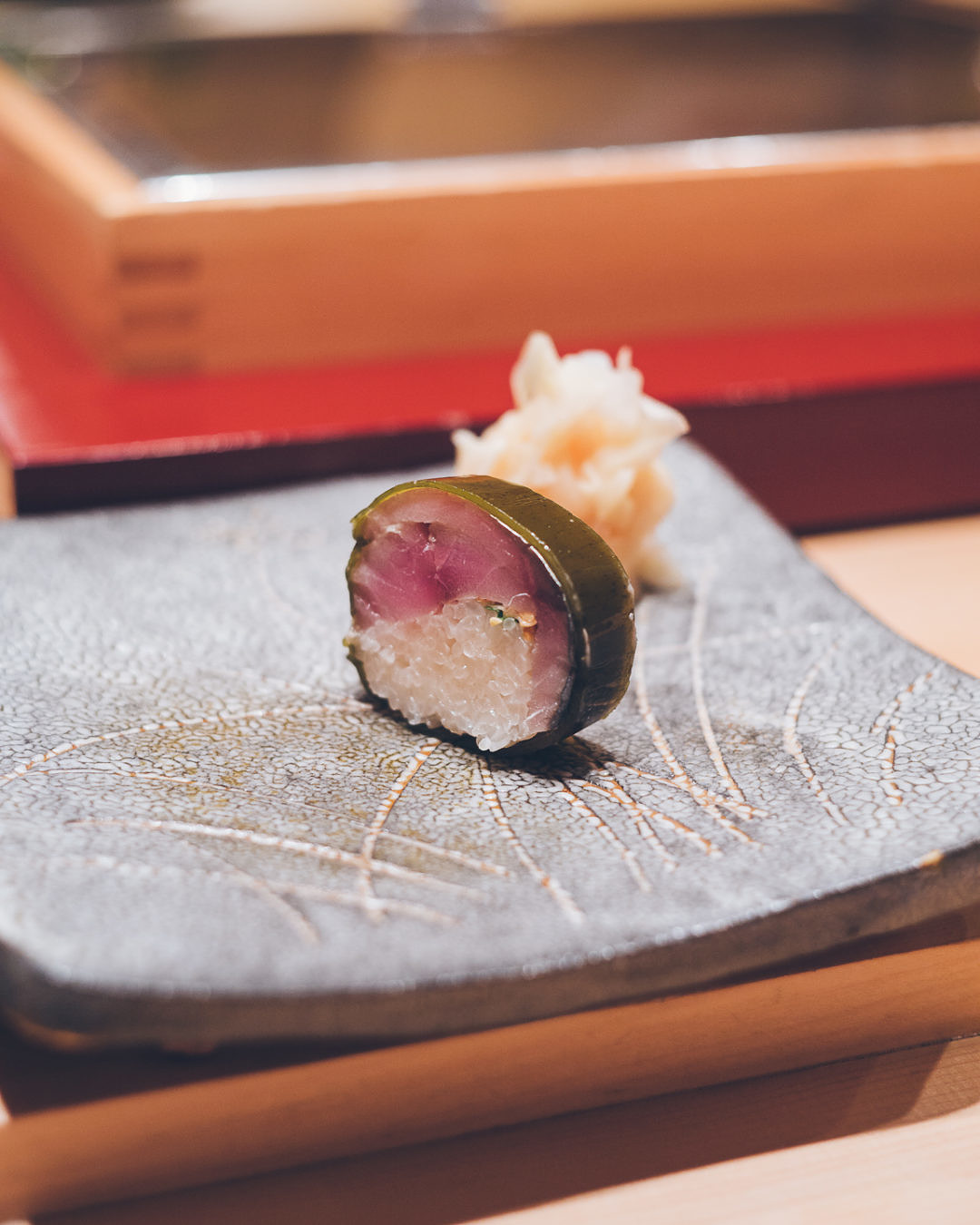 12. Chirashi. Ikura / Salmon roe with Yuzu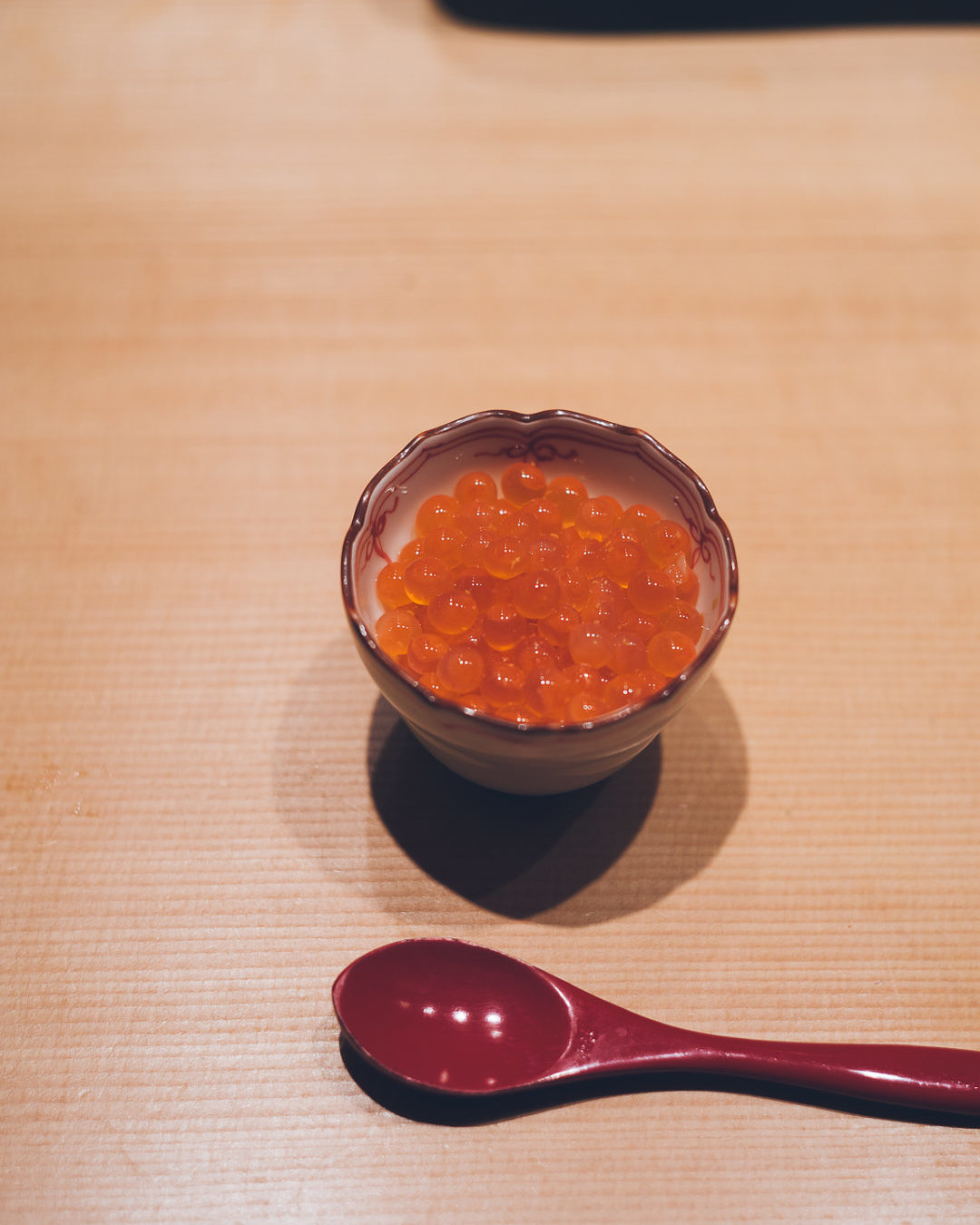 13. Bafun uni / Sea urchin from Hamanaka, South Hokkaido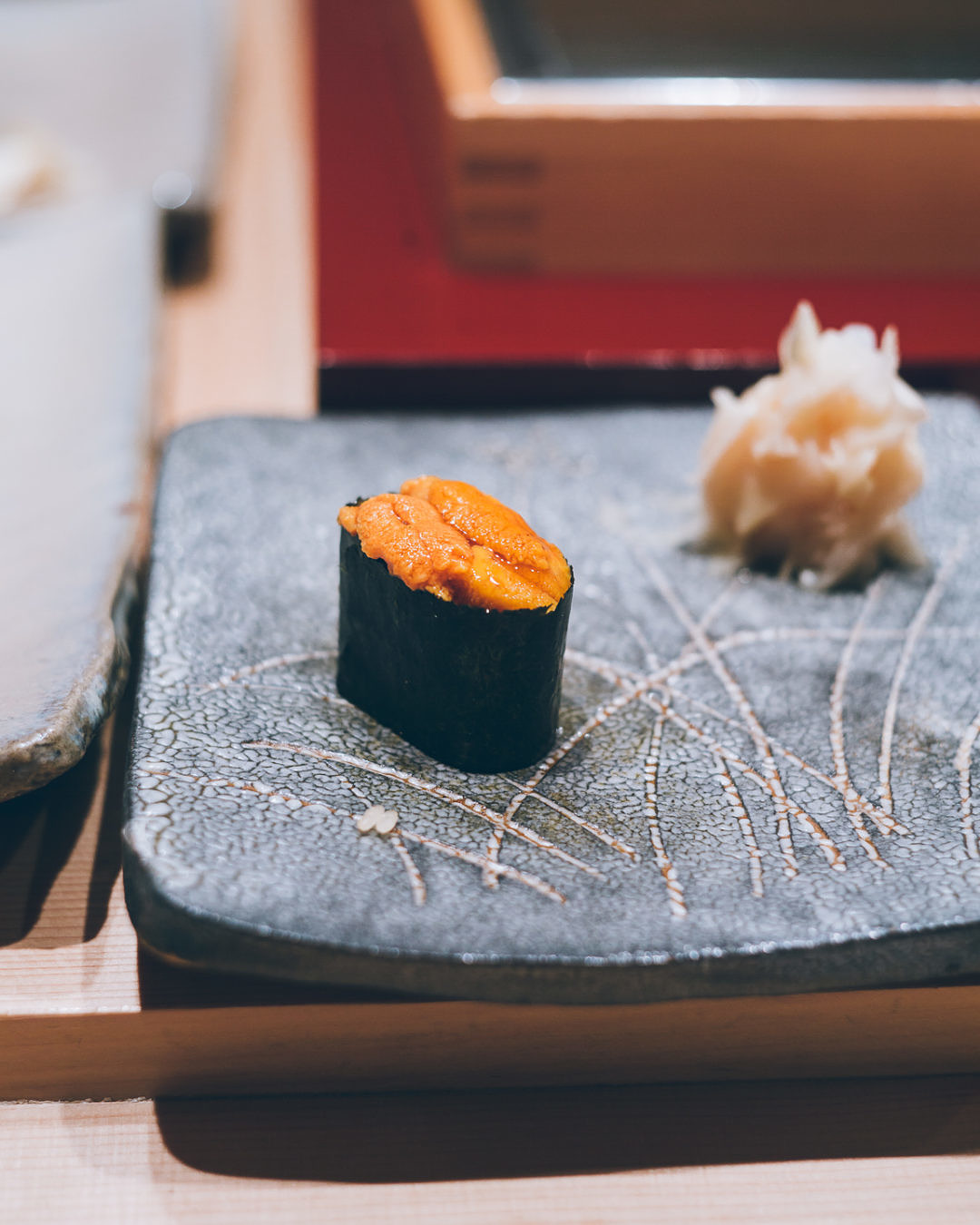 14. Anago / Sea eel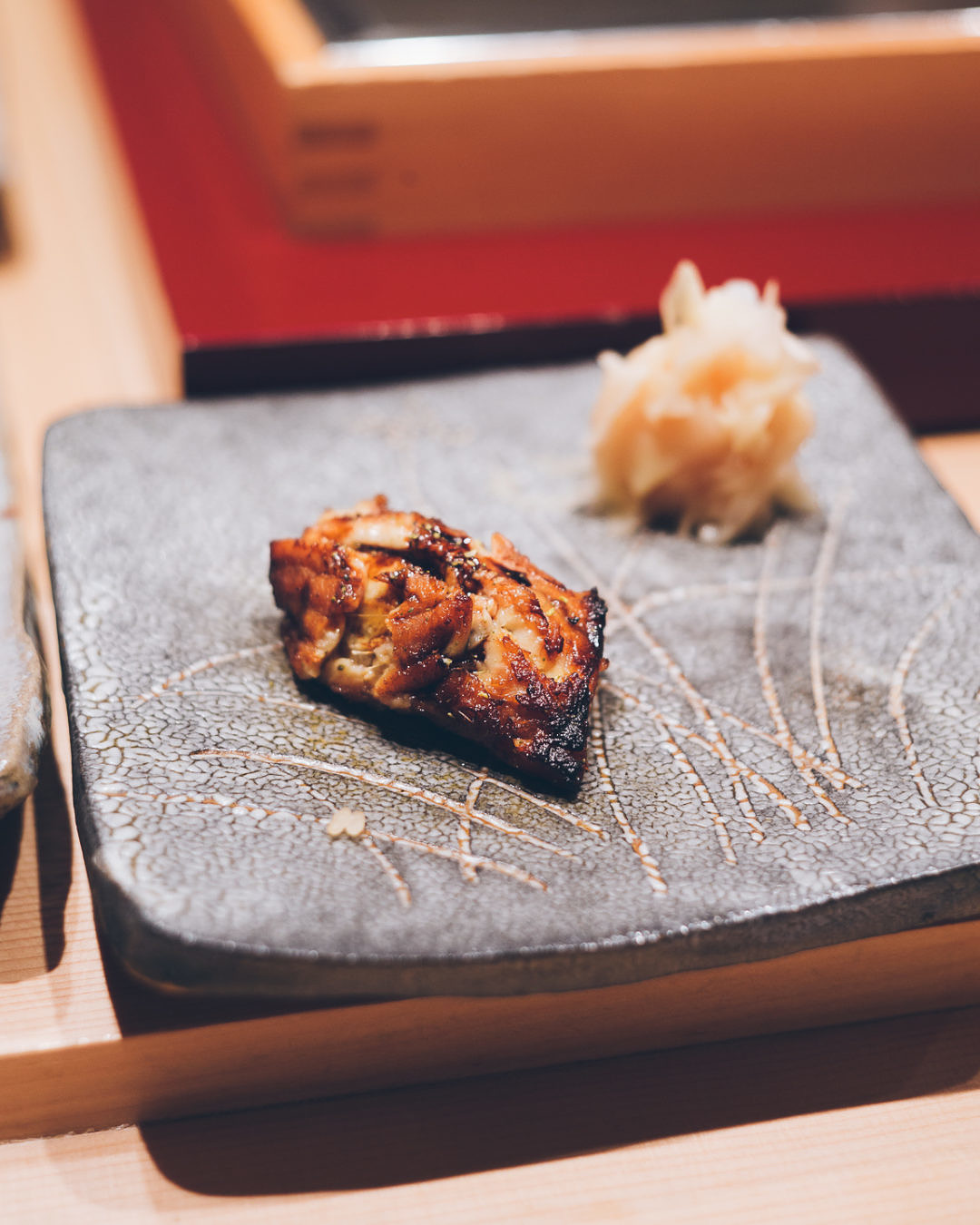 15. Soup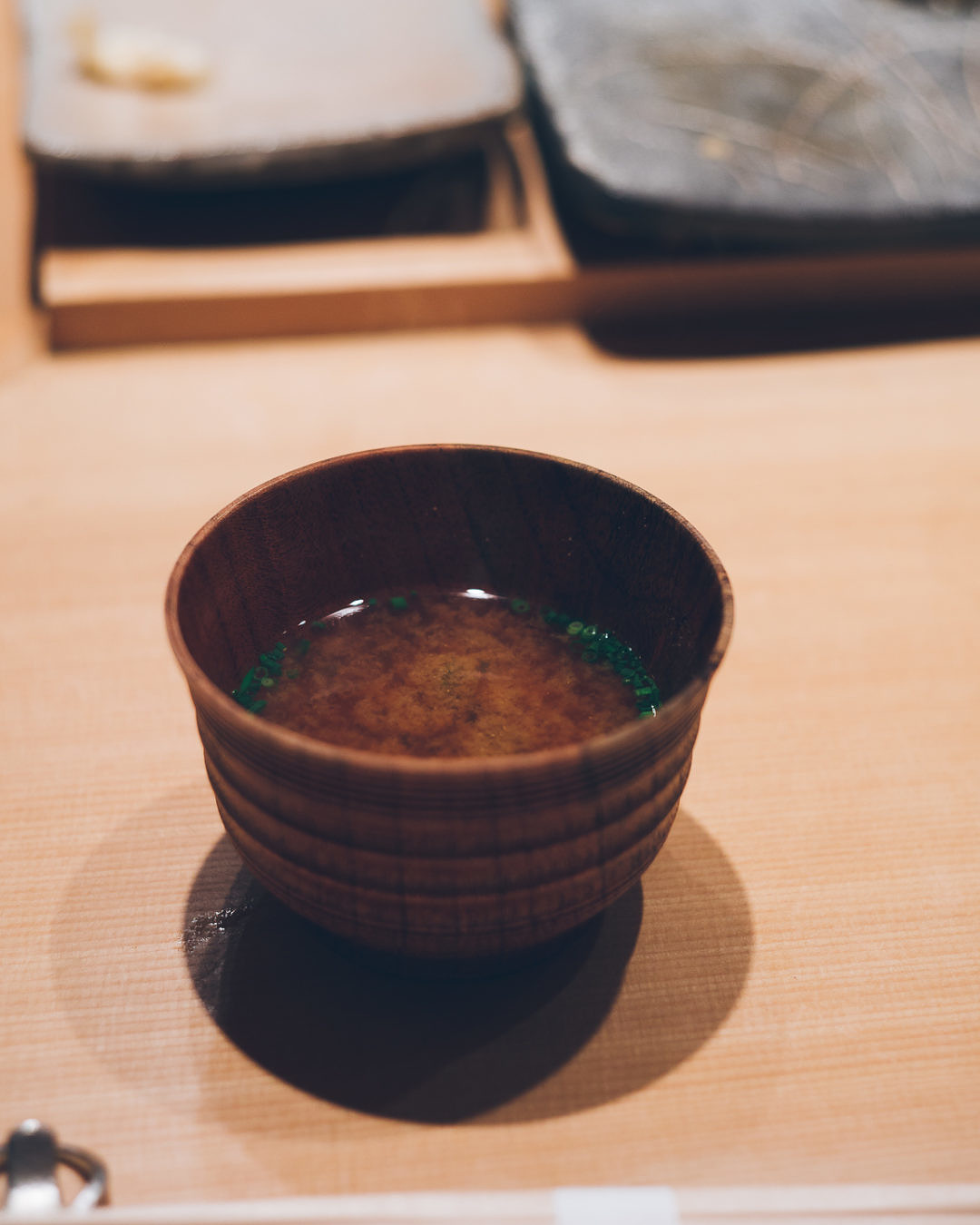 16. Kanpyo / Dried calabash maki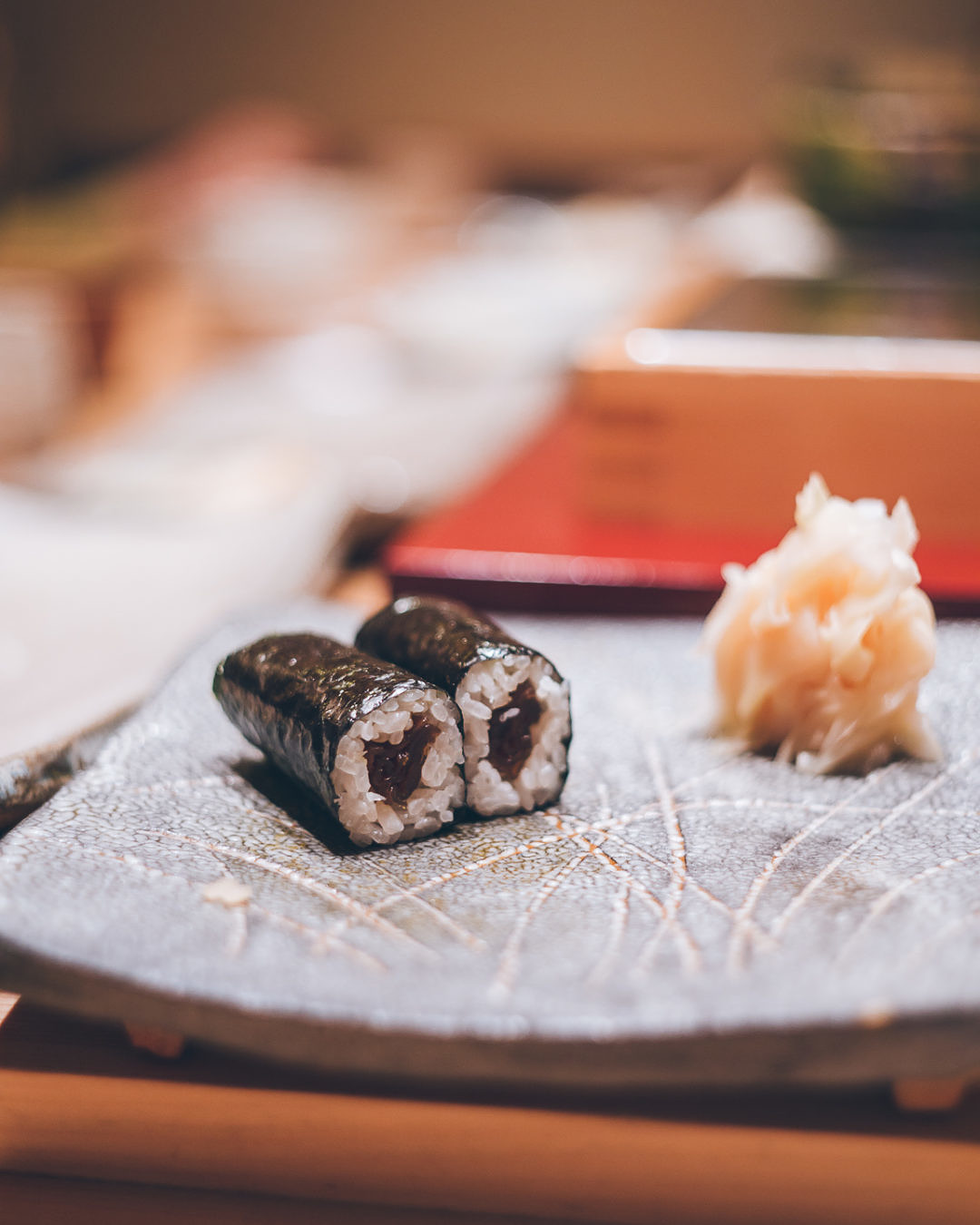 17. Tamago / Egg