SEPT 2016 : Phil Howard has opened Elystan Street (my write-up here). The Square is now under new direction, kitchen headed by Yu Sugimoto.
I'm a huge admirer of the great Phil Howard and I suspect many of you are as well. It turns 23 this year and this beloved Mayfair restaurant, started by Phil and restauranteur wizard Nigel Plats-Martin, in my view at least, remains the finest restaurant in London. Truly the chef's chef, disciplined and eloquent, his French cooking is classical, classy, focused and seasonal. He's maintained his 2 stars since 1998 and whilst he's been on TV in recent years, he still spends actual time in kitchens and has supported the creation of Kitchen W8 and of course The Ledbury which has gone on to gain equal revere. These days, the kitchen is helmed by Gary Foulkes who joined Phil's team in 2005 and became head chef in the Spring of 2013. Phil remains the Boss of course.
Don't get me wrong, burger standards have improved dramatically, chicken wings have never been crispier and there's never been more choice for quality smoked beef but I suppose it gets boring visiting the same sort of trendy diner week in, week out. My last entry was way back in 2009 – entirely cringe-worthy blogpost aside – I remember eating some of the most delicious food ever and still reminisce about the awesome crab cappuccino dish. In 2014, it seems nothing has changed about the cream & slate dining room. There's still romance in attempting this appreciation ritual for haute cuisine.
I made a reservation the day before and I suppose was lucky to nab a table for a Saturday lunch. I had managed to convince the missus to go for the full experience since Phil Howard is the clearly best chef in London and therefore worth every penny.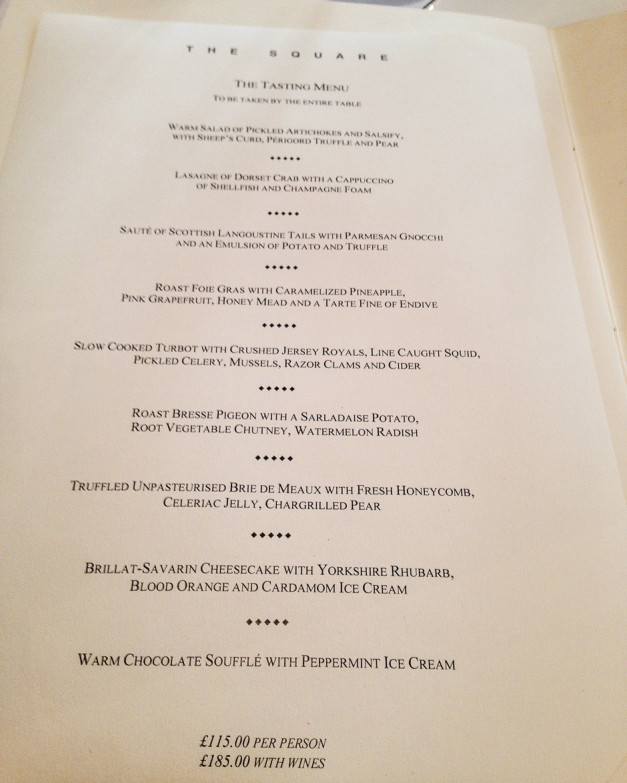 ….it's my lucky day. The crab cappuccino is back on the menu.
No.1 Warm Salad of Pickled Artichokes and Salsify with Sheep's curd, Perigord Truffle and Pear.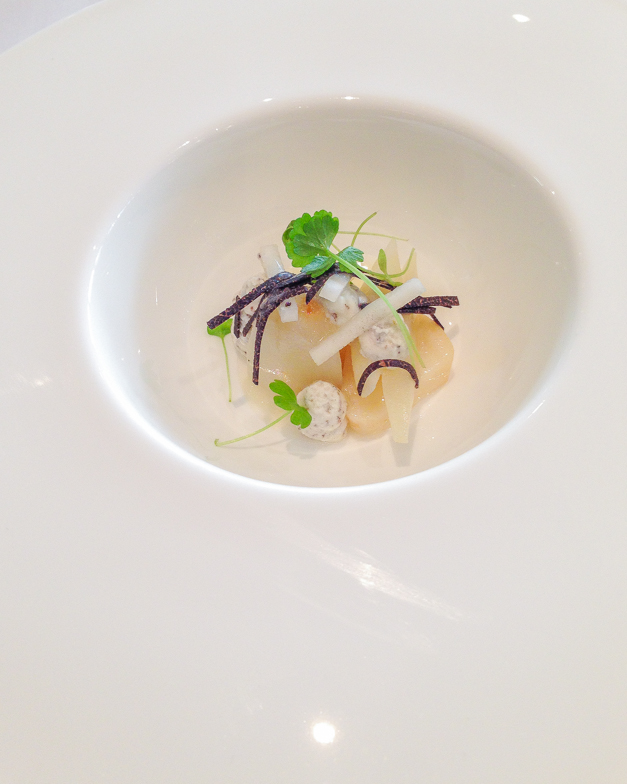 No amuse bouches, after obligatory bread and (salted & unsalted) butter, we started with a warm salad. Yeah perfect textured artichokes, nice cheese for flavour, chopped truffle seems for drama rather than flavour but a slow start in preparation for….
No.2 Lasagne of Dorset crab with a cappuccino of shellfish and champagne foam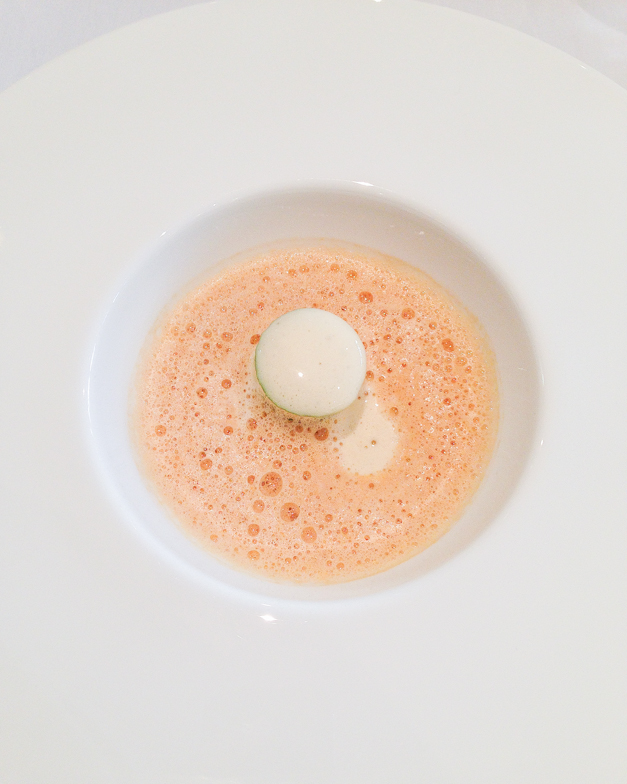 ….boom. It's like switching to color. The aromas of the shellfish soup fill the atmosphere, so beautiful. In hindsight, I should have taken a snap from the side to show the meticulous work on the lasagne. Wafer thin layer of green pasta pressed between thick stacks of lux crab meat. But the true magic about this dish is the the zest from the champagne foam melding with such harmony with the rich shellfish soup. Like waves crashing into Stone cliffs with each sip. You get this rush of complexity and simplicity, this is inhaling a Chevalier-Montrachet, the clarity of apparently complex layers of flavour, but also just, very simply, a bloody good bowl of soup. I soak up every last drop of this tremendous cooking with a wedge of sourdough and savour the moment. Even better than I remembered it.
No.3 Saute of Scottish langoustine tails with parmesan gnocchi and an emulsion of potato and truffle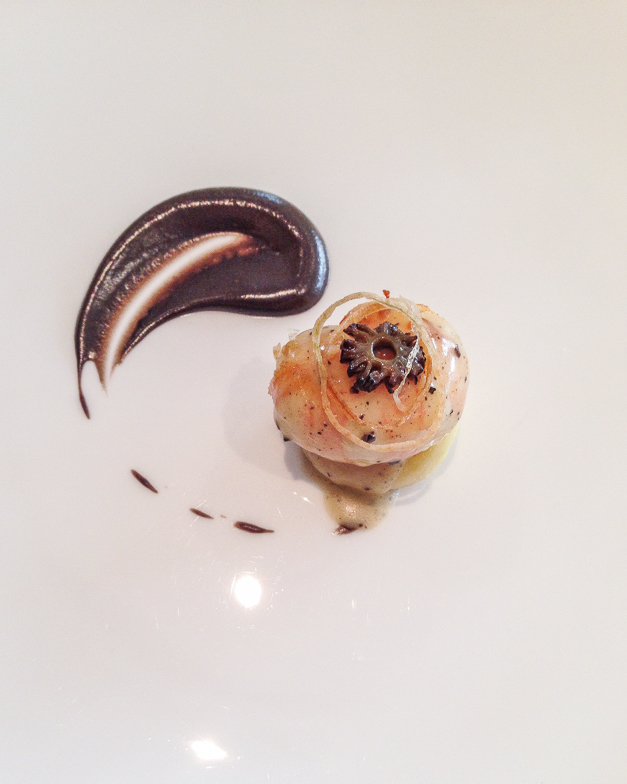 If No.2 gave Phil his first star, then No.3 is how he earned his second. This is just …magnificent. A dense tail of absolutely fresh langoustine, which I guess has been rolled up to concentrate the fleshiness, like a cross between tiger prawn and lobster. With sharp parmesan flavoured gnocchi and then more power in the truffled potato paste. Literally layer upon layer of umami that leaves you lost for words to concentrate on this distillation of flavour. This epitomises Phil's style; Classy, precise and efficient. So much flavour but in such a small parcel. Why can't there be three of these? Or four? Or an entire menu of this. Phil could set up a langoustine shop to sell this all day long and make even bigger bucks. Just these two dishes alone are worth the price of entry.
No.4 Roast Foie Gras with caramelized pineapple, pink grapefruit, honey mead and a tarte fine of endive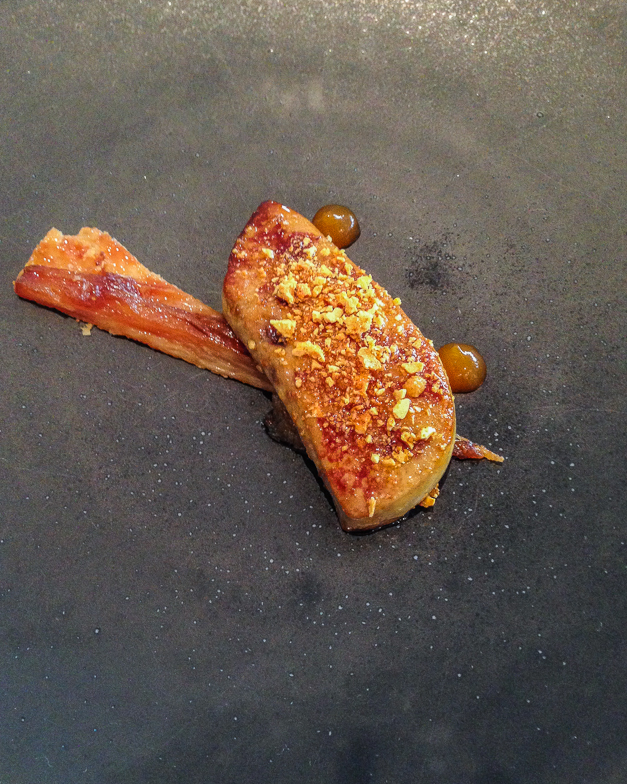 I don't have anything against foie gras, when it's done like this, rich fatty flavour, pink in the middle, glistening caramalised on the outside and laden with gold coloured sweet things, it's true opulence and a great experience. I asked for a glass of Riesling Spätlese to wash this down. Something this rich, with a huge portion, along with the sweet things is almost a bit too much. For me, this dish breaks up the menu too harshly and at this point, I felt like the end of the meal was very far away. Maybe it's time to retire the foie gras in favour of something lighter (…??).
No.5 Slow cooked turbot with crushed jersey royals, line caught squid, pickled celery, mussels, razon clams and cider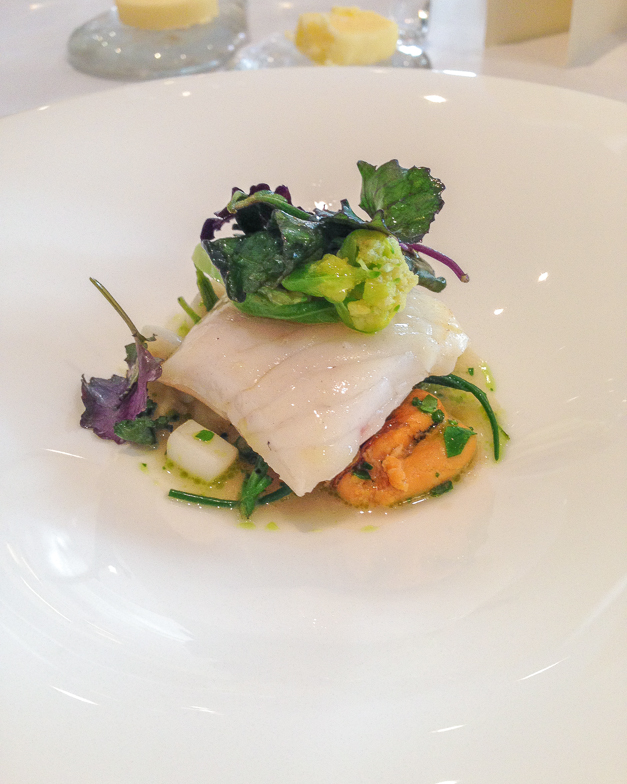 Just as I was recovering from the richness of the duck liver, they (once again) followed up with this brilliant juxtaposition and just then, they pull you back in. In total contrast, this dish is light, vibrant, fresh, uplifting and extremely delicious. The fish was just perfect, slow cooked till just under, remaining flaky with all the integrity of protein intact. And then, you have the texture from the cubed squid, then the crushed potato with chunky bits, then finally the masterful sauce. Seemed to me that it was reduced till a little viscous with all the salty flavour of the fish (bones?), sweetness from the mussels itself and then just a tinge of sour from the cider. Everything in balance. I couldn't help but think of this recipe is either like Cantonese-style steamed fish or actually Basque-style except without Hake. This is something my dad would love to bits.
We loved it so much, the missus asked if she could swap her next dish out and have this again. The Square obliged on short notice which is pretty cool.
No.6 Roast Bresse pigeon with a salardaise potato, root vegetable chutney, watermelon radish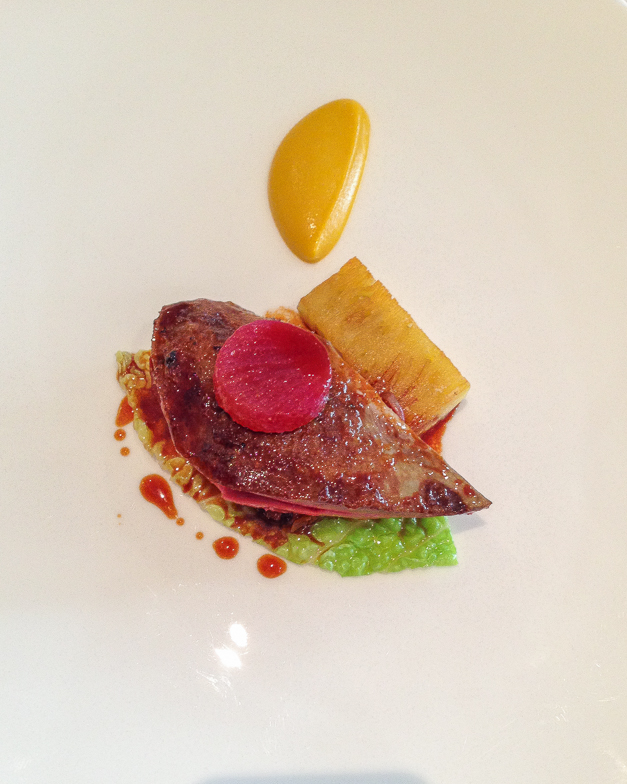 So it seems the chicken isn't the only delicious thing from Bresse. Honestly, I avoid pigeon whenever possible because the gaminess smells of stink to me. So I was pleasantly surprised by the subtle gaminess, tasting almost like chocolate. The crispy potatoes were rich with fatty flavour. Great.
No.7 Truffled unpasteurised Brie de Meaux with fresh honeycomb, celeriac jelly, chargrilled pear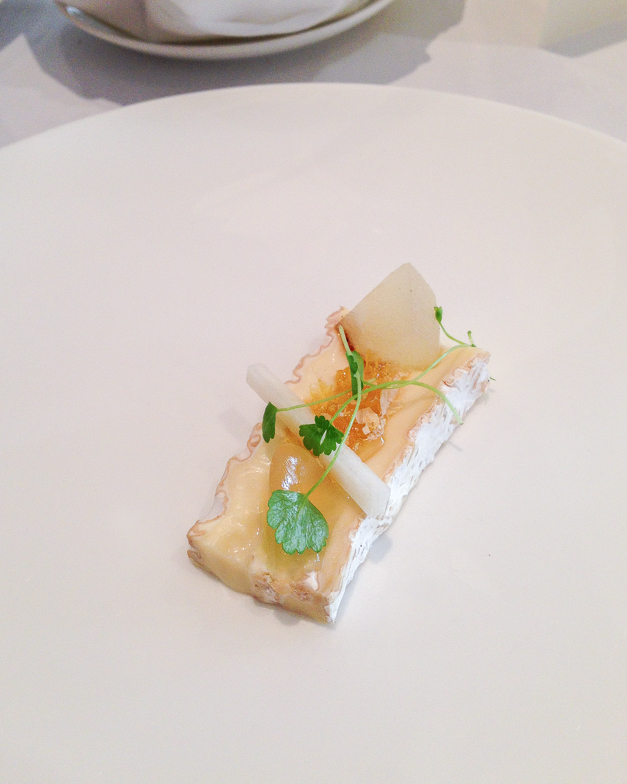 No.2,3 & 5 are all fantastic but in some ways, this was my favourite from the meal. He's managed to transform the best soft cheese in Europe into something more. Alright fine, it's still just cheese with a bit of jelly, but it's so delicate, served warmish and notice pear is charred side down to enhance the gooeyness.Full-cream richness of the brie against the rounded sweetness from the pear with warm walnut bread served with the cheese to frame all the amped flavours. Very enjoyable and yet another classy dish.
No.8 Brillat-Savarin Cheesecake with Yorkshire rhubarb, blood orange and cardamom ice cream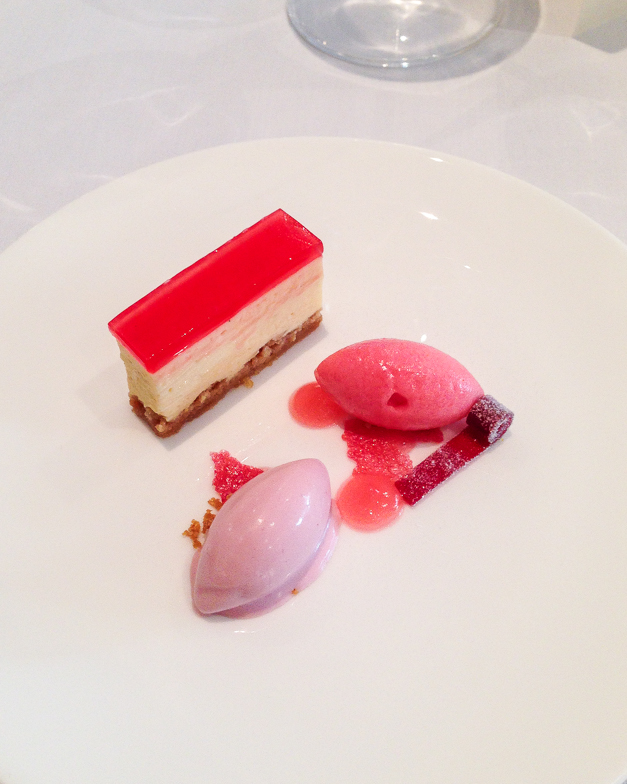 How does he keep doing this? I thought the Brillat-Savarin might make for a rich cheesecake, but no, this was delicate like a pillow cover stuffed with cotton candy. All the fruity variations on the side all served to enhance the essence of the dish, lots of sweet flavour but not sugary sickly sweet.
And finally … The Soufflé.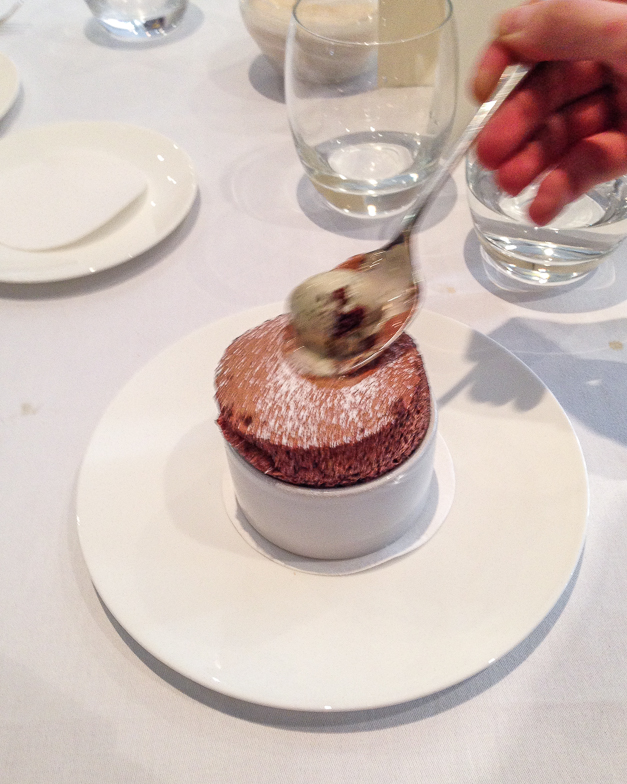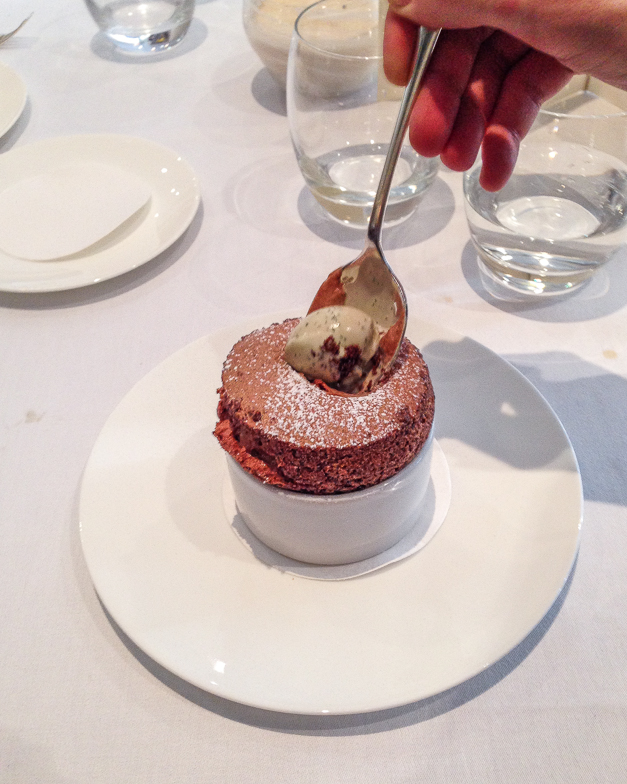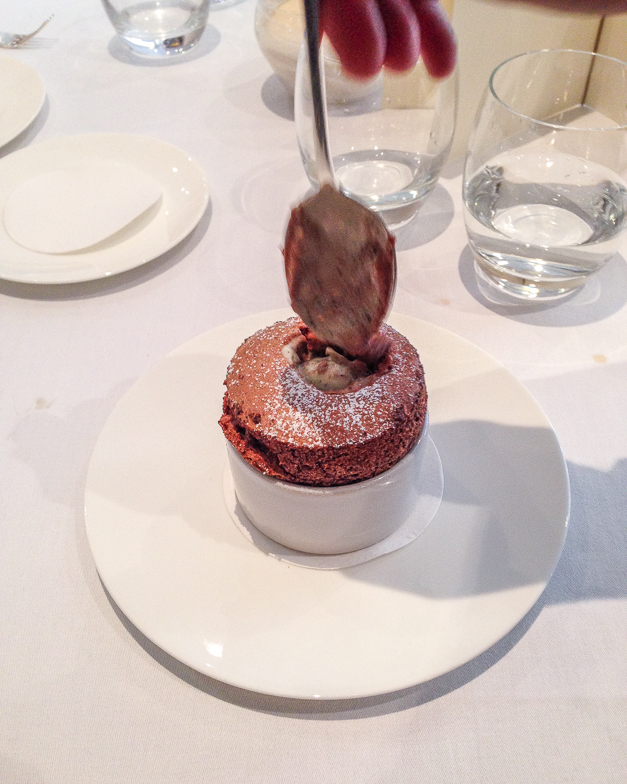 Ta-da.
Chocolate with peppermint ice-cream.
Eating a perfectly risen soufflé is surely why you and I love gastronomy so much. It's the ultimate dessert, the right amount of egg beating, the tentative wait for the mix to rise, then swiftly collapsed by the server to make way for the cool ice cream centre. Such a fragile thing.
A sweet haze of warm and icy egg and liquid sugar. Of course, it's perfect. Rich & chocolatey with peppermint to freshen up the sweetness. Genius. But for me, a notch below the grand master's Pistachio Soufflé (which always ends with this delicious 'sugar water' as you work your way to the bottom of the ramekin). The texture is a little more cake-mix-like (to be more precise, perhaps I should say, rice pudding-like…), whilst Koffman's souffles are more 'cloud' like. I had that probably five times last year. Tom Kerridge's Mango Soufflé is also very good.
Perusing the 85 page wine list, I find it to be very decent in the old fashioned sense. French dominated with all the bling bling five firsts are present, but it is the Burgs, specifically the whites which seem most complete. Roulot, DRC, Lafon, Sauzet it's all there. What's most interesting is how they have true gems which seem particularly well-priced. They've got Leflaive's Chevalier-Montrachet's from 2000/1999 for £420/£480, Robersons sells the '96 for £820. OK. I know £400 is a lot of money for a bottle of wine, but these are the most revered labels and..and.. oh hell, it is alot of money.
Phil has been known to host wine dinners, for instance, they did one with my beloved Haut-Brion when the Chateau celebrated their 75th anniversary. And more recently they hosted a Palmer vertical for Lay & Wheeler last year, which I sort of regret missing out on. But anyway, if you have an occasion coming up, get the Leflaive 99 Chevalier-Montrachet or the Coche-Dury 02 Meursault Chevalières. I like Leflaive, I think their wines have great clarity. Just wished they were cheaper. I suppose there's less 'risk' to pop a white burgundy here if you worry about premox.
…But why bother with half measures, the liquid legend that is the 89 Haut Brion (..aka the best claret in last 50 years..) is on the list for a mere 3k which is *only* about double retail…
The food is crazy good, only thing this season's menu seems to be missing are Phil's beef dishes. The light seafood theme is perfection regardless. The few classics which are in that rarified zone of effortless seriousness are thankfully on the ALC and I'd say it makes more sense to concentrate on them, in bigger portions. So have the ALC when you visit and skip the taster. Spend your money on wine instead.
No gimmicks, just good produce, good sauce, good recipes. Nothing veers off the cool, cruising, zen-like path of perfection. A marvel like the way Kim Yuna glides over ice. We paid £298.35 for two, water, coffee and two glasses of wine. I look forward to my next meal here, which hopefully won't be another five years away.
Details
The Square
French
£40pp Set , £90pp ALC, £115pp Taster, £180 paired with booze
6-10 Bruton Street W1J 6PU
Tel : 020 7495 7100
Tube : Green Park
Did you enjoy reading this? You can subscribe to the Newsletter. AAlternatively, you can subscribe to the RSS feed.