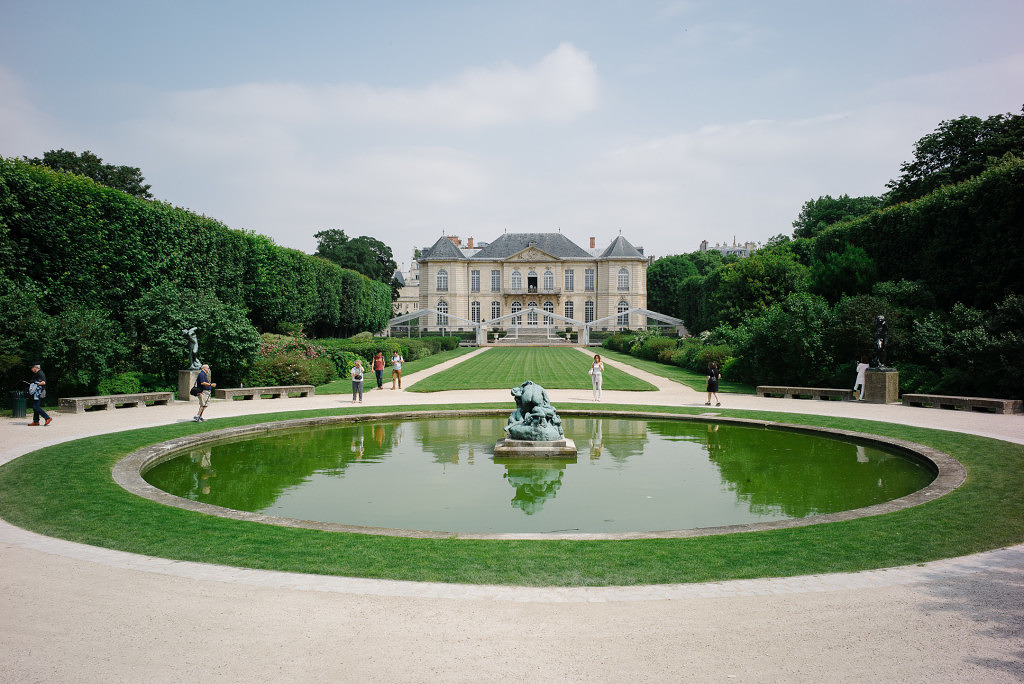 Other meals : March 2016
I returned to Arpege for another lunch in early June 2016 during the week of the Euros launch. If you remember this was also the week of the floods and this sure did affect the output of Passard's farms. So much so, that they barely had enough for the day's service and not enough to make juice (or to decorate the tables).
We went for the lunch surprise menu (€145pp) and it was mostly good, some great, but it was abundantly clear that the restaurant was lacking variety of vegetables, garlic, leek and potato repeating themselves over and over again. And so, this meal certainly suffered from it. The meal in Spring was much better in comparison.
Champagne of the day was Tarlant Zero Brut Nature. Incredibly zippy, bread and honey, lovely acidity that is totally round with a bone dry finish. From equal parts of Chardonnay, Pinot Meunier and Pinot Noir.
There were still positives of course and the meal starts as it does, with bewilderment and surprise. You'll be in awe that so much flavour can be drawn simply from vegetables – testament to the quality of his vegetables as well as the skill of Tony Beldroega, Passard's 2nd in command. The egg, white asparagus, the raviolies and the sheer lightness of the gnocchi (it seemed nearly hollow in the centre). A dream start.
However it all collapsed in the middle when we were sent yet another course of new potatoes for the third time, as good as Passard's belle de fontenay were, it felt like the kitchen was stuck in replay and the irony of monotony set in. The spirit of improvisation with the carte blanche has totally gone awry and it totally turned us off by this point. His merguez is a great dish on its own, but we became disinterested when it was served as the main course.
It baffles me why they didn't send out a slither of the daily roast or a thin strip of fish. It does not help when you see other tables getting them as part of their lunch surprise. Anyway, as I said in my last write-up, if you go for this lunch surprise, you should ask for a roast or fish if you need them. Before you say 'but its a vegetarian restaurant…' – No it's not. Arpege (especially in their 30th year) is very much the champion of Passard's great rotisserie heritage.
Otherwise, you should strongly consider half portions of the ALC. As you sit there studying the menu under the guidance of Hélène, you'll see that everything is totally overpriced, in keeping with the rest of the *** in Paris. But more effort (and food) goes into the ALC dishes. €165 is too much but this gets you a whole Chausey blue, not a 1/4 lengthwise, for example. You'll get the hot-cold egg regardless as an amuse.
The restaurant tries much harder if you visit with someone Passard regards… while IG photos are nice to tap on, it does generate expectation that does not convert to a real-time experience. And just for the record, I requested for the langoustine carpaccio when I made my booking 8 weeks ahead of the meal. Noted on email, but not addressed during the meal. If they had sent tomato carpaccio, I would have applauded them. Sure this is Alain Passard, darling of gastronomy, he doesn't have to pander to punter requests anymore. I remain an avid admirer of his work and I even wished him advanced 60th as he was presently greeting punters at the start. Perhaps that's why it is particularly disappointing he did nothing for a return customer in the end.
Lunch for 3, 1 champagne, 2 glasses of wine, 1 bottle of sparkling water came to €497 (£399).
0. Vegetable Tartelletes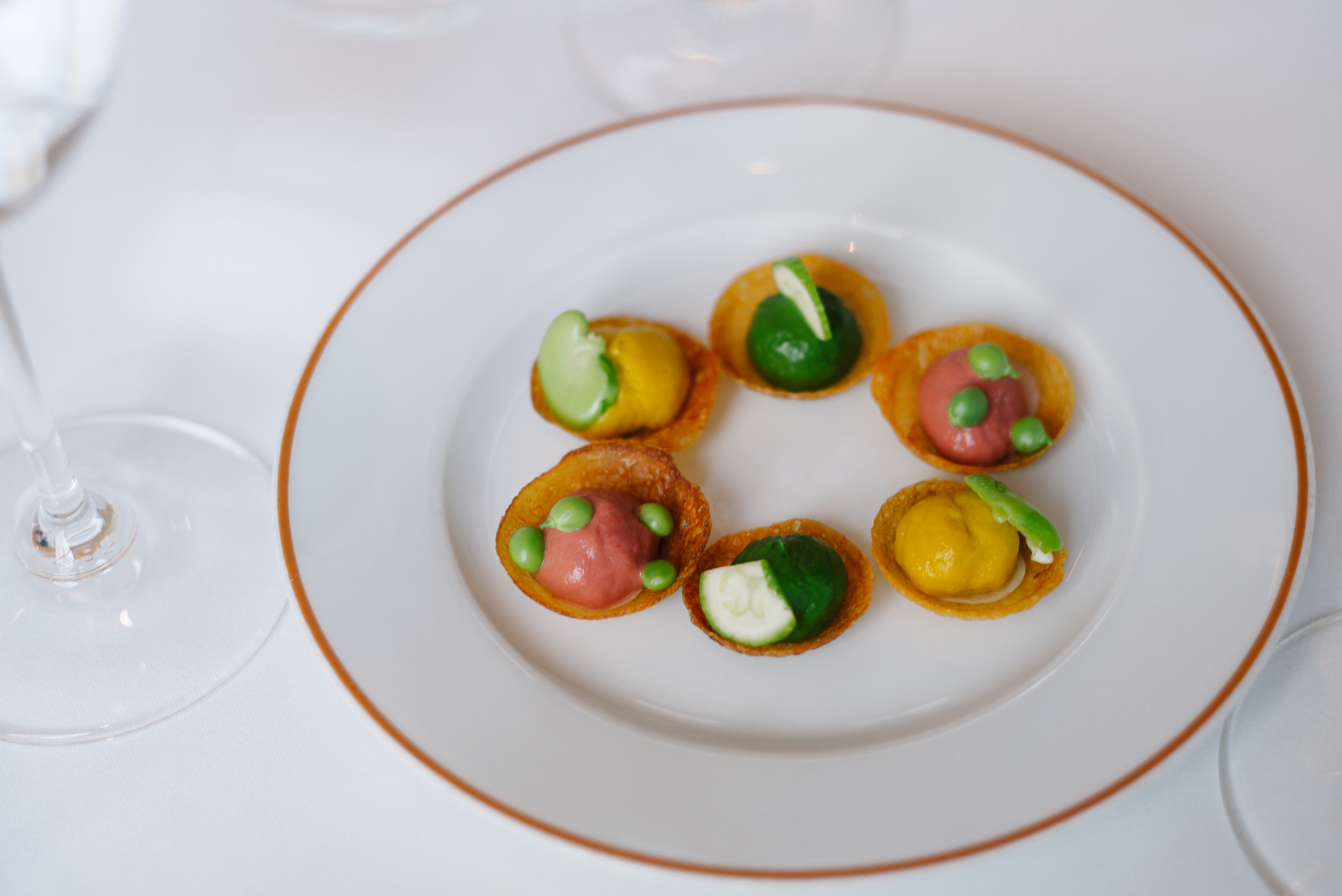 1. Hot-Cold Egg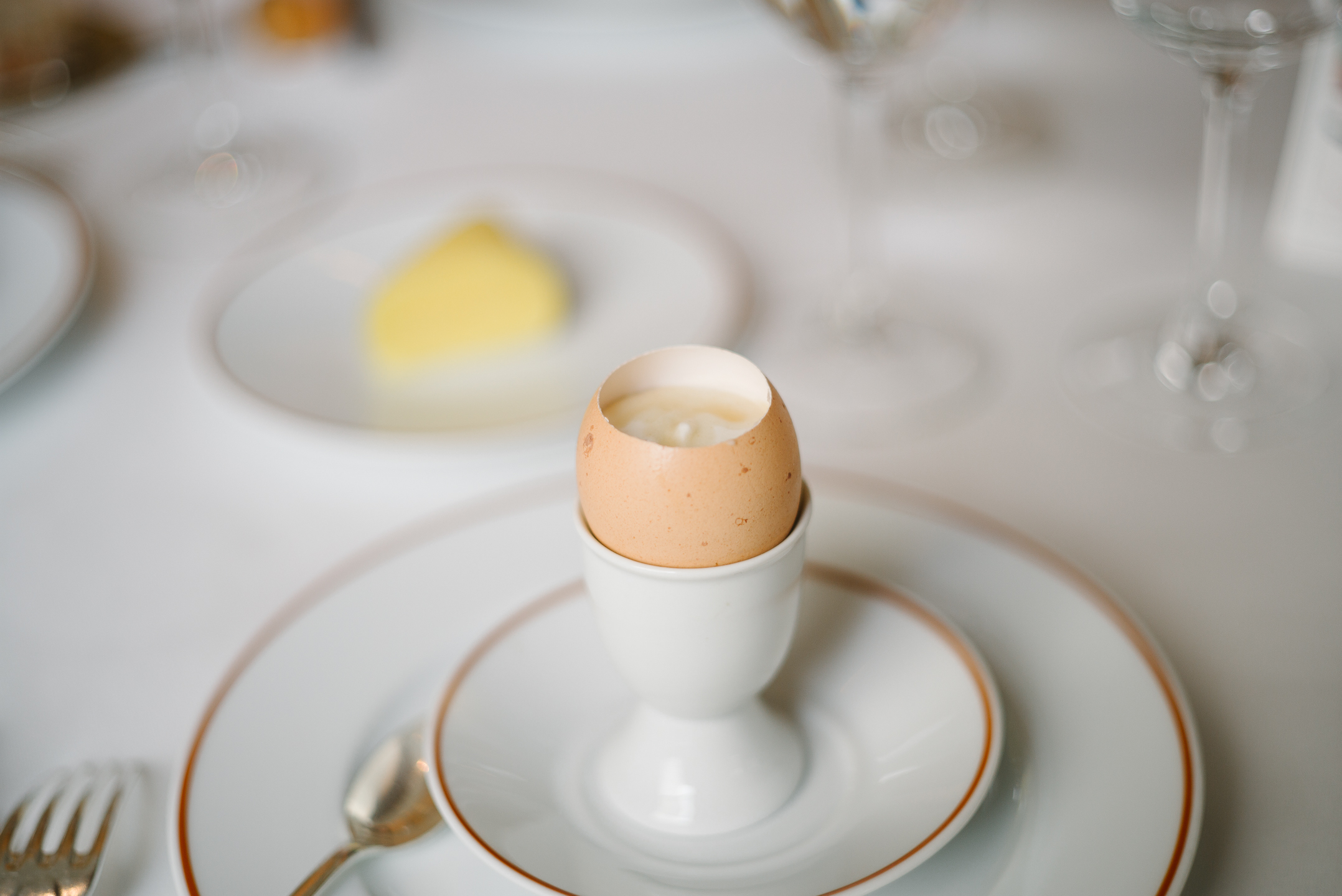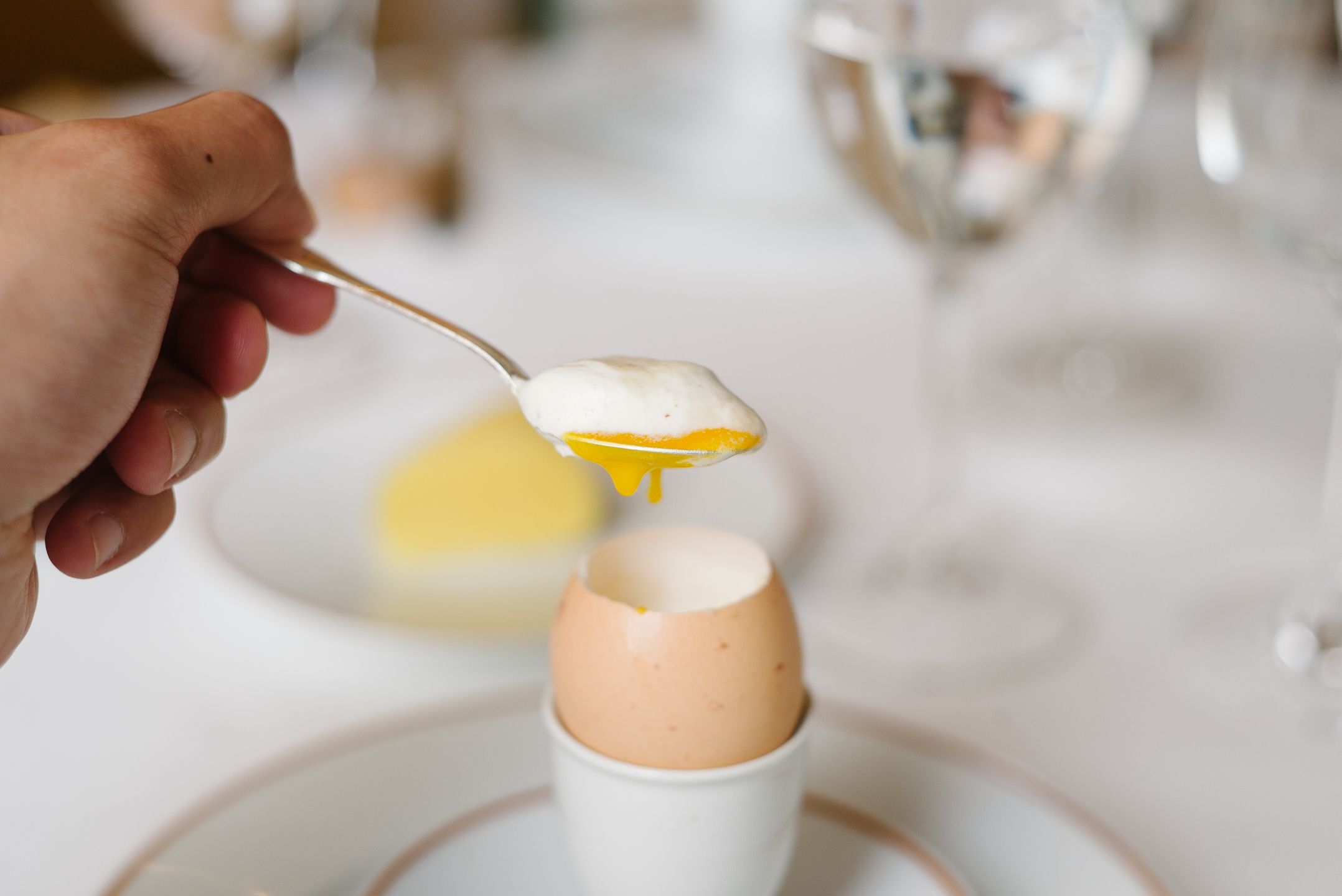 But no chives today.
Bordier…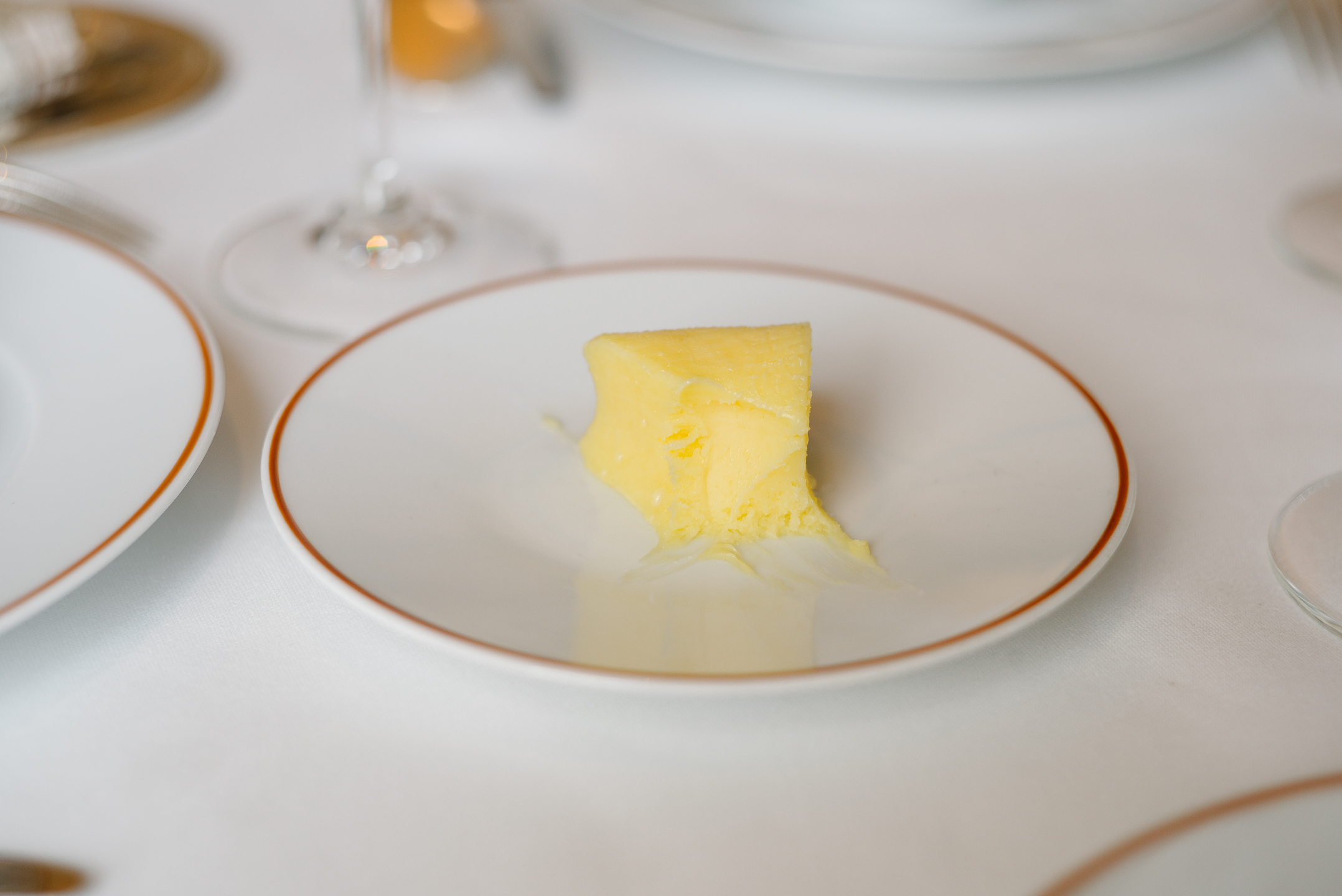 2. New potatoes, wild garlic raw and mousse, leek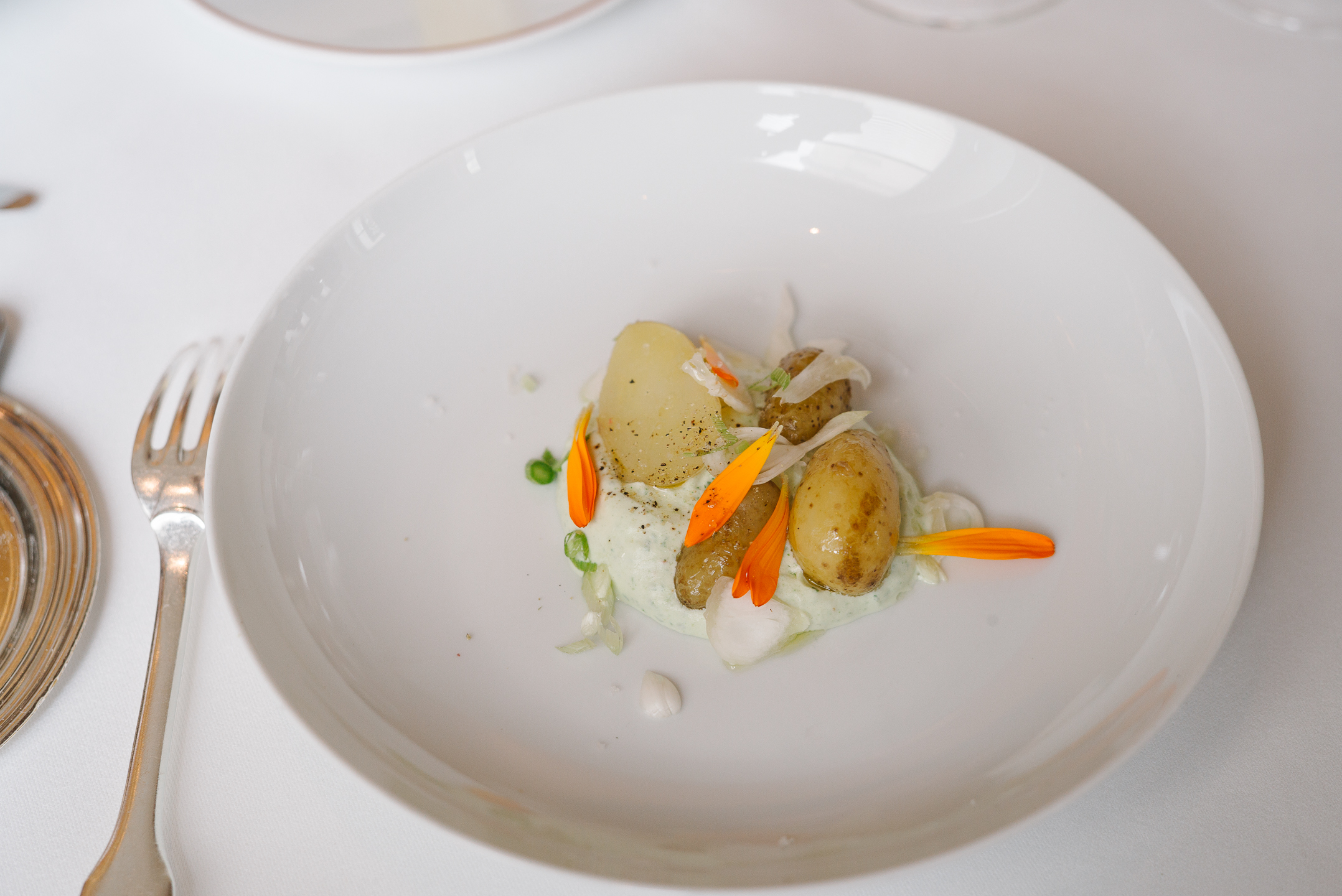 3. Zucchini sushi with geranium oil and kalamata olive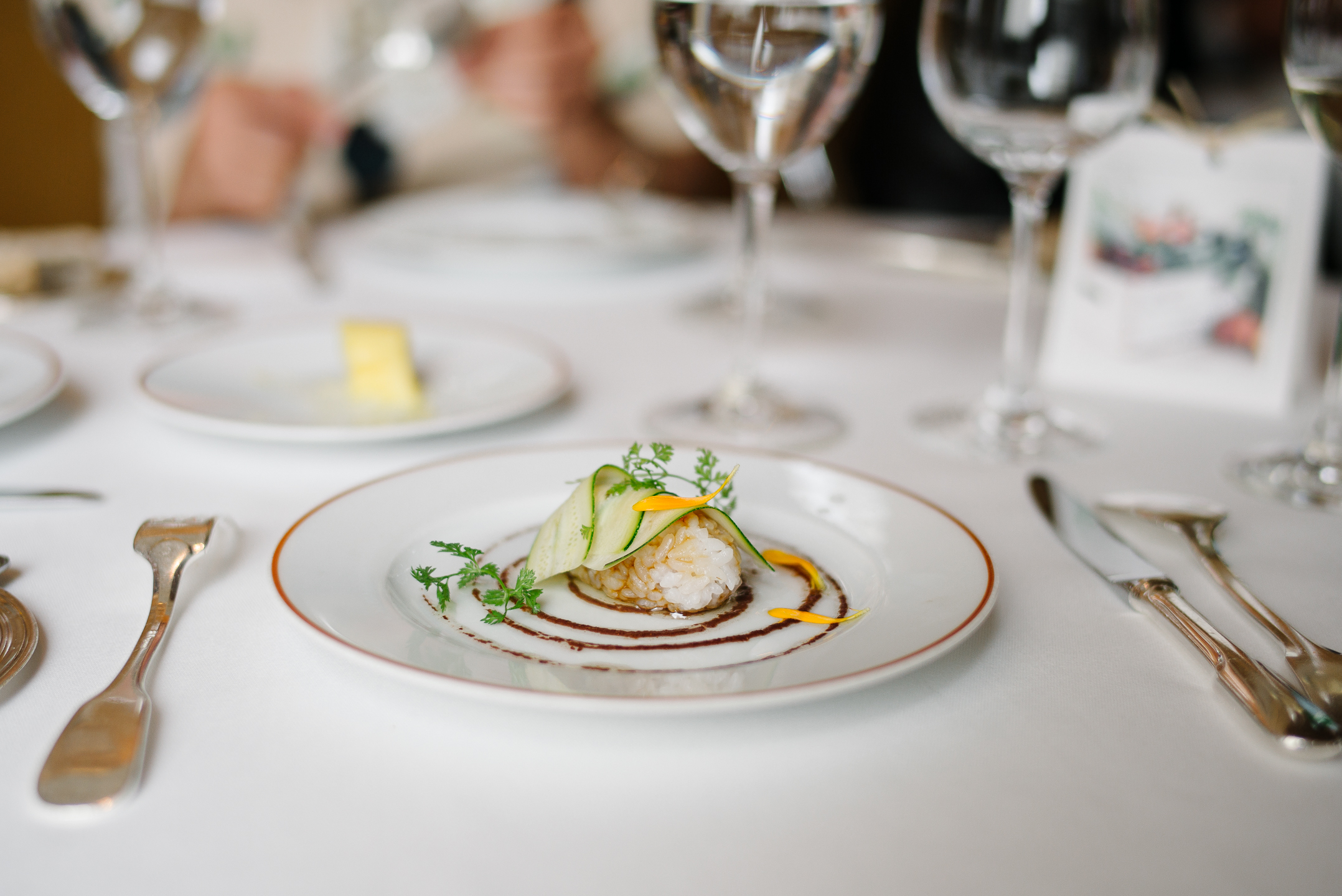 4. White asparagus from the Sarthe farm, rhubarb and spearmint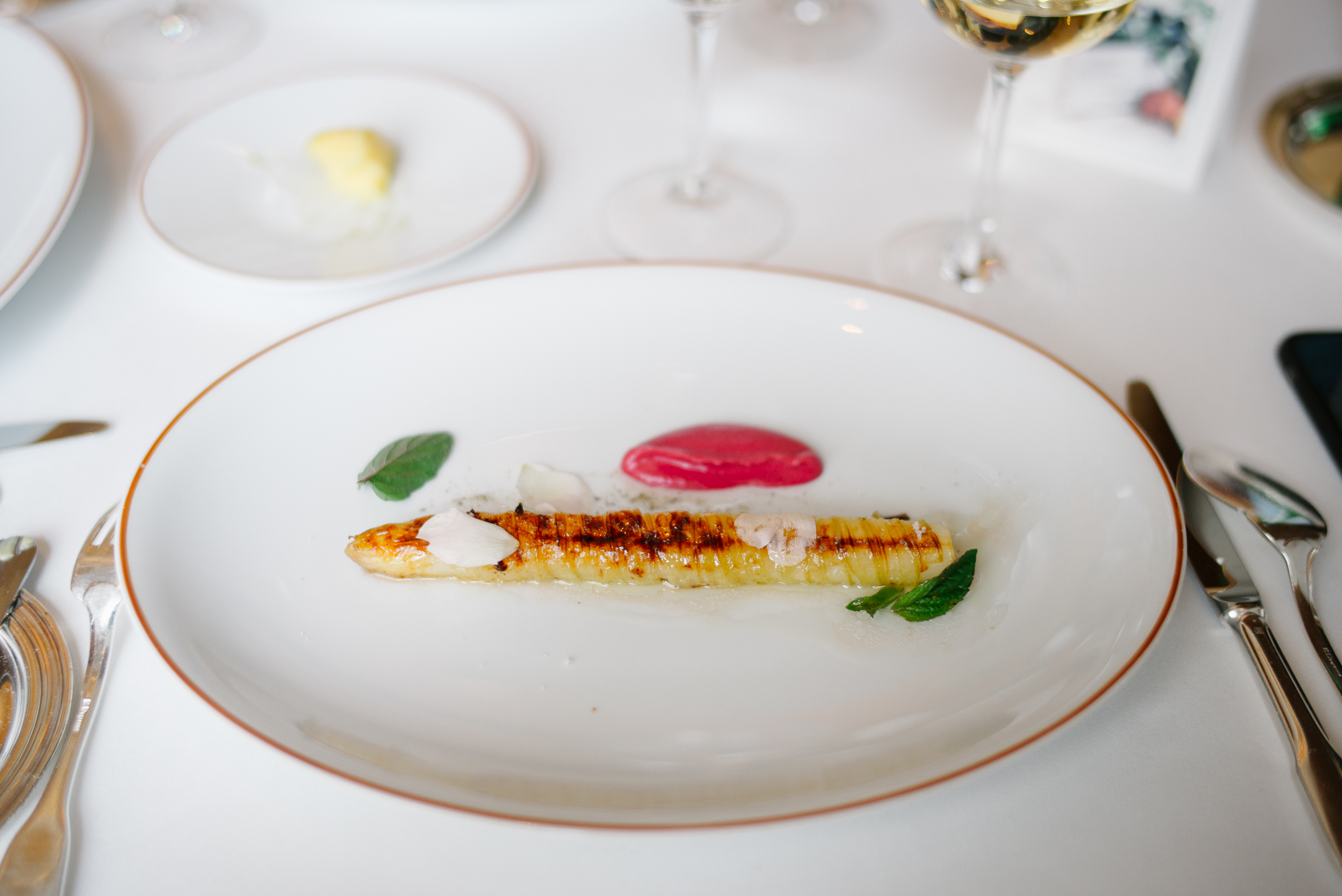 5. Potato gnocchi with lime, carrot, garlic and celariac foam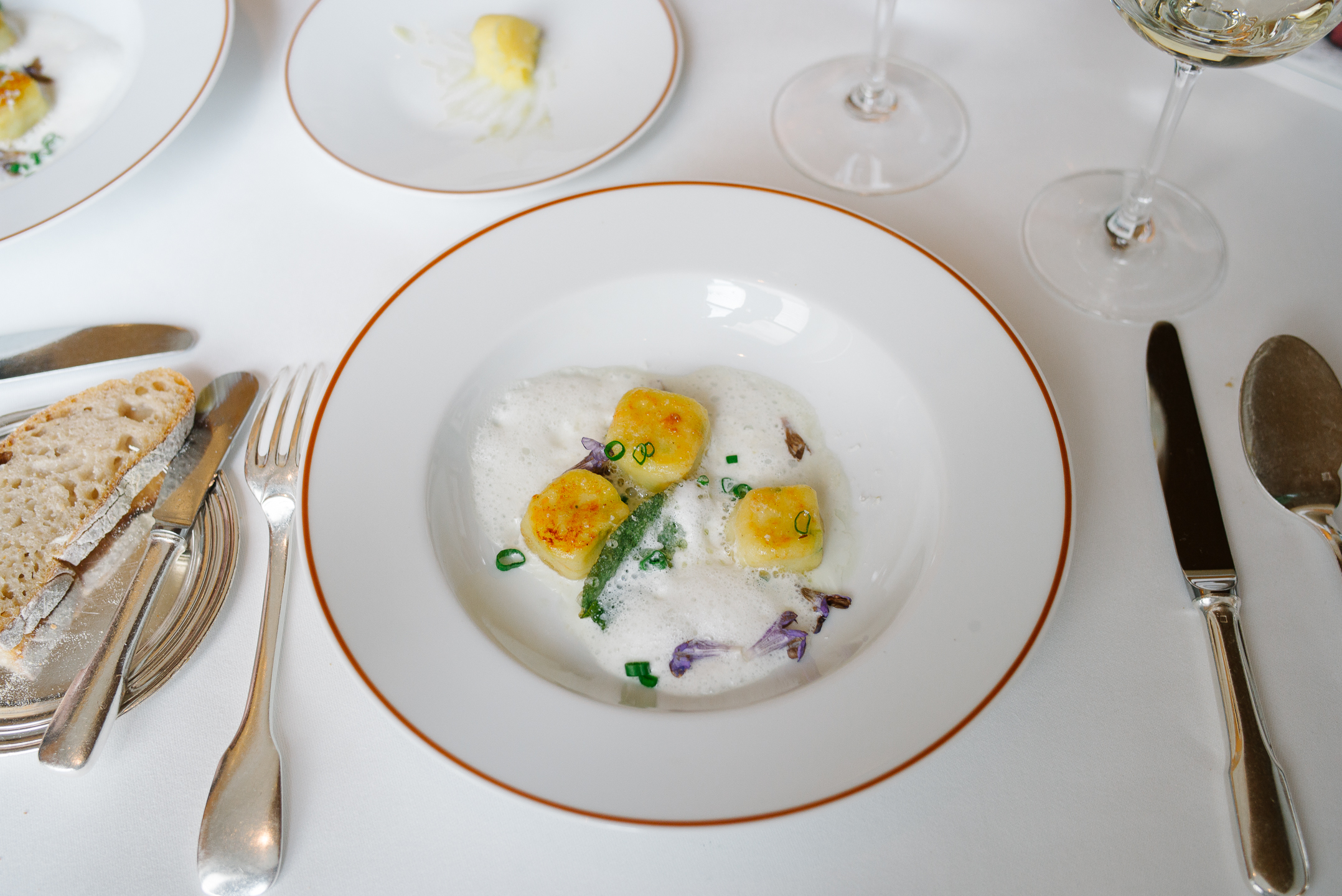 6. Fines ravioli with white asparagus consomme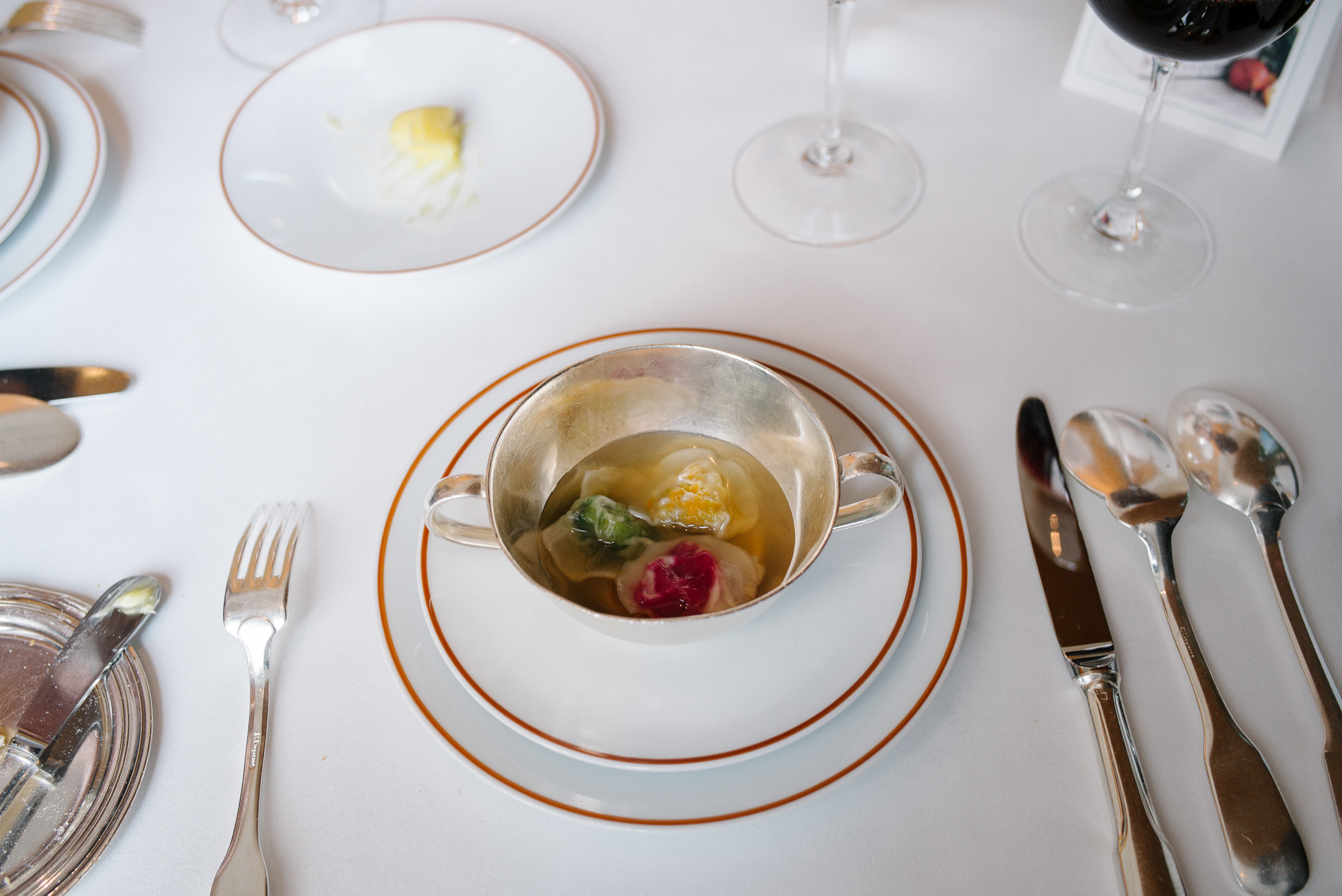 Carrot thyme verbena – Broccoli fennel garlic – Beetroot and rhubarb
7. Mozzarella, fava beans, spring onions, shallots, strawberries, garlic and mint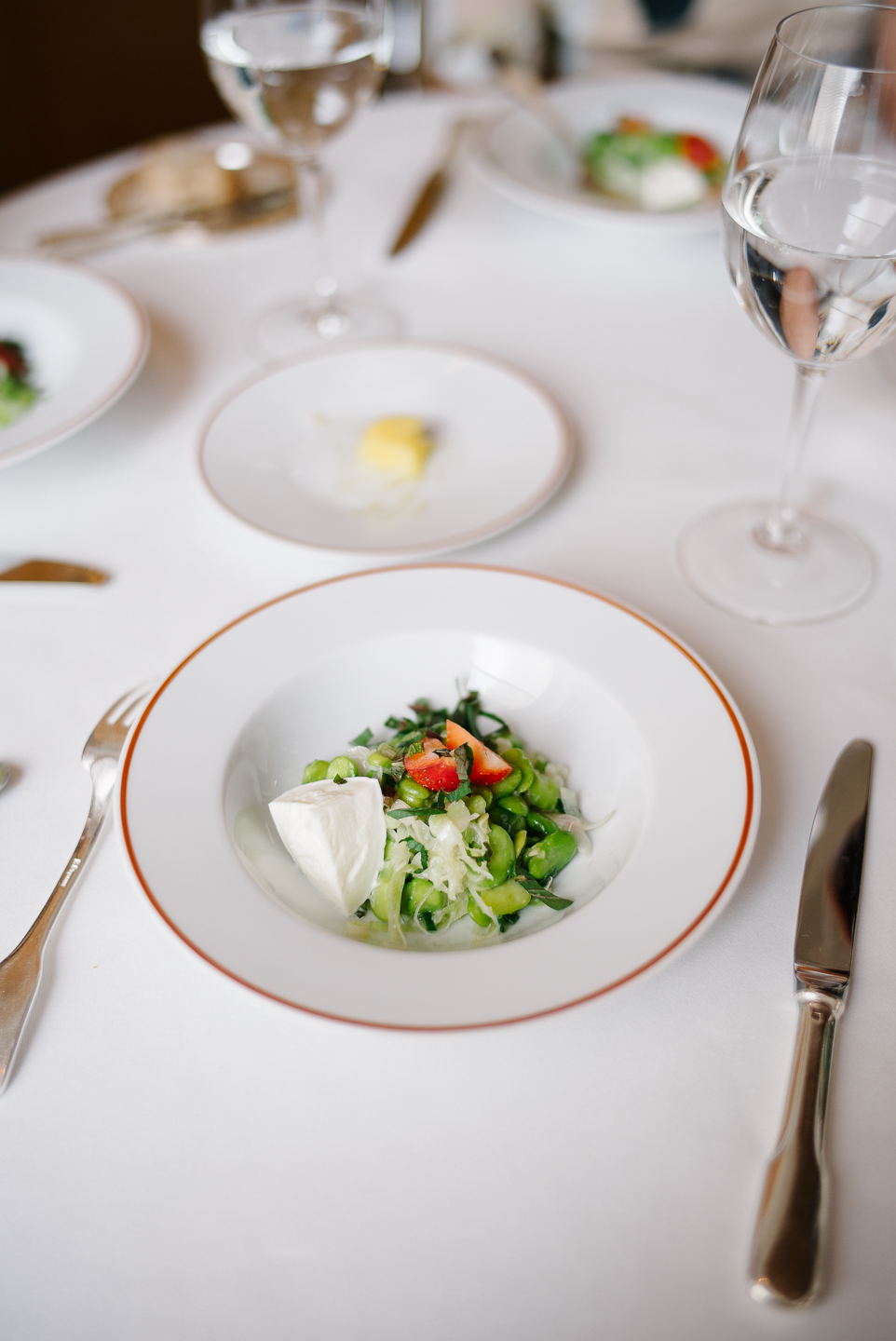 8. Watercress veloute with garlic cream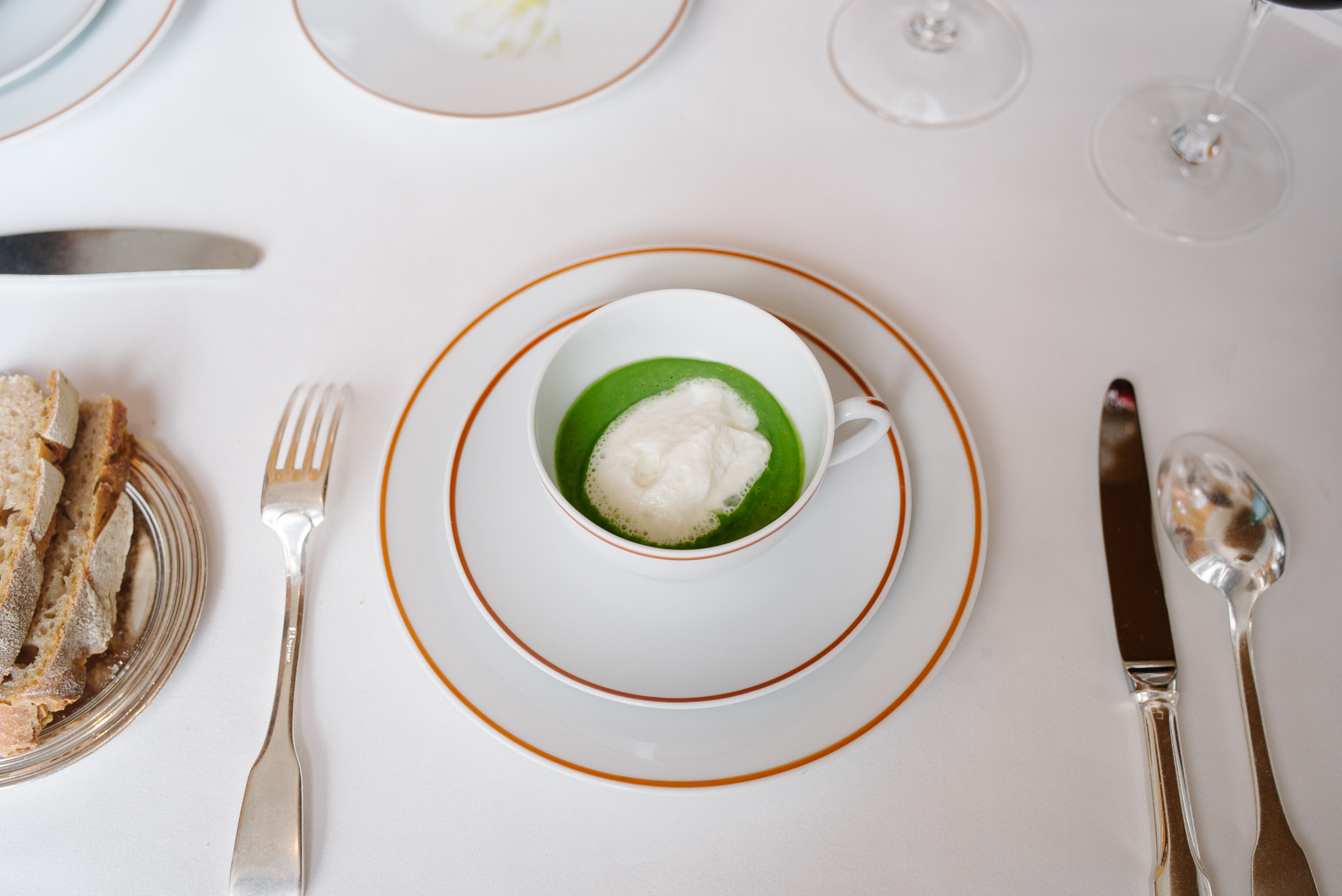 9. New potatoes, shallot, oyster foam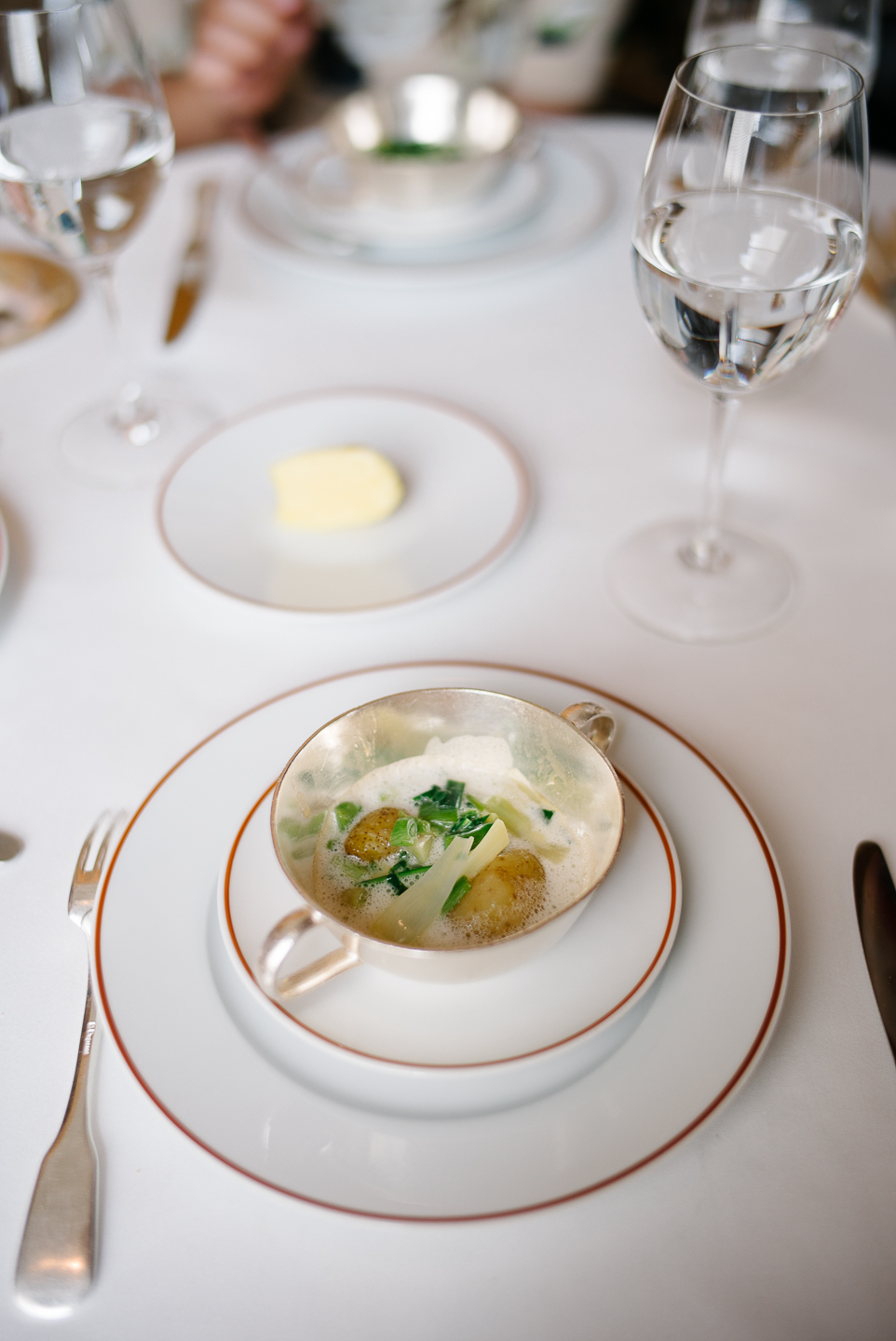 10. Vegetable merguez, cous cous, garden vegetables and argan oil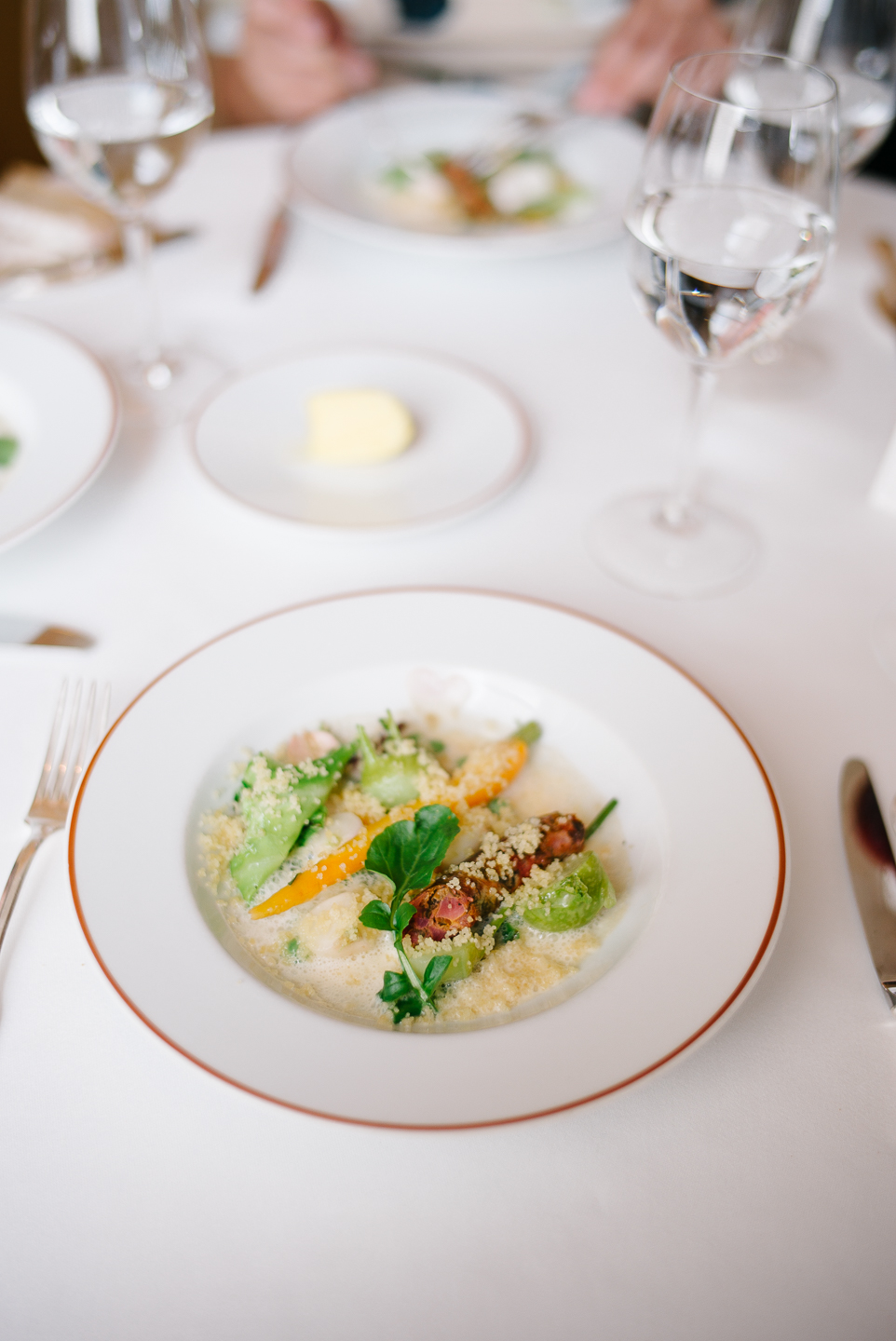 11. Pre-dessert sweets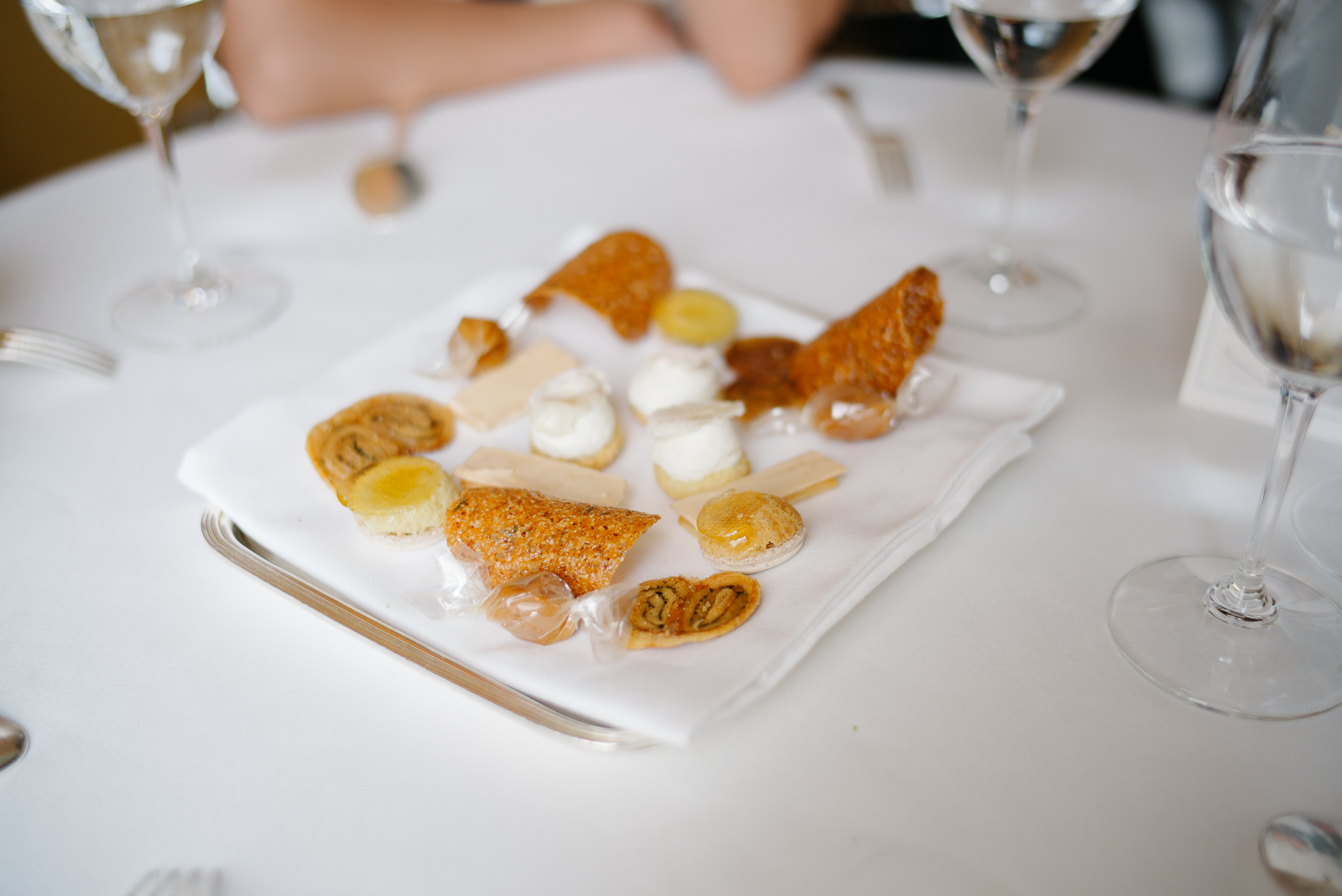 12. Chocolate Millefeuille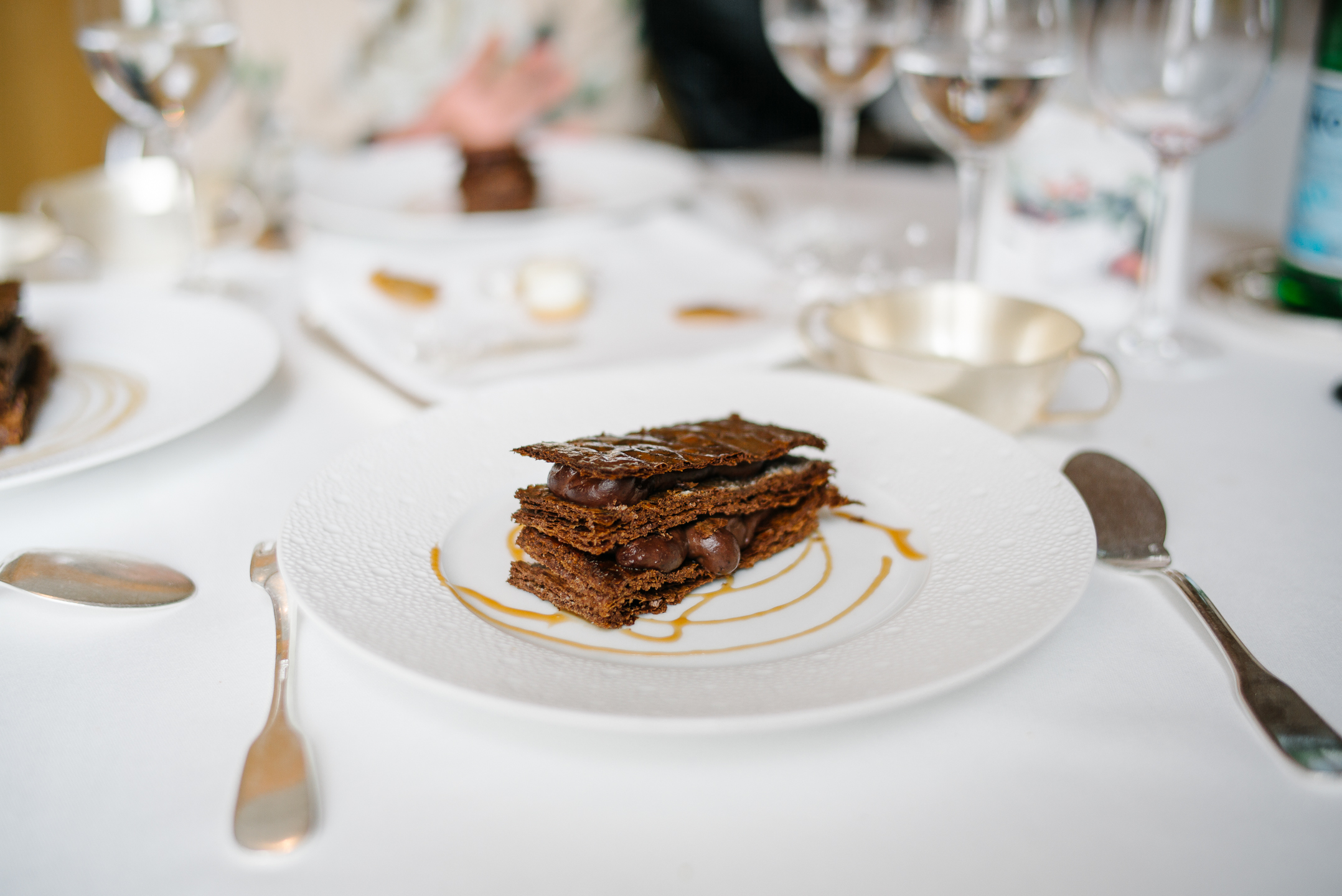 13. Strawberries, hibiscus soup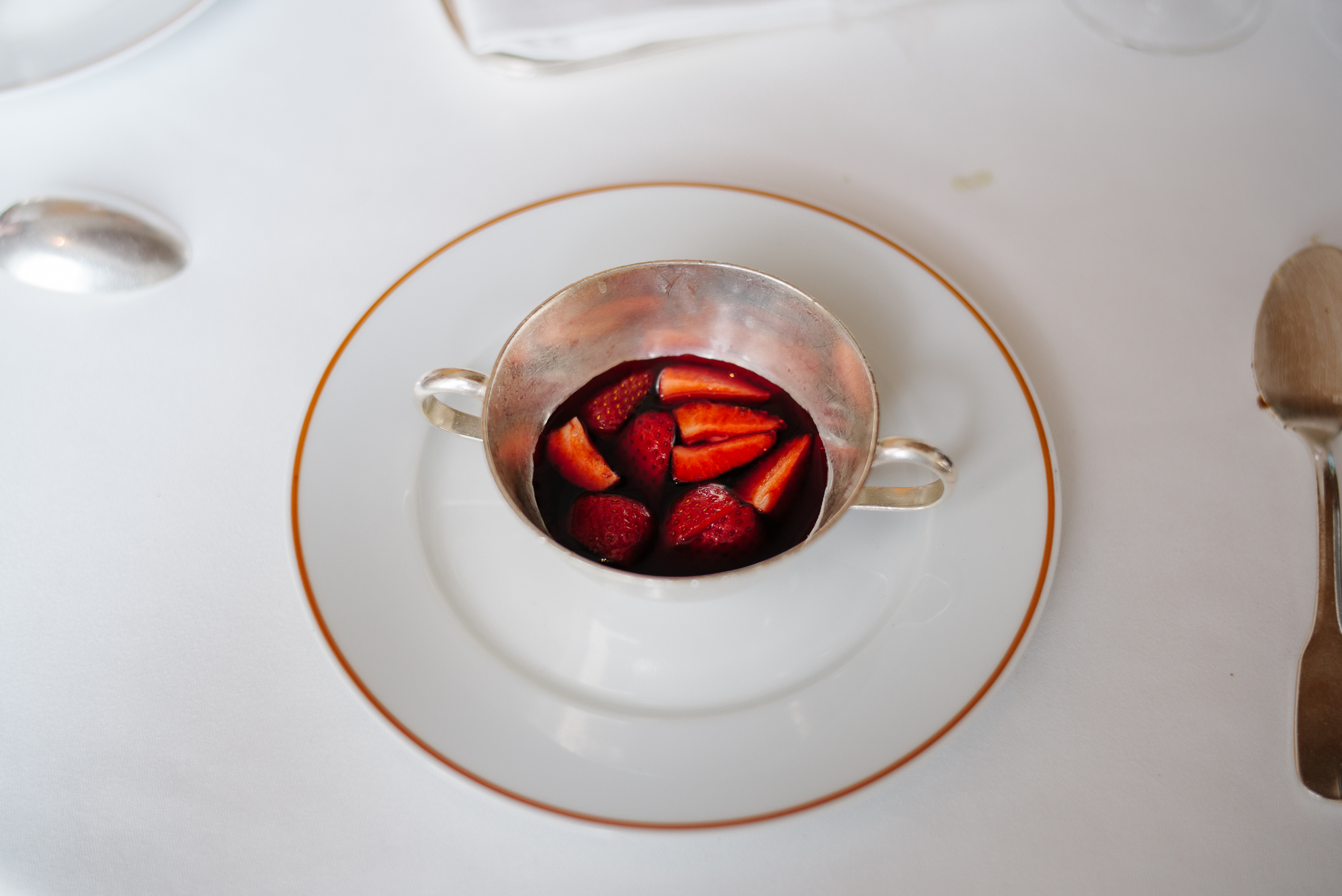 Details
Restaurant Arpège
Modern French
Lunch carte blanche €145; Spring Garden €300; Earth & Sea €380.
Mon – Fri only
84, Rue de Varenne
75007 Paris
Tel : 33 (0)1 47 05 09 06
Metro : Varenne