Since Chinese New Year is here, I thought I'd put up a mega post.
Firstly though, I would like to wish you 恭賀新禧, 龙马精神 and hope you have a smashing 年夜飯.
My dad celebrated a milestone last year, and the family decided on a massive rendezvous in HK/Macau for a bit of gastro-tourism in Oct '14. My brother picked Zi Yat Heen because we wanted a really slick place to have the B'day meal in Macau. And Ming Court really was out of convenience, since we stayed at Langham Place. So for the blog, that means a two star mash-up!
In one corner we have Zi Yat Heen. In the other, Ming Court.
Four Seasons vs The Langham. Macau vs Hong Kong. Two Michelin Stars vs Two Michelin Stars.
Boom boom boom.
Introductions
In my limited understanding (through foggy gastro-tourist goggles) of the state of the Hong Kong Bib, I surmised that restaurants attached to large Hotel conglomerates – like the Four Seasons and the Langham – usually qualify for multiple stars. One reason could be because they cater to the conventional idea of banquet-style meals.
Or celebration food to be more precise. And this implies premium ingredients like abalone, rare deepsea garoupa, lobster, ginseng, sea turtle soup, bird's nest and (gasp, taboo) Sharks Fin. Both restaurants are obviously purveyors of Cantonese cuisine.
I suppose this is all changing now. Taster menus have crept in and there is a globalisation of (what may be interpreted as) Michelin ingredients like foie gras, truffle and wagyu.
Like most top Hotel groups, there is some synergy across their in-house restaurants. In the case of Four Seasons; both restaurants at either locations are 'Heens'. Loosely translating to Elegant (Opulent?) Room or Court or Posh Residence. At the Langhams, there are the two 'Courts' which are themed around past Chinese Dynasties. Some menu items appear across the twin restaurants.
The more famous of the Heens is of course the 3 starred Lung King Heen (Opulent Place with the view of the Dragon), The first Chinese restaurants to get 3 stars.
I felt quite nervous about these two meals because my dad hated Lung King Heen. Great views of the harbour, but he didn't think food was worth it.
Ambiance
Zi Yat Heen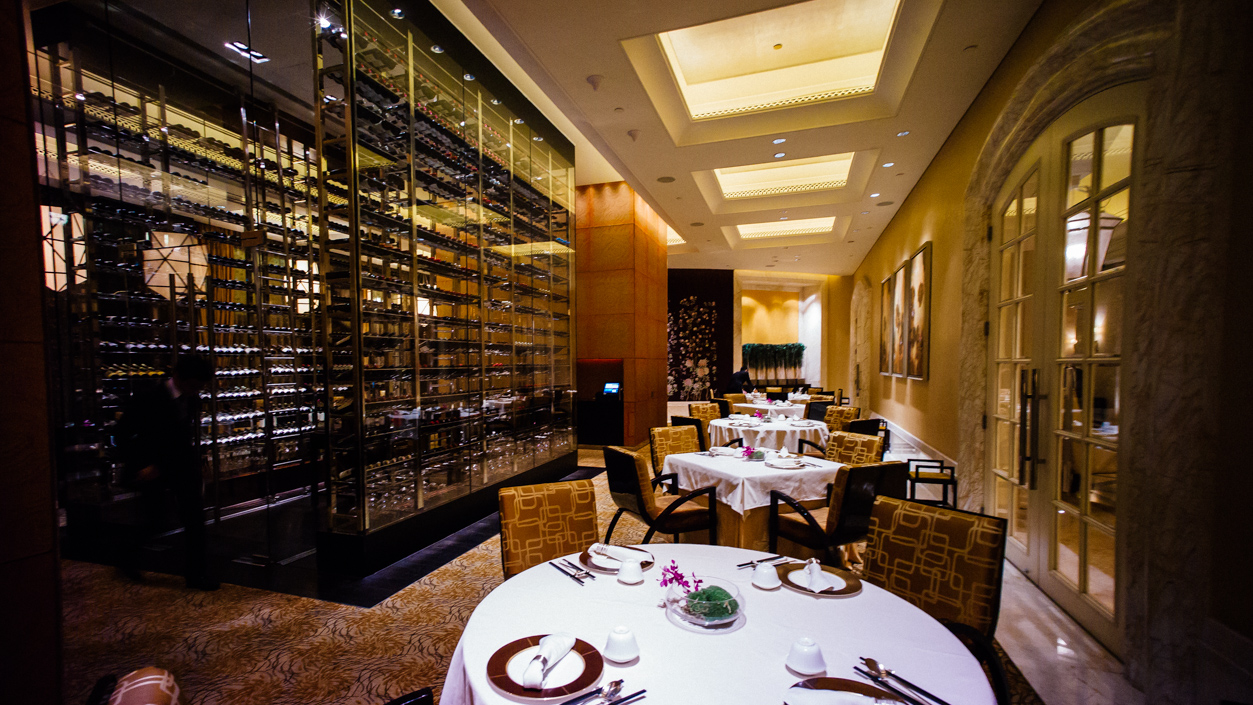 Zi Yat Heen is truly beautiful, like everything about Four Seasons Hotels, you just smell the luxury in every nook of the hotel. The restaurant space is draped in gold trimmings and plush white cotton. The very centre of the dining room is a glass walled wine cellar, everything is very angular and assured. It's not very big, but it does have high ceilings, tables are well spaced out and just ooze luxe. Very comfortable dining here. This is where you want to have special family dinners.
Ming Court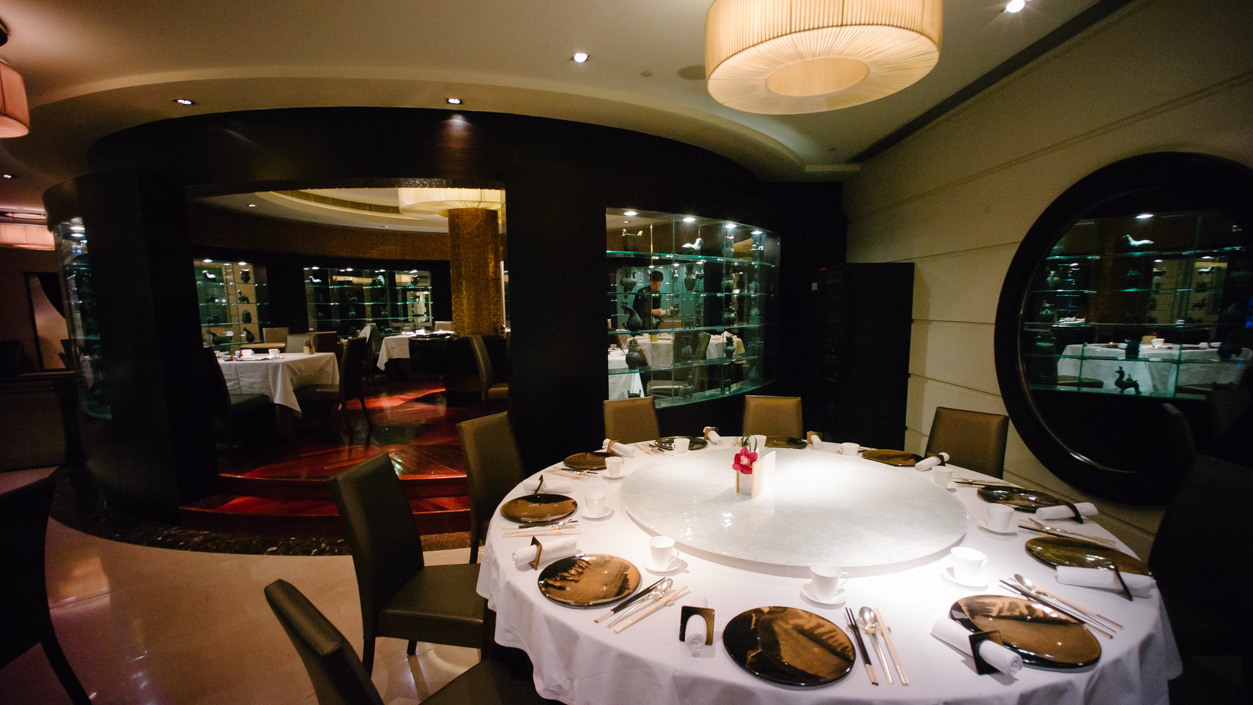 By comparison, Ming Court is decked out in polished china, presumably modeled after relics from the Ming Dynasty. The dining room has a circular feel about it – a 'Ming Sun' area and a 'Ming Moon', to quote from the official website. We were given a table in the inner chamber. It felt quite tight and a little like dining in a museum. Saying that, it definitely still has the luxe feel. Everything just smells great in here.
Starters
Zi Yat Heen
Barbecued Suckling Pig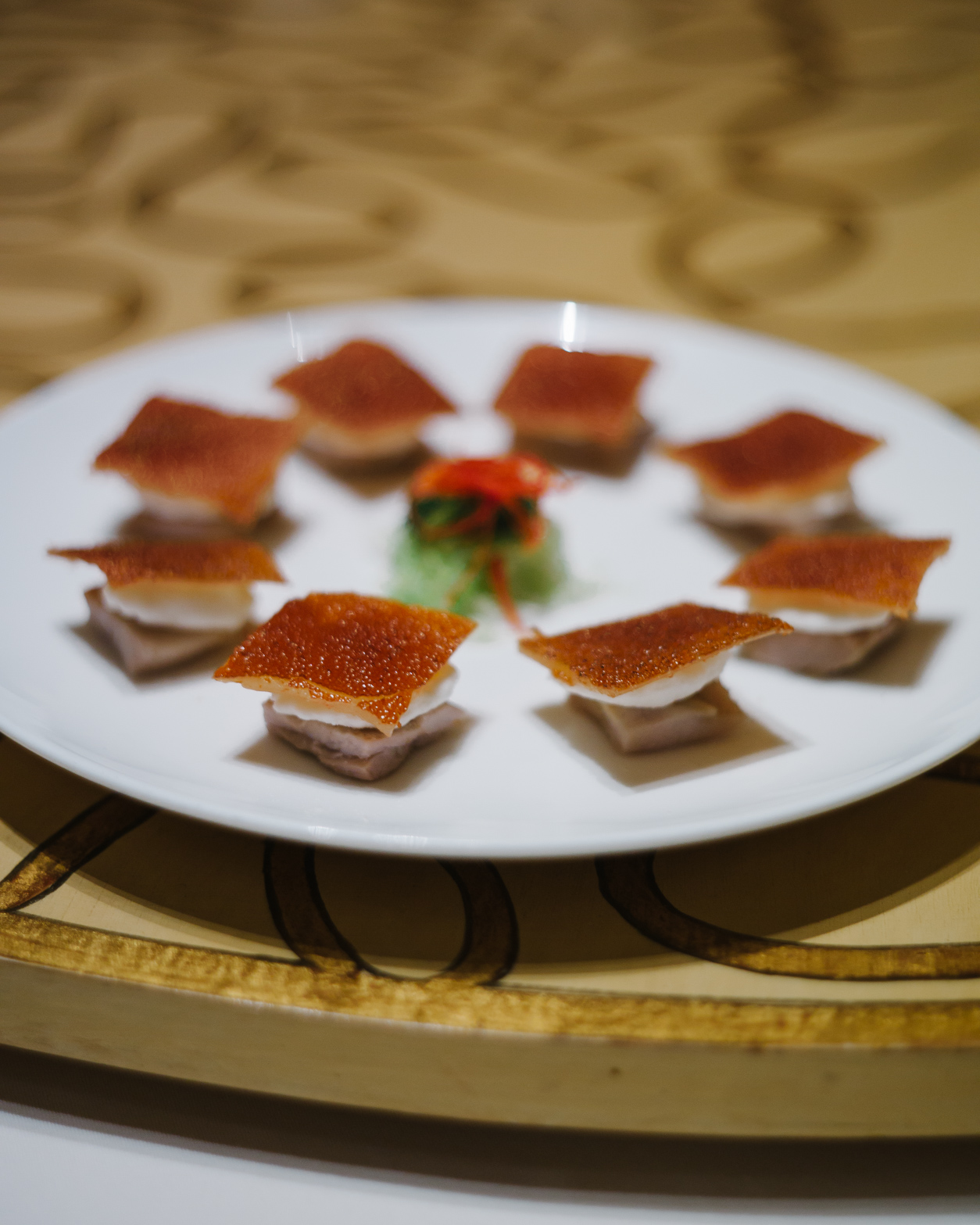 The first dish looked cute, and unassuming, really, we didn't expect it to be so delicious. The pork was just perfect. Like silk, so 'wa', plump, flawless. The seasoning was just right. The skin was reduced to its elemental form, crispy with the scent of natural oiliness. In place of a layer of fat was a sort of baked flour or water biscuit. Presumably this acted as a 'transport medium' carry the oiliness. The entire experience is a distillation of siu yuk. Restraint and clean. Whose the current head chef again? Bravo Mr Ho. This is skill. We immediately ordered another platter!
Crispy Scallops with Fresh Pear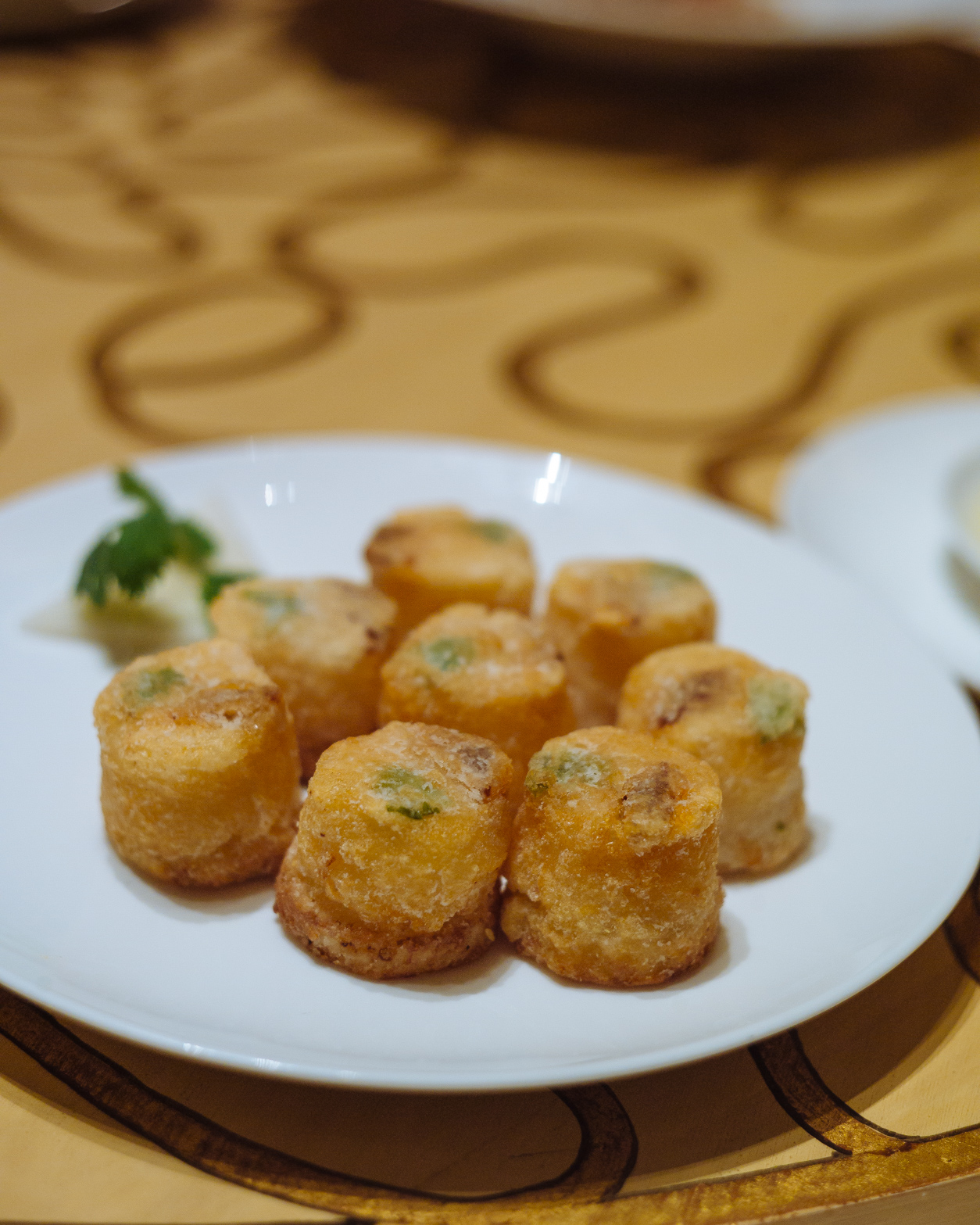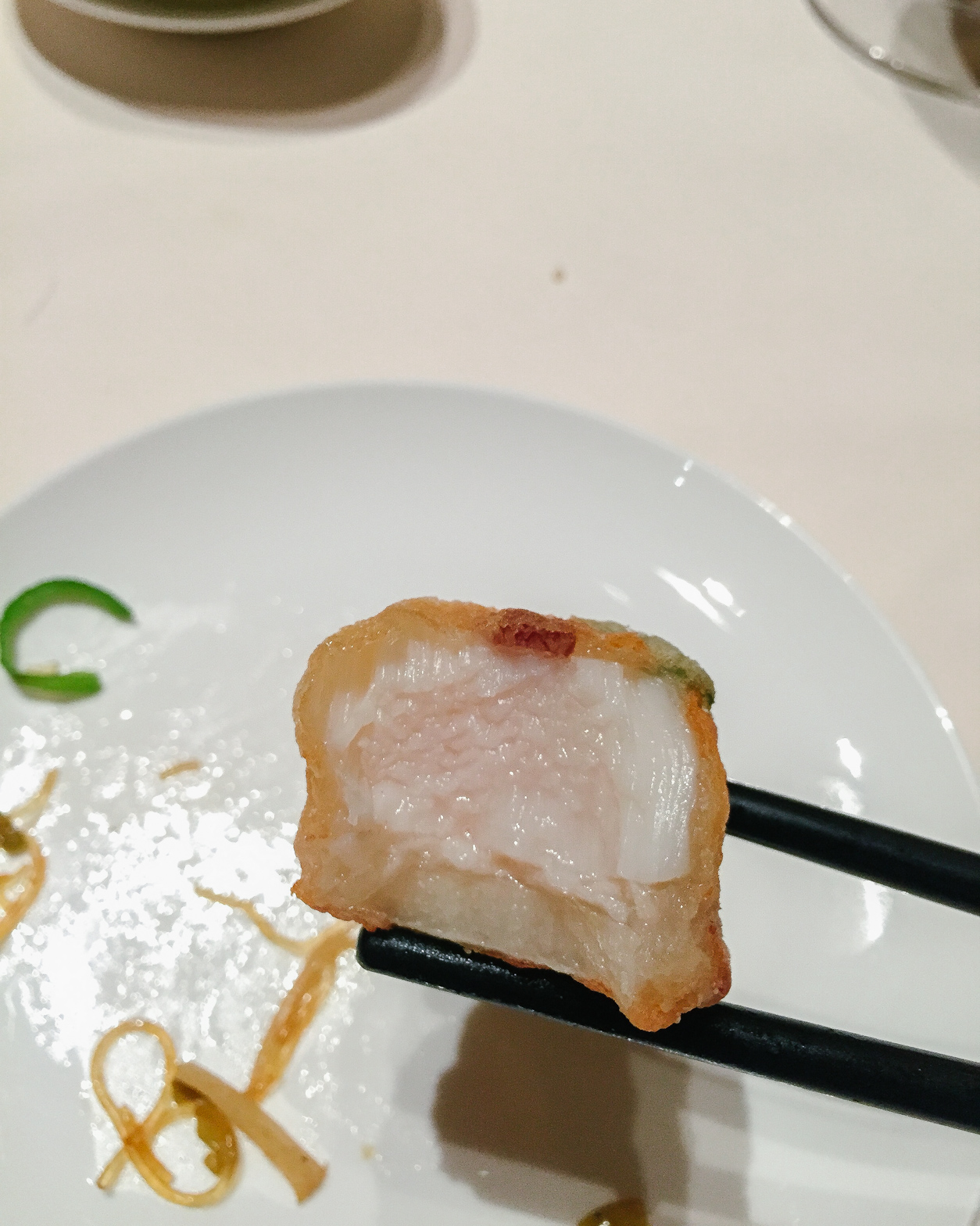 Who knew pear and scallop went so well together ? Fleshy, sweet and juicy, it all plays so well together. There is also a subtle punch of heat. Another showing of restraint and clean flavours. I'm told this is also available at Lung King Heen. I really loved this. Such pure cooking, emphasizing the natural flavours of the produce.
(Certainly a better pairing than pear with onion)
Ming Court
至尊蜜汁叉燒
Supreme Pork Loin, Honey, Barbecued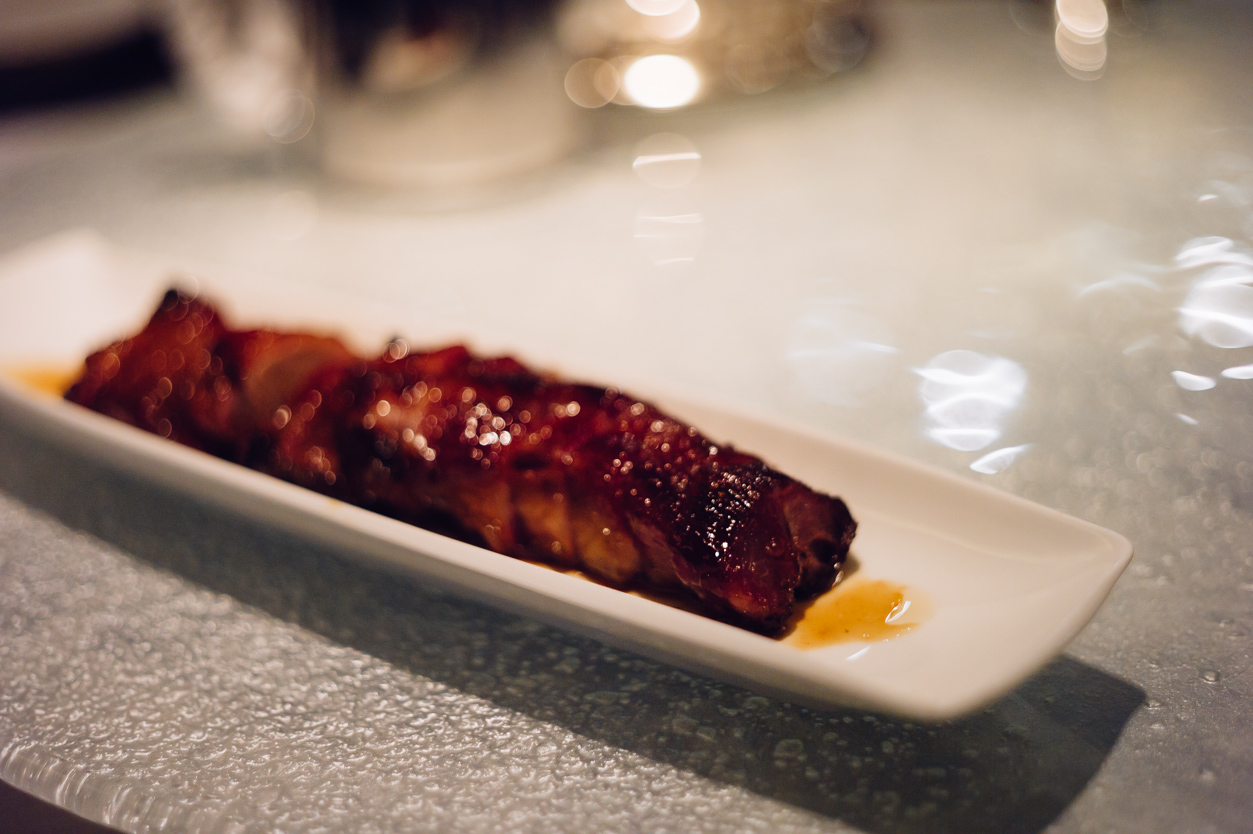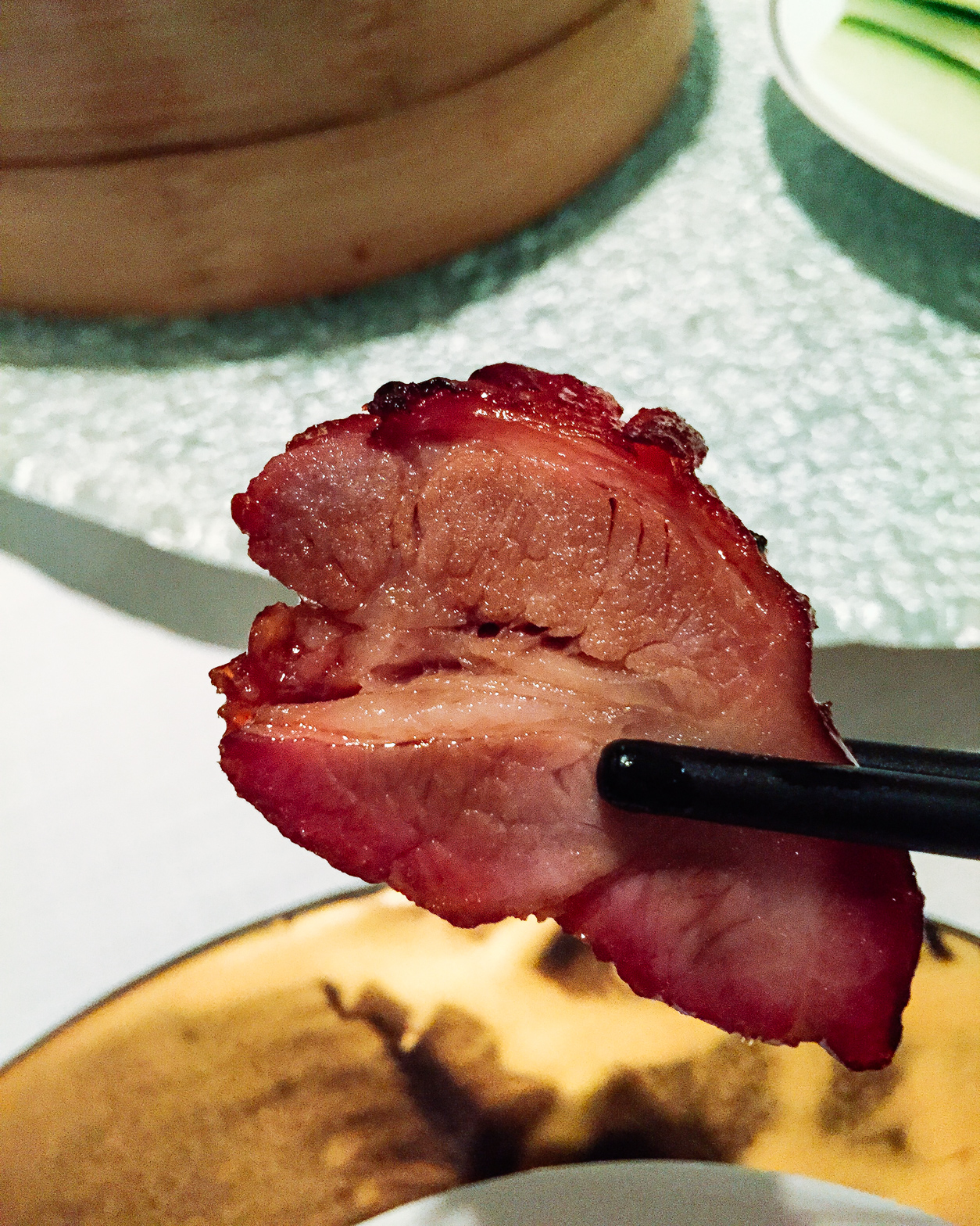 Over at Ming Court, we started with classic char siu – perfect. We were bowled over by the quality of the suckling pig at ZYH and didn't think it could be topped. However, we were in awe with this. This made us sit up and eat up.
Perfect charness, subtle sweetness, great fat to meat ratio, fat just melted into this wondeful loose tenderness and it finished with a subtle smokiness. Bliss with a spoonful of rice. I can still recall the feeling of this dish. You know what I mean, the sheer joy of a fantastic mouthful of food. What a great feeling. Wah.
It was a little tragic that we found our best siu lap experiences in two star restaurants, rather than the more romantic way of discovering it in a more humble setting, like a food stall.
京式片皮鴨
Peking Duck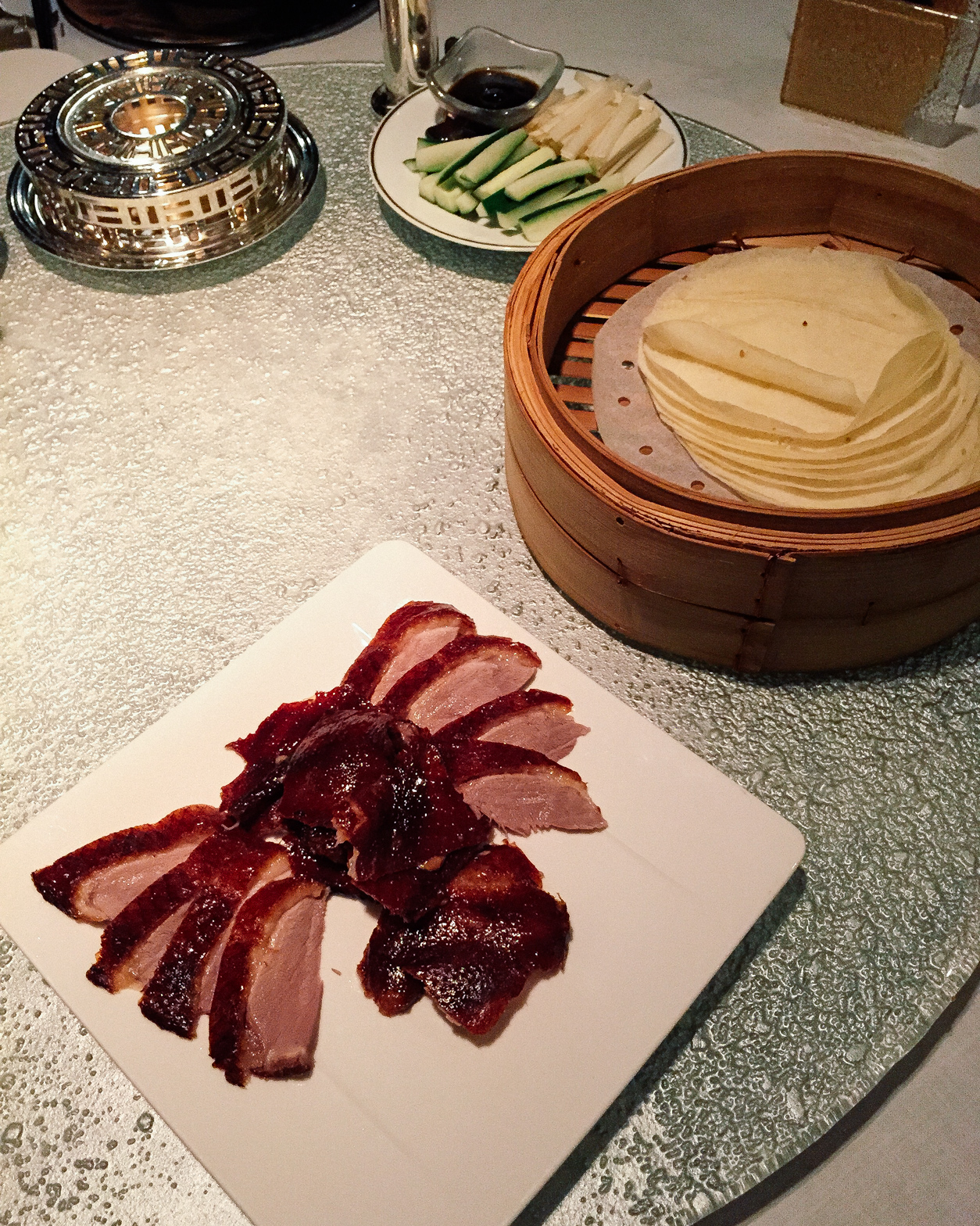 Good crispy skin with delicious fat. nice oiliness, good sauce but everytime I come to making the wrap, the burrito-effect washes over me. All peking duck tastes the same to me, decent duck fat skin. Yawn. I don't see the fuss about the ceremony of this dish? Am I missing something?
We asked for the 2nd peking duck course to be a stir-fry and it's described further down.
Prawns
Zi Yat Heen
Sautéed Prawns with Fragrant Tea Leaves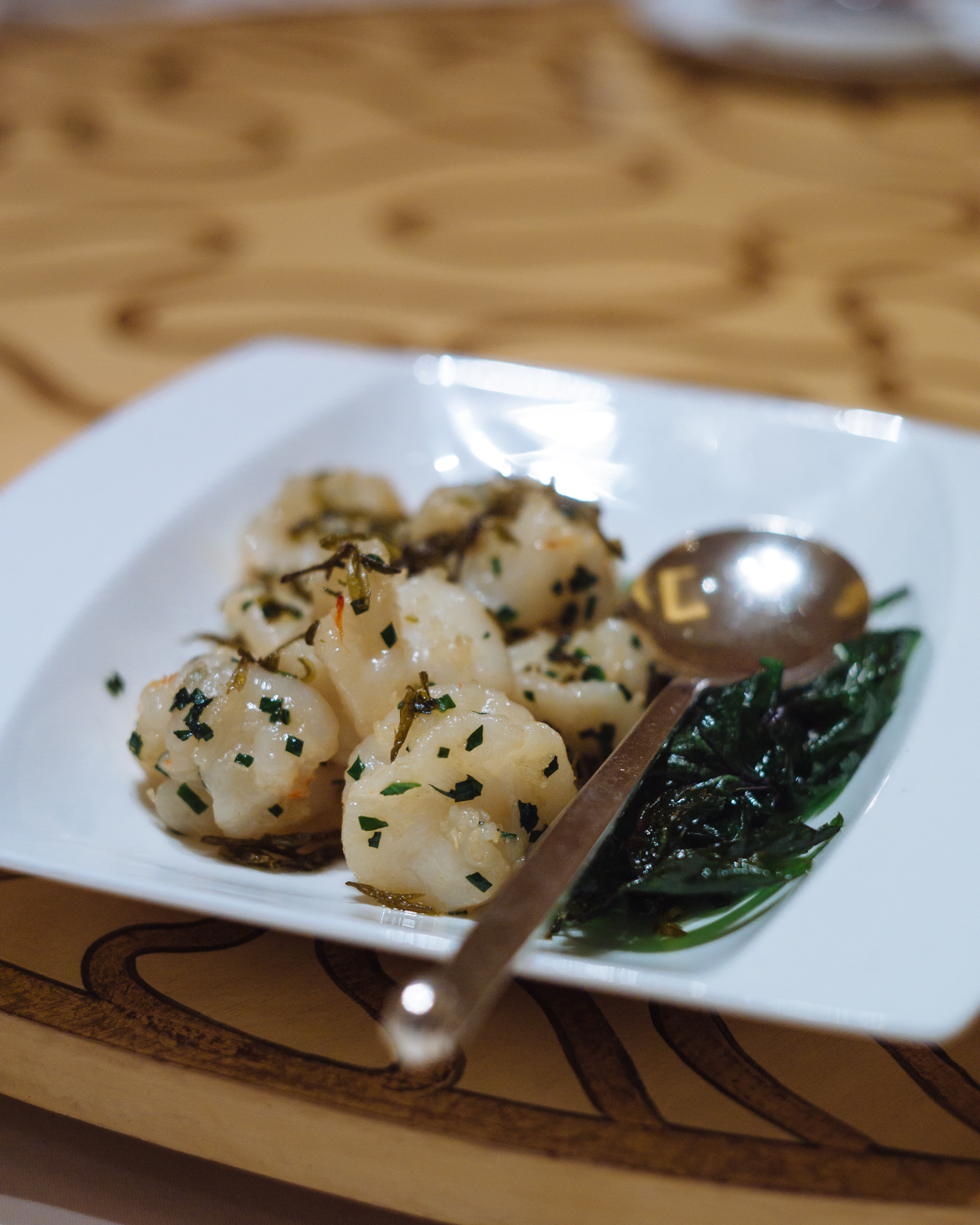 Standard Cantonese style, with the crunchy fleshiness (lobster like). I liked that this one was still semi translucent inside, keeping more of the natural textures intact. Yeah good prawns, but nothing exceptional.
Ming Court
Prawns, scallop …and that egg.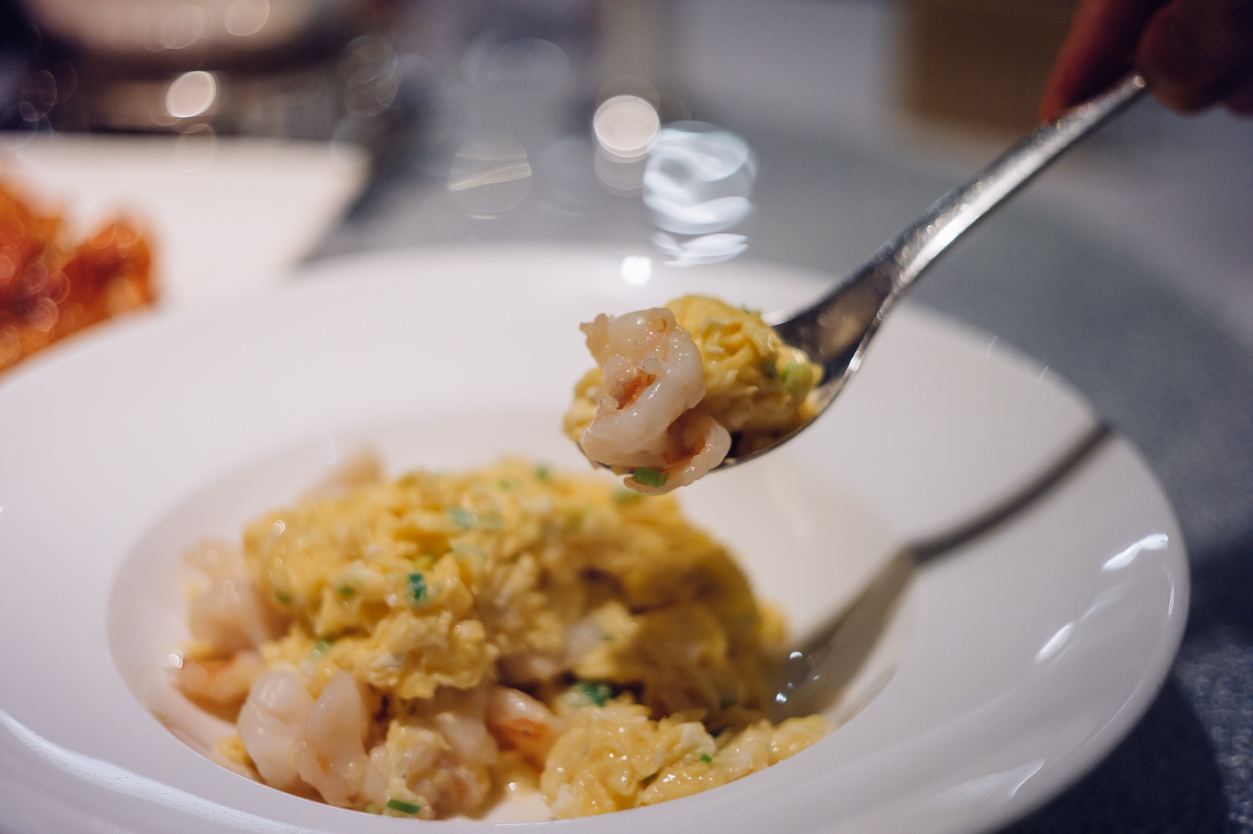 These also had that crunchy texture, though the scallop mix was confusing. Too much of a good thing, like listening to the Beatles and Iggy pop at the same time. (…?)
However, the eggs were the truly exceptional component. Oh my goodness. Egg heaven. The best scrambled eggs I've ever had. Serious Luk Ko Hua. It felt layered, like silken sheets of egg sliding across one another, such a smooth ride. Seriously, this could be served as breakfast, and blow minds. It must be the oil folded into the egg. I think. Exceptional skill! Bravo Chef Tsang.
(FYI, that's classic Leica bokeh going on in the photo above. Very old glass, 1960s built fully chrome 50mm Dual Range Lens. On an M9 CCD filter. Great innit?)
Crispy Chicken Battle
Zi Yat Heen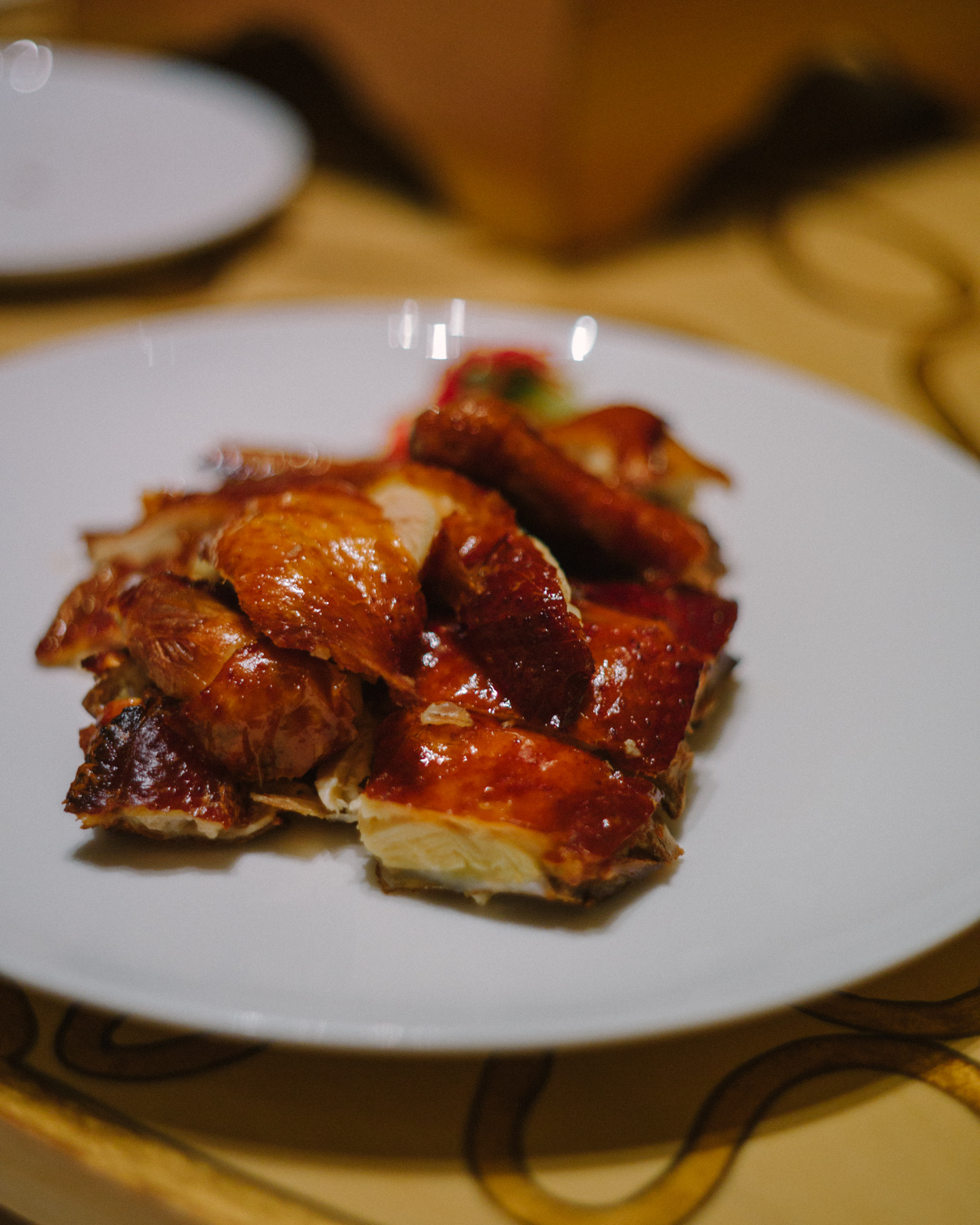 Yeah good chicken, nothing wrong about it, but nothing great either.
Ming Court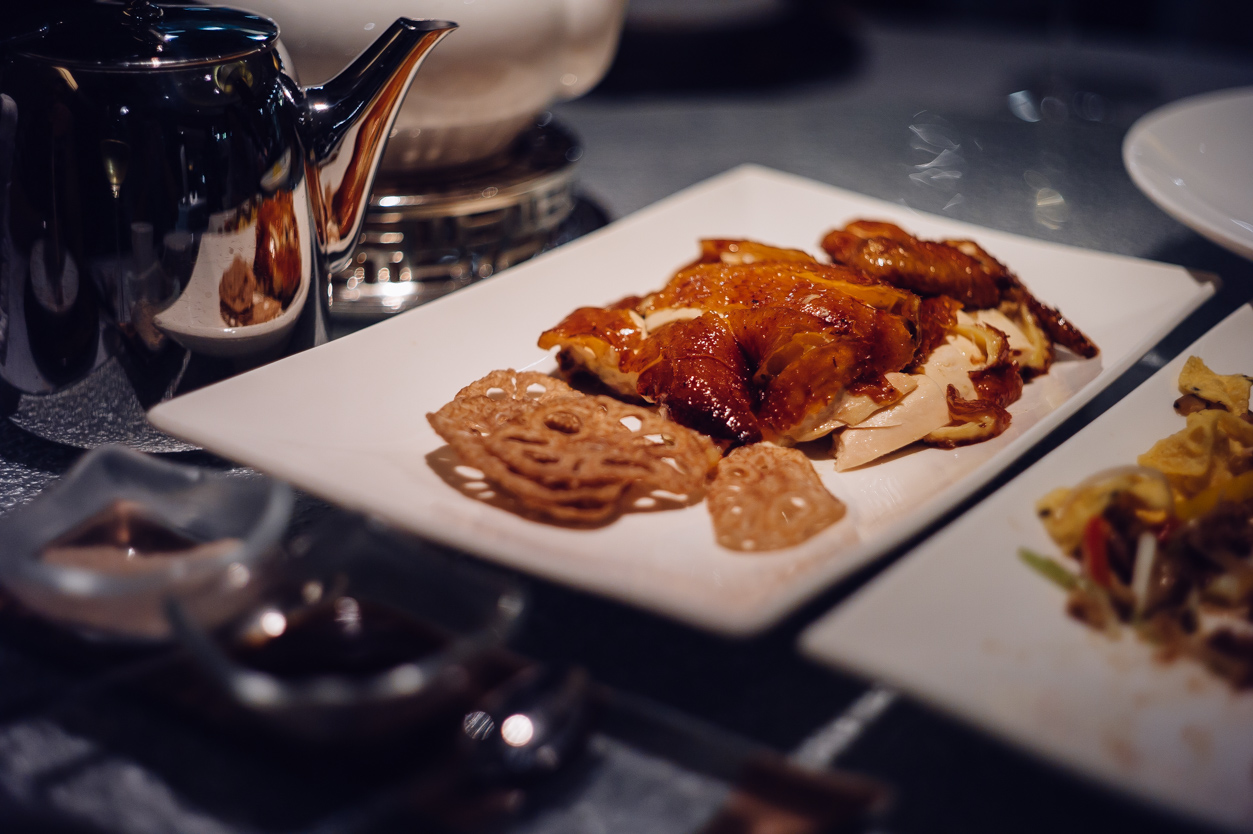 This was better than ZYH, but ditto, not special.
In this category – whilst not quite fried chicken – I had the BEST soya chicken (ever!) at a stall in the Macau Venetian foodhalls, aptly the BBQ King. This was glorious. I don't know how they managed it, but the chicken gave this sensation of 'layered' meat presumably with some technique to infuse the meat with its own rich stock. This is chicken flavoured silk. Meat Layers… Serious! It's got to be a family secret recipe – Something which no two star restaurant will acquire.
Mains
Zi Yat Heen
Marinated Baby Pork Knuckle in Soy Sauce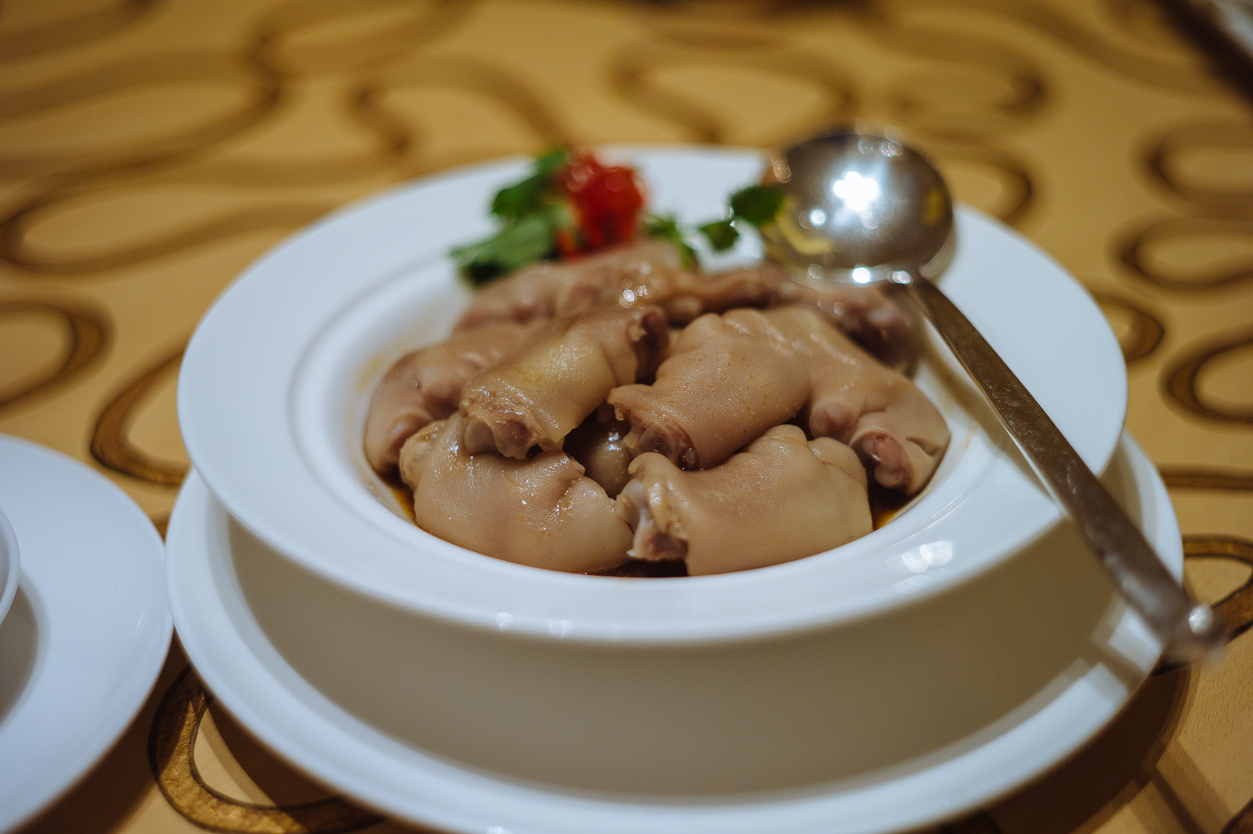 The sauce was light and subtly sweet with something herbal and medicinal about. Very good sauce. Those tiny trotters while subtle, didn't have much gelatinous bits on them, so it's like chewing on skin and bone. My dad really liked this, I thought it was ok.
Signature braised pork ribs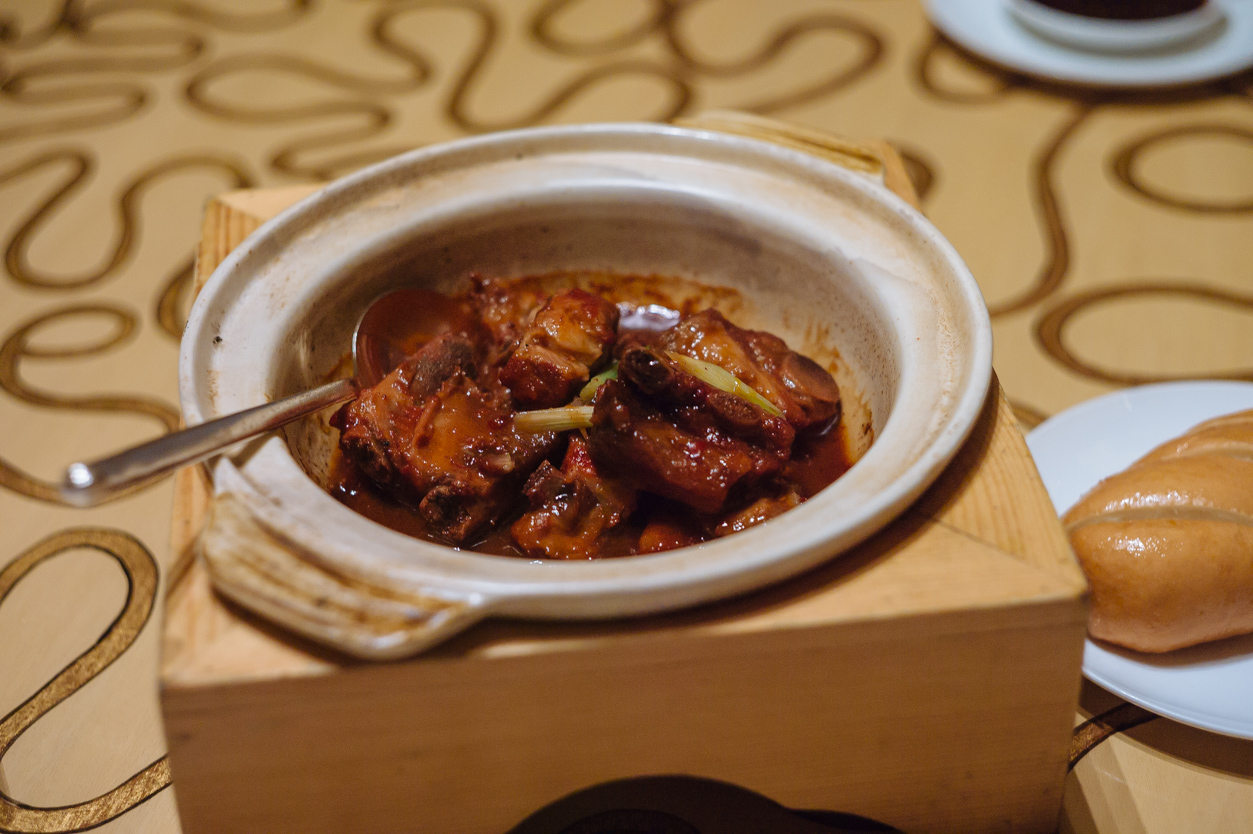 The sauce… oh my days, again just that perfect balance of sweet, sour with a subtle hint of spice. Fireworks in the right proportions. The meat slides right off the bone, very tender and best of all, they served this with freshly baked mantous on the side to soak up all that wonderful sauce. Comfort food. Mission accomplished.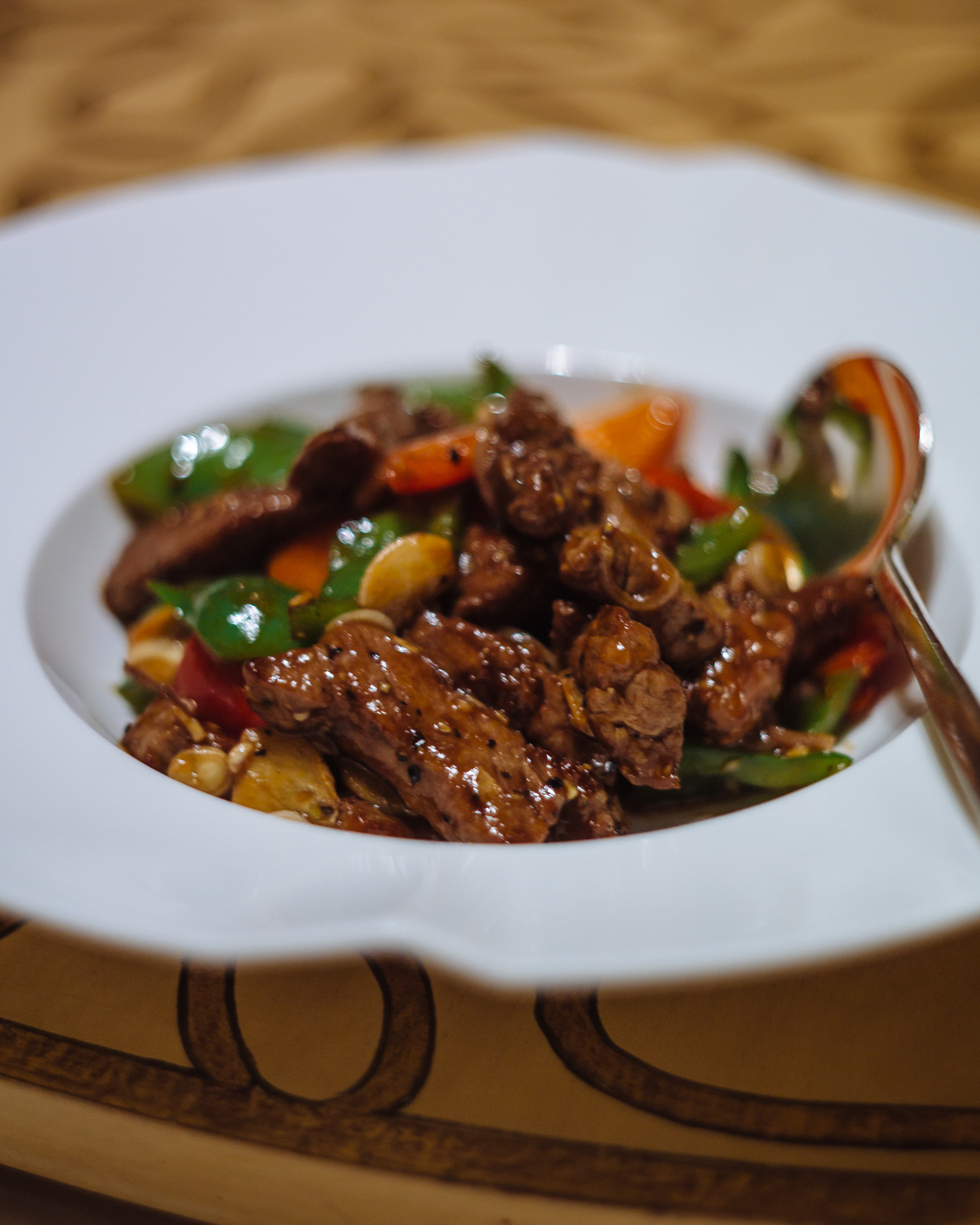 The style of cooking at ZYH was becoming clear to us – Chef Ho was all about respecting the very essence of the cuisine: Balance. Some garlic, some pepper, maybe some sugar. Some Wok hei, some oiliness, the original plumpness of the meat entirely preserved …kwan. Biting into a slice of beef was like a squeezing a tomato. Satisfaction.
Ming Court
紅棗菇絲生爆龍躉腩煲
Live Giant Garoupa, Red Dates, Shiitake, Clay Pot, Braised
Note to self: Don't order giant fish – so tough. We didn't enjoy this, too much oil, this ended our appetites. Sorry.
七彩炒鴨絲
Shredded Duck, Bean Sprout, Carrot, Shiitake, Spring Onion, Sautéed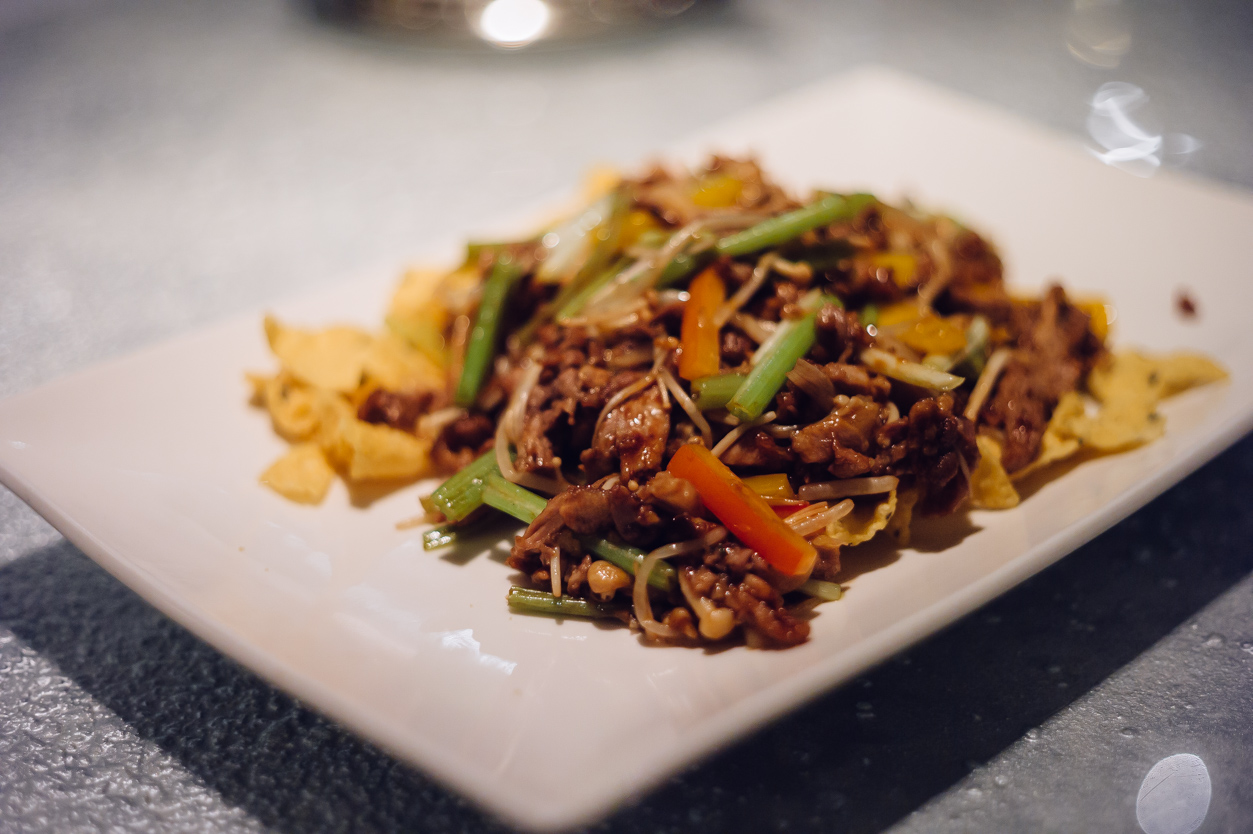 Same with the 2nd course of Peking duck. So oily, so queasy. Two stars? Why?
Fried Rice
Zi Yat Heen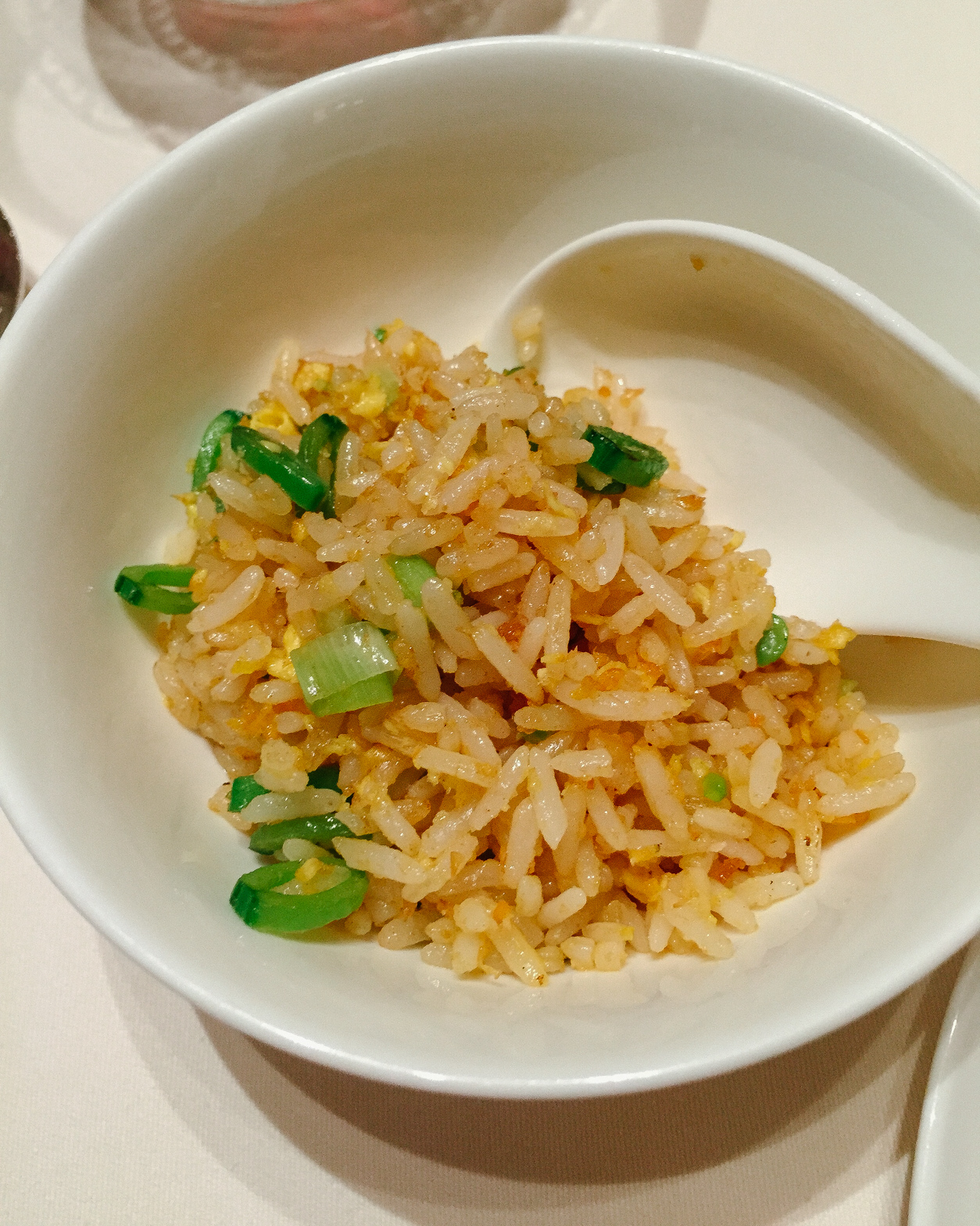 We actually can't remember if this was just straight up fried rice, or maybe fried rice with Yunnan ham with egg white. Either way, check the individual grains. Fluffy, balanced, not overly oily and on point. A smart finish. I loved this, good fried rice.
Ming Court
蔥香鵝肝和牛窩燒飯 2014年度香港旅遊發展局美食之最大賞至高榮譽金獎名菜
Wagyu Beef, Foie Gras, Fried Rice Sizzler
Gold With Distinction, Hong Kong Tourism Board Best Of The Best Culinary Awards 2014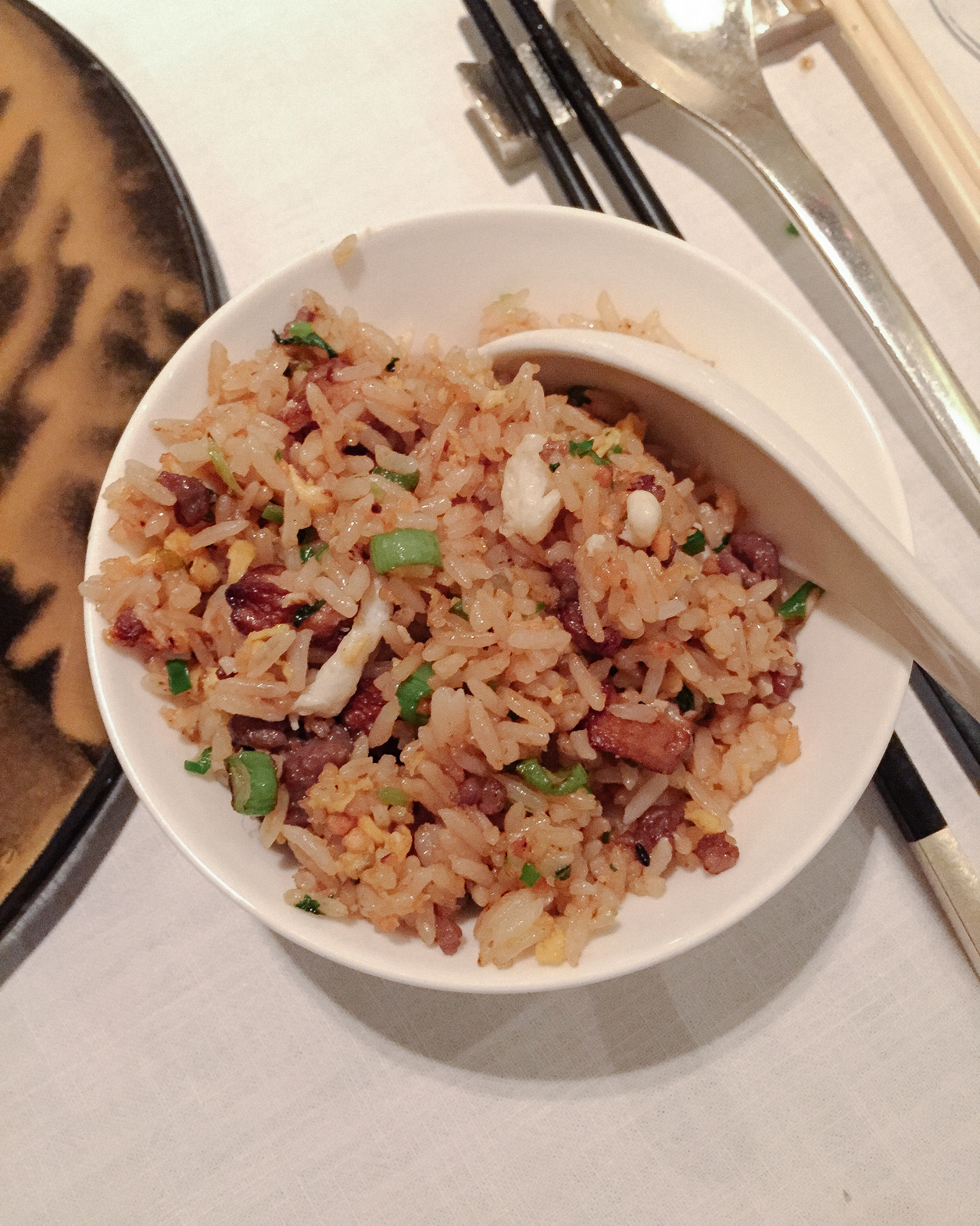 Ming Court's menu is littered with mentions of the many awards its won, mostly handed out by the HK tourism board. Either the board are big fans or maybe the guys on either side are good chums. Though frankly, I don't see how listing another organisation's blue ribbons bring credibility to a two star menu?
Anyway, this was very decadent, an assault on your tastebuds, so much fat and flavour. This is really more like a beef flavoured 'yu fan' (oily rice) rather than fried rice. It sizzled away like a dolsot bibimbap, with boiling Shaoxing wine when it was served.
The first couple of spoonfuls were very pleasing, but after a few more, we thought it was just too salty, too oily, just sensory overload. Coming at the end of the meal, we struggled to finish. Too much of a good thing does ruin it.
I still can't work out what exactly was so award worthy about this recipe? How is this different to having wagyu fried rice at say a teppanyaki restaurant?
Pudding
Zi Yat Heen
Dessert Sampler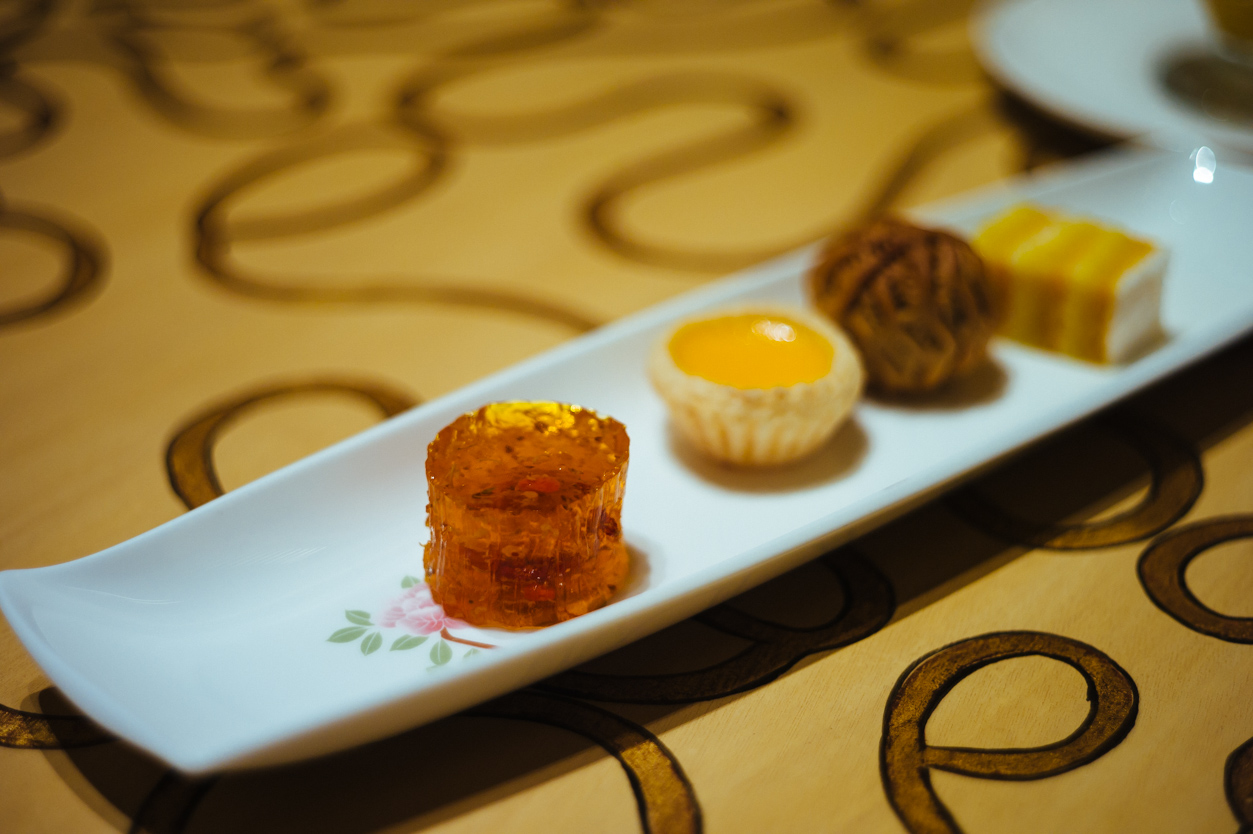 Egg Yolk Bun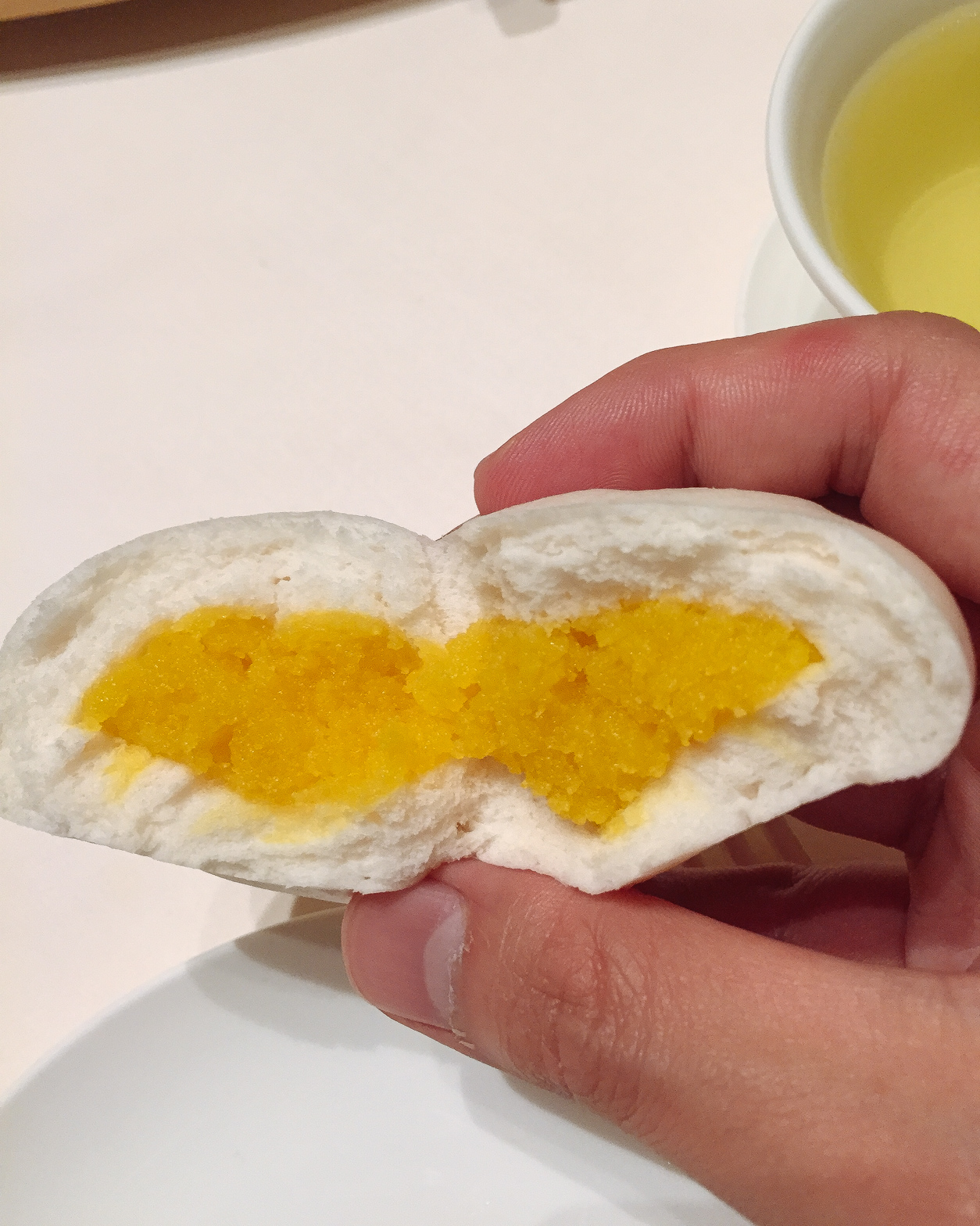 The ZHY standard puddings were forgettable. Not worth writing about.
The bespoke birthday cake on the other hand…
Durian Cake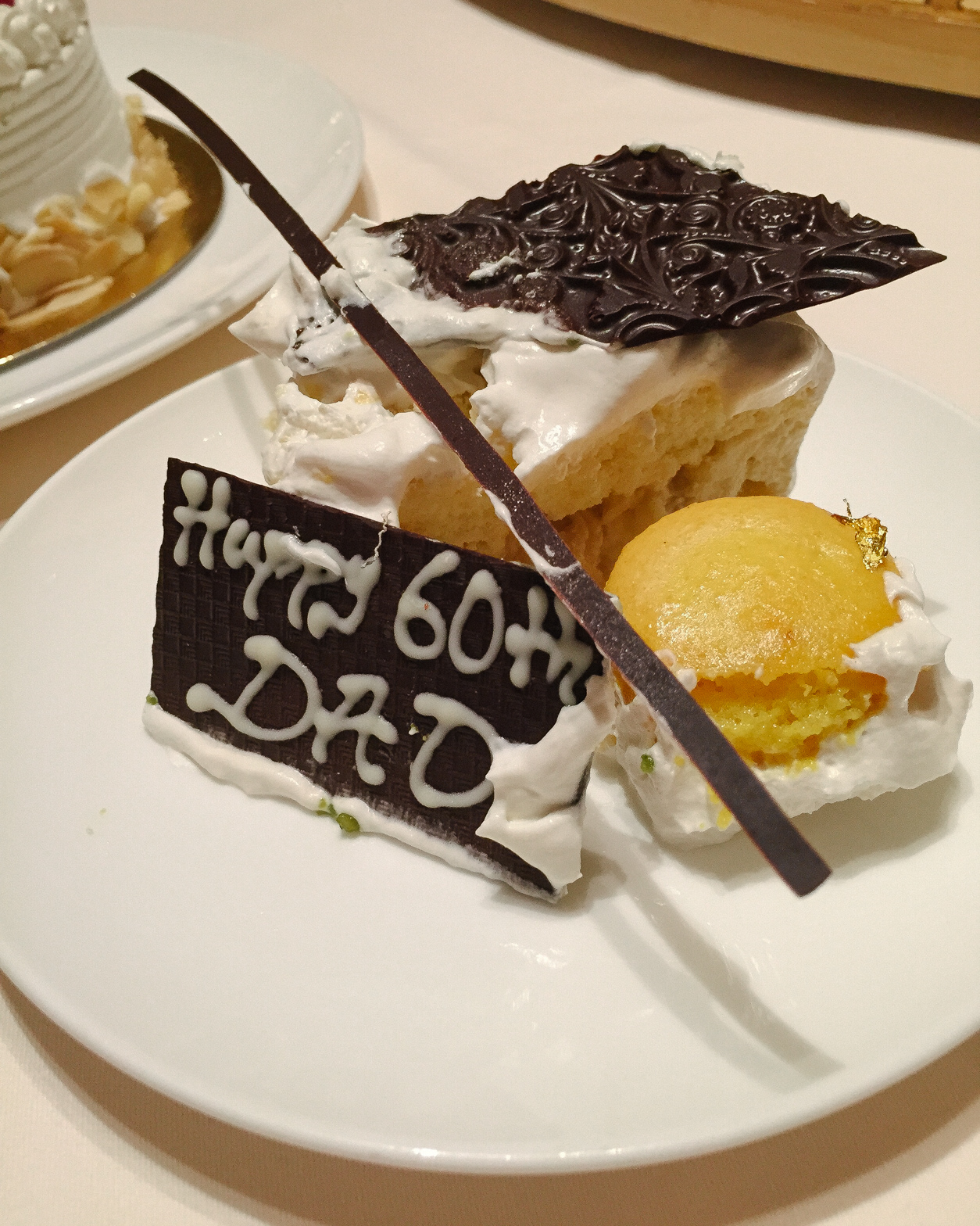 … amazing. My brother asked (in advance) if the restaurant could make a cake and amazingly they agreed to do it. I thought was a rather nice gesture for a two star establishment. We wanted Durian either as a filing or as icing. We 'rejected' their first ideas to make a durian cake with mango, because how does durian mix with mango? Sorry Chef Ho, for me, it just felt like potential disaster. The kitchen was adamant about flogging a mango cake, so as a compromise, we commissioned two cakes instead – a durian cake and another mango cake.
The mango cake wasn't worth mentioning, but this durian cake was a thing of utter beauty. The sponge was good, but the icing was spectacular. Fresh durian folded into this beautiful whip cream-like icing. Like a airy meringue, spiked with decent brandy (and the fragrance of durian), served with macaroons filled with more durian paste. Magnificent. Hat tip to the pastry chef who accommodated our requests.
Ming Court
Osmanthus Jelly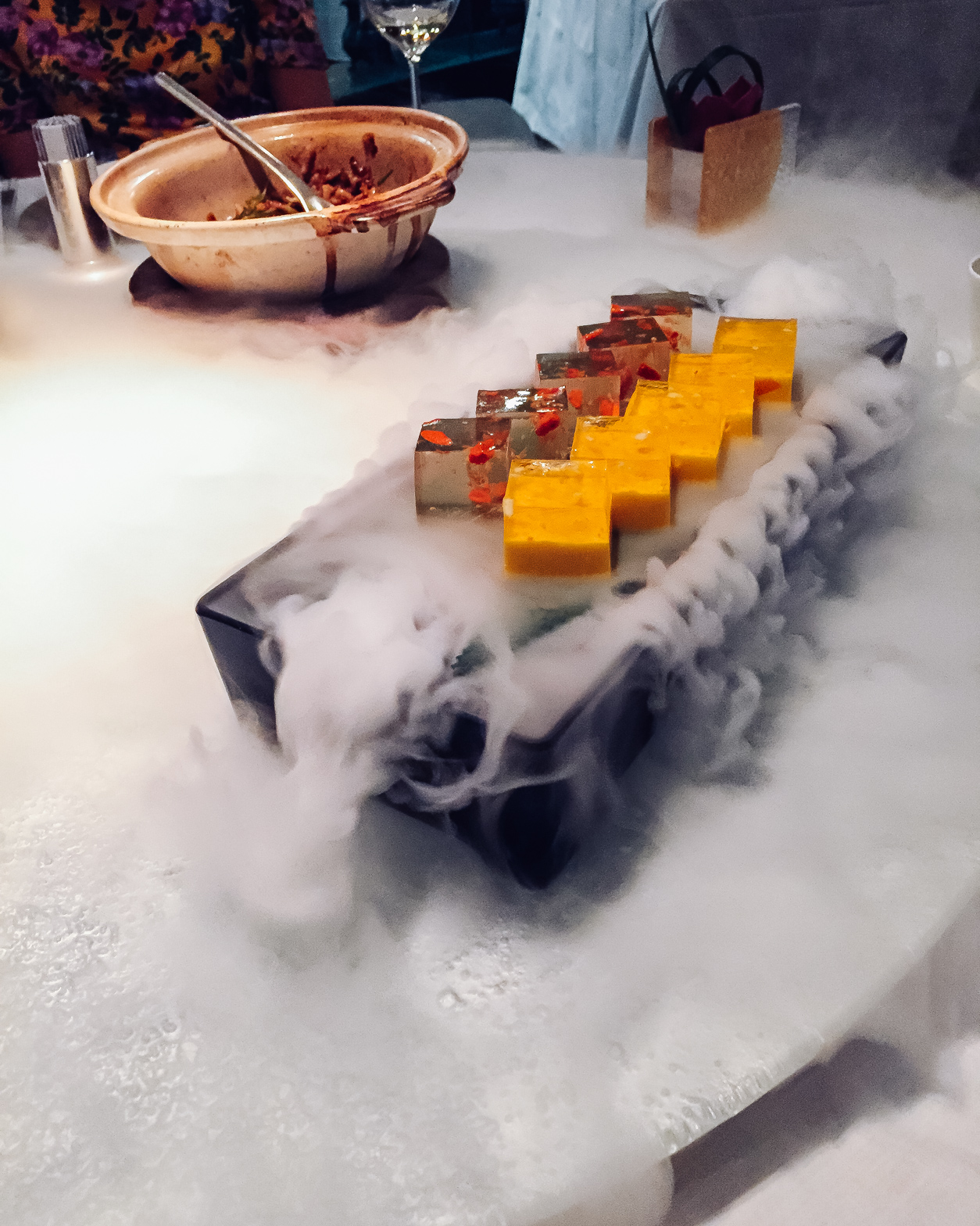 Yes, very dramatic for abit of wobble.
Peach bun with egg yolk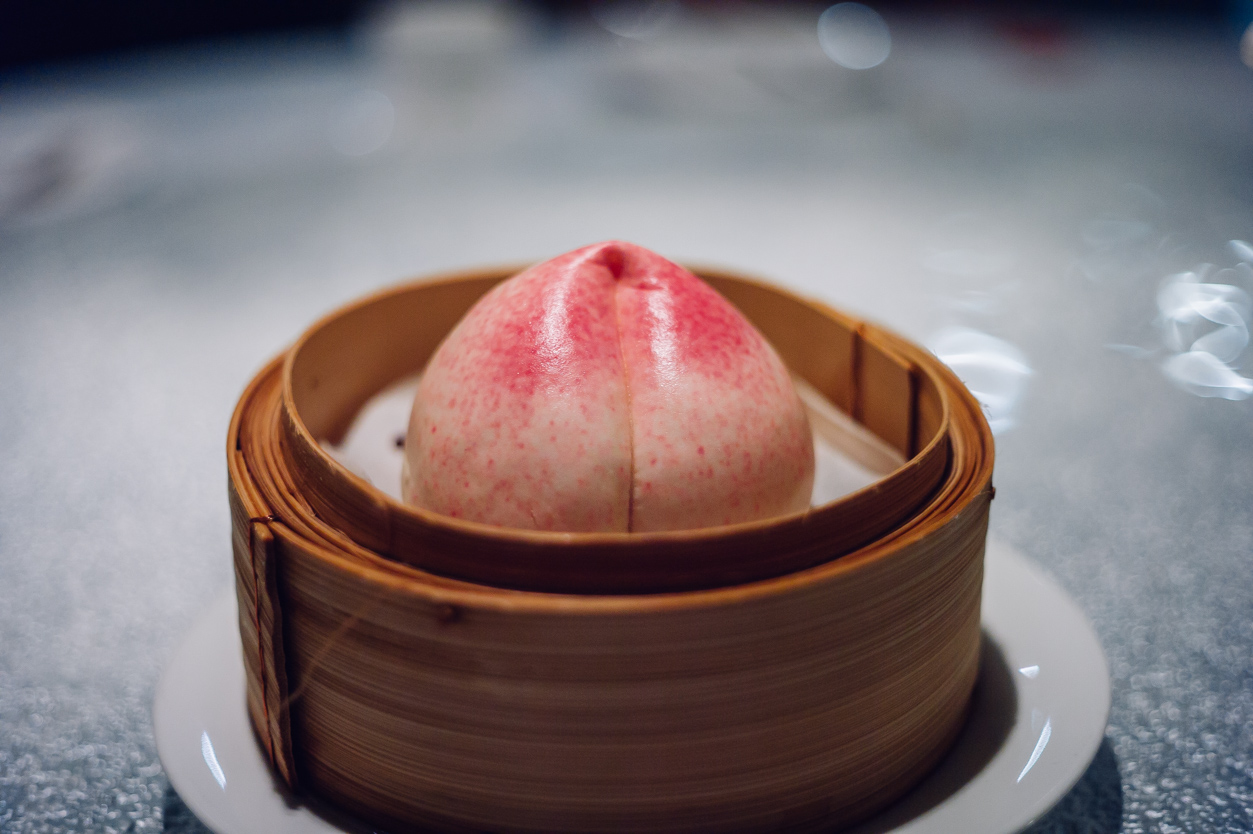 Seriously, I can't remember what this tasted of at all. It was that bland. I had a couple of bites but didn't finish it.
And the winner is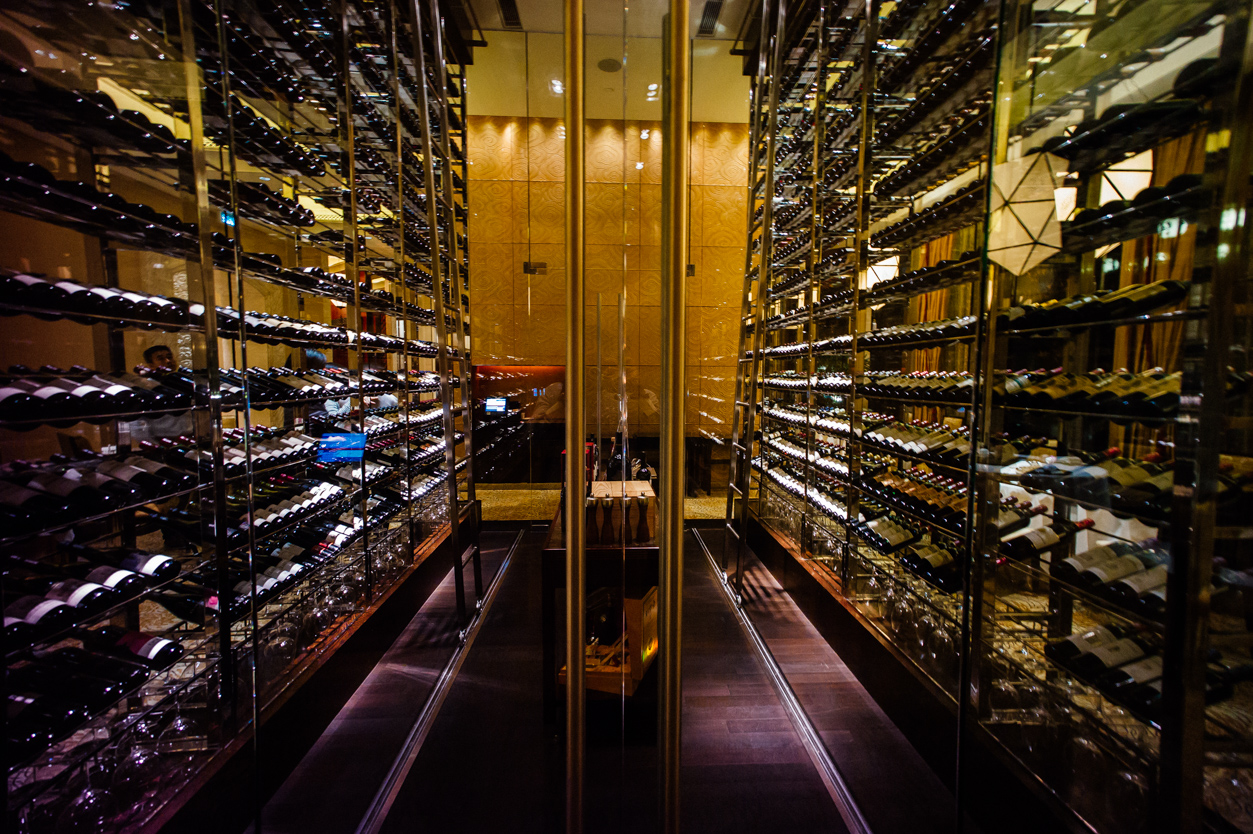 Without question, Zi Yat Heen produced the better meal. The style was consistent throughout. Chef Ho truly the Master of restraint, subtlety and balanced flavours. For me, this seems a modern approach to classic Cantonese cooking. It's lovely, it's light and fresh but punchy when it required. Just a joy to eat, delicious with no struggle whatsoever. The very essence of Cantonese cuisine.
The service is just tops. We threw a few curve balls with a continuous barrage of orders at various points throughout the meal, and the kitchen responded effortlessly by sending out dish after dish of perfectly executed food in a timely manner. To top it all off, the cake was superb. Bravo Chef Ho. ZYH definitely has pizzazz, everything oozes class. Two stars? Yes. It was a bloody great meal.
Ming Court showed flashes of brilliance but the meal was not universally brilliant. I thought the cooking and the produce were all very good, but the recipes were off. The key difference between Ming Court and Zi Yat Heen was balance. The Ming Court style seemed to be heavier, on the oily side. Everything was bolder and in most cases, verging on overkill. Maybe my palate has deviated from what is considered 'good' …? I don't know. There isn't a sense of purity or harmony. So much richness, too much, except for That Egg and That Roast Pork. I'd go back just for that. Two stars? Hmm… some good dishes.
Well there you have it. A snapshot of two pillars of Cantonese cuisine. Happy Chinese New Year, please eat well, drink well and be generous with the red pockets.
Details
Zi Yat Heen
Four Seasons
Cotai Strip, Macau
Tel: (853) 2881-8888
Ming Court Langham Place
Mongkok, Hong Kong
Tel: (852) 3552 3028