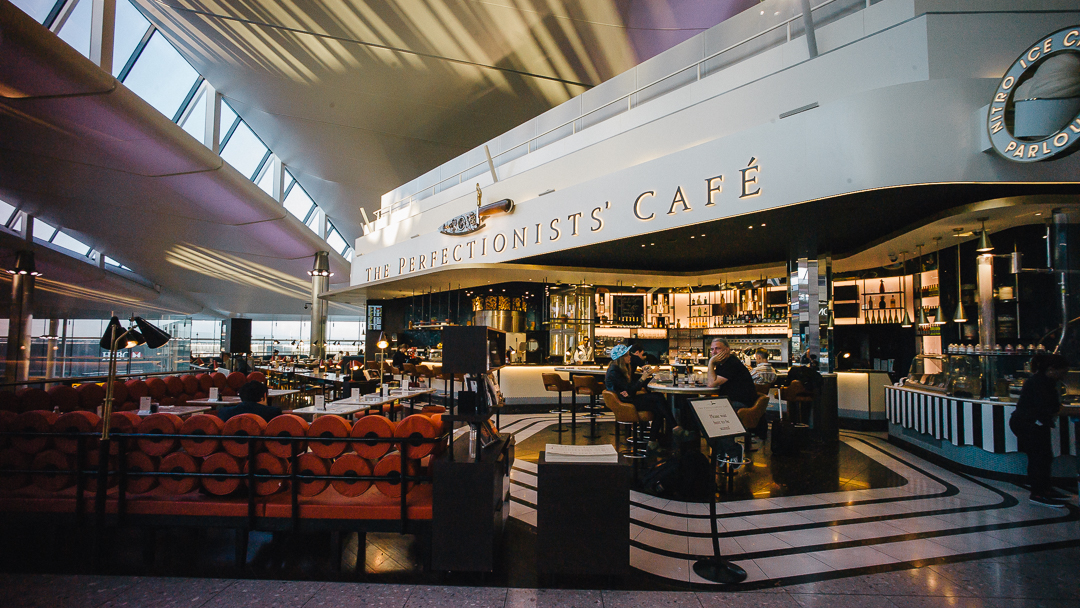 I do like Terminal 2, it's all shiny and expansive and Heston's latest addition, gives me all the incentive to hunt for flights out from this terminal. I flew from this terminal twice this year and both times have had the opportunity to eat at this place.
In search of Perfection (and TV show) was one of Heston's earlier works and one of my favourite books. I really enjoy it because he documents his travels to source country to research his attempts in recreating perfect examples of classic dishes. The chapters on steak (NYC stripclub style), bolognese and the black forest gateau – a regular feature of The Fat Duck menu – were my favourites.
Some of the recipes from the book are presented in this cafe menu, designed to be fast for obviously reasons, which includes roast chicken, steaks, fish & chips, pizza.
Ricotta, Wood Oven Roasted Cherry Tomatoes, Green Salad, £8.75.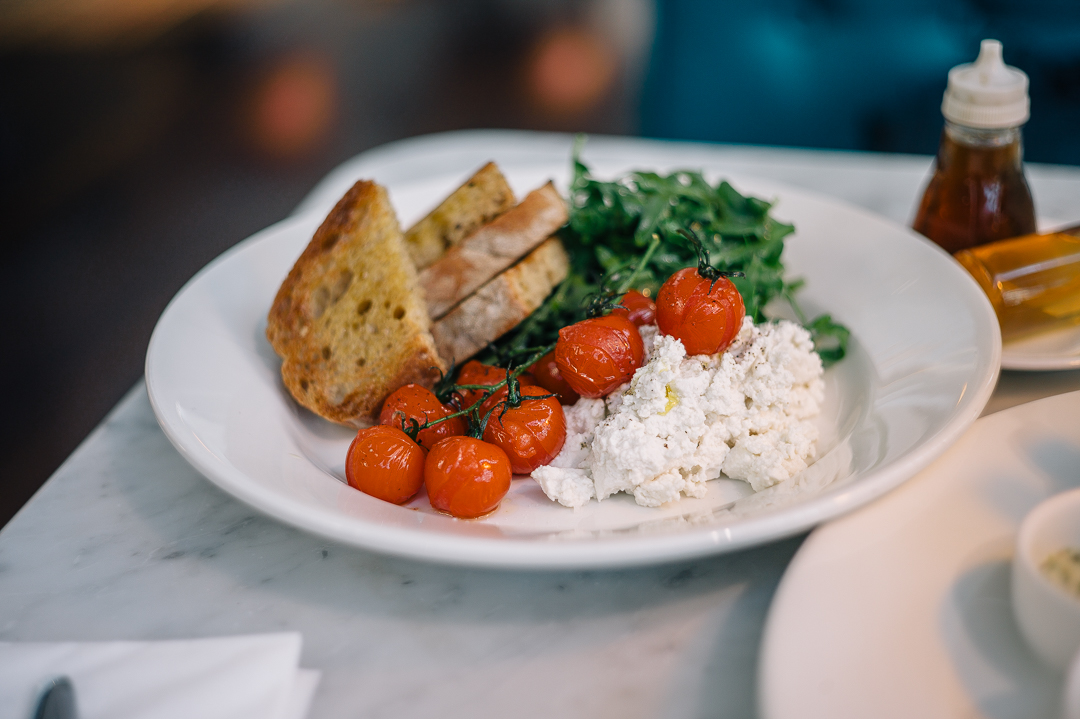 Nothing fancy, just quality ingredients, gets the job done.
Extraordinary Fish & Chips, £14.75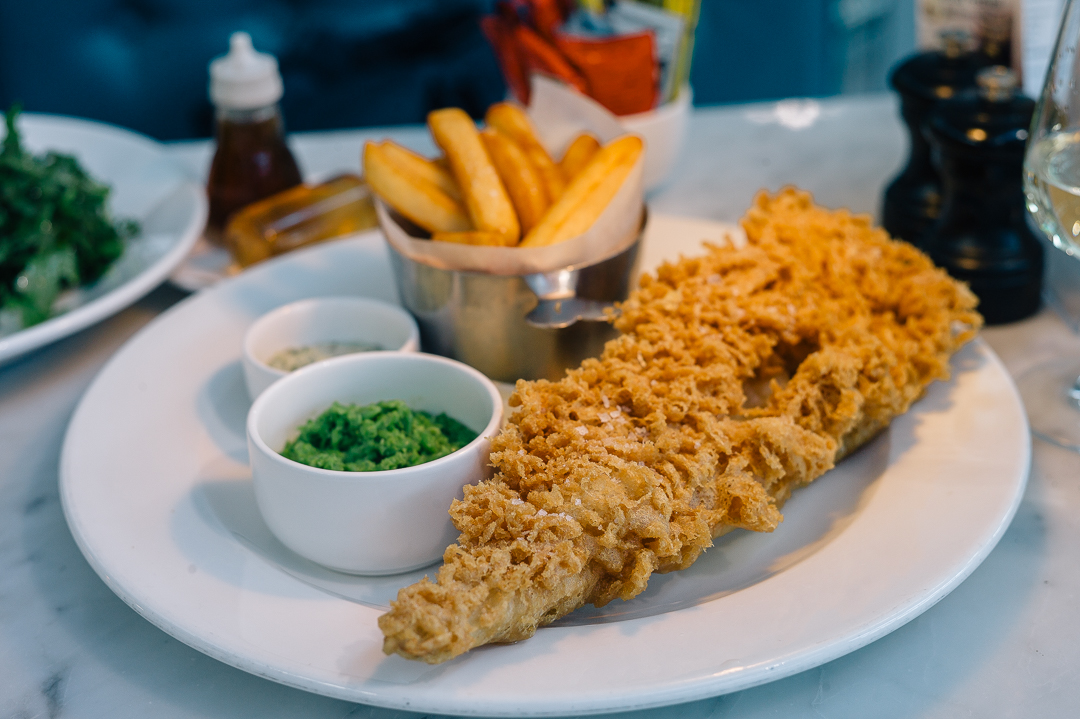 Certainly very good fish & chips. The menu mentions the beer batter being aerated through a siphon, and indeed the final result is this crunchy bubble batter. Delicious. The fish (haddock I think) is fresh and perfectly flaky, fried with skin on. I don't remember much of the chips – don't think they were the triple cooked kind. However, those rough-cut mushy peas with mint were fresh. Loved it.
Just like the book, you are provided with a malt vinegar pickled onion juice atomiser to recreate the smell of the typical chip shop. Not as appealing as Fat Duck's lime grove opening number, but still this mini-Heston moment is good fun.
The BFG, £7.50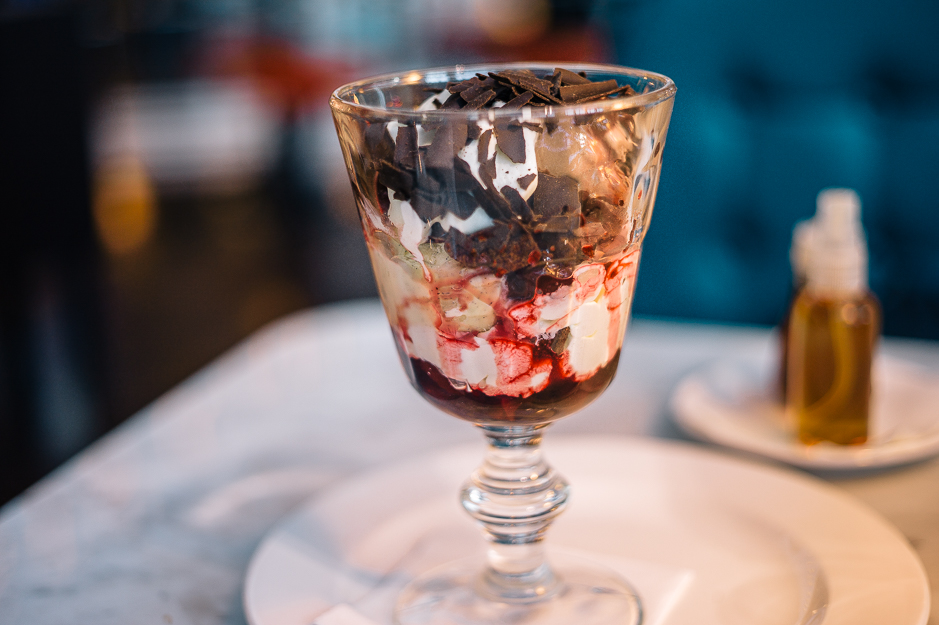 Take a moment to admire the pudding. Massive portions. This knocked me during the flight.
This Black Forest Gateau is really an ice cream sundae. The ice cream is made using the liquid nitrogen method which Heston popularised. Inside is chocolate and vanilla ice cream, sour cherry compote, brownie, kirsch, cream and chocolate shavings. It's luxe but it's not the layered genius described in the book, which I believe only appears on the Fat Duck menu. To be honest, it's not even as good as the Xmas chocolate bar which he did for Waitrose last year. I hope they bring that back this year.
On a 2nd visit, I had the margherita pizza, which were correctly cooked in their wood oven (good dough base) with sweet tomatoes and good mozzarella.
It would been great to see Heston's bolognese creep onto the menu someday – I think it fits with the cafe's theme. That recipe just looks incredible in the book.
This is almost Hind's Head lite – the fish & chips could easily gives the likes of Vintage Salt a run for its money. However, I would give the wines a miss, they're not great for the money. Have those fancy 'cocktails in a cloud' instead, my brother loves em.
You hardly expect decent food in a departure lounge, which makes this a welcomed surpirse. This really is the best airport food available. Rhubarb and Plane Food pale in comparison.
Like all of Heston's restaurant, there is a certain mystique about it, his recipes always excite and that includes his Waitrose microwave meals (the chilli con carne with spiced butter is ace). Will Heston open one outside of a departure lounge, I wonder. This cafe would do well if he fancied the franchise route.
The Details
The Perfectionist' Cafe
British £25pp
Heathrow Airport Terminal 2 Departure Lounge