I love Brad McDonald's cooking. Gifted with a fantastic palate and exceptional cooking skills, he puts so much effort into apparently simple things and turns them into utterly deep experiences. The essence of soul food. The last time I went to Lockhart, I ate these gorgeous BBQ shortribs that had such a depth of smokiness, it caressed the senses till my body began melting in the same manner as the ridiculously gelatinous meat slid off the bone. And that dirty rice. Speechless. Lockhart really is one of the best restaurants in London today.
Shotgun is Brad's 2nd restaurant and it specialises in the BBQ heritage of the American South. The restaurant is so named because its rectangular layout is similar to shotgun type houses commonly found in the American South. To me, it looks like a double wide railcar, with 18th century American pub features.
The menu is quite short, mainly centred around a variety of BBQ meat, boneless are sold by weight and bone-in items by half/whole portions. The provenance of each meat is listed to indicate their care in procuring the right produce. There are also sandwiches on offer such as fried baloney and pulled pork.
I have to acknowledge Neil's stuff at Smokehouse and Tom's Pitt Cue obviously because they also do great BBQ. I love meat but I am hardly BBQ otaku (I do mine completely wrong in a lowly lotus grill..) and my guess is Brad is rocking Kansas City style BBQ, in which the meat are dry rubbed and smoked over lumpwood at 225F. Because a lot of time and very little kit is required, it can be easily attempted at home, but obviously hard to perfect. There is an entire subculture that identifies the low and slow as either an inexact science or an art form altogether. On my visit, a dude walk into the restaurant just to probe FOH about the style, meats and also Brad's roots. Seemed Shotgun passed his minimum criteria, though he didn't stay to eat. Serious BBQ heads out there.
Before the meats came, we were provided with the all important sauces. They came in all shades from the very sweet to extra spicy. Most sauces are based on tomato and molasses, with herbs mixed in as necessary to compliment the meat. Our waiter did explain what sauce went with which meat, but I admit I was ignorant and just squeezed everything on my plate and dipped the meat in everything. They all tasted amazing to me.
Clockwise
Iberico baby backs, (half, £14) , Yorkshire Jacob's ladder (120g, £10.5), Yorkshire herb-fed chicken (half, £18) and USDA point-end brisket (120g, £9.5).
sides : Green salad (£3), baked potato puree (£3)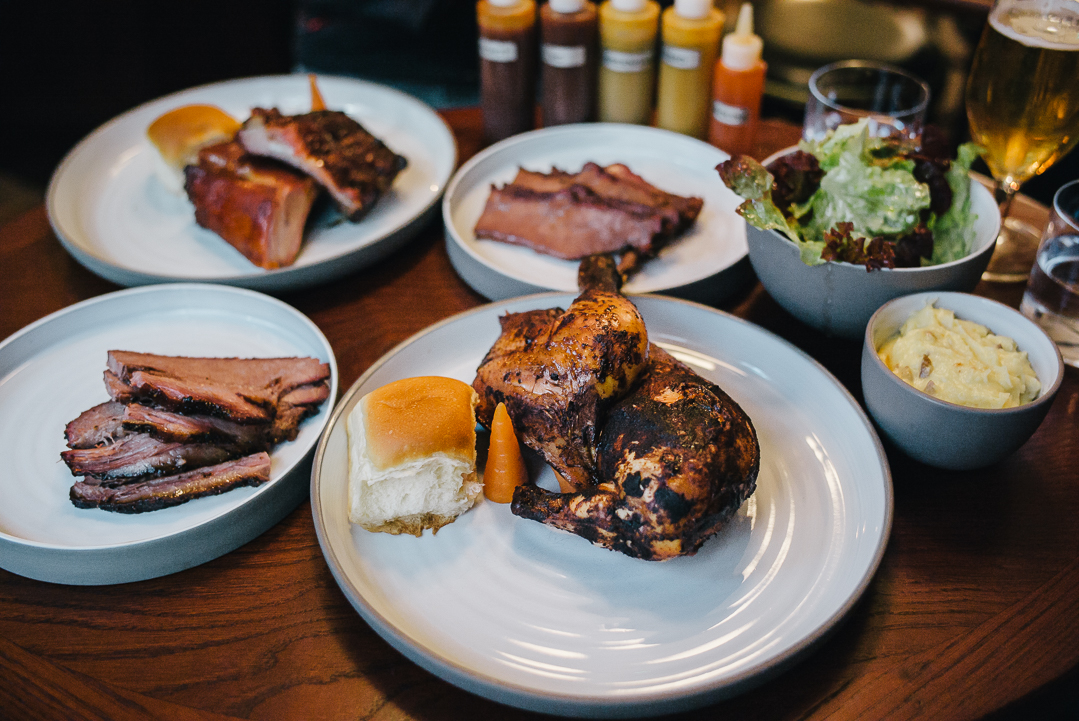 The smell, smoke! The beef and pork came with this beautiful millimetre thin bark. This glistening crust is not simply carbon, rather bark is more like candied soot that can only be created after hours of the aforementioned BBQ technique.
As I worked my way through the meats, I enjoyed the subtle wood flavours, the smokiness, the delicate texture, so tender, moist and the natural flavours of the meat. This is staggering BBQ. I'm total beginner level of course, everything just tasted so good. My brother loved it so much, he swiftly polished the ribs when I wasn't looking.
I'm sure there are some of you who would know what to actually look for. I mean, I only just read about this stuff, smoke ring, bark, chine, etc.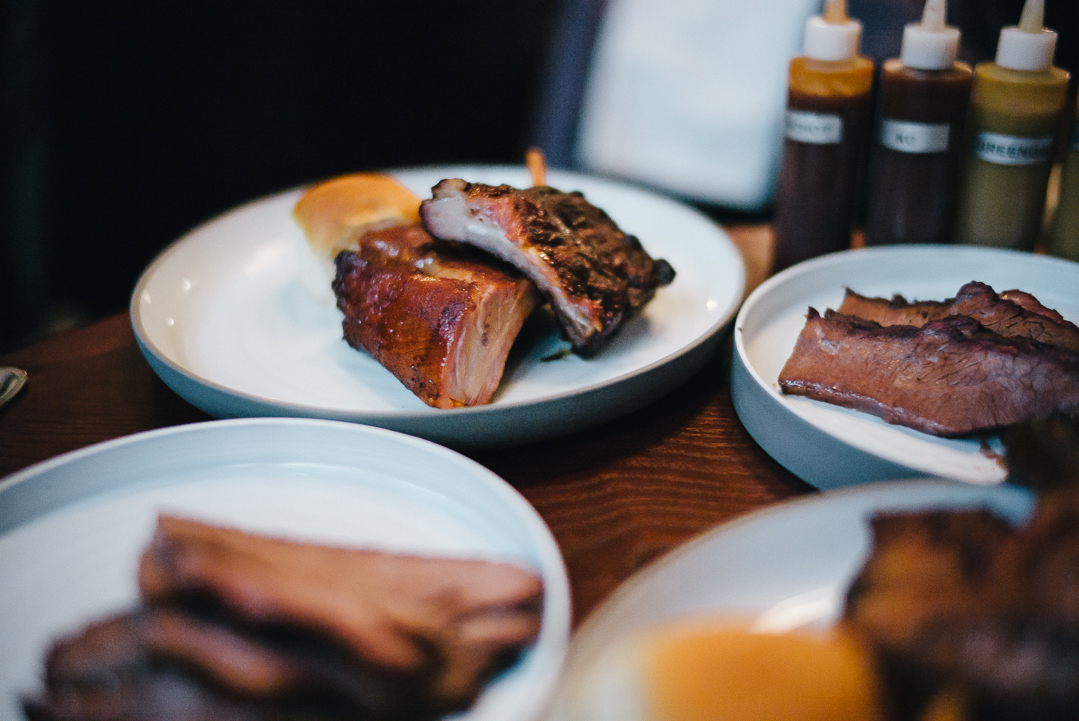 My favourites were the juicy, moist iberico baby backs, and the point-end brisket – each slice had this luxurious cap of fat just hiding under the sweet bark.
Carolina-style Pulled Pork Sandwich, coleslaw, potato bun with baked beans, £11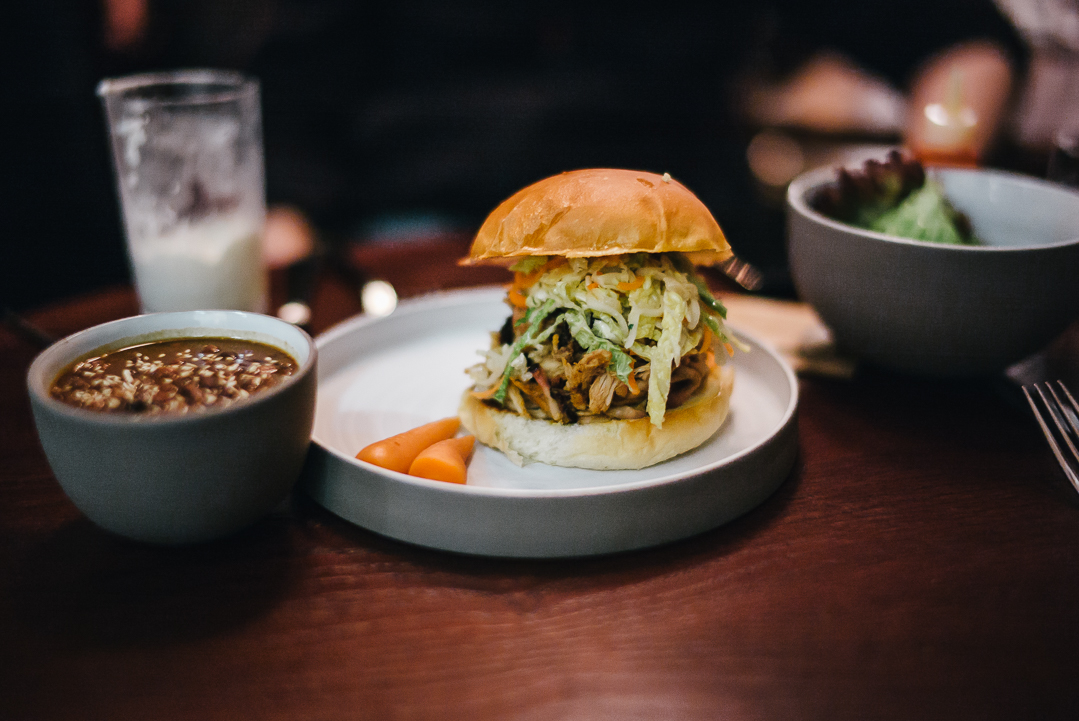 The pulled pork is high quality of course, but for my tastes, it was a little dry, so it wasn't such a revelation like the meats. Maybe I'm used to a lower standard of pulled pork in this country? My favourite actually is by this food truck called Lardon's Piggy Baps, owned by a Frenchman who appears in Hammersmith Lyric Square Market on Thursdays. I did like the baked beans because it had this atypical bite like basmati rice with gorgeous smokiness.
I was curious about the baloney sandwich. Next time.
Banana Pudding, £5.5
Soft serve, cherry & chocolate, £.3.5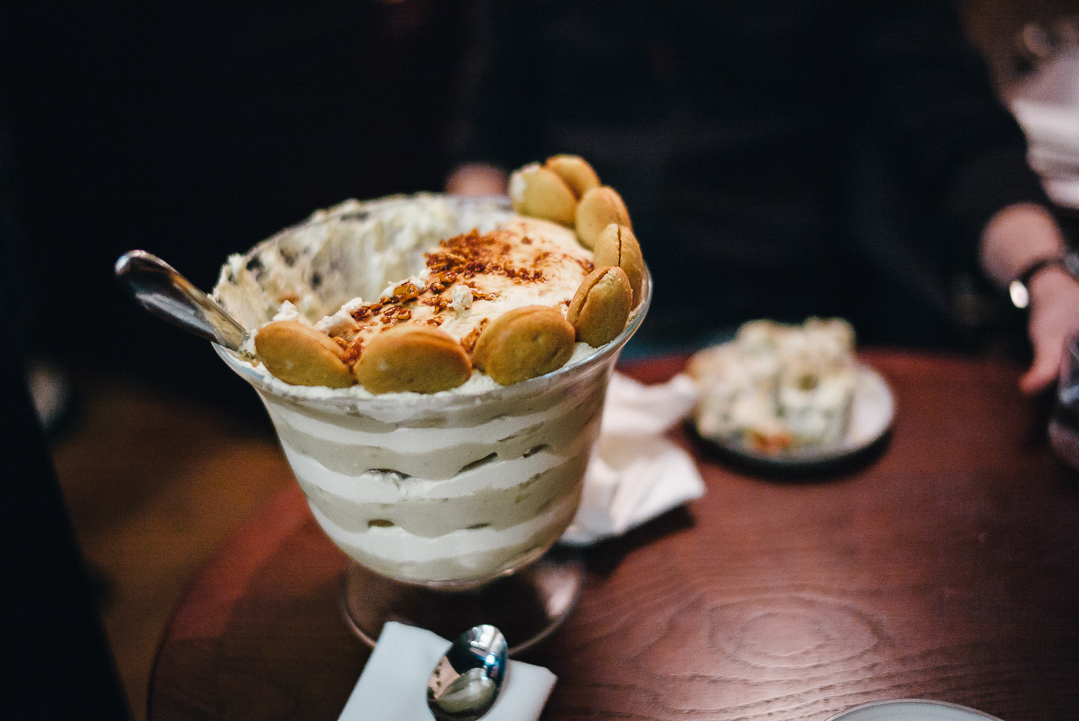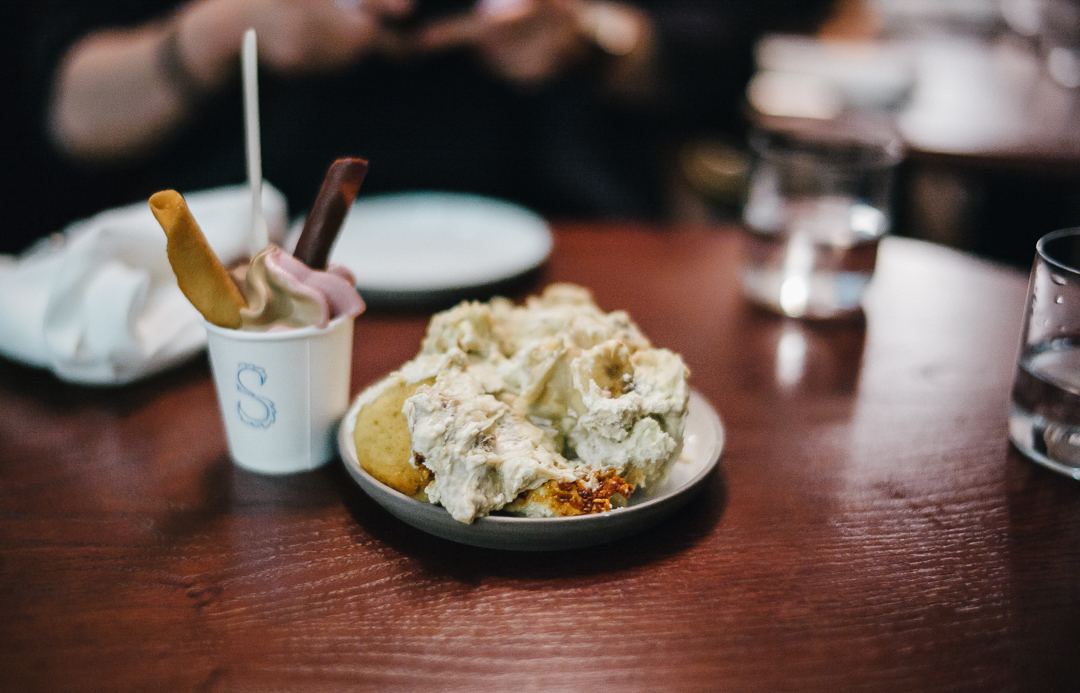 Now that's a pudding. They scoop out a generous portion from a large trifle glass and what you get is this golden mess of mashed banana, cream, honeycomb and crumbly bits. God I loved it. Leave some room for this dessert, it's well worth it.
The soft serve wasn't great – too much ice crystals, not enough air. I don't know why I keep ordering in restaurants. It just doesn't beat the average Mr Whippy from a street vendor.
With coffee, beer, cocktail, the bill came to £109.68 for two people. We probably over-ordered, there was definitely enough food for 3. It really was that good, we just couldn't stop ordering more. A 'normal' meal may be closer to £30pp.
The fact that its open all-day (and takes bookings) is a definite attraction; tuck into a quiet mid afternoon snack of ribs, or a sandwich. We booked in a 4pm slot on Saturday and had the entire restaurant to ourselves. Brad McDonald cuisine is legit, I can't say more nice things about the nourishing, happy feelings his cooking brings out. Got to do thanksgiving here next year. Sweet potatoes, marshmallows and smoked turkey, mmm, can't wait.
The Details
Shotgun BBQ
American BBQ
£30pp
26 KINGLY STREET W1B 5QD
Tel : 0203 137 7252
Tube : Oxford Circus