For my birthday this year, I was looking to drink something a little special and so BBR became an obvious choice for it carries a list of classy old world (and very collectible) wine labels but with modest mark-ups. Prices track closely to the market conditions, generally with 20 to 30% margin over retail and do present tremendous value compared to 'finer' establishments. Let's see, there's the now luxury brand right bank star, Cheval Blanc, the 1996 for £500; Conseillante, a consistent Pomerol estate (Merlot!) , from a generally positive vintage, 1990 for £526; '98 La Mouline, the most feminine of the trio of 'Lalas' from Northern Rhone producer Guigal for £432. There's even a Unico by Vega Sicilia, what is regarded as Spain's version of a first growth, the 1999 for £317.
1985 Ch Haut Brion, Graves. £392 + 12.5%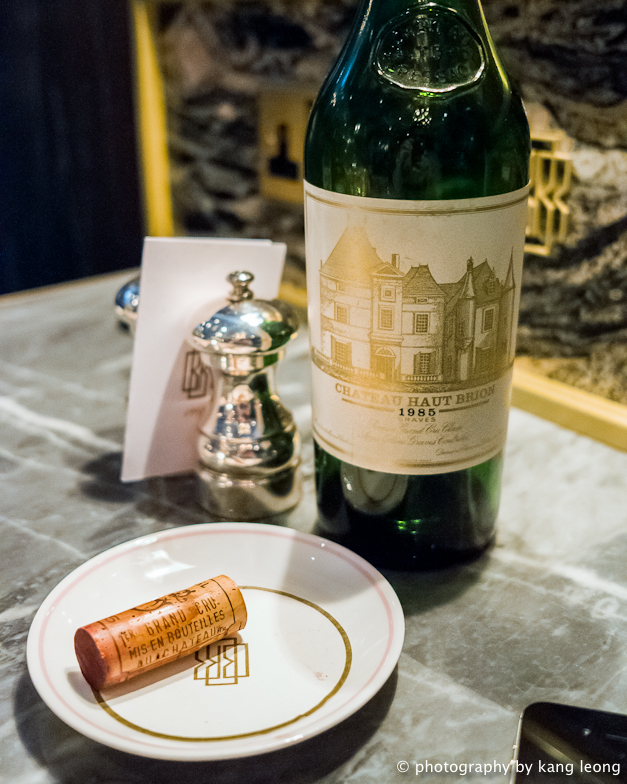 It was an easy decision to pick this claret. It's got a quarter century of bottle age, and a glut of cellartracker reviews indicating that it is in a really nice place at the moment. In another restaurant, a first growth Bordeaux would easily command a four digit price, so £392 + 12.5% is a 'relative bargain'. It was also surprisingly close to cost price (330/btl in bond) so it seemed er, sensible to take a punt. So to secure it (by the time you read this, the wine list might have been reviewed), I had paid for the wine upfront sometime in April, 12 weeks ahead of this meal.
Of all the Bordelais, I am most familiar with wines from the Graves, perhaps the only region in Bordeaux where the white wines are as revered as the reds. While the mighty Pauillacs boast fruit and power, I believe they are not as intriguing as the clarets from Graves. The name is a direct reference to the soil character and it is the gravel and clay which is said to give rise to the trademark aromas of smoke and cigars, or broadly speaking the sense of place these wines are so famous for.
I've sampled small sips of '78 Haut Brion (fucking wow), '66 La Mission (fading in 2012 it seems), the lauded 09 Smith Haut Laffite (TANNINS) but my favourites are the fleshy Chevalier reds (I haven't tried their whites) which are decent expressions of the region and relatively affordable at £50 a pop. I have a case of the 09s cellared which I plan to break out when I retire.
I think there is no better way to experience the best of Graves than a good bottle from the Chieftain of Pessac that is Haut Brion (ok maybe its sister estate La Mission Haut Brion). It's very noble stuff. The Domaine would probably tell you how it has been so famously revered through its long history, it even found its way to King Charles II's dinner table. In those days, Haut Brion defined a new breed of claret while today it is reputed as the oldest and the only First Growth outside of the Medoc, per the dated left bank 1855 classifications.
Considering its age, the bottle was in a healthy state, at mid-neck fill levels. Though it was slightly worrying to see a perfectly legible label, suggesting a mostly dry shelf-life, which may make for dry corks, but that's just speculating by inspection. The sommelier popped and poured a small sample into my glass and decanted the rest. He left maybe about a shot's worth in the bottle, as there was quite a bit of expected sediment. The cork looked pristine, stained to about halfway up, indicating the wine had crucially taken in some air in its long life.
Even before swirling, savoury secondary aromas of tar, ash, cigar, leather and maybe smoked ham were present. It instantly reminded me of the '78. So all fears subsided – the bottle had been carefully stored through its lifetime.
As the wine breathed, the fruit started to unfurl, plums or maybe even dried fig – a flash of its youth. Through the night, the wine became less shy, more perfumed and more floral. It was a tremendous pleasure to smell the wine and I spent more time doing that than drinking. Obviously I don't drink trophy wines regularly – if at all – so there might be more aromas which I couldn't detect. However it definitely felt like a step change to anything I'd drank in recent memory.
On the palate, it was simply the smoothest wine I'd ever tasted. This really was liquid silk, as abused as the term may be. It felt polished and precise. This mature claret seemed almost Rhone-like in weight with all the tannins now fallen away. Spicy, maybe soya sauce, but with black fruit in the background and some sweetness too …somewhere in the mix.
The wine changed perceptibly in the glass as we drank it over four hours. It was fruitier to start and grew to a spicier and more savoury monster toward the end. All the while however, it maintained this poise, this ultra-smooth, lithe mouth feel and drank beautifully to the very last drop. I remembered the long sizzling finish and counted 15, maybe 30 seconds, lingering fruitiness…
…wow. So this is First growth quality.
We were still conscious that this was merely fermented grape juice, but it was surprising how harmonious the wine was. There weren't any rough edges, it was so smooth, so balanced and such a delight to drink.
Was it worth £440? Is any liquid – at least 80% water – kept in a glass bottle for a long time worth that kind of money? It probably retailed closer to £44 when it was bottled in '88. So maybe not, but I suppose what you pay for is the promise of intangibles involving emotion and pleasure. Though we did entertain the idea of trying to quantifying this 'greatness' and subjectively, it felt like this wine could justifiably be worth £300+. £200 would be good value (in relative terms) , but if it were available for say £100, we would probably buy a case of it.
Nevertheless, the 1985 is certainly in a nice place today, I felt we drank a great bottle of a great wine providing for a truly memorable experience and this was absolutely worth it.
And now to the food..
Six Colchester Grade 'A' Rock Oysters, £13.25.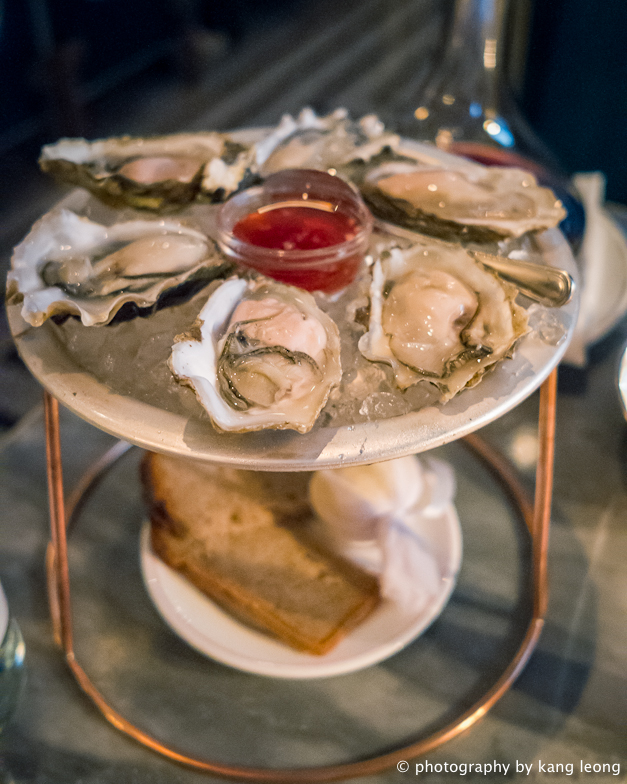 We started with healthy looking rock oysters from Colchester. Creamy, crisp but not as thrilling as the Dorset rocks which our fishmonger sell at our farmers market at Queen's Park.
Venison Tartare Imperial, with 15g Sturgeon Caviar, £29.75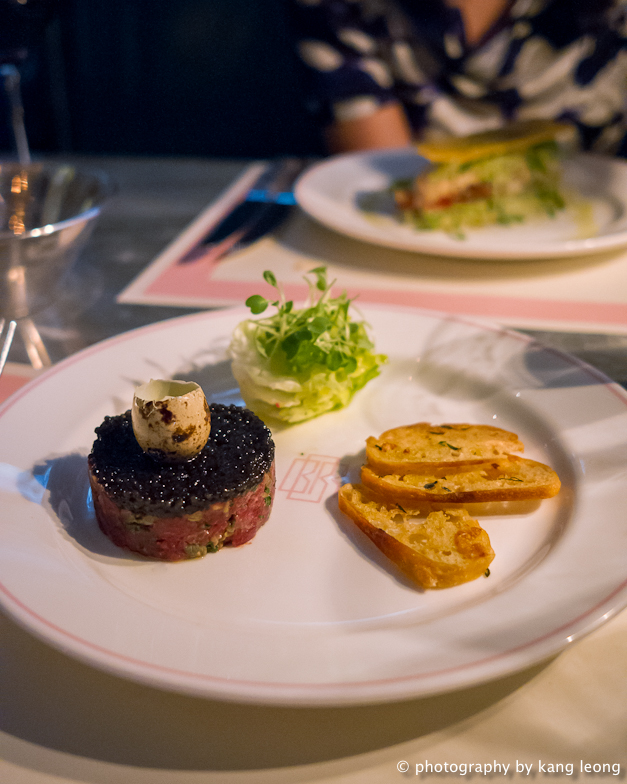 I wasn't expecting the caviar to be anything more than just an extravagant splurge, but the deep saltiness, sticky texture did appear to enrich the tartare. A little excessive but it was an enjoyable one-off.
Crab Salad with Chilli Avocado Mayo, £11.50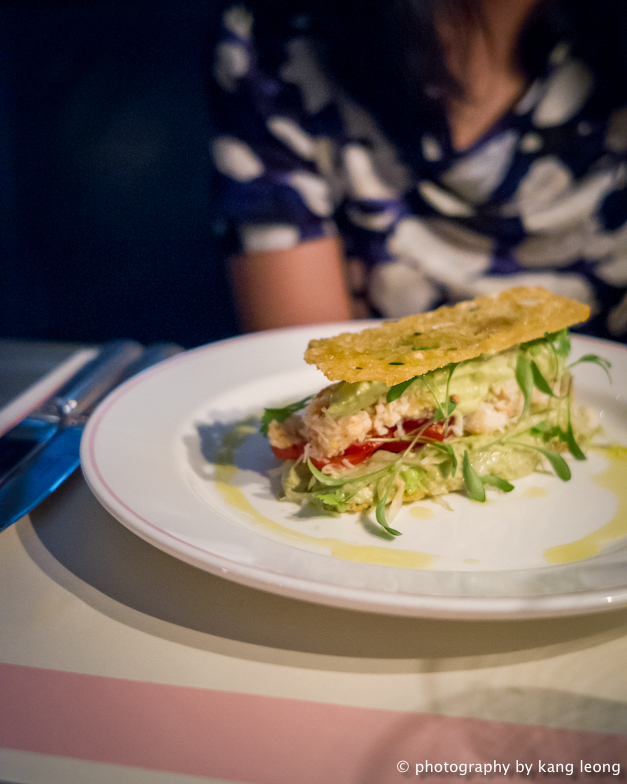 Generously loaded with freshly picked crab, needed a lot of lemon juice but generally pleasing.
Crispy, Pressed and Roaster Belly of Suckling Pork, with Truffle Gravy, £21.25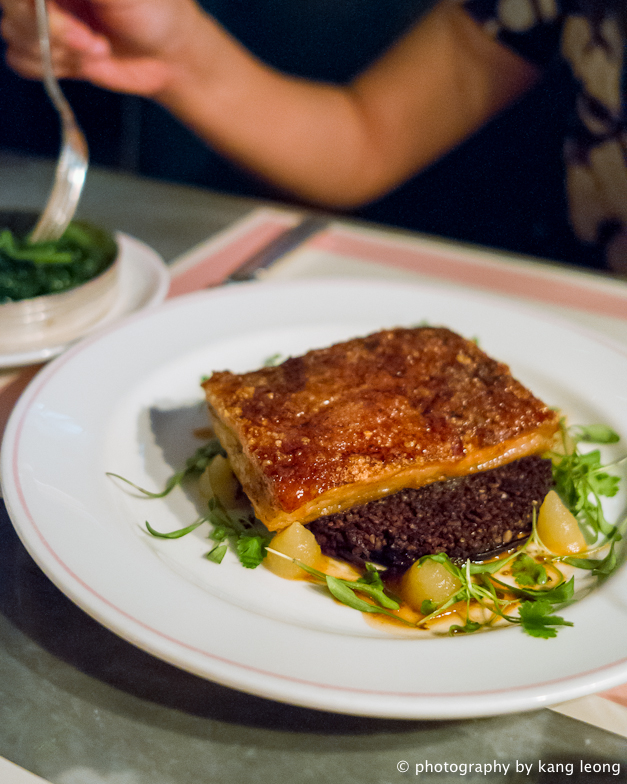 This was hugely enjoyable, the crackling was just smashing, the pork was delicious. The black pudding was a little sweet, lighted scented with truffle gravy. Yummy, but probably more so in winter.
Veal FIllet Holstein, with Quail Egg, Anchovies, Bacon and Truffle Gravy, £21.75
with Lobster Mash, £6.75.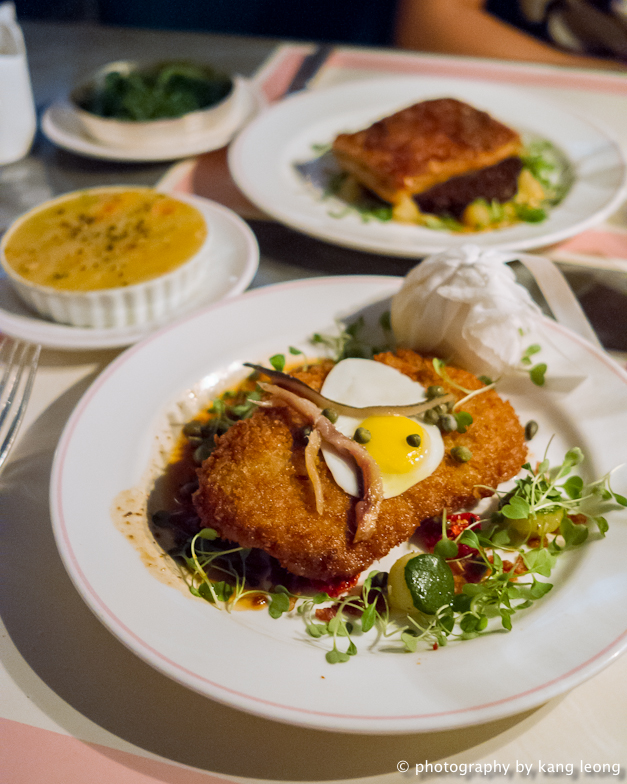 I've had this dish on a couple of separate occasions and have always been impressed. It's just so dependable, so classic. Served pink, also with lashings of truffle gravy, it was comforting, a joy to eat and it complimented the wine well enough.
Although the lobster mash was certainly the best thing we ate. It was like mash soaked in a lobster bisque. Flavours of fluidised shell, and with generous claw meat mixed in. It was a course unto itself. To me, it seemed exactly what you'd expect lobster mash to taste like. It's miles ahead of the Goodman version.
Chocolate Glory, MK II. £9.75.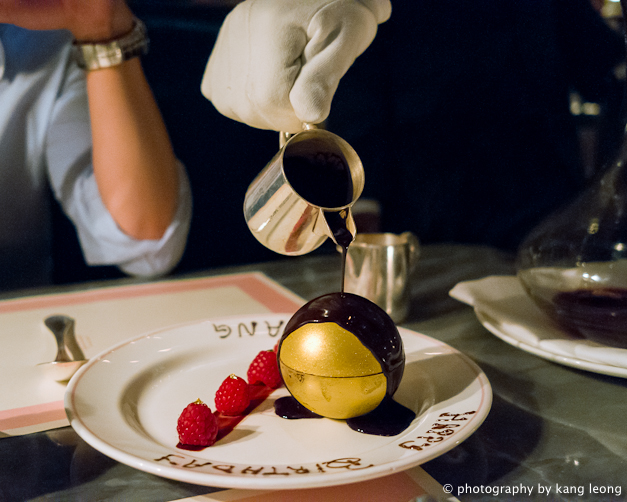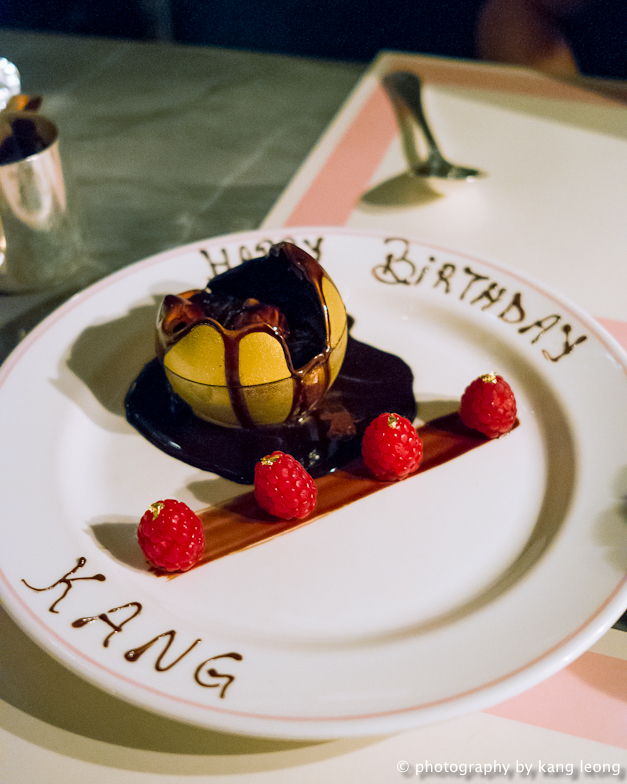 With chocolate jivara mousse, brownie, meringue and passionfruit orange jelly in a golden shell that disintegrates as hot chocolate sauce is poured over it. The extra special message made out to me with hot chocoalate sauce around the plate, was more than appreciated.
So we paid £440 for wine, £139 for the food plus service, totaling £579. In the end, it was a memorable meal. This old-fashioned-ish brasserie with an eccentric approach to hospitality was a success for a private celebration. Nothing but love for the plush leather-seated booths.
Details
Bob Bob Ricard
Anglo-Russian All Day Diner £50pp
1 Upper James Street, London, W1F 9DF
Tel: +44 (0)203 145 1000
Tube: Piccadilly Circus
Did you enjoy reading this? You can subscribe to the Newsletter. Alternatively, you can subscribe to the RSS feed.