UPDATE – JAN 2013. *Ben Spalding & Nathan Holmes have left John Salt. Neil Rankin now runs the kitchen over there.*
So after last week's blockbuster dinner at John Salt, I wanted to return and try Ben Spalding's other offerings from his current residency at the Islington based bar cum restaurant. For this visit, it was for the bar menu offered in the downstairs, which takes no reservations.
I noticed that in evenings, the place gets fairly dark so last week, I was insulated from admiring the truly beautiful decked out decor. It's a continuous massive floor plan, with a long bar, different 'zones' a sofa area, then some bistro style tables, with long booth style ones too, and I must admit, I much prefer the downstairs bit to the upstairs. As you can probably tell, you can sit here all afternoon to enjoy a book or read the paper, order a couple of wraps, a few coffees, etc.
The bar menu.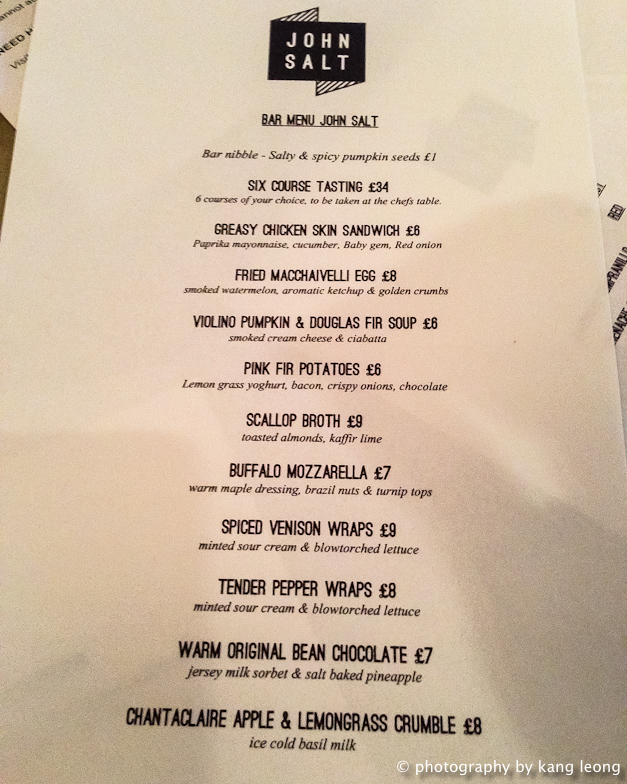 Initially, we chose to sit at the back of the bar, content to hide away in a comfortable corner to kill the Saturday afternoon. The bar menu is supposed to be much lighter than the upstairs menu, dishes averaging £7-£8. You could also choose any six for £34 which seems to work out to a substantial discount to ordering ALC.
So we decided to do that and were whisked away to the chef's table upon Nathan's insistence, as part of the tasting menu 'package' was for the chef to interact with his guests as he plated up.
Nathan Holmes, Ben's sous chef in action, and point-man of the bar menu.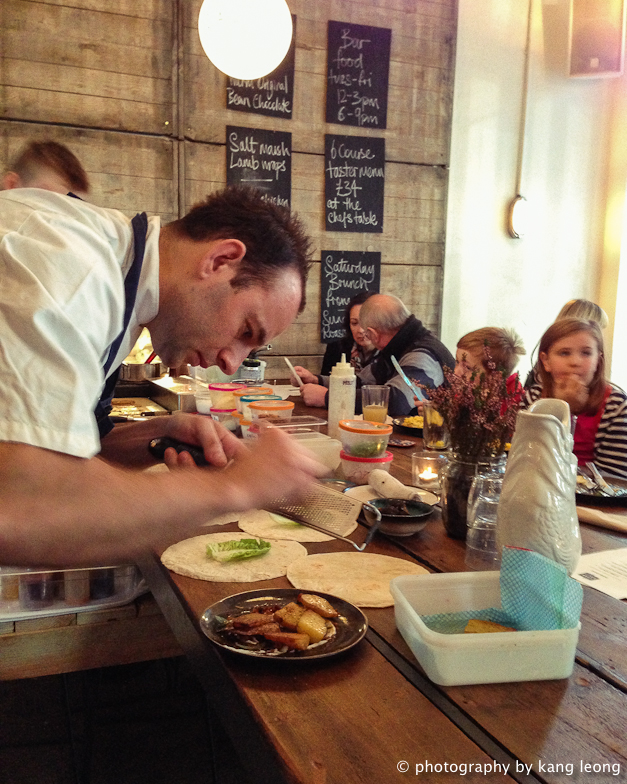 After an initial confusion about where to seat us – a mother really wanted her three kids to have prime spot to watch the chefs cook – Nathan greeted us warmly and told us to relax, pick up some reading material from the stack of weekend papers piled on the corner of the long table and told us about the 'stripped back' style of eating that was to come. Stripped Back being one of Ben's summer projects this year, which takes away the formality of the eating out experience and all that, while increasing interaction with the chefs, which seems to be where things are headed these days, but which I still think is not new in a sense that this more personal way of dining has always been part of Japanese cuisine. (Gosh that's a silly long winded sentence)
I was surprised by how little kit was at Nate's disposal, a bunch of colourful tupperware tubs, a saucepan and a couple of those Gourmet Whip devices. I've written before that for this kind of intimate thing to work, it calls for someone with a skill in creating a non-threatening atmosphere , to take any seriousness out of it, and a skill which I think Nathan has honed. It's totally the opposite feel to Knappett's Kitchen Table, which is swankier but also feels more intimidating, whereas this chef's table is so relaxed that even the kids at the table were just completely loving it.
Greasy chicken skin sandwich, paprika mayo, cucumber, baby gem, red onion.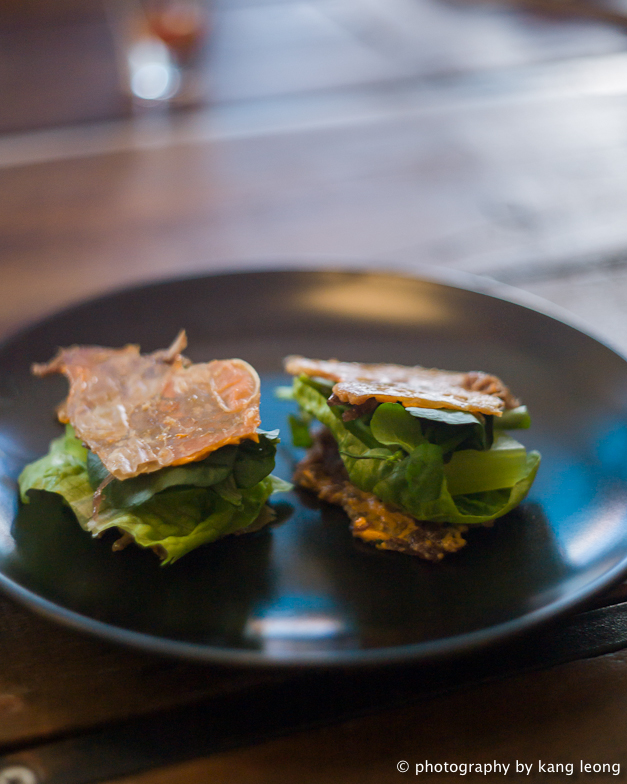 Yes, soon chicken skin will be cliché, like beetroot is cliché, but until then, it's terribly delicious when done right. Here the greasiness was well-balanced with the baby gem, and other picked things stuffed inside this reversed sandwich. It managed to taste more clean than greasy. Nice start.
Scrambled eggs, shaved truffle, muffin.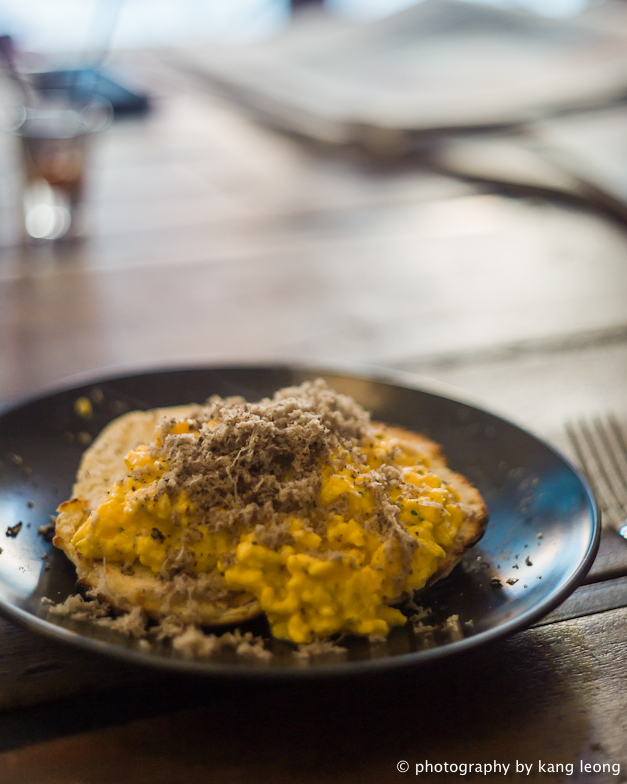 Nathan started handing these out to everyone on the table, which he said was just a few extra nibbles thrown in with the tasting menu. Look at the lump of shaved black truffle on those eggs. What can I say? Simple pleasures.
Pink fir potatoes, lemon grass yoghurt, bacon, crispy onions, chocolate.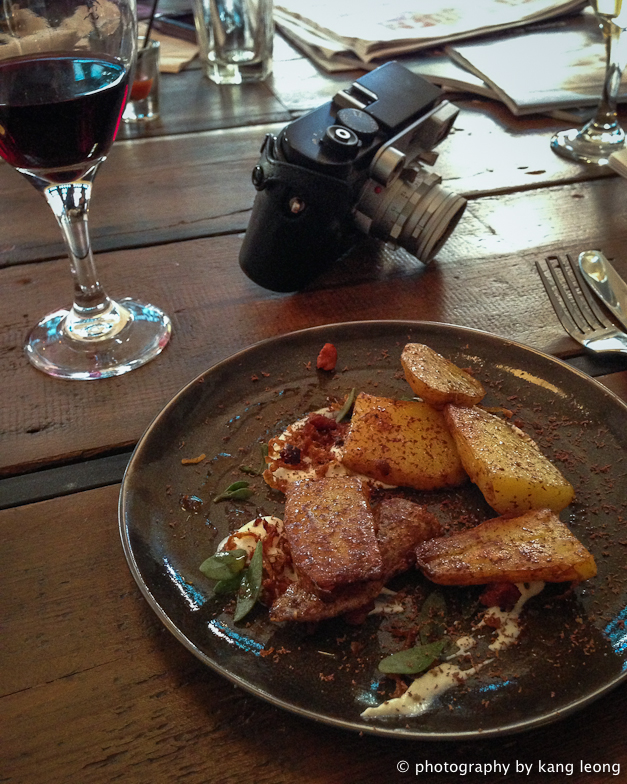 A flashe of Roganic. I'm guessing the chocolate coloured sprinkles are chocolate. While I seem to recall a much more dramatic experience of vintage potatoes (from Rogan's farm?) at Roganic, this was definitely no slouch. Delicious dish, and like all of Ben's recipes, a balanced palate, of flavour combinations that work seamlessly together.
Fried machaivelli egg, smoked watermelon, aromatic ketchup, golden crumbs.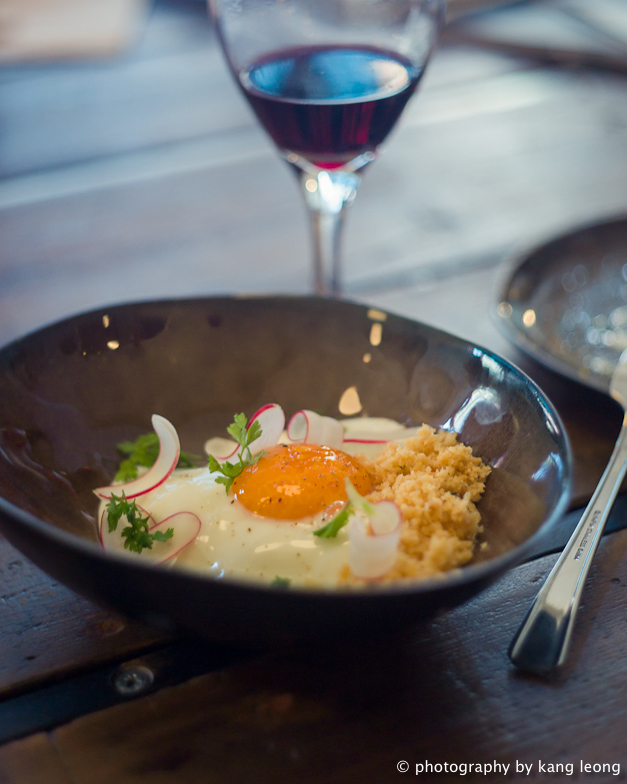 Fried panko! Underneath the egg was an oozing potato mash with little cubes of apparently smoked watermelon. Nathan tried to explain how they prepped the panko breadcrumbs (mention of a continuous stirring method) … but I tuned out as I dug into this dish. Yes it was a relatively stripped back recipe, but it was seriously edible. As seriously delicious as a classic Oeufs en Meurette recipe. I could easily have two bowls and only way this could be bettered for it to be served with a large soup.
Buffalo Mozzarella, warm maple dressing, brazil nuts, turnip tops.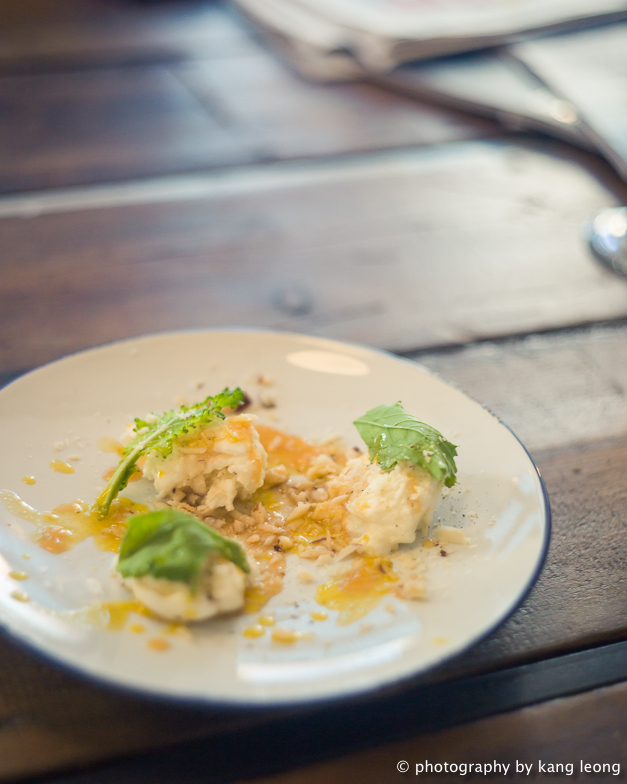 I have no idea where these folk get their mozzarella from, but my god did they taste incredibly fresh! Like freshly whipped cream, bursting with rich milk flavour, enhanced by the drizzle and cracked nuts. Wooo. What a dish, loved it to bits. Better than mozzarella at Zucca.
Scallop broth, toasted almonds, kaffir lime.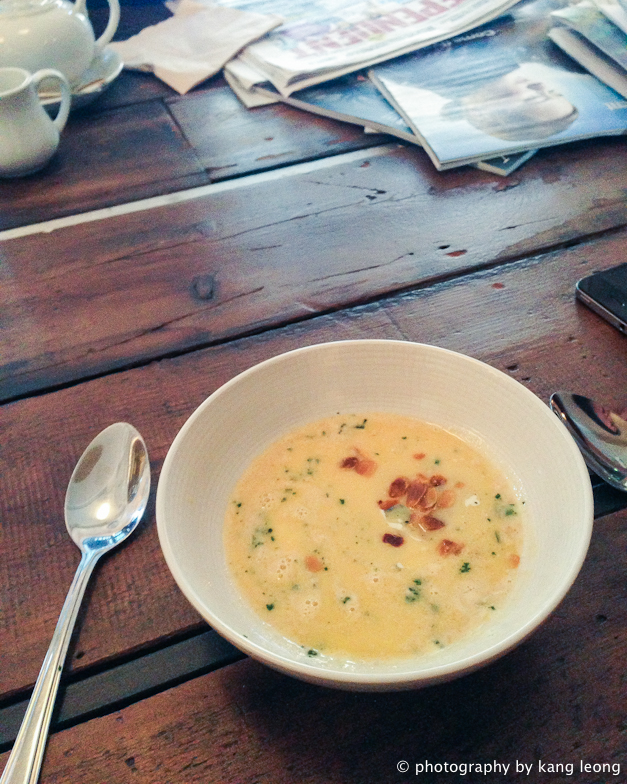 We were warned by our waitress that this was just a bowl of soup with no cheweable bits of scallop, but nothing to be wary of – This was the best of this delightful lot. With an intensity of say a shellfish bisque with all of its shells dissolved into it, but a rich buttery flavour, like a bloody good bearnaise sauce, or something. And the dominating fragrance of kaffir lime – it took me back to Ben's superb salmon dish from just the week before. Phenomenal, once again.
Warm original bean chocolate, jersey milk sorbet, salt baked pineapple.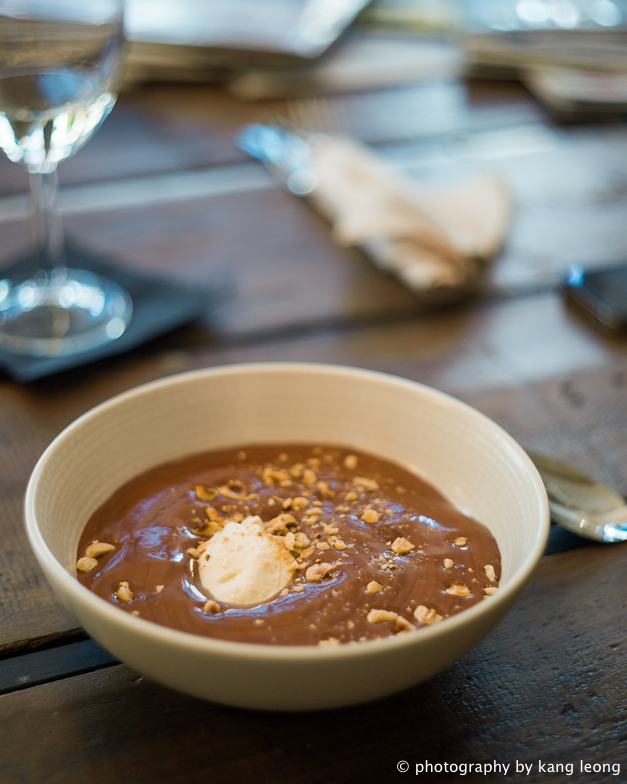 To finish, a chocolate pudding firstly warmed up in the saucepan, and then spritzed onto the bowl from a gourmet whip, with cubes of baked pineapple and scoop of jersey milk ice cream. This chocolate 'soup' took on a fluffy, mousse-like texture than was bordering on liquid marshmallow, or perhaps like the soft meringue in a baked alaska. Simple but such a bloody effective plate of food.
Food plus 3 glasses of wine and 2 coffees came to only £54.05 for two, very reasonable for the experience.
Another brilliant meal at John Salt, this one being so relaxed and so very enjoyable. I can only tip my hat to Ben and his team for bringing their ideas to fruition. As for Nathan and Toby's showmanship and ability in making the meal as fun as it was – that stuff's priceless.
I don't know how things will evolve or what would happen after the 6 month residency expires, but I guess I'll just have to follow where Ben goes (and hopefully he continues to ply his trade in London). I think John Salt is superb, special things are happening there and I must recommend you check out both the upstairs and downstairs menus.
And for sake of completing the trilogy of blogposts, I guess I'll have to roll down to try the £19 sunday roasts soon…
Details
John Salt Bar Menu
Stripped Back Food, £34 for any 6 dishes.
131 Upper Street N1 1QP
Tel: 0207 704 8955
Overground/Tube: Highbury & Islington
Did you enjoy reading this? You can subscribe to the Newsletter. Alternatively, you can subscribe to the RSS feed.